Updated with more details.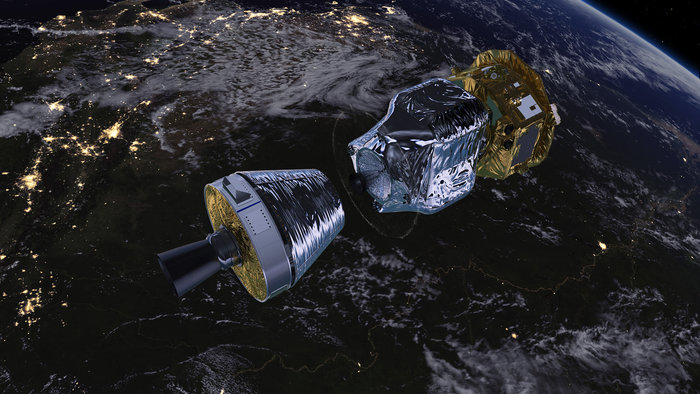 KOUROU, French Guiana — Launch managers in French Guiana have delayed liftoff of a European gravitational probe pathfinder at least one day to study the thermal extremes the upper stage of its Vega rocket booster will encounter on the flight, officials said Tuesday.
The launch of the European Space Agency's LISA Pathfinder was set for overnight Tuesday (early Wednesday, French Guiana time), but engineers elevated concerns about the readiness of the Vega rocket's liquid-fueled fourth stage, which must ignite two times to deploy the 1,906-kilogram (4,202-pound) spacecraft into the correct orbit.
"We have decided that we cannot launch tonight Vega with LISA Pathfinder," said Gaele Winters, ESA's director of launchers. "We were confronted yesterday with some analysis that indicated that the behavior of the upper stage of the launcher is not completely compliant with the specifications."
Louis Laurent, vice president of programs of Arianespace, the Vega's commercial operating company, said launcher specialists raised questions about the fourth stage Monday afternoon after a launch readiness review earlier in the day gave the go-ahead for final flight preparations.
"The answer to these questions was not obvious," Laurent told reporters Tuesday. "We were quite confident we would find a good answer to this question during the night, and when we reviewed the file this morning it was not convincing. The file was not totally clean, and in order to avoid putting too much pressure on the teams — we want to launch, but we want to launch safe — we decided to give them an additional 24 hours to consolidate the file."
Winters told Spaceflight Now the concerns centered on the temperatures the upper stage engine will see during a long coast phase between two firings on the LISA Pathfinder launch. Engineers are crunching data to ensure the conditions will be safe.
"We have asked for additional analysis to look at that because we cannot take risks with a launch, certainly not with a beautiful satellite like LISA Pathfinder," Winters said. "We have received that (analysis), but we are not satisfied. To put it in very simple words, what we need to have is really solid information to base a decision on to launch LISA Pathfinder, and that solid information is not available today."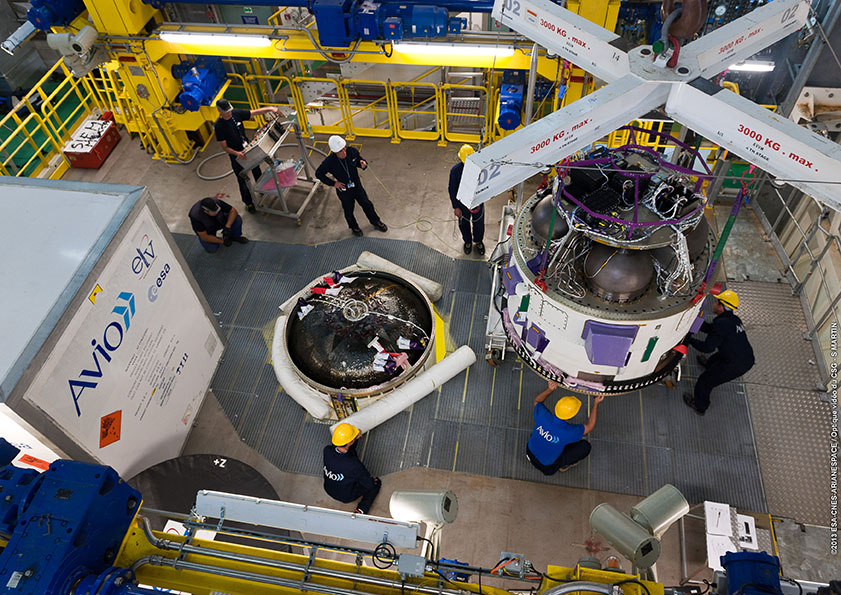 Further reviews are planned late Tuesday and Wednesday morning, after which Arianespace and ESA management will decide whether to proceed with a launch countdown Wednesday evening.
The LISA Pathfinder spacecraft sitting atop the Vega rocket is heading for a halo orbit around the L1 Lagrange point 1.5 million kilometers (930,000 miles) from Earth toward the sun. From that station, the probe will test out fine-tuned technologies required for a future mission to detect gravitational waves, phenomena predicted by Albert Einstein's general theory of relativity.
The Vega rocket is supposed to place LISA Pathfinder into a preliminary parking orbit, then a propulsion module attached to the spacecraft will send it to L1, where it is due to arrive in late January.
Teams at the European-run spaceport in Kourou, French Guiana, and Europe are analyzing data in hopes of getting comfortable with the upper stage and launching despite the unexpected readings.
The Vega rocket's fourth stage, called the Attitude and Vernier Upper Module, is responsible for injecting satellites like LISA Pathfinder into orbit. It sits top three lower stages powered by solid-fueled motors.
The Italian-developed fourth stage burns a mixture of hydrazine and nitrogen tetroxide, and it is propelled by a Ukrainian RD-869 engine.
Laurent said Arianespace is working with the Vega's prime contractors, Avio and ELV of Italy, to ensure the rocket is ready to go.
"This is totally in accordance with our zero risk policy," Laurent said. "If we have a (problem), we stay on the ground because on the ground we are safe, and we will launch when we're 100 percent sure of the flight worthiness of the launch vehicle."
If officials give a go, the launch time is set for 0404 GMT Thursday (11:04 p.m. EST Wednesday), or 1:04 a.m. local time in French Guiana.
"It's a pity, and we don't know yet if it will be possible tomorrow, but we'll do everything to get the full information available to be able to take such a decision," Winters told reporters here.
Email the author.
Follow Stephen Clark on Twitter: @StephenClark1.