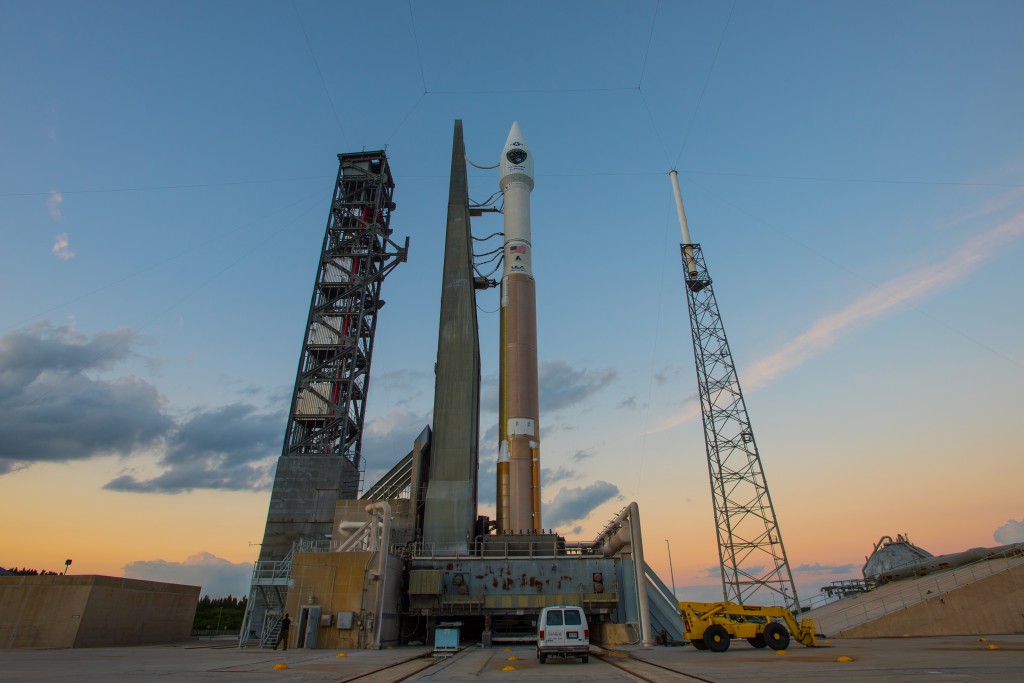 CAPE CANAVERAL — Lending a helping hand to resume the stalled U.S. supply chain to the International Space Station, a United Launch Alliance Atlas 5 rocket will send a commercial Cygnus cargo craft in pursuit of the outpost Thursday.
With Orbital ATK's Antares rocket and the SpaceX Falcon 9 both grounded by failures, a pair of Atlas 5 boosters stand ready as gap-fillers to launch Cygnus vessels over the next 100 days from Cape Canaveral, Florida.
SpaceX and Orbital ATK — the two providers under NASA's privatized Commercial Resupply Services program that took over after retirement of the space shuttles — have been the conveyer belts to ferry cargo, food and new science experiments to the station from U.S. soil since 2012.
But the Antares failure in October 2014 and the Falcon mishap this past June left the station solely dependent on its international partners to carry out resupply in the interim.
Six weeks after the Antares rocket exploded above its Virginia launch pad, destroying the third operational Cygnus, Orbital ATK struck a deal with United Launch Alliance for its first Atlas 5 rocket. The deal to purchase the second Atlas for Cygnus was announced this past August.
The Atlas 5 launches, bought commercially by Orbital ATK, will occur Thursday and March 10, boosting more than 15,000 pounds of cargo to the station on the two flights.
"When we lost Orb-3 (in Oct. 2014), literally the next day we were on the phone to other launch providers. We probably talked to half or two-thirds of all the possible providers in the world about getting a ride for Cygnus," said Dan Tani, a former astronaut who spent 120 days living and working aboard the station on Expedition 16 and now serves as Orbital ATK's manager of mission and cargo operations.
"Atlas had the magic mixture of the performance we needed, electrical and mechanical interfaces that we could make compatible with us and, most importantly, they had an open opportunity late in 2015," Tani said.
The Atlas 5 has flown 59 times since 2002, all successfully, completing 23 flights for the Department of Defense, 12 for the National Reconnaissance Office, 12 for NASA and 12 commercial missions.
"It is very humbling that Orbital ATK and NASA put the confidence in ULA for this critical mission. The new supplies and science need to get there," said Kevin Leslie, ULA's OA-4 mission manager.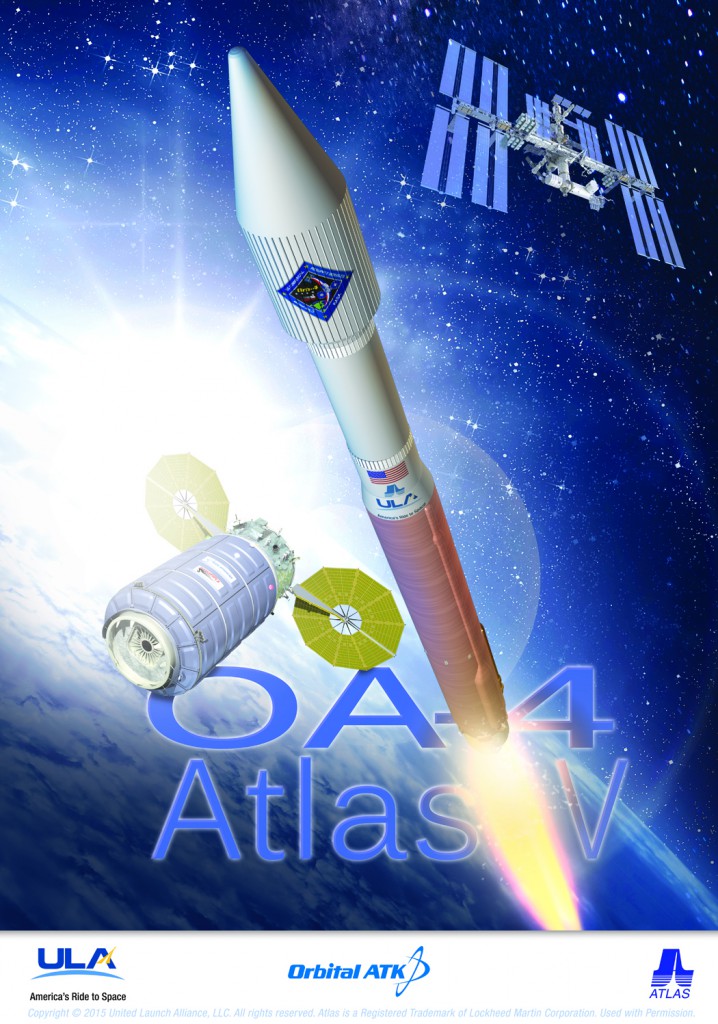 Financial terms between ULA and Orbital ATK were not disclosed. However, the Atlas rockets cost in excess of $100 million a piece.
But they allow Orbital ATK to fulfill its duties to NASA while working in parallel to redesign its Antares rocket, removing the Soviet-era main engines and replacing them with modern Russian powerplants.
"CRS is one of the biggest contracts we carry in the company, and we have a moral and financial obligation to deliver the cargo to the space station," Tani said.
The company hopes to complete testing and restart Antares launches from Virginia as early as next May.
Falcon could resume its Dragon capsule flights to the station in early 2016.
"It's important that we restart cargo deliveries to ISS," said Randy Gordon of KSC's International Space Station mission support office.
SpaceX has conducted six successful cargo shipments to the station and Cygnus has done two. This will be the first-ever Atlas 5 rocket launch in support of the International Space Station.
** CYGNUS FLIGHT HISTORY **
Demo (SS G. David Low) Launched Sept. 18, 2013
CRS-1 (SS C. Gordon Fullerton) Launched Jan. 9, 2014
CRS-2 (SS Janice Voss) Launched July 13, 2014
CRS-3 (SS Deke Slayton I) Launched Oct. 28, 2014 *Failure
** DRAGON FLIGHT HISTORY **
Demo Launched May 22, 2012
CRS-1 Launched Oct. 8, 2012
CRS-2 Launched March 1, 2013
CRS-3 Launched April 18, 2014
CRS-4 Launched Sept. 21, 2014
CRS-5 Launched Jan. 10, 2015
CRS-6 Launched April 14, 2015
CRS-7 Launched June 28, 2015 *Failure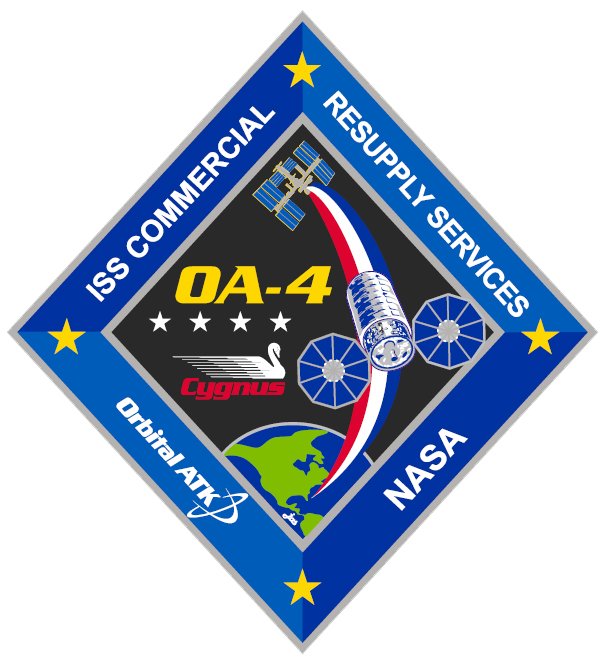 For the upcoming launch, known as OA-4, Cygnus was partially loaded with its payload at Kennedy Space Center's Space Station Processing Facility, the same building where much of the outpost had been readied for space shuttle launches from the late 1990s through 2011.
After the pressurized cargo module and the propulsion tug of Cygnus were mated together, the spacecraft was relocated to KSC's Payload Hazardous Servicing Facility to be loaded with 1,825 pounds of maneuvering propellant, the final on board stowage of supplies, closure of the hatch and encapsulation within the Atlas 5 rocket's 45-foot-long, 14-foot-diameter aluminum nose cone, the longest available in that diameter.
Cygnus stands 21 feet tall and 10 feet in diameter, clad in its silver-metallic shielding.
The shrouded freighter then moved to United Launch Alliance's rocket assembly building at Complex 41 where the two-stage Atlas 5 had been stacked, starting Nov. 11, aboard a mobile launch platform. Cygnus was hoisted atop the rocket on Nov. 20.
The 194-foot-tall Atlas/Cygnus vehicle will be rolled out to the launch pad at 10 a.m. EST on Wednesday and the seven-hour countdown begins late-morning Thursday.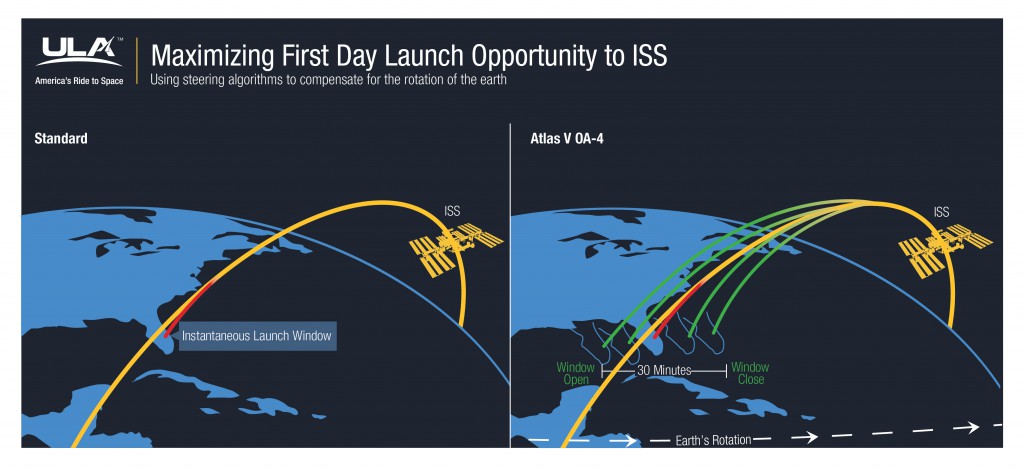 With a generous 30-minute launch window to work with, opening at 5:55:41 p.m. EST (2255:41 GMT), liftoff is timed to place Cygnus on an orbital path to intercept the station early Sunday morning.
"It is all about available energy to steer you to the right place," Tani said of the large window.
"There is an ideal launch moment, and that's what SpaceX targets. A lot of other launch vehicles use excess performance to not have to hit a moment and use that energy to steer to the right place.
"Atlas has so much available energy that they can accommodate what I consider a very large, off-nominal time of launch — 15 minutes early, 15 minutes late. That is a lot of steering, but they have that capability and they are the ones that came to us and asked if they could have that margin. And it gives them a lot of flexibility around weather, around the unknowns."
The launch team will target liftoff for the earliest possible moment in the window and not wait for the optimum center.
"We target the first launch opportunity. We've made that decision because there is no benefit in waiting for the middle of the window. Since they have the energy, we aren't losing anything, they don't drop us off lower (in altitude) at the edges of the window than at the middle of the window. They drop us off at the same place. So it's in our interest to get flying as soon as possible, so we're targeting the beginning of the window," Tani explained.
"For the OA-4 mission, the ULA mission design team has worked very closely with the Orbital ATK team to provide a design approach that enables a longer launch window. The OA-4 launch design approach accounts for the fact that the ISS orbit can change shortly before the launch, if either an overall orbit adjustment or evasive debris mitigation maneuver is required," explained Jim Sponnick, ULA vice president for Atlas and Delta programs.
"Considering the capabilities inherent in the Atlas design, the late changes that can occur in the ISS orbit, and the close coordination with the Orbital ATK Cygnus rendezvous design, we have implemented a 30-minute long window, which will occur within a bounding 50-minute-long window that accounts for the potential late orbital changes for the ISS."
The launch team will set five discrete launch opportunities — one at the opening of the launch window and four other shots spaced at 7.5 minute intervals.
* 5:55:41 p.m. EST
* 6:03:11 p.m. EST
* 6:10:41 p.m. EST
* 6:18:11 p.m. EST
* 6:25:41 p.m. EST
*times are approximate
Air Force weather forecasters say there is a 60 percent chance of favorable launch conditions. Clouds will be the main concern.
"On launch day, the cold front becomes stationary in South Florida with high moisture and cloudy conditions persisting over Central Florida," meteorologists say. "There is an isolated shower threat associated with the stalled boundary and a low lightning threat. Winds from the north-northeast with gusts in the mid-teens during the window."
And getting off the ground as soon as possible has other considerations, too.
"December is an extremely busy time for the space station. There's a lot of comings and goings with the Russian vehicles. So that restricts our ability to approach. Right now, launch dates of (Dec.) 3rd, 4th, 5th and 6th are fantastic. Anything after that we would really have to do some head-scratching and some desk-pounding to figure out when we would approach the space station," Tani said.
One other scenario is, if the flight is delayed, the Cygnus could launch later and then hang around in orbit for a couple of weeks before the rendezvous.
"We have a couple weeks of loiter capability, so that's in our box of tricks. But right now, if we miss the 6th, we would have to wait almost a month to get to the station," Tani said.
December 3
Launch: 5:55:41 p.m. EST
ISS arrival: Dec. 6
December 4
Launch: 5:33 p.m. EST
ISS arrival: Dec. 7 or 8
December 5
Launch: 5:10 p.m. EST
ISS arrival: Dec. 9
December 6
Launch: 4:44 p.m. EST
ISS arrival: Dec. 19
For the two Cygnus launches, the Atlas 5 will fly in its basic, 401 configuration with a four-meter payload fairing, no solid rocket boosters and a single-engine Centaur upper stage. This will mark the 30th flight for this Atlas version.
Coming off the launch pad on 860,000 pounds of thrust from the RD-180 main engine, the rocket will head northeast on a 44.4-degree flight azimuth to reach the International Space Station's orbit.
The first stage will burn for four minutes and 16 seconds before retros push the core away from the Centaur upper stage, which then lights for a 14-minute firing that will put the vehicle into orbit. The shroud is jettisoned shortly after ignition of the Centaur's RL10C engine that produces 22,900 pounds of thrust.
Deployment of Cygnus from the launch vehicle occurs 21 minutes into flight above the North Atlantic in a 143-statute-mile circular orbit at 51.6 degrees inclination.
Cygnus will be the heaviest Atlas payload ever, weighing 16,517 pounds at liftoff.
ATLAS/CYGNUS OA-4 ASCENT TIMELINE
T-00:02.7 Main Engine Start
T+00:01.1 Liftoff
T+01:22.6 Mach 1
T+01:33.8 Max Q
T+04:15.6 Main Engine Cutoff
T+04:21.6 Stage Separation
T+04:31.6 Centaur Ignition
T+04:39.6 Nose Cone Jettison
T+18:16.7 Centaur Cutoff
T+21:05.7 Spacecraft Separation
A two-and-a-half-day rendezvous profile is planned, with a long series of precisely scripted engine firings that will lead to the freighter arriving in vicinity of the station early Sunday.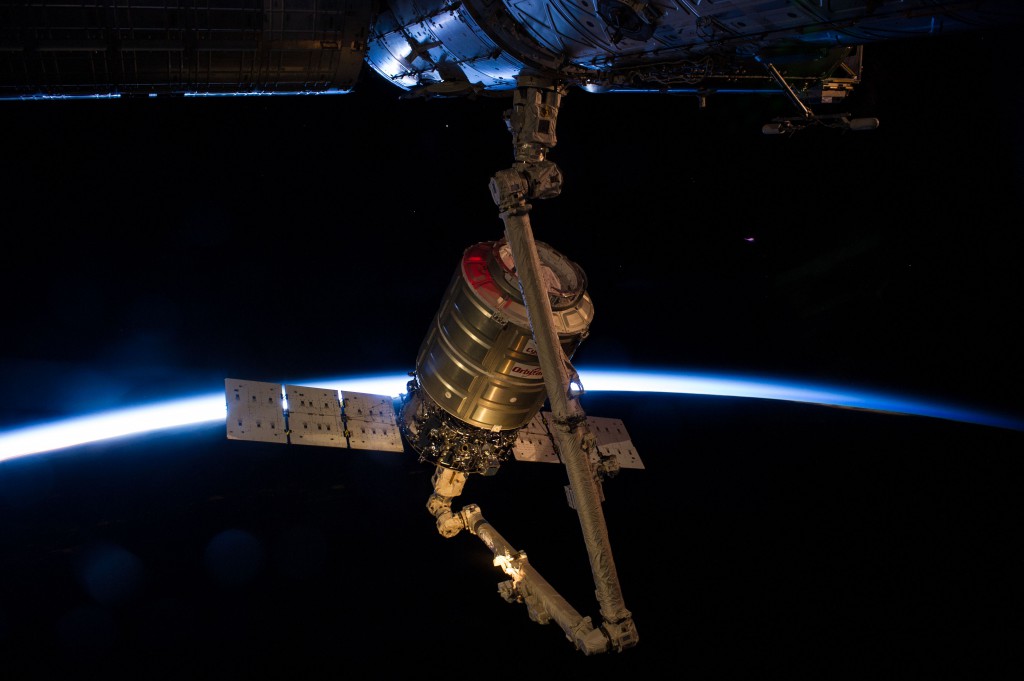 The station's crew, specifically commander Scott Kelly and NASA flight engineer Kjell Lindgren, will be working at the robotic arm controls inside the multi-window cupola to reach out and grab Cygnus at approximately 5:30 a.m. EST (1030 GMT).
The cargo craft will be berthed to the underside of the Unity connecting module, around 8:50 a.m. EST, for the astronauts to open the hatchway and gain access to the goods packaged inside.
If all goes well, it will be Orbital ATK's first successful cargo run since July 2014, resuming the company's contract with NASA to deliver a total of 63,300 pounds of cargo.
"It's obviously a big launch for us," Tani said. "A lot is riding on this launch, but a lot is riding on every launch."
The spacecraft for this mission is named the SS Deke Slayton II, one of the original Mercury 7 astronauts. After being sidelined by a heart condition and spending years of service for the astronaut office and as director of flight crew operations, Slayton finally flew into space on the Apollo-Soyuz Test Project in 1975, the historic meeting in orbit between American astronauts and Soviet cosmonauts. He passed away in 1993.
This OA-4 Cygnus is carrying 7,383 pounds of provisions to the International Space Station, not counting packing materials. The total mass with packing is 7,745 pounds.
Among the specifics:
-Crew supplies: 2,604 pounds
-Vehicle hardware: 2,220 pounds
-Science utilization: 1,867 pounds
-EVA gear: 500 pounds
-Computer resources: 192 pounds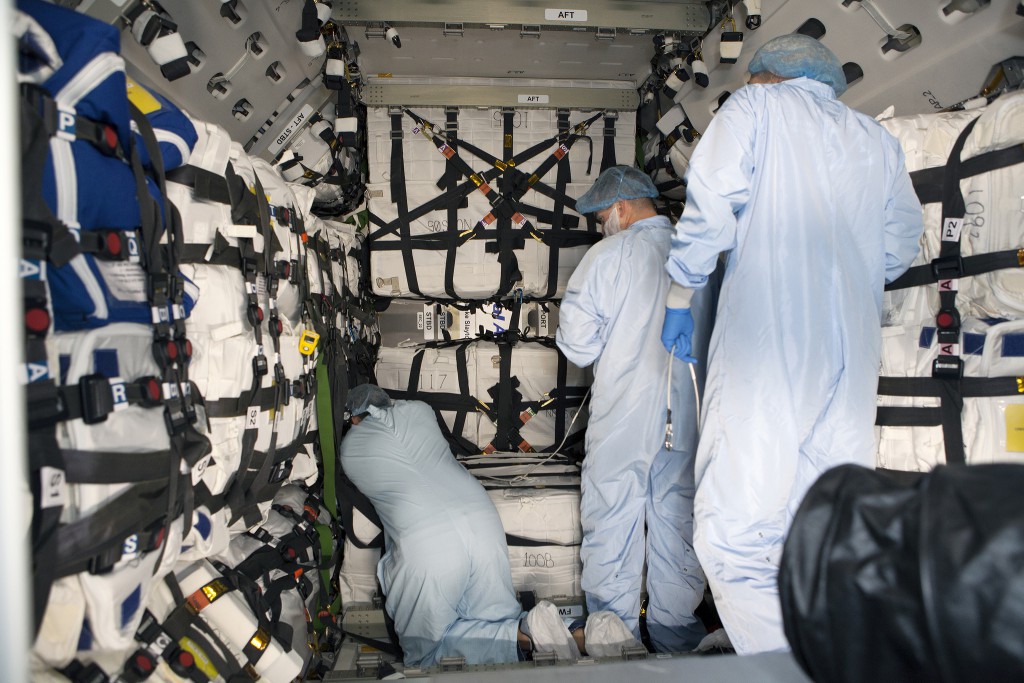 This is the debut of the Enhanced Cygnus, which features a lengthened pressurized section, produced in Italy by Thales Alenia Space, to increase the interior volume capacity by 25 percent, circular UltraFlex solar arrays, manufactured in Goleta, California, that are lighter and more compact, and updated fuel tanks made with new diaphragm technology for better control of propellant.
"The most obvious enhancement is the larger cargo module, but there are other enhancements that are smaller and mainly intended to save weight," Tani said.
The changes to Cygnus enable the vessel to launch 2,600 pounds more cargo than the previous spacecraft version.
The cargo container is a smaller diameter version of the Italian-made Multi-Purpose Logistics Modules that flew up and down on space shuttles to outfit the station.
"Sort of like the iPad and the iPad mini. They are pretty indistinguishable," Tani said.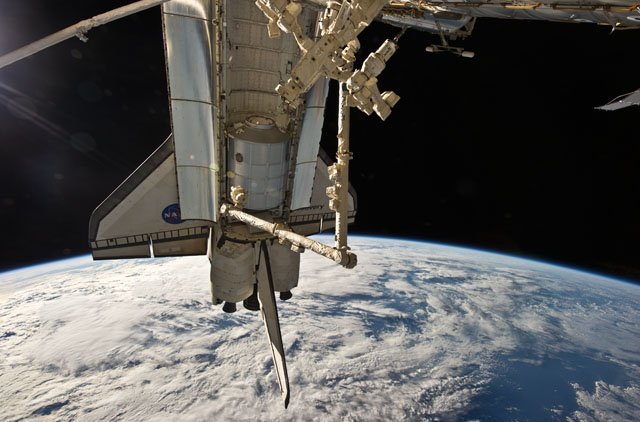 The spacecraft will remain parked at the space station through Jan. 25 to be loaded with about 3,000 pounds of trash, packing materials and other waste. After being unberthed from the station, Cygnus will fly away and reenter the atmosphere for disposal.
See earlier Cygnus OA-4 coverage.
Our Atlas archive.