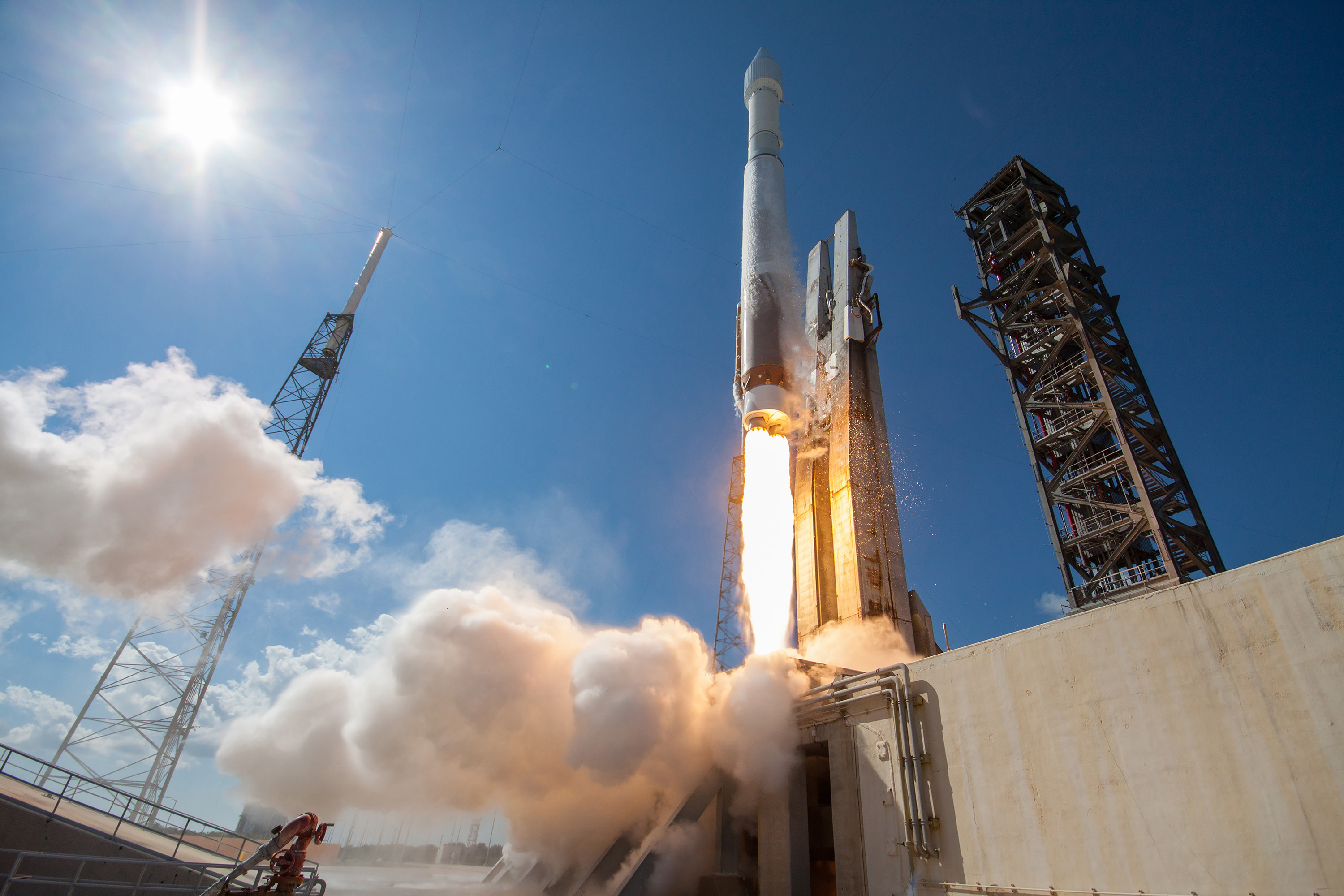 United Launch Alliance said Monday it did not submit a proposal in a competition to launch a U.S. Air Force GPS navigation satellite, apparently relinquishing the contract to rival SpaceX, the only other company certified to launch the mission.
The Air Force wanted both companies to bid on the launch, setting up the first competition for the launch of a national security mission since Boeing and Lockheed Martin merged their rocket programs in 2006 to form ULA.
ULA cited requirements in the request for proposals, which the Air Force released Sept. 30, and a congressionally mandated ban on RD-180 engines for the Atlas 5 rocket as the reasons the company decided not to bid for the launch.
Bids were due Monday, and ULA's decision to sit out the competition leaves SpaceX all but certain to win the contract for launch of an unspecified GPS 3 navigation satellite in 2018.
"ULA wants nothing more than to compete, but unfortunately we were unable to submit a compliant bid for GPS 3-X launch services," ULA spokesperson Jessica Rye said in a statement released to Spaceflight Now late Monday.
The statement said ULA is unable to certify that funds from other government contracts will not benefit the GPS 3 launch, a requirement spelled out in the Air Force's request for proposals.
"ULA does not have the accounting system in place to make that certification, and therefore cannot submit a compliant proposal," the statement said.
The launch company, a 50-50 joint venture owned by Boeing and Lockheed Martin, also claimed the request for proposal's "lowest price technically acceptable" structure did not account for reliability, schedule certainty, technical capability and past performance, factors that ULA says are in its favor.
The GPS 3 request for proposals is the first of nine national security satellite launches the Air Force plans to compete in the coming months. The missions up for head-to-head competitions between ULA and SpaceX include six GPS 3 satellites, a Space Based Infrared System missile warning payload, the last of the Air Force's DMSP polar-orbiting weather observatories, and a flight with an unspecified payload called AFSPC-9.
In a repeat of earlier statements by ULA chief executive Tory Bruno, ULA's statement Monday said the company has no available RD-180 engines to power the Atlas 5 rockets it intended to use for the GPS 3 launch.
Language in the 2015 National Defense Authorization Act restricts the use of Russian-made RD-180 engines for U.S. national security space missions. The law requires the Air Force end the use of RD-180 engines on the Atlas 5 rocket for military space launches by 2019.
Passed in the wake of Russia's annexation of Crimea from Ukraine last year, the law states no RD-180 engine paid for after Feb. 1, 2014, can be applied toward future launch competitions with SpaceX.
The Air Force certified SpaceX to launch the military's most costly and vital satellites earlier this year with the company's Falcon 9 rocket, before the booster failed on a flight in June, grounding SpaceX's launch manifest through the second half of the year.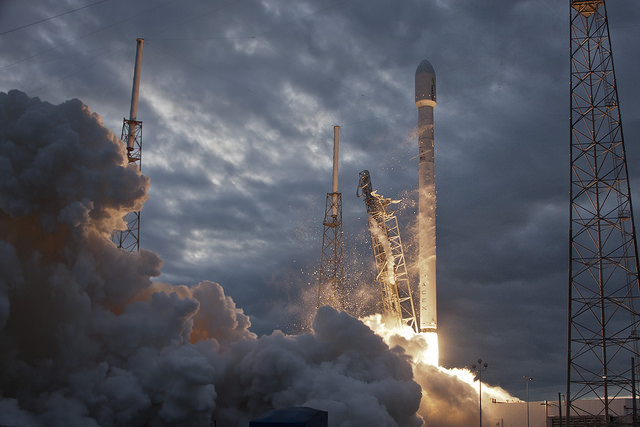 The failure did not affect SpaceX's certification, and the Air Force went ahead with the already-planned GPS 3 launch competition, which ended nearly a decade of sole-source launch awards to ULA, the only company certified for U.S. national security launches before SpaceX's arrival in the marketplace.
The defense authorization law, passed in late 2014, says no RD-180 engine paid for after Feb. 1, 2014, when the U.S. government says Russia's incursion into Crimea began, can be applied toward future launch competitions with SpaceX.
ULA placed an order for 29 RD-180 powerplants from Russia's NPO Energomash engine-builder before the 2014 ban, and 15 of the RD-180s are exempted from the law to go toward ULA's previous sole-source Air Force launch contract. ULA says five more RD-180s legally set aside for military launches have already been allocated to other flights for commercial and NASA payloads, which are not subject to the Russian engine ban.
That leaves nine RD-180 engines in ULA's inventory that could be used in Air Force launch competitions, assuming Congress relaxes the restriction or the Pentagon issues a waiver to permit the engines' use on national security grounds.
The Air Force said last month it would not grant a waiver for the GPS 3 launch procurement that ended Monday.
Congress passed a new defense authorization bill that gave ULA access to four of those nine RD-180 engines for military launch proposals, but President Barack Obama vetoed the legislation on other grounds Oct. 22. Lawmakers are working on a revised version of the bill to present to the White House again later this year, which could allow ULA to submit proposals in future Air Force launch solicitations.
With Obama's veto muddying ULA's access to more Atlas 5 engines, the company said it had to sit out the GPS 3 competition.
Bruno told reporters Oct. 2 that ULA needs relief on the engine ban to compete with SpaceX.
"Without those engines, we are unable to fly Atlas in the national security marketplace," Bruno said. "That would take the workhorse of what has put two-thirds of the nation's most critical capabilities into orbit out of that market, and really almost kill competition before it's had a chance to get started because I can't compete if I can't bring a rocket into the marketplace, and a rocket has to have an engine. I have four (under the proposed defense authorization act), and I need more than four to sustain that."
Air Force leaders, who support legislation to make the Atlas 5 available for launch competitions, have said the limits set by last year's defense authorization act would hand SpaceX a guaranteed win on many national security launch procurements, effectively transferring from one company's monopoly to another's.
SpaceX declined to comment on ULA's statement Monday.
"ULA remains fully committed to supporting America's national security missions with world-class launch services," ULA's statement said. "We look forward to working with the Air Force to address the obstacles to ULA's participation in future launch competitions to enable a full and fair competition."
ULA is retiring the basic version of its other rocket, the Delta 4, because it is more expensive than the Atlas 5. A heavy-lift version of the Delta 4, with three first stage cores bolted together, will remain operational because there is currently no other certified rocket in its class in the Atlas and Falcon launcher families.
"Unfortunately, Delta cannot effectively compete in a commercial marketplace," Bruno said Oct. 2. "Now that we have a commercial and competitive marketplace, if I can't bring Atlas into that market, you actually don't have a competitive commercial marketplace.
ULA has partnered with Blue Origin, a space firm founded by Amazon.com's Jeff Bezos, to complete development of a new U.S.-made engine for the company's next-generation Vulcan rocket scheduled to debut in 2019. But ULA says it needs to keep the Atlas 5 rocket active as a revenue-generator to plow funds into the Vulcan's development, a prospect that Bruno said rides on the Atlas 5's availability in the military launch market.
Email the author.
Follow Stephen Clark on Twitter: @StephenClark1.