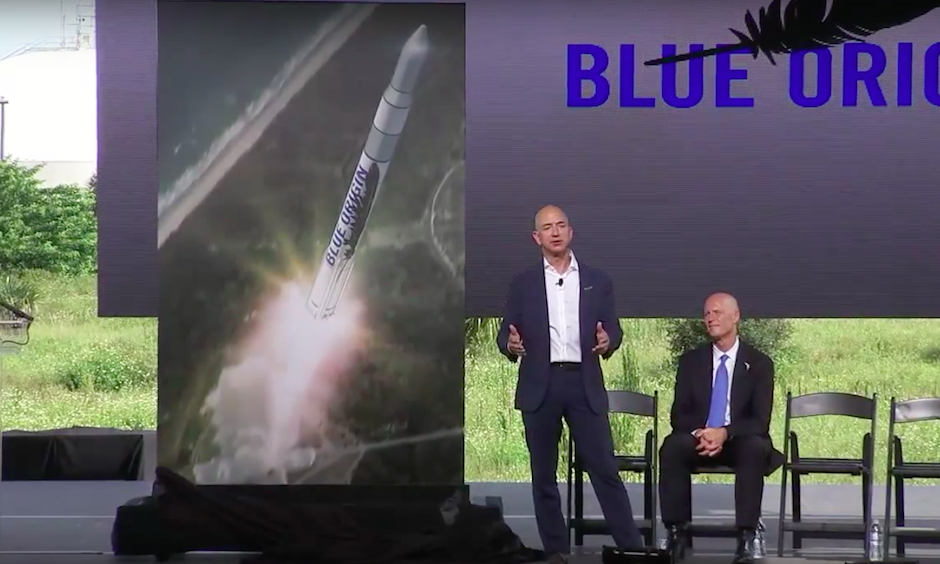 Blue Origin, the burgeoning, often secretive space company led by Amazon.com founder Jeff Bezos, revealed plans Tuesday to build and launch reusable rockets on Florida's Space Coast, adding another commercial tenant for historic real estate at Cape Canaveral.
The Kent, Washington-based aerospace firm plans to invest $200 million in new facilities at Cape Canaveral, an initiative officials said will bring 330 jobs to the region.
Blue Origin's planned orbital launch vehicle will take off from Complex 36 at Cape Canaveral, and the company will build a rocket manufacturing plant at Exploration Park, a business area set up just outside the gates of the Kennedy Space Center.
"As a kid, I was inspired by the giant Saturn 5 missions that roared to life from these very shores," Bezos said in a ceremony Tuesday morning at Complex 36. "We're excited to be coming to the Sunshine State for a new era of exploration. Our new home here on the Space Coast is anchored right here at Complex 36."
Launches from Complex 36 will begin later this decade, Bezos said, without being more specific.
While initial flights will carry satellites and robotic payloads, Bezos' long-term vision is for human missions. The company is already working on a suborbital launcher and crew capsule named the New Shepard at a test site in West Texas.
Ballistic flights for the New Shepard space tourism program will continue to be staged from Bezos' West Texas ranch.
"The first orbital flights will be payloads, and then the human orbital flights will come after that," Bezos said in a roundtable with hand-picked reporters after Tuesday's announcement. "That allows for more testing to be done with payloads before you start putting humans on the vehicle."
Spaceflight Now obtained audio of the invitation-only press briefing from a source.
Like other well-heeled entrepreneurs making forays into the space industry, Bezos says space is a calling, and he has set lofty goals for Blue Origin, which he founded in 2000.
"The vision for Blue is pretty simple, which is we want to see millions of people living and working in space, and that's going to take a long time," Bezos said. "I think it's a worthwhile goal."
Blue Origin turned to Complex 36 after a concept for a commercial launch pad north of the Kennedy Space Center never materialized, and NASA selected SpaceX to lease one of the spaceport's the mothballed space shuttle launch pads over Blue Origin.
The Complex 36 facility sits near the tip of Cape Canaveral and lies on U.S. Air Force property, but Space Florida — a state agency charged with luring space business to the region — took custody of the site after its retirement in hopes of attracting a commercial tenant.
Blue Origin looked at prospective launch sites in five other states before settling on Florida, according to Bezos.
"We got detailed bids from five different states, and there were pluses and minuses to all of the options, and Florida, in our opinion, was the best choice, and a big part of that is the talent pool here," Bezos told reporters.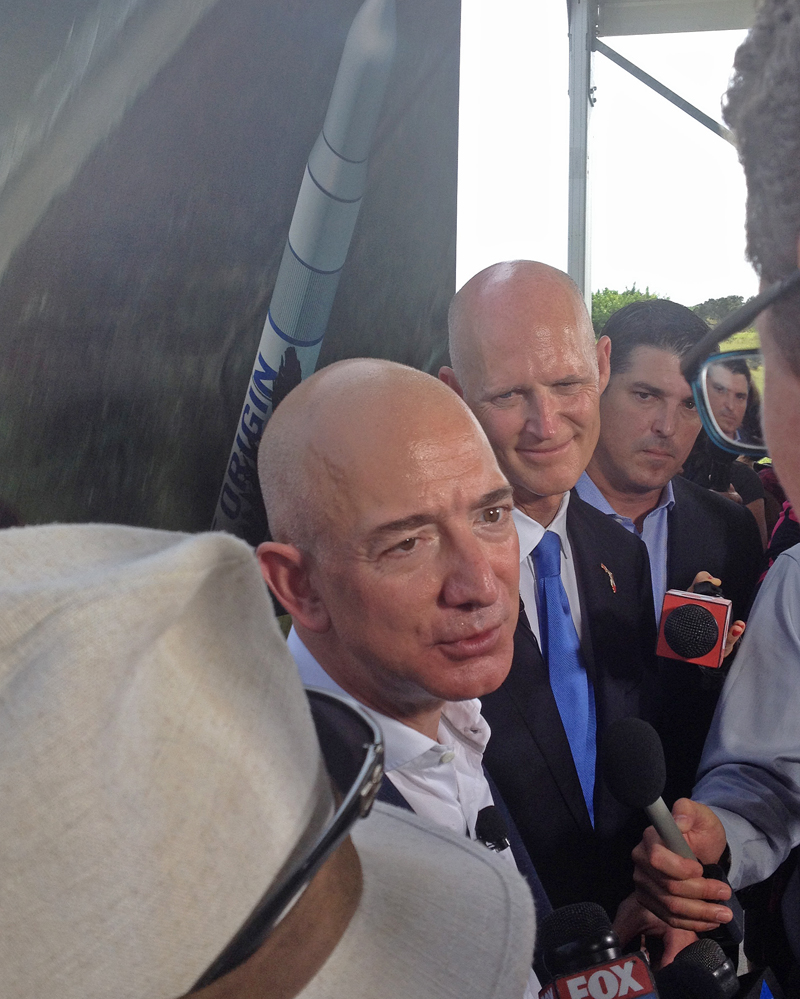 State and local government officials celebrated the long-rumored decision to locate Blue Origin launches in Florida.
"Companies like Blue Origin are at the forefront of new space technologies that will expand opportunities for all Florida families, not only to go to space but also to have a great job," said Florida Gov. Rick Scott.
"Here in Central Florida, we understand this because space is in our blood," said Sen. Bill Nelson, D-Florida. "We have obviously all of this to offer, but what we especially have to offer Jeff (Bezos) is our people. It's in their genetic make-up."
Florida lost out to Texas last year to become the home of a dedicated commercial launch pad owned by SpaceX, whose founder Elon Musk held a ceremonial groundbreaking at a site near Brownsville, Texas, a year ago this month.
Blue Origin's new digs at Cape Canaveral hosted 145 launches of Atlas rockets beginning in May 1962 with the ill-fated first test flight of the hydrogen-fueled Centaur upper stage.
Scores of military satellites, communications relay stations and interplanetary probes set off from Complex 36, including the Surveyor landers that scouted the lunar surface before the Apollo moon landings.
The Mariner 10 mission, which made the first flybys of Mercury, departed from Complex 36. Missions to Venus and Mars also had their start at the sun-soaked launch pad.
Pioneer 10 and 11 blasted off from Complex 36 to make the first encounters with Jupiter and Saturn, also becoming the first spacecraft on a trajectory to leave the solar system.
The launch facility had two launch pads — Complex 36A and 36B — and the final liftoff there occurred in February 2005.
Officials shifted the Atlas rocket program — then managed by Lockheed Martin — to Complex 41 a few miles north from the new Blue Origin facility when the current-generation Atlas 5 rocket began flying.
The Complex 36 pads were decommissioned after 2005, and the fixed umbilical towers were torn down in late 2006. The twin mobile service gantries were explosively demolished in June 2007, and Space Florida took over the facility in 2008 to look for a new commercial user for the site.
SpaceX flirted with placing its Falcon launch pad at Complex 36, but ended up making the Falcon 9 rocket's home base at Complex 40, a larger facility previously serving the U.S. Air Force's Titan 4 program.
"This pad has stood silent for more than 10 years — too long," Bezos said. "We can't wait to fix that. One of the unique things about what we're going to do here in Florida is we're not just launching from here. We're building here."
Bezos said his company plans to erect a "21st century production facility" at Exploration Park, "where we'll focus on manufacturing our reusable fleet of orbital launchers and readying them for flight again and again."
The rocket plant will be the first such factory at Cape Canaveral. SpaceX builds its rockets at the company's headquarters in Hawthorne, California, and the Atlas and Delta rockets from United Launch Alliance come from a manufacturing facility in Decatur, Alabama.
"What you've seen here traditionally is stacking and refurbishment," Bezos said. "What we're talking about is not just assembly, but also some pretty deep manufacturing as well."
Groundbreaking on the construction projects will begin "very soon," Bezos said.
Blue Origin's orbital launch vehicle will be powered by the company's own BE-4 engine, which will burn a mixture of cryogenic liquified natural gas and liquid oxygen to generate 550,000 pounds of thrust.
The first stage of the rocket, which is still unnamed, will fly back to the ground for a vertical landing. Blue Origin eyes reuse of the rocket stage.
The orbital launcher's second stage, driven by Blue Origin's smaller BE-3 engine, is initially planned to be expendable, Bezos said.
"We need to continue moving forward, and a big part of that is becoming a space-faring (civilization), and we can't do it with our current generation of vehicles," Bezos said. "You cannot afford to be a space-faring civilization if you throw the rocket away every time you use it. We have to be focused on reusability. We have to be focused on lowering the cost to space."
Bezos said Blue Origin will release more information on the orbital launcher design next year. He declined to give specifics such as the rocket's lift capacity.
Blue Origin will install a rocket processing hangar at Complex 36, along with a brand new launch mount and an engine test stand for the BE-4, which is also being eyed for United Launch Alliance's next-generation Vulcan rocket.
The company will first move in to the Complex 36B side of the launch site.
Moon Express, a private venture working on a commercial lunar lander project, is currently testing a prototype vehicle on the Complex 36A half of the pad.
Blue Origin and Moon Express will share the complex for the near future, according to Bob Richards, co-founder and CEO of Moon Express, Silicon Valley startup founded in 2010 to exploit the moon's resources and develop a new commercial spacecraft that could reduce the cost of interplanetary exploration.
Moon Express is part of the Google Lunar X Prize competition, which offers a $20 million grand prize to the first privately-funded spacecraft to land on the moon, move at least 500 meters (1,640 feet) above or along the lunar surface, and beam high-definition television video to Earth.
The prize's deadline is Dec. 31, 2017, assuming one of the competitors can show it has a launch contract by the end of this year.
Richards told Spaceflight Now he expects Blue Origin will eventually need acces to the full Complex 36 site, but given the X Prize deadline, Moon Express will likely require more extensive facilities by then if the company is to be successful.
"By then, we better be on the moon," Richards said.
Email the author.
Follow Stephen Clark on Twitter: @StephenClark1.