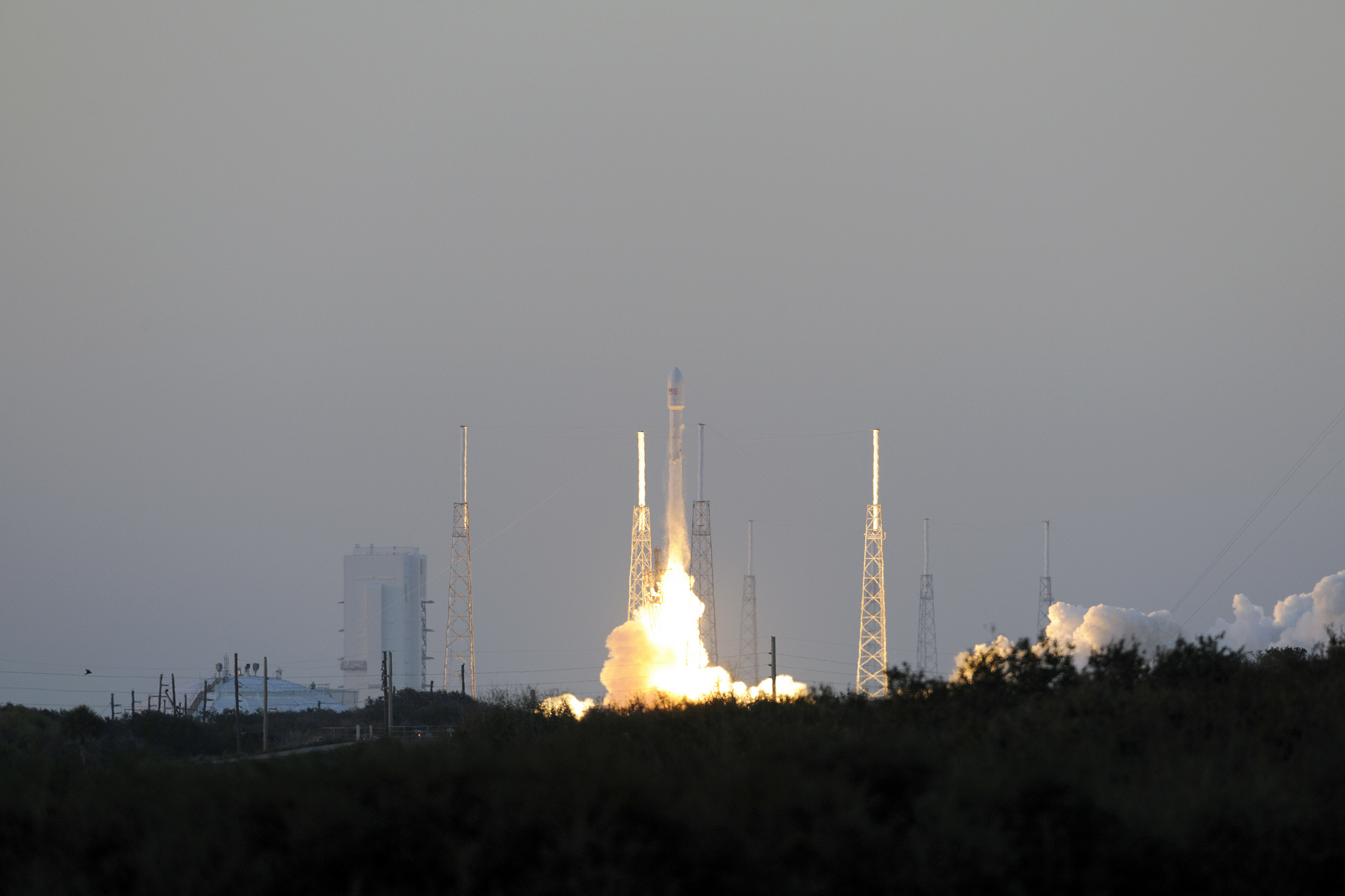 The beginning of November will be the earliest SpaceX's Falcon 9 rocket can resume launching after a June 28 failure blamed on a deficient structural support brace inside the the vehicle's second stage, a SpaceX executive said Monday.
The next launch will be the 20th flight of a Falcon 9 rocket and the first with up-rated engines operating at higher thrust levels than previous missions, according to Gwynne Shotwell, SpaceX's president and chief operating officer.
"Obviously, we've got a return-to-flight sitting in front of us here coupled with the latest upgrade to the Falcon 9 launch vehicle," Shotwell said Monday at a conference in California sponsored by the American Institute of Aeronautics and Astronautics. "Our next flight will be both the return-to-flight and the first flight of the upgraded vehicle, so whenever people ask me what keeps me up at night, it's that flight — getting ready for that flight."
Speaking to reporters in July, SpaceX chief executive Elon Musk said he expected the Falcon 9 could resume flying as soon as September.
"We're taking more time than we originally envisioned to get back to flight, but I don't think any one of our customers wants us to race to the cliff and fail again," Shotwell said. "So we're a couple of months away from the next flight and we will have been through a pretty thorough top-down single-point failure review.
"Every engineer in the company is having a buddy check their work, and we're doing deep dives throughout our supply chain to make sure we don't see what we saw on our last flight," Shotwell said.
Shotwell said Monday the diagnosis of the failure shared by Musk in July still stands. The investigation into the June 28 launch failure, which is led by SpaceX with support from federal agencies, narrowed in on a strut supporting a helium pressurant tank suspended inside the second stage liquid oxygen tank.
Engineers believe the strut broke under launch loads, causing the high-pressure helium gas tank to break free, leading to the disintegration of the liquid oxygen tank and the upper stage.
Musk said the strut came from a supplier and future structural braces will be more stringently tested by SpaceX to ensure they meet specifications.
"What we're trying to do is not only go fix that particular problem," Shotwell said. "That's an easy problem to go fix, but what we wanted to do is to take advantage of the lessons we had learned from that particular failure and make sure we're not seeing something like that anywhere throughout the vehicle or the supply chain."
A Dragon supply ship heading for the International Space Station was destroyed in the crash. SpaceX holds a multibillion-dollar contract to NASA to ferry cargo, provisions and experiments to and from the space station.
The flight was the seventh in a series of at least 15 resupply missions SpaceX has under contract with NASA.
SpaceX says it has more than 50 missions on its manifest in the coming years. The company's customers say their payloads set to go up on the next few Falcon 9 flights are complete as they await a launch date from SpaceX.
Shotwell did not identify which mission would fly next, but it is expected to be the SES 9 television broadcasting satellite, which was set to go up on the first upgraded Falcon 9 from Cape Canaveral before the June failure. SES officials did not respond to questions on the matter.
The eighth Dragon resupply launch from Florida could follow SES 9. Its launch is expected no earlier than mid-November, according to former Apollo astronaut Tom Stafford, chairman of the International Space Station Advisory Committee.
Mike Suffredini, NASA's outgoing space station program manager said in an interview with Spaceflight Now he expects SpaceX can be ready to launch its next cargo flight to the complex around December. Suffredini told Spaceflight Now that NASA has requested not to be be first in line to fly on the Falcon 9's new upgraded configuration.
The new Falcon 9 will have nine Merlin 1D first stage engines qualified to run at higher throttle settings, reaching a maximum power of about 170,000 pounds of thrust, up from 147,000 pounds of thrust at its current levels.
An up-rated Merlin vacuum engine on the second stage will generate 210,000 pounds of thrust, according to presentations by NASA officials.
The engines will burn kerosene fuel chilled to give it greater density, a metric that improves rocket performance.
Other Falcon 9 missions that could fly before the end of the year include a launch from Vandenberg Air Force Base in California with the U.S.-French Jason 3 oceanography satellite, which was supposed to launch in early August before delays due to the June rocket mishap.
A NASA spokesperson said the Falcon 9 second stage set to launch the Jason 3 spacecraft was shipped back to SpaceX's factory in Hawthorne, California, from its launch site at Vandenberg.
And 11 new satellites for Orbcomm's mobile communications and asset tracking fleet are expected to be aboard the second or third launch of the new full-thrust Falcon 9, according to Marc Eisenberg, Orbcomm's CEO.
Email the author.
Follow Stephen Clark on Twitter: @StephenClark1.