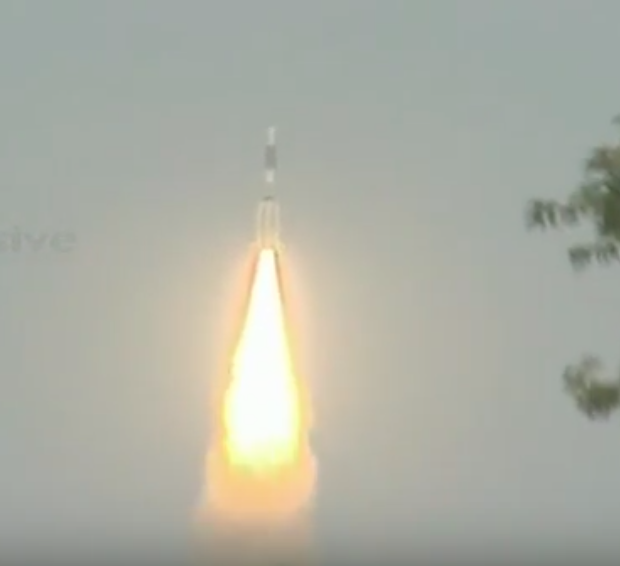 India's Geosynchronous Satellite Launch Vehicle soared into space Thursday and deployed a 2.3-ton communications payload into an on-target orbit, tallying its second consecutive success with an Indian cryogenic upper stage as officials prepare to declare the once-troubled launcher operational.
The 161-foot-tall rocket launched at 1122 GMT (7:22 a.m. EDT) from the Satish Dhawan Space Center on India's east coastline, turning east over the Bay of Bengal powered by 1.7 million pounds of thrust from a core solid-fueled motor and four auxiliary boosters burning liquid hydrazine.
With its nose cone emblazoned with the Indian flag, the GSLV flew with an Indian-built third stage fueled by super-cold liquid hydrogen and liquid oxygen.
Thursday's launch marked the third time a GSLV flew with a domestic third stage engine, a configuration called the GSLV Mk.2 by Indian space officials.
The cryogenic engine apparently performed flawlessly, placing the 4,667-pound GSAT 6 spacecraft into the correct orbit about 17 minutes after liftoff.
"This is the mission director," radioed R. Umamaheswaran, director of Thursday's launch, which was codenamed GSLV-D6. "Spacecraft separatio confirmed, and the GSLV-D6/GSAT 6 mission is accomplished."
Engineers and dignitaries gathered in the GSLV control center at the Satish Dhawan Space Center erupted in applause, celebrating India's third successful launch of the year.
Officials reported GSAT 6's power-generating solar panels extended after the launch, and the satellite was generating electricity.
The mission was the first by a GSLV since January 2014, when the Indian cryogenic upper stage completed its first successful test flight. An initial test of the new engine in 2010 ended in failure, and several other GSLV missions using a Russian-made upper stage did not succeed.
In remarks after Thursday's launch, officials from the Indian Space Research Organization hailed the test flight and said the GSLV was ready to become operational.
A.S. Kiran Kumar, ISRO's chairman, said Thursday's success confirms the January 2014 launch "was no fluke. It was the result of a tremendous amount of hard work put in by the entire team to build an indigenous cryogenic engine, and today's performance of the launch vehicle clearly demonstrates that all the systems have performed very normally, and the various intricacies of the cryogenic engine performance have been understood."
The GSAT 6 satellite entered an orbit with a high point of 22,335 miles (35,945 kilometers), a low point of 105 miles (170 kilometers) and an inclination of 19.96 degrees, according to ISRO officials. That is close to prelaunch targets.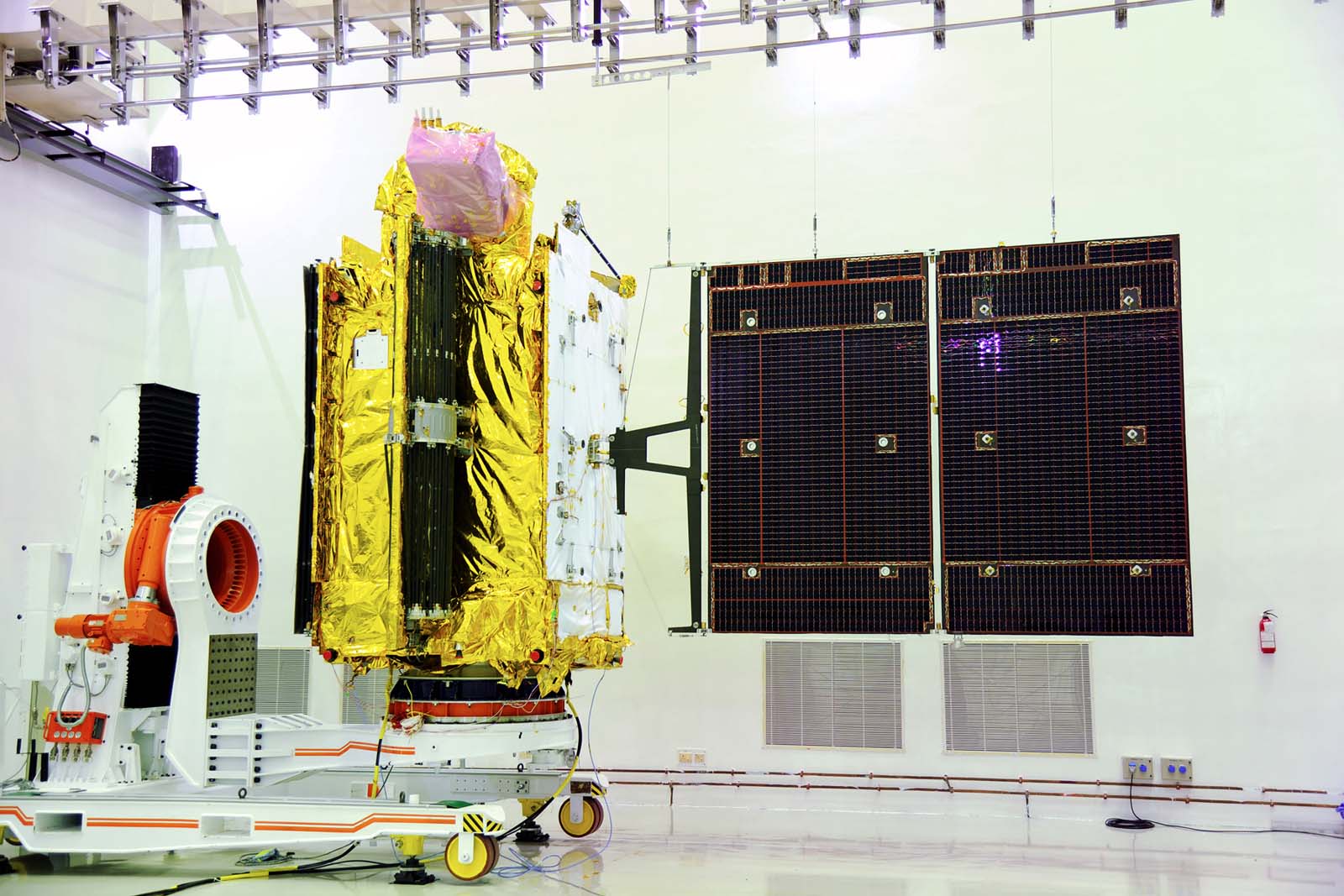 GSAT 6 will use its own engine to reach a circular orbit 22,300 miles above the equator, and it will unfurl a nearly 20-foot (6-meter) S-band antenna, the largest reflector of its kind ever flown on an Indian communications satellite.
The spacecraft carries S-band and C-band communications payloads with five spot beams and one nationwide beam. The main user of the GSAT 6 satellite will be the Indian military.
With Thursday's success, the GSLV's record stands at 5-for-9, including earlier variants with Russian hardware.
That compares unfavorably with India's smaller Polar Satellite Launch Vehicle, which has logged 29 straight successful launches.
But the back-to-back performances by the GSLV give Indian officials hope the bigger rocket, which first flew in 2001, is finally over its early growing pains.
Once nicknamed the "naughty boy" of ISRO, the GSLV's next flight is scheduled for June or July 2016, according to Umamaheswaran.
"Today, I'm really proud to say that this 'naughty boy' has been transformed to the most adored boy of ISRO," Umamaheswaran said.
The GSLV Mk.2 can carry up to 5,500 pounds — 2.5 metric tons — to geostationary transfer orbit, the drop-off point for most communications satellites. That is nearly twice as much as the PSLV's lift capability.
A smooth introduction of the GSLV into India's launcher fleet is required to achieve ISRO's goal of ramping up its launch rate. In the future, Indian space officials foresee up to six PSLV flights per year, plus an average of two GSLV missions annually.
That would double India's current launch cadence.
"The indigenous GSLV with the indigenous cryogenic stage passed the ultimate (test) with flying colors and entered majestically into the operational phase," said K. Sivan, director of the Vikram Sarabhai Space Center, which leads India's launch vehicle programs. "GSLV-D6 is very important for the GSLV program. This particular (flight) essentially demonstrates the robustness of the vehicle to get to operational service flights. That we got."
India's satellite production division also aims to build more satellites to keep up with ISRO's busy launch rate by more than doubling the number of spacecraft delivered per year, said M. Annadurai, director of the ISRO Satellite Center in Bangalore.
With GSLV operational, India can launch almost all its satellites on its own rockets. A few exceptions — satellites too big for the GSLV — are booked on international rockets such as Europe's Ariane 5 launcher.
India's next launch is scheduled for Sept. 28 when a PSLV will blast off with Astrosat, the country's first dedicated space telescope.
Email the author.
Follow Stephen Clark on Twitter: @StephenClark1.