STORY WRITTEN FOR CBS NEWS & USED WITH PERMISSION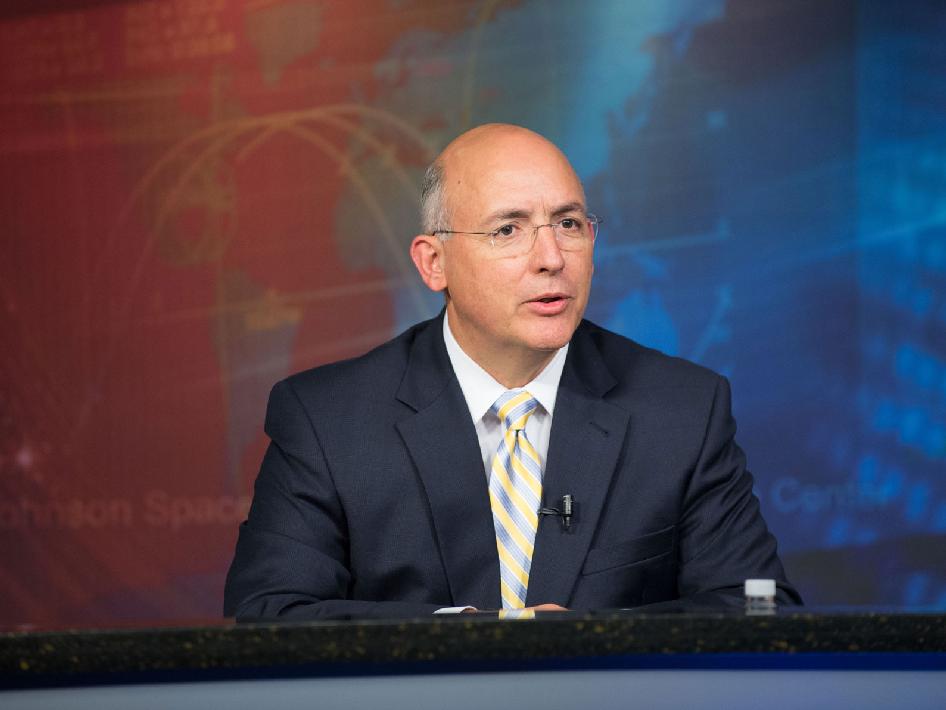 Mike Suffredini, manager of NASA's International Space Station program, is stepping down after 10 years overseeing the lab's final assembly and transition to post-shuttle operations, the agency said Wednesday. Kirk Shireman, deputy director of the Johnson Space Center and Suffredini's former deputy, will take over as program manager.
Suffredini, whose matter-of-fact, detailed explanations of complex technical issues made him a favorite of space reporters, was responsible for getting the hugely-expensive space station completed in the wake of the 2003 Columbia disaster.
Along with overseeing a series of complex shuttle assembly missions, he also worked with the Russian federal space agency Roscosmos to secure seats on Soyuz spacecraft to ensure U.S. and partner astronauts could reach the station after the shuttle's retirement in 2011.
He also helped implement U.S. commercial cargo flights to the lab complex and was a proponent of NASA's push to build U.S. commercial crew ferry ships to end the agency's sole reliance on Russian Soyuz spacecraft for transportation to and from the space station.
In an unrelated development, NASA Administrator Charles Bolden sent a letter to Congress Wednesday saying that past and projected budget cuts in the commercial crew program had forced the agency to extend its contract with Roscosmos for an additional six seats in 2018 and 2019 at a cost of some $490 million, or nearly $82 million a seat.
NASA hopes to begin initial crewed test flights to the station using Boeing and SpaceX ferry craft in 2017, but that assumes full funding from Congress in the 2016 budget and beyond.
In any case, Suffredini managed the multi-nation station program with a deft hand during a particularly tumultuous decade in the project's life as the Obama administration implemented a major change in U.S. space policy. Under the administration's "flexible path" architecture, the station serves as a bridge of sorts between commercial operations in low-Earth orbit and NASA-managed human flights to nearby asteroids and, eventually, Mars.
"During Mike's tenure, the international project successfully completed construction and transitioned into a fully functional microgravity laboratory," Bill Gerstenmaier, NASA's director of space operations, said in a statement to agency workers. "Under his leadership, the station opened avenues for a new commercial marketplace in space and established a platform for groundbreaking research."
NASA plans to operate the station at least through 2024, using the huge complex as a test bed for new technologies and as a research platform to collect the medical data needed to keep astronauts healthy during long-duration deep space missions.
Astronaut Scott Kelly and cosmonaut Mikhail Kornienko are currently more than four months into a nearly yearlong stay aboard the station, the longest flight yet in the 15 years the lab has been continuously staffed with rotating astronaut/cosmonaut crews.
Suffredini helped keep the multi-billion-dollar international program on track throughout his tenure as program manager, dealing with a steady stream of technical challenges, complex domestic politics and diplomatic hurdles.
Viewed by some agency insiders as an occasionally abrasive and "tough taskmaster," Suffredini's sharp focus and technical knowledge, a NASA source said, made him "a great program manager."
With a bachelor's degree in aerospace engineering, Suffredini joined NASA in 1989 and was named ISS program manager in August 2005, one year after coming on board as deputy program manager at the Johnson Space Center.
Prior to that, he managed ISS operations, vehicle development and payloads and also served as deputy manager of the space station Business Management Office. He is expected to step down in September, moving on to an unspecified job in private industry.
Shireman served as the deputy manager of the space station program from 2006 to 2013 when he was named deputy director of the Johnson Space Center. He also chaired the space station Mission Management Team and held a variety of positions in the space shuttle program.
"Kirk brings considerable space station experience to this new leadership role," Gerstenmaier said. "As program manager, Kirk will work directly with international partners to ensure safe and reliable operation of the orbiting laboratory and foster continued scientific research that benefits humanity and helps prepare the agency for its journey to Mars."