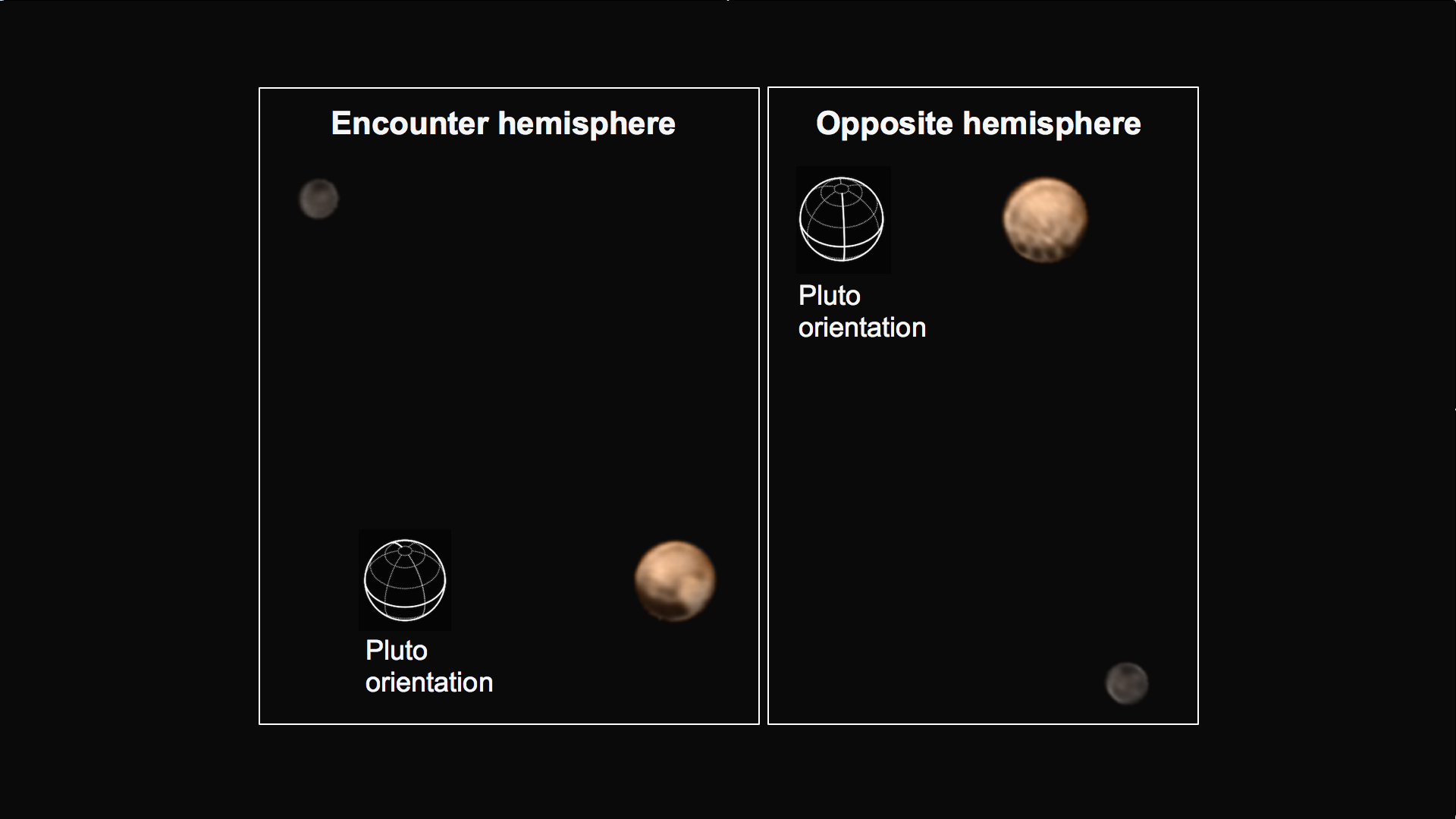 The first well-resolved color photos of Pluto from NASA's New Horizons spacecraft, speeding toward a close-up encounter July 14, show a world blotched with dark features spanning two very different sides of the dwarf planet.
On one side, Pluto sports a string of dark spots evenly spaced along its equator. NASA says each spot is roughly 300 miles in diameter, about the size of the state of Missouri.
Scientists say the size and spacing of the spots raise many questions, some of which they hope will be answered as New Horizons plows through the Pluto system July 14.
"It's a real puzzle — we don't know what the spots are, and we can't wait to find out," said Alan Stern, New Horizons principal investigator at the Southwest Research Institute in Boulder, Colorado. "Also puzzling is the longstanding and dramatic difference in the colors and appearance of Pluto compared to its darker and grayer moon Charon."
Pluto's equator appears at the bottom of the images as New Horizons peers down at one hemisphere of the distant world.
Image analysts combined black-and-white image data from New Horizons' long-range telescopic camera with lower-resolution color photos captured by another one of the probe's instruments.
The color images produced by the combined data approximate what the human eye would see if someone was riding along with New Horizons, which was less than 10 million miles from Pluto, as of Wednesday.
Sharper images of Pluto will be beamed down from New Horizons leading up to the July 14 flyby, when the spacecraft will stop transmitting science data to focus all its sensors on Pluto and its moons for the one-shot encounter.
Data downlinks will resume as soon as July 15.
Email the author.
Follow Stephen Clark on Twitter: @StephenClark1.