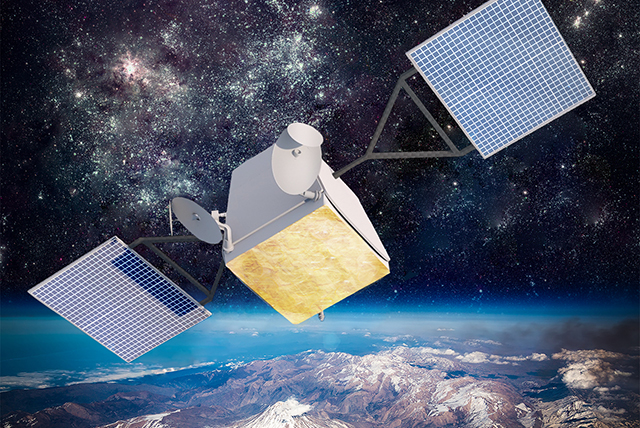 Airbus Defense and Space and OneWeb, a startup backed by Richard Branson's Virgin Group and wireless tech giant Qualcomm, announced Monday plans to set up a joint venture for the construction of 900 Internet broadcasting satellites for launches beginning in 2018.
OneWeb's selection of Airbus comes after a competition among U.S. and European satellite manufacturers to win the lucrative deal to construct the largest fleet of spacecraft ever launched.
The financial terms of the agreement were not disclosed, but Airbus officials said it requires the company to scale up its satellite manufacturing business to complete construction of up to four spacecraft per day.
In a statement, Airbus and OneWeb officials said the European contractor's experience with assembly line production of airliners will help establish the rapid cadence of satellite integration required to meet OneWeb's ambitious launch schedule.
The companies announced the partnership in conjunction with the Paris Air Show.
"Combining the innovation and large volume manufacturing techniques from its A350 aircraft production, with a rich history of building extremely reliable high performance space systems, Team Airbus will help us deliver the OneWeb system on time, providing reliable connectivity for our customers," said Brian Holz, head of space systems at OneWeb. "We look forward to working with Airbus Defense and Space in order to bring to bear the best resources around the globe for achieving affordable Internet access for everyone."
Airbus Defense and Space's core satellite business is in building large one-off communications and Earth imaging spacecraft spacecraft. The company has a base satellite platform, but each production unit is tailored to the needs of its customer.
That paradigm must change to meet OneWeb's demanding schedule.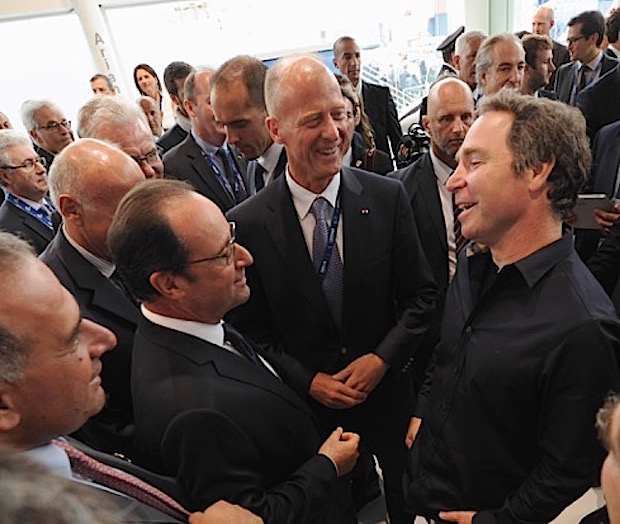 OneWeb officials said earlier this year the company would place launch contracts after selecting a satellite manufacturer. Launch providers from the United States and Europe, such as a new air-launched rocket under development by Branson's Virgin Galactic, are thought to be in contention for OneWeb deals.
Each OneWeb satellite will weigh less than 150 kilograms (330 pounds) and will begin launching in 2018. The satellites will fly in orbits about 1,200 kilometers (745 miles) above Earth.
"This partnership is a fantastic new chapter in our space story," said Francois Auque, head of space systems at Airbus Defense and Space. "Teaming with OneWeb with a requirement to produce several small satellites each day has inspired us to develop innovative designs and processes that will dramatically lower the cost in large volumes for high performance space applications."
Airbus and OneWeb said the first 10 satellites will be produced at the Airbus plant in Toulouse, France. The remaining 890 satellites will be assembled at an undisclosed site in the United States.
"Without doubt, this program is challenging but we're ready for it because we have leveraged resources and expertise across the entire Airbus Group," Auque said in a statement. "The agility and flexibility of 'Team Airbus' enables us to continue to be a major player in the rapidly evolving global space market."
OneWeb's constellation will consist of 648 operational satellites. The rest of the spacecraft will be spares on the ground or in orbit.
"We have worked with Airbus Space and Defence, to streamline the manufacturing process to the point that several satellites can be produced each day," Holz said. "This will redefine the cost structure for satellites, enabling rapid iteration and development of space related technologies."
Established by telecom entrepreneur Greg Wyler and based in Britain's Channel Islands, OneWeb plans to deploy the satellites into 20 orbital planes around Earth for global coverage. The satellite Internet signals will supply private consumers, businesses, schools, and hospitals with broadband connectivity through small ground user terminals, which can connect nearby phones, computers and other devices with the Internet, according to OneWeb.
The network will provide more than 10 terabits per second of new capacity to underserved areas around the world and extend the reach of mobile phone networks and Internet service providers, OneWeb officials said.
"Utilizing OneWeb's priority access in the Ku-band for exactly the purpose intended, Airbus and all of OneWeb's partners have an opportunity to make a long-term impact on access to communications for those on the other side of the digital divide," Auque said.
Before splitting off to launch OneWeb, Wyler founded O3b Networks to beam backhaul broadband services to rural areas. O3b has 12 satellites in orbit today, and telecom companies from Pacific island nations and Africa are among O3b's initial customers.
O3b is backed by Google, HSBC and satellite operator SES. Wyler joined Google from O3b, then left last year to work on OneWeb.
"The constellation is a communications system to bring Internet access to the world," Wyler said in a promotional video posted on YouTube by Airbus. "The fundamental mission is to enable affordable access to the emerging markets. Just about half the world has limited to no communications at all. It's a big project, but OneWeb is designed to bring Internet access right to the schools, and right to places in the most rural of environments, high-speed Internet access — 50 megabits per second at 30 milliseconds latency."
OneWeb services should begin in 2019, officials said.
"So it's identical to a cable modem without being constrained to having to live in the city," Wyler said.
Google confirmed in February a $900 million investment in SpaceX to support innovation in space transportation, reusability and satellite manufacturing.
Armed with fresh Google funding, SpaceX chief executive Elon Musk in January announced a plan to field a 4,000-satellite constellation in low Earth orbit for global Internet service, with initial operations expected within five years.
Musk said SpaceX will build its own satellites at a new manufacturing center in Redmond, Washington, keeping with the company's penchant for in-house hardware production.
Large satellite fleets have met trouble in the past.
An 840-satellite constellation named Teledesic went bust in 2002 before its first launch, even with the backing of Bill Gates, cell phone tycoon Craig McCaw and Saudi Arabian Prince Alwaleed bin Talal.
Iridium and Globalstar, which launched their mobile communications satellites, fell into financial ruin but emerged from bankruptcy. Both are still operating today.
Email the author.
Follow Stephen Clark on Twitter: @StephenClark1.