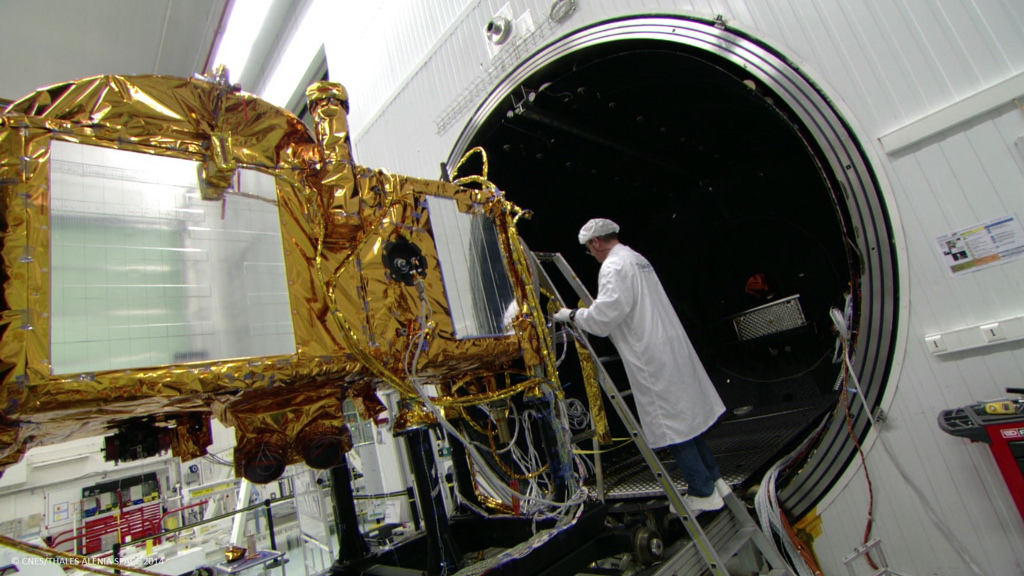 The launch of a U.S.-French oceanography satellite from California has been postponed from July 22 after engineers discovered contamination in one of the spacecraft's thrusters at its factory in France.
NOAA announced the launch slip Tuesday. Officials did not set a new launch date.
"The launch of the Jason 3 mission will not occur July 22, as announced previously," NOAA said in a statement. "During spacecraft testing, engineers located contamination in one of the four thrusters on the spacecraft. The problem thruster has been replaced. An investigation into the contamination will continue during the next two weeks, as the new thruster is tested."
The Jason 3 ocean research platform was preparing for shipment from France to its launch site at Vandenberg Air Force Base in California on June 9. Technicians planned to complete final testing on the spacecraft and fuel the satellite with in-orbit maneuvering propellant ahead of liftoff on a SpaceX Falcon 9 rocket.
NOAA said a new launch date would be set based on the outcome of the thruster review.
The Jason 3 satellite is undergoing final checks at its Thales Alenia Space factory in Cannes, France.
With a full load of fuel, Jason 3 will weight about 1,124 pounds at launch. SpaceX's Falcon 9 rocket will deploy the satellite into orbit 830 miles above Earth for a five-year mission.
Jason 3 will extend space-based measurements of sea levels and wave height begun in 1992. It is the fourth satellite in a series of U.S.-French missions dedicated to collecting ocean topography data.
The new mission will replace the Jason 2 satellite launched in 2008.
Scientists will use Jason 3's oceanography measurements to monitor global sea level rise and help predict hurricanes, wave heights and tides. Jason 3 will also contribute to oil spill response, marine biology research and El Nino and La Nina forecasting, according to NOAA.
Valued at more than $350 million, Jason 3 is a joint project between NOAA and Eumetsat, operator of U.S. and European weather satellites. The French space agency CNES paid for Jason 3's satellite platform, and NASA managed procurement of instruments and the Falcon 9 launch vehicle on behalf of NOAA.
Email the author.
Follow Stephen Clark on Twitter: @StephenClark1.