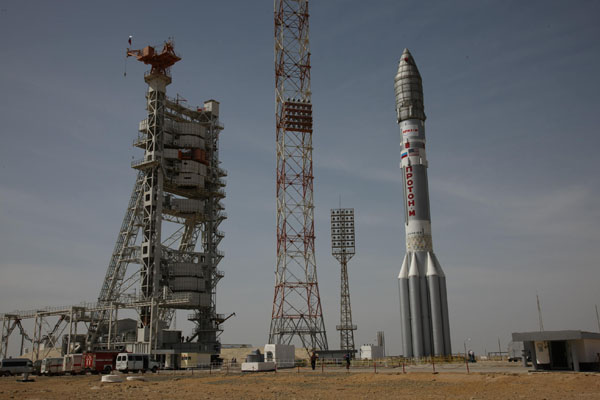 The launch of a Boeing-built Mexican communications satellite on a Proton rocket has been postponed after engineers discovered an anomaly on a similar spacecraft.
The Proton rocket was supposed to blast off Tuesday from the Baikonur Cosmodrome in Kazakhstan. The Centenario satellite, also known as Mexsat 1, remains safely perched atop the 19-story rocket at the launch pad, according to International Launch Services, the U.S.-based firm which manages commercial Proton missions.
ILS said in a statement Monday that the launch was "postponed in order to investigate an anomalous condition discovered on another spacecraft and to re-confirm the flight worthiness of the Centenario satellite."
The 11,739-pound Centenario satellite is based on Boeing's 702HP design, and it is one of three satellites ordered by Mexico's Ministry of Communications and Transportation to form an end-to-end national satellite network for military, national security and humanitarian applications.
The Centenario satellite will unfurl a deployable 72-foot L-band antenna made by Harris Corp., enabling Mexican security authorities with handheld terminals to make calls from land, sea and air.
Boeing did not identify which spacecraft had the problem that triggered the Centenario launch delay.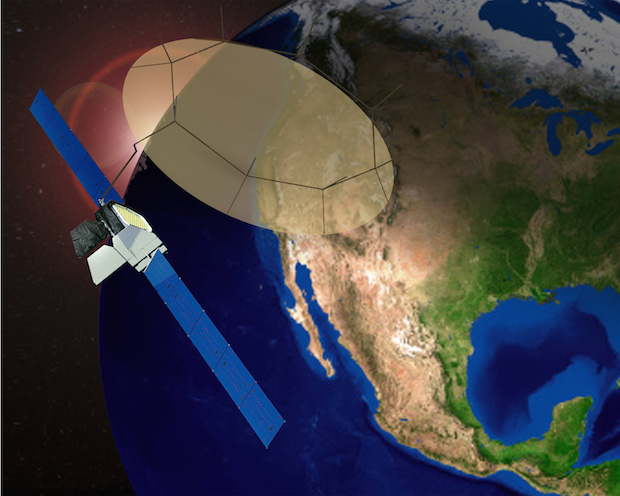 "Boeing believes there is no issue at this time with Centanario, a 702 satellite, that has been built for the government of Mexico," said Joanna Climer, a Boeing spokesperson. "However, our normal due diligence practices leading to launch include evaluating any on-going in factory or on-orbit anomaly investigations for potential impact to that launch. This assessment is not complete for one anomalous condition. As a result, we have postponed our consent to launch Centenario pending completion of this assessment."
Officials have not set a new launch date.
"Boeing stands behind its products and will take time to be confident in our consent to launch recommendation to our customer," Climer said in a written statement provided to Spaceflight Now. "We look forward to recommending launch of the Centenario satellite and a successful launch."
A similar Boeing-built communications satellite named Morelos 3 — or Mexsat 2 — is set for launch on an Atlas 5 rocket later this year.
A third smaller Mexsat satellite built by Orbital ATK launched on an Ariane 5 rocket in December 2012.
The Proton rocket and its Breeze M upper stage will guide the Centenario spacecraft into geostationary transfer orbit about 9 hours after liftoff.
Follow Stephen Clark on Twitter: @StephenClark1.