Rolling out for its first liftoff of the year Friday, an Ariane 5 rocket journeyed out of a launcher assembly building Thursday and rode railroad tracks to its launch pad in French Guiana with two European communications satellites.
Pulled under the power of a 540-horsepower Titan tug, the 179-foot-tall rocket arrived at the ELA-3 launch pad around midday Thursday after a 1.7-mile rollout from the Guiana Space Center's final assembly building.
Rocket technicians were supposed to connect the rocket and its weathered mobile launch platform to ground propellant and electricity supplies Thursday afternoon, then configure the Ariane 5 for the start of the final countdown Friday, during which it will be filled with super-cold liquid hydrogen and liquid oxygen propellants.
Liftoff is set for a launch window opening at 1938 GMT (3:38 p.m. EDT; 4:38 p.m. French Guiana time). Consuming hydrogen fuel and pre-packed solid propellant in two strap-on boosters, the Ariane 5 rocket will propel its payloads into geostationary transfer orbit with an apogee, or high point, of 22,328 miles, a low point of 155 miles and an inclination of 6 degrees.
Two communications stations are mounted inside the Ariane 5's Swiss-made nose cone.
The Thor 7 telecom satellite occupies the upper position in the rocket's dual-payload berth. Owned by Telenor Satellite Broadcasting of Norway, Thor 7 will support clients on the move with Ku-band and Ka-band transponders, relaying data, video signals and Internet connectivity to ships, offshore oil drilling rigs and other users across the North Sea, the Norwegian Sea, the Red Sea, the Baltic Sea and the Mediterranean.
The 10,119-pound Thor 7 spacecraft, built in California by Space Systems/Loral, will deploy first from the Ariane 5's payload stack at T+plus 28 minutes.
A Sylda adapter will be discarded a few minutes later, revealing the 9,620-pound Sicral 2 spacecraft, the mission's other satellite passenger.
Manufactured by Thales Alenia Space in France and Italy, Sicral 2 hosts ultra-high frequency and super-high frequency communications instruments for Italian and French defense authorities. The new satellite supplements Italy's previous Sicral series of relay platforms and France's Syracuse satellite communications network.
The Italian and French armed forces hold a 62 percent and 38 percent stake in the Sicral 2 program, respectively, according to Thales.
Separation of the Sicral 2 spacecraft from the Ariane 5 rocket is scheduled at T+plus 34 minutes, 20 seconds.
The launch will mark the Ariane 5's 78th flight since it debuted in 1996, and the 46th mission using the Ariane 5 ECA configuration with a cryogenic upper stage.
The flight was delayed from April 15 by Arianespace to repair a cryogenic umbilical connecting the Ariane 5's upper stage with its mobile launch platform.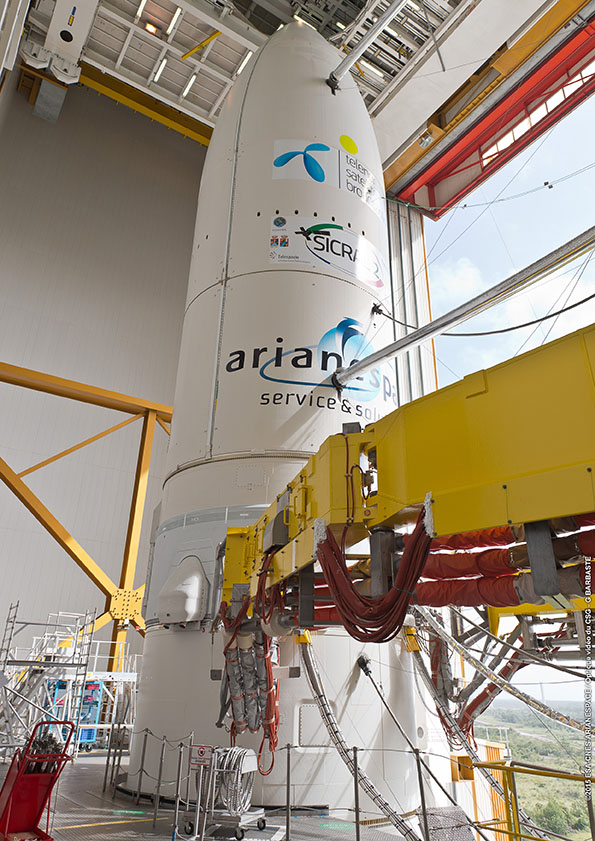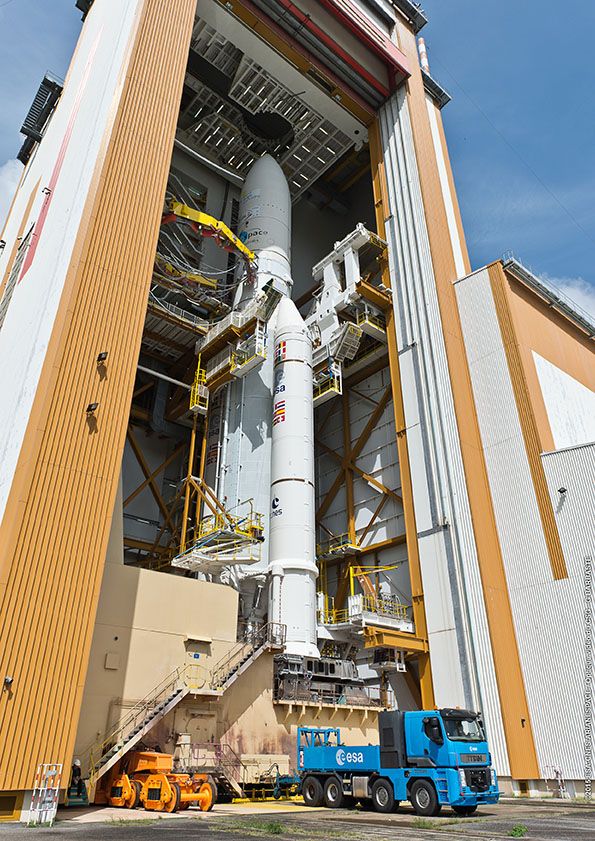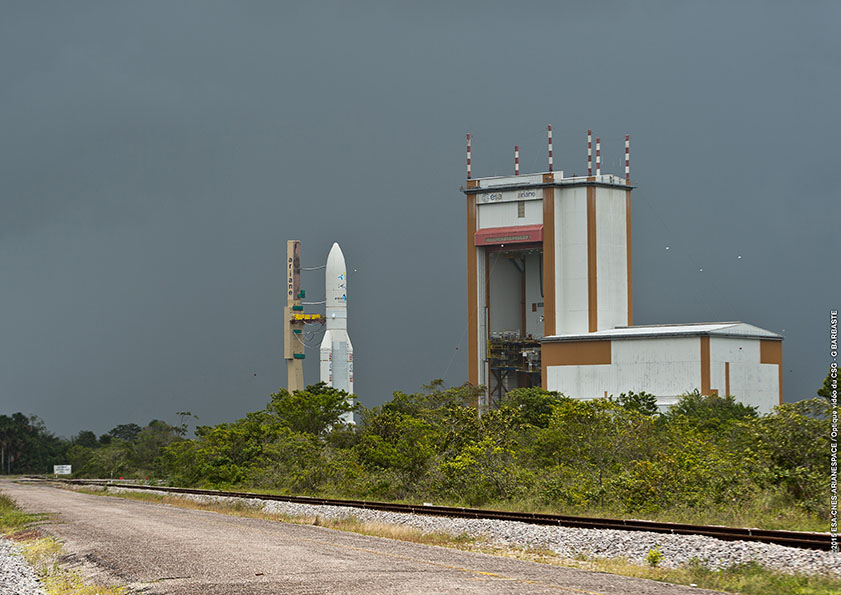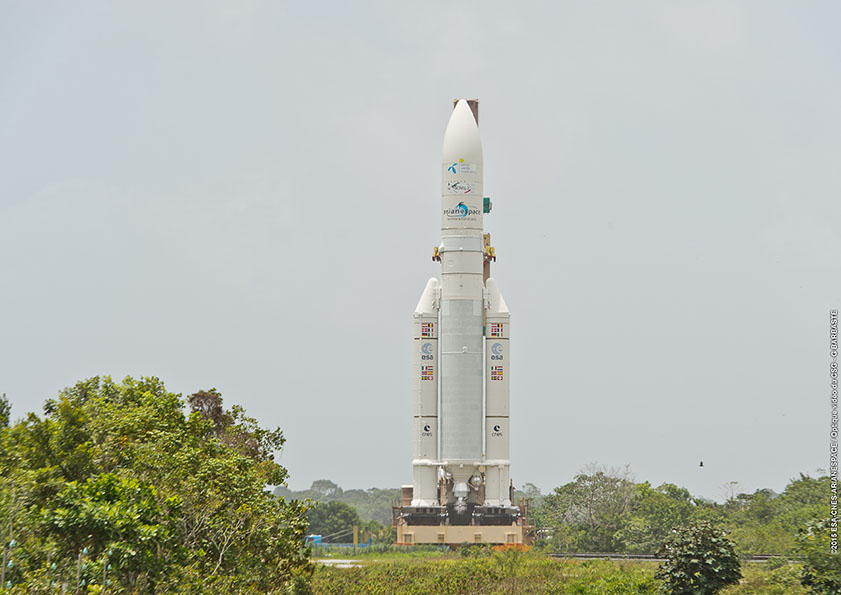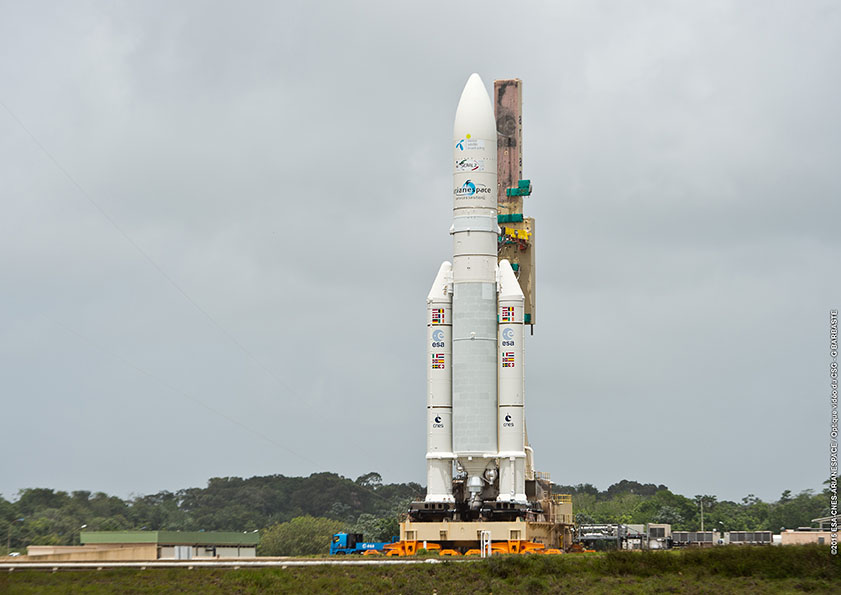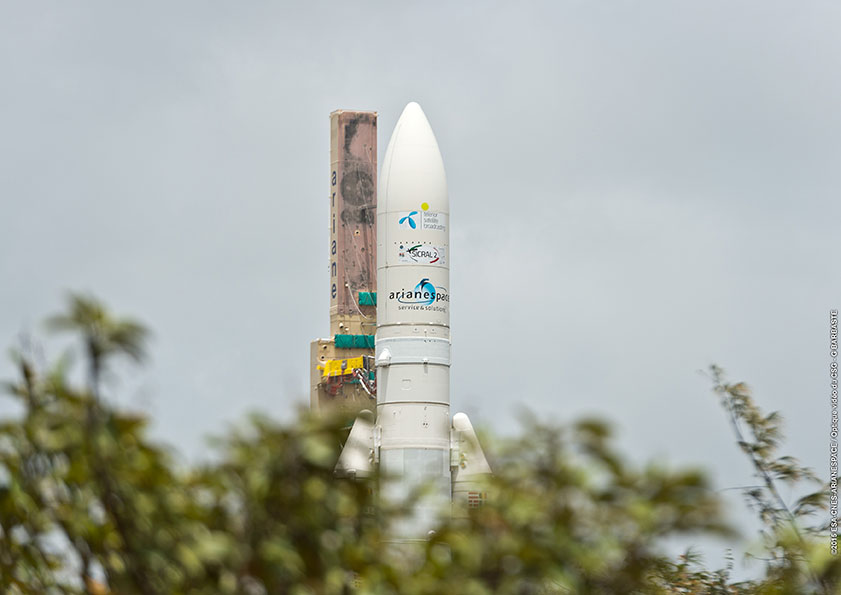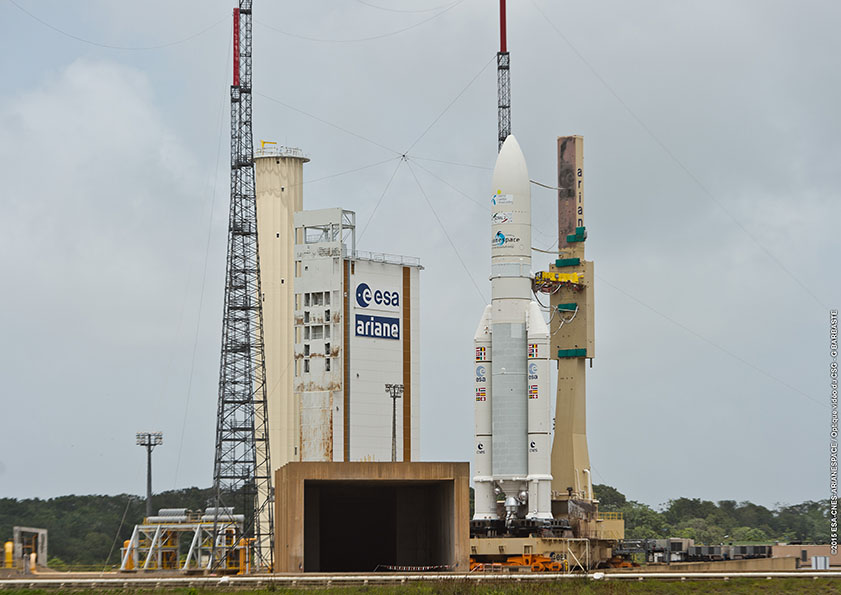 Follow Stephen Clark on Twitter: @StephenClark1.