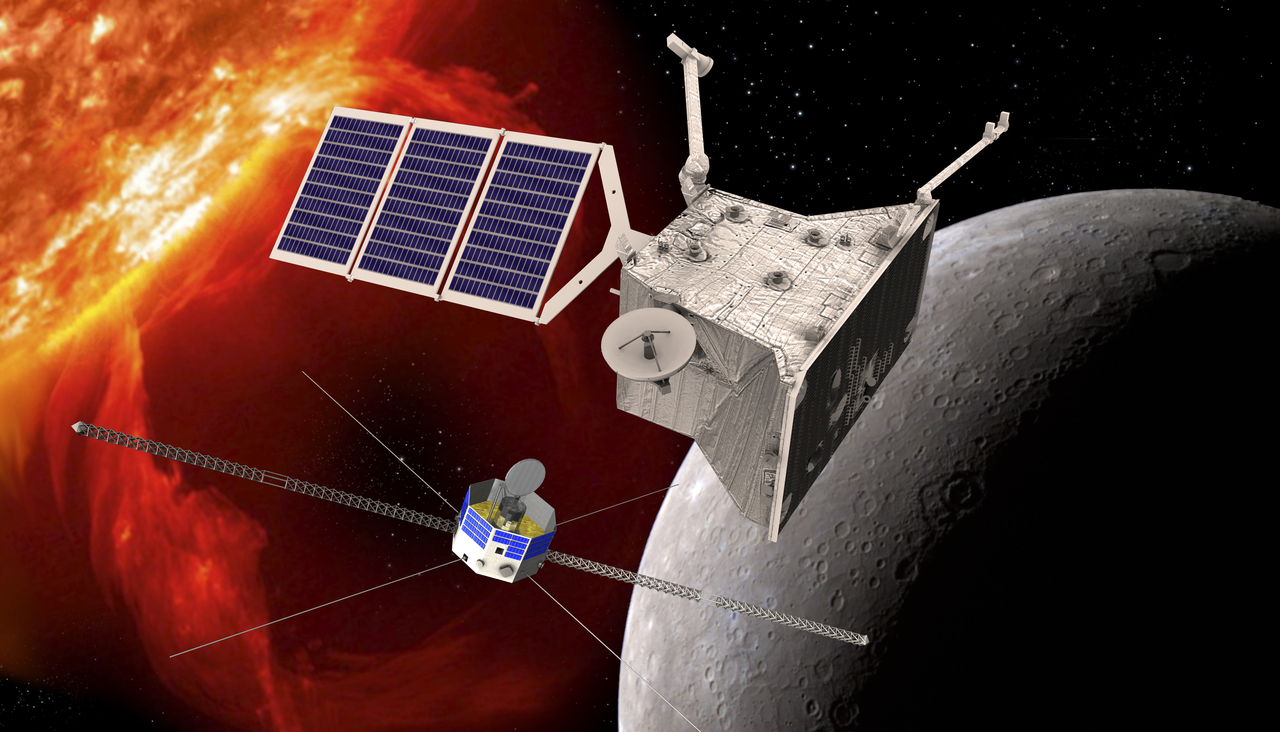 The launch of a nearly $2 billion joint mission robotic mission to Mercury by Europe and Japan will be delayed from next year to early 2017 to account for late deliveries of critical components and scientific instrumentation, according to the European Space Agency.
The BepiColombo mission, comprising two main spacecraft built in Europe and Japan, will still reach Mercury in January 2024.
The new launch window — determined by the positions of the planets — opens on Jan. 27, 2017, and extends for one month, ESA announced March 30. The launch was previously set for July 2016.
Mission managers completed BepiColombo's critical design review March 25 and decided to put off the launch for six months.
"As the result of delays in the procurement of critical units and the availability of some payloads, a decision was taken to opt for a later launch opportunity in order to minimize the operational risk to this ambitious dual mission," ESA said in a statement.
Another launch opportunity is available in mid-2017 to allow BepiColombo to still get to Mercury in 2024.
BepiColombo will launch on an Ariane 5 rocket from the Guiana Space Center in South America to kick off a seven-year cruise through the inner solar system. The European and Japanese components will blast off with a carrier spacecraft called the Mercury Transfer Module, which will carry ion engines to guide the mission on the journey to Mercury.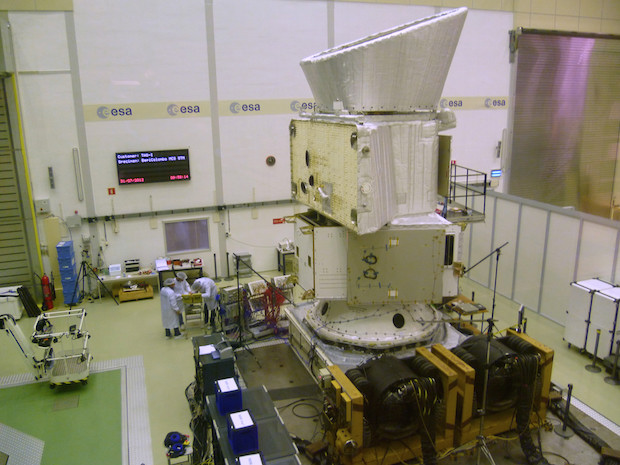 When packaged inside the Ariane 5's payload fairing, the three-part spacecraft stack will measure about the size of a moving van.
The spacecraft will return to the vicinity of Earth in July 2018 for a gravity boost to slingshot the probe closer to the sun. BepiColombo will spiral toward Mercury with two flybys of Venus in September 2019 and May 2020, followed by five Mercury encounters between 2020 and 2023.
BepiColombo's transit module will be jettisoned just before it steers into orbit around Mercury on Jan. 1, 2024. The mission's Japanese and European components — each fully functioning spacecraft — will separate and fly into different orbits for at least one year of observations, looking at the planet's cratered surface, investigating its origin, probing its interior, examining its tenuous atmosphere, studying its magnetic field, and timing Mercury's orbit around the sun to test Albert Einstein's theory of general relativity.
Mercury will fly around the sun four times during BepiColombo's one-year prime mission. The orbiters should have enough fuel for a one-year extension.
BepiColombo's Japanese section — known as the Mercury Magnetospheric Orbiter — is about the size of a compact car. It will probe Mercury's magnetic field and atmosphere from a highly elliptical orbit.
ESA's Mercury Planetary Orbiter will fly closer to the planet's surface, measuring Mercury's terrain and composition.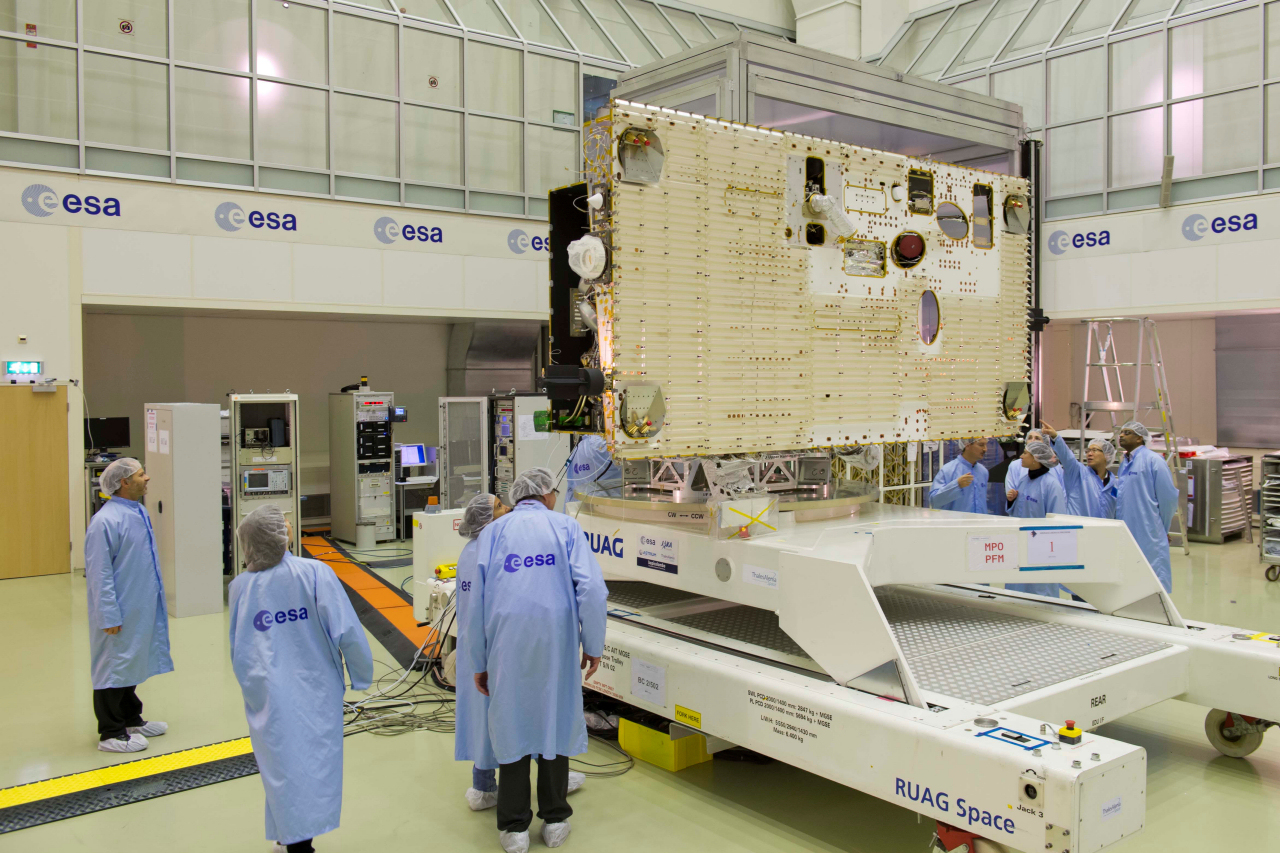 BepiColombo will be the first mission to Mercury by Europe and Japan, and the second to orbit the fleet-footed planet after NASA's Messenger spacecraft.
First proposed to ESA in the 1990s, BepiColombo is one of the most difficult space missions ever attempted by Europe and the most ambitious probe ever sent to Mercury. Powered by ion engines and shielded to withstand scorching temperatures of nearly 700 degrees Fahrenheit at Mercury, BepiColombo has endured redesigns, upgrades and delays that have sent the mission's cost more than 50 percent higher than original estimates.
ESA officials intended BepiColombo to launch on a medium-class Soyuz rocket, but the spacecraft outgrew the capacity of the Soyuz, forcing it to lift off on the more expensive Ariane 5.
Technicians in February mated BepiColombo's European orbiter and transfer module for the first time at ESA's test center in the Netherlands. Japan's magnetospheric probe is due to arrive at ESA in April for final tests.
Follow Stephen Clark on Twitter: @StephenClark1.