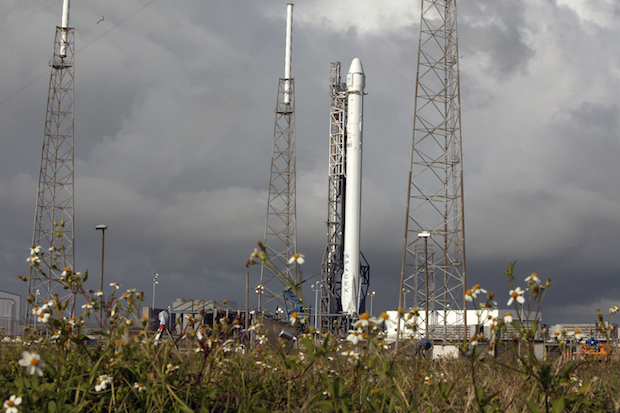 Confronted with pesky problems in the Falcon 9 rocket's helium pressurization system, SpaceX has shuffled the order of the next two launches, choosing to go ahead with the liftoff of a Dragon supply ship on a cargo delivery flight to the International Space Station around April 10.
The launch of a European-built communications satellite for the government of Turkmenistan, originally set for March 21, will now occur no sooner than late April, tentatively around April 24, officials said this week.
Gwynne Shotwell, SpaceX's president chief operating officer, said in Washington this week the extra time will allow engineers to complete an assessment of an issue with helium storage bottles inside the Falcon 9 rocket. The rocket uses helium gas to pressurize its propellant tanks.
The helium system has caused launch delays for SpaceX in the past.
It was not confirmed if SpaceX found the problems on the booster during launch preparations in Florida or on another vehicle in SpaceX's factory in California.
A SpaceX spokesperson confirmed the company has swapped the order of the next two launches.
Liftoff of SpaceX's sixth operational resupply flight to the space station is set for approximately 5:42 p.m. EDT (2142 GMT) on April 10. Sources said the launch date and time could be adjusted in the next few weeks.
SpaceX's Dragon capsule launch lift off on top of the Falcon 9 rocket, carrying several tons of food, experiments and provisions to the six-person crew living aboard the orbital outpost. At the end of the mission in May, the Dragon will depart the complex and splash down in the Pacific Ocean with research specimens and other gear tagged for return to Earth.
Technicians will affix landing legs to the first stage of the Falcon 9 rocket due for launch April 10, allowing the booster to aim for a vertical rocket-assisted touchdown on a barge northeast of Cape Canaveral.
The flyback experiment will help SpaceX move toward making the Falcon 9's first stage reusable, a goal the company says will reduce the cost of future space launches.
The launch with the TurkmenAlem52E/MonacoSat communications spacecraft, now set for late April, requires the Falcon 9's full lift capability, leaving insufficient fuel for a recovery at sea.
A key test of the abort system for the human-rated version of SpaceX's Dragon spacecraft may have to be delayed until after the upcoming launches. The abort test of the Crew Dragon capsule, which SpaceX is designing under contract to NASA, will use the same launch pad at Cape Canaveral as the Falcon 9's operational missions.
Follow Stephen Clark on Twitter: @StephenClark1.