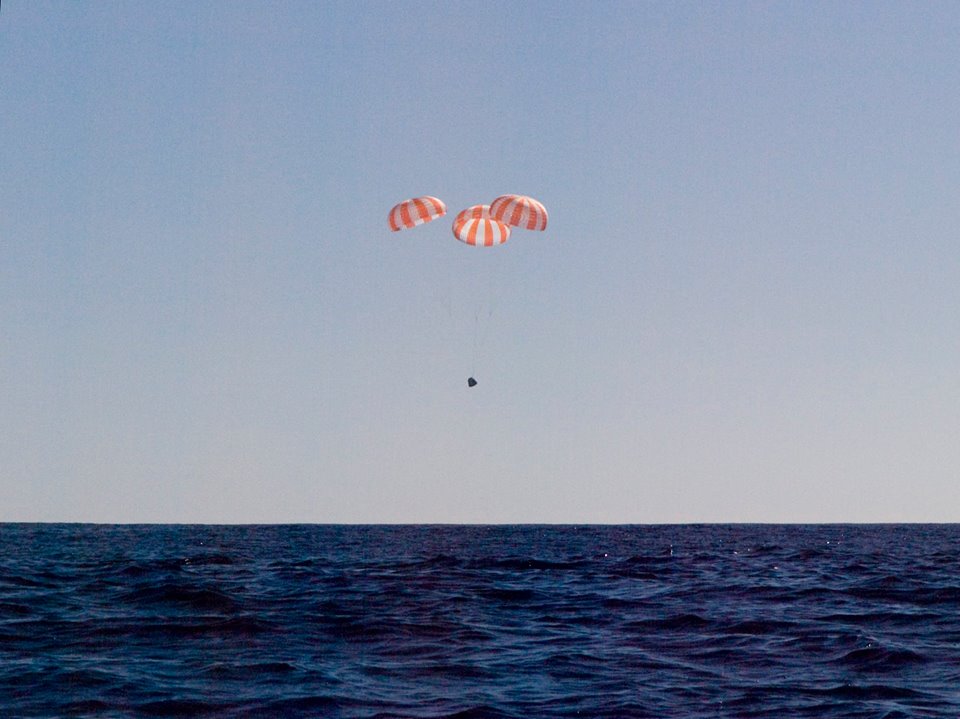 The human-rated Crew Dragon spacecraft being developed by SpaceX will return to Earth under parachutes for splashdowns in the ocean, and not execute helicopter-like propulsive touchdowns on land, a SpaceX official confirmed Monday.
SpaceX unveiled the Crew Dragon spaceship — also called the Dragon V2 — in a glitzy event held at the company's Southern California headquarters in May 2014.
Elon Musk, SpaceX's founder and chief executive, said the capsule would be outfitted with powerful new SuperDraco thrusters that double as a launch escape system and braking rockets for landing.
Although the spacecraft is still designed for eventual propulsive landings, its initial flights with astronauts will come back to Earth much like the cargo-carrying version of SpaceX's Dragon capsule, which splashes down in the Pacific Ocean a few hundred miles west of Baja California.
"The integrated launch abort system is critically important to us," said Gwynne Shotwell, SpaceX's president and chief operating officer. "We think it gives incredible safety features for a full abort all the way through ascent. It does also allow us the ultimate goal of fully propulsive landing.
"We won't be certifying the propulsive landing initially," Shotwell said. "We will be certifying the water landing with parachutes, but that vehicle will be prepared for a fully propulsive landing, which I believe is in the best interests of the astronauts."
Garrett Reisman, who leads SpaceX's crew operations program, said in August that the Crew Dragon spacecraft will touch down on land and slow its descent with the help of parachutes and braking rockets, similar to the landings of Russia's Soyuz capsule.
Speaking at a press conference at NASA's Johnson Space Center in Houston on Monday, Shotwell revealed the Crew Dragon will instead splash down at sea.
Eyeing a transition to rocket-assisted touchdowns, SpaceX plans to practice pinpoint Dragon landings at the company's test site in Central Texas with a prototype test capsule, similar to the way engineers wrung out the design of the Falcon 9 booster's vertical landing capability.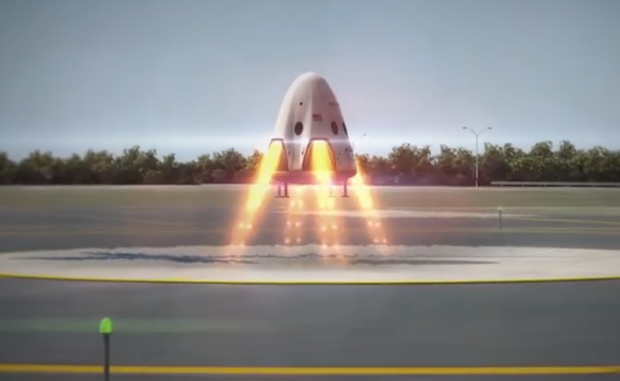 SpaceX won a contract worth up to $2.6 billion to complete development of the Crew Dragon spacecraft and fly up to six missions rotating crews on the space station. For NASA's purposes, the Dragon will likely fly with four astronauts and supplies on each flight.
The Crew Dragon has a different outer shape than the capsule's cargo configuration, and it carries an upgraded heat shield and extra backup systems required for human passengers.
Later Dragon missions could still exploit a capability that SpaceX says will eventually allow the capsule to descend to a landing pad almost anywhere in the world.
NASA awarded another contract to Boeing to finish work on its CST-100 space capsule, which will return crews to an airbag-cushioned landing at White Sands, N.M.
SpaceX is targeting the first crewed Dragon flight for launch on a Falcon 9 rocket from Kennedy Space Center's launch pad 39A in early 2017. Boeing says the first CST-100 flight with astronauts is set for July 2017 aboard a United Launch Alliance Atlas 5 rocket from Cape Canaveral's Complex 41 launch pad.
The commercial capsules will end NASA's sole reliance on Russia to fly astronauts to the space station.
Follow Stephen Clark on Twitter: @StephenClark1.