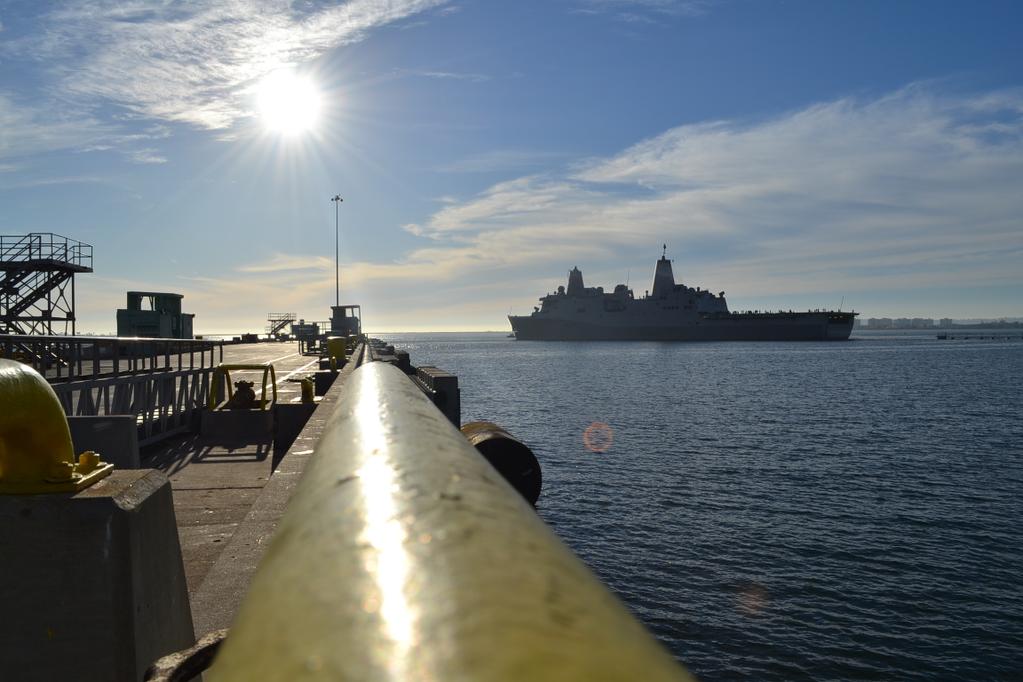 A U.S. Navy transport ship carrying NASA's first space-worthy Orion capsule arrived Monday in San Diego, where ground crews will offload the spacecraft for shipment back to its home port at the Kennedy Space Center in Florida.
The Orion capsule could return to KSC by the end of next week. It will be shipped by truck for a journey expected to take approximately 10 days.
The USS Anchorage reached Naval Base San Diego late Monday after a 600-mile journey from Orion's splashdown site in the Pacific Ocean west of Baja California. The 16.5-foot-wide capsule was recovered by a joint team of U.S. Navy divers and NASA experts stationed on the vessel.
Friday's test flight took the Orion capsule 3,600 miles from Earth and lasted nearly four-and-a-half hours from liftoff to splashdown. Officials from NASA and Lockheed Martin, Orion's prime contractor which was in charge of the test flight, said the mission was nearly flawless.
NASA is developing the Orion spacecraft to take astronauts into deep space for the first time since the end of the Apollo moon program in 1972. Orion flights could visit destinations such as an asteroid, a deep space habitat, or the moon's orbit before eventually launching on missions to Mars.
Orion's first flight with astronauts is scheduled for 2021, after another unpiloted test mission set for launch in 2018.
Lessons learned from Friday's test flight will tell engineers if they need to make changes on future Orion spacecraft.
Orion managers are gearing up for a critical design review in late 2015 — a major programmatic milestone that will determine whether the spacecraft is ready for full-scale production.
"We have 1,200 sensors — thousands of pieces of data — that we're going to get back, and I'm sure we're going to find some very interesting things about how it behaved," said Mark Geyer, NASA's Orion program manager. "That's really important for us as we get ready for the next mission."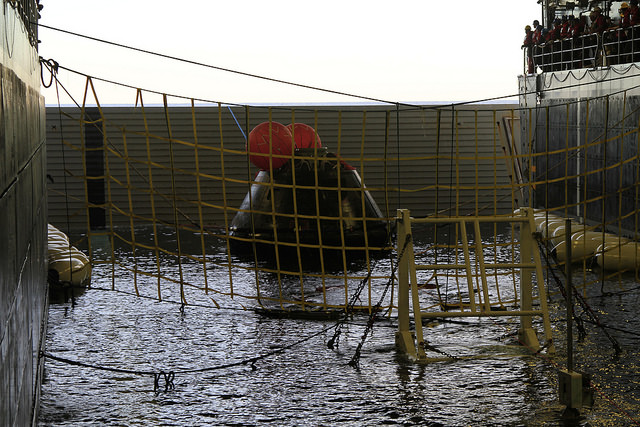 Before the Orion capsule leaves San Diego, technicians plan to open the gumdrop-shaped craft's hatch and pull out flight recorders that stored extensive data collected by the ship's instrumentation during Friday's mission.
The ground crews may also take core samples from Orion's heat shield to fast-track analysis of how it weathered the capsule's scorching re-entry back into the atmosphere. Engineers expected the spacecraft to encounter temperatures up to 4,000 degrees Fahrenheit when it hit the upper atmosphere at 20,000 mph.
Mike Hawes, Orion's program manager at Lockheed Martin, said his team must submit a comprehensive report on the results of Friday's flight within 90 days.
"That's why we want to get the data and get it out of the capsule as soon as it's back to port, (so we can) actually start working on that data," Hawes said.
Once the capsule gets to Florida, it will return to its factory inside the Neil Armstrong Operations and Checkout Building, where workers assembled the spacecraft and readied it for launch.
Hawes said one of the first tasks for workers at KSC will be the removal of Orion's heat shield for transport to other facilities for evaluation.
The Orion spacecraft that flew Friday is set to fly again later this decade atop a surplus Peacekeeper missile stage donated by the U.S. Air Force. That test flight is scheduled for 2018 to test the capsule's ability to pull itself away from a rocket mishap during the intense aerodynamic pressures of launch.
Follow Stephen Clark on Twitter: @StephenClark1.