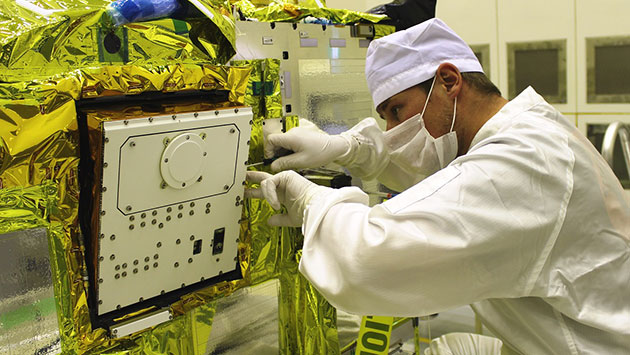 Weeks after accomplishing the first touchdown on a comet, the team of European scientists that developed the Philae landing craft is awaiting launch of a related robot riding piggyback with Japan's Hayabusa 2 spacecraft to achieve the same feat on an asteroid.
The MASCOT lander is smaller than Philae — just one-tenth of the mass of the comet lander — but scientists expect it to record imagery of the asteroid's landscape and gather science data on the tiny world's alien environment.
Hayabusa 2 is set for launch at 0422 GMT Wednesday (11:22 p.m. EST). Japan's H-2A rocket will send the probe speeding away from Earth to intercept asteroid 1999 JU3, an unexplored world about the size of several city blocks.
It arrives at the asteroid in June 2018 for a year-and-a-half of close-up surveys.
Hayabusa 2 will drop four landers to the asteroid some time in 2018 or 2019, including MASCOT — the Mobile Asteroid Surface Scout — which rides inside the mothership during its interplanetary journey.
MASCOT is a fraction of the size of Philae — about the size of a shoebox — and it does not promise the extensive data haul from the comet lander.
"Philae is about 100 kilograms (220 pounds), while MASCOT is only about 10 kilograms (22 pounds)," said Hitoshi Kuninaka, Hayabusa 2's project manager at the Japan Aerospace Exploration Agency. "It's a very small landing machine, but it is packed with instrumentation."
MASCOT's team hails from Germany and France. The lander team is led by DLR Institute of Space Systems in Bremen, Germany, with payload, power and communications contributions from CNES, the French space agency.
"Following in the footsteps of Philae's unique comet landing earlier this year, this venture represents the next stage in an exciting journey into space — and is a perfect example of how international cooperation is set to continue," said Hansjorg Dittus, DLR executive board member for science and technology.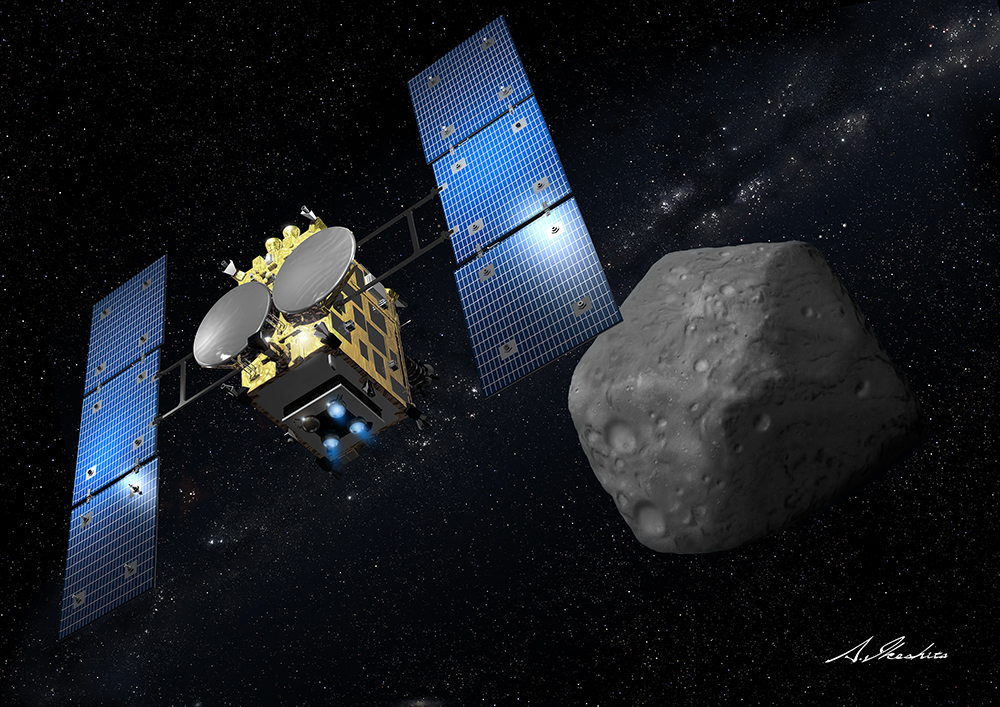 Stephan Ulamec, who led the German space agency's Philae lander team, also helped oversee the development of MASCOT's scientific payload.
"It's a very exciting month for me to land a mission and launch another lander in one month," Ulamec said in an interview.
MASCOT and its Japanese lander co-passengers will become the first robots designed to touch down on an asteroid to achieve a controlled landing. Other space missions — NASA's NEAR asteroid explorer and Japan's Hayabusa 1 probe — landed on asteroids but were not originally intended to do so.
"There is significant overlap (with Philae), which had to do with the fact that we had a very limited time to develop MASCOT," Ulamec said. "We had to use experiments which were very mature, so they were based on the heritage we had from Philae."
Ulamec said MASCOT is like a "little cousin" to Philae.
"It has a payload, management and all kinds of heritage from Philae," Ulamec said.
The asteroid lander carries a wide-field camera, a magnetometer and a radiometer to measure the asteroid's temperature and thermal characteristics, according to a mission website.
A microscope on MASCOT will help scientists determine what minerals make up the asteroid's surface.
Data collected by MASCOT will supplement findings from the Hayabusa 2 mothership, which will release the lander at a distance of about 100 meters (328 feet) from the asteroid. Hayabusa 2 will go on to retrieve rock samples from the asteroid and return the material to Earth for analyses in laboratories.
"Among other things, the data that our lander will acquire can also be used to supplement the information acquired by the orbiter and the laboratory analyses back on Earth," said Tra-Mi Ho, DLR's MASCOT project manager.
MASCOT features a device to help the lander to hop across the asteroid and gather data from at least two sites on the surface. MASCOT's mission will last about 16 hours before the lander loses power. Unlike Philae, the asteroid lander is not designed to recharge its batteries.
"Our target asteroid, 1999 JU3, belongs to one of the most common classes of near-Earth asteroids," said Ralf Jaumann from the DLR Institute of Planetary Research and scientific spokesperson for the lander experiments. "Telescope measurements conducted here on Earth suggest that it may contain water."
Scientists theorize that comets and asteroids may have seeded Earth with water after the birth of the solar system.
"We expect very exciting scientific data from MASCOT," Kuninaka said.
Follow Stephen Clark on Twitter: @StephenClark1.