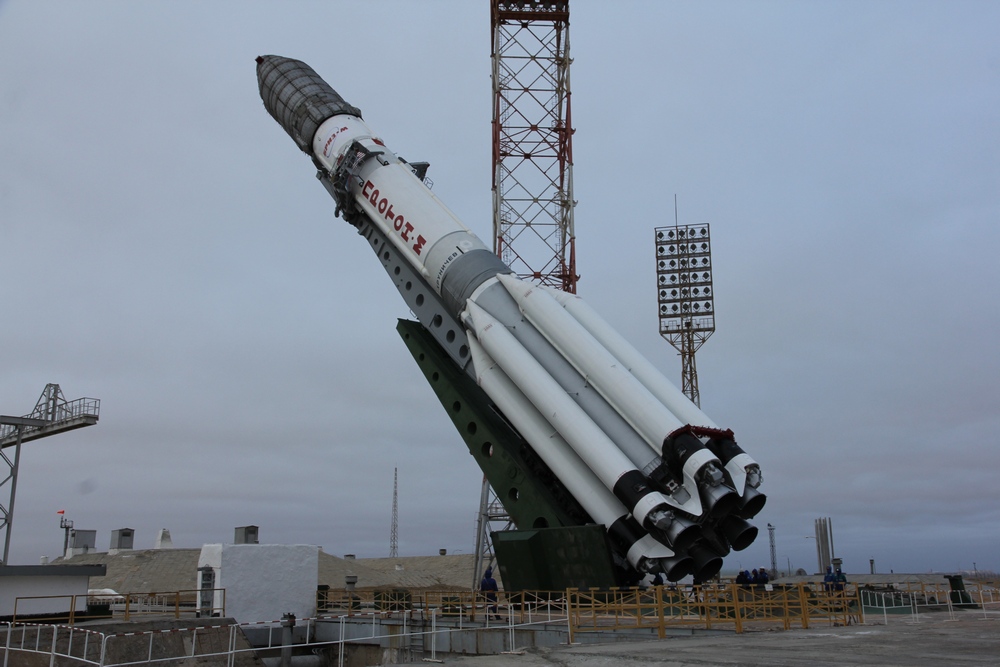 A Proton rocket launch set for Thursday will be delayed until December after Russian technicians discovered a faulty gyroscope on the launcher's Breeze M upper stage, officials announced Wednesday.
The rocket will be removed from its launch pad at the Baikonur Cosmodrome in Kazakhstan and disassembled to replace the suspect gyro unit, according to International Launch Services, the Virginia-based company that is responsible for global commercial sales of the Proton booster.
The mission was set to lift off Thursday on the Proton rocket's 400th launch. The Astra 2G communications satellite owned by SES of Luxembourg is mounted on top of the rocket.
In a statement released Wednesday, ILS blamed the issue on the "off-nominal operation of the Breeze M upper stage gyro unit during planned pre-flight testing."
The rocket rolled out of its assembly building to the launch pad Monday on railroad tracks. The launcher will now be returned to the hangar for troubleshooting of the gyro problem.
The Astra 2G satellite and the Proton/Breeze M launch vehicle are in a safe configuration, ILS said in a statement. No new launch date has been scheduled.
The spacecraft and Breeze M upper stage — already filled with maneuvering propellant — will be taken off the Proton rocket for the repairs, officials said.
The launch delay is the latest setback for the Breeze M upper stage, which is supposed to position satellites in their correct orbits thousands of miles above Earth after deployment from the Proton rocket's core booster.
Built by the Khrunichev State Research and Production Space Center based in Moscow, the Breeze M upper stage is designed to fire its rocket engine multiple times per mission.
Investigators blamed the Breeze M for many of the launch failures that have struck Proton rocket missions in recent years.
During an Oct. 22 launch, a Breeze M rocket stage released Russia's Express AM6 telecom satellite into an off-target orbit for reasons never publicly revealed by Russian authorities.
The Russian Federal Space Agency and Khrunichev declared the launch successful despite the slight orbit shortfall.
Officials said rollback and disassembly of the Proton rocket will delay Astra 2G's launch at least a couple of weeks. It was not clear Wednesday whether other upcoming Proton launches would be affected by Astra 2G's delay.
Another Proton rocket was scheduled to launch the Yamal 401 satellite for Gazprom Space Systems on Dec. 12.
Follow Stephen Clark on Twitter: @StephenClark1.