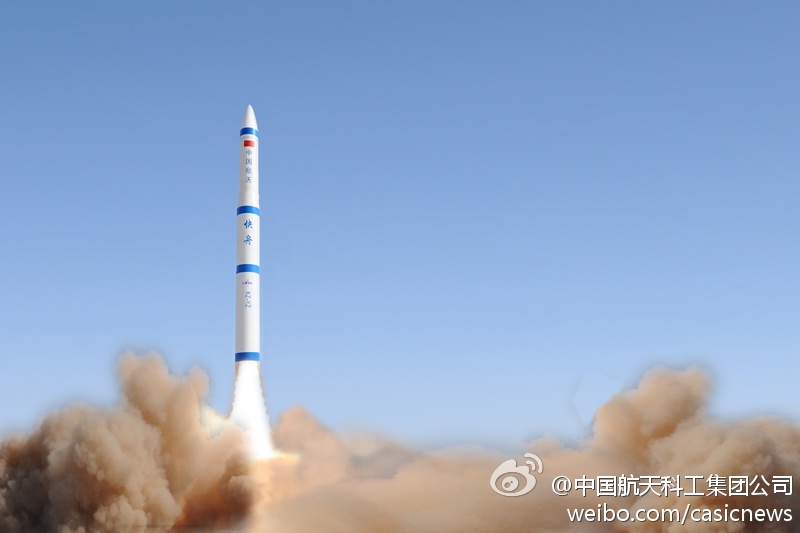 A mysterious new Chinese rocket lifted off Friday and put a small satellite several hundred miles above Earth, marking China's second space launch in less than 24 hours.
China's state-run media outlets released few details on the mission, which launched from the Jiuquan space center in northwest China's Gobi desert.
The Kuaizhou 2 spacecraft launched at 0637 GMT (1:37 a.m. EST) Friday, or 2:37 p.m. Beijing time, China's official Xinhua news agency reported.
The Jiuquan space base was the starting point for another Chinese rocket launch less than 24 hours earlier, when a Long March 2D rocket placed a military reconnaissance payload int orbit.
The booster used on Friday's launch was not from China's workhorse Long March rocket family. It was from a new line of launchers named Kuaizhou — the same designation used for its payload — and Friday's flight marked the second liftoff of the rocket after an inaugural launch in September 2013.
Kuaizhou means "speedy vessel" in Chinese.
The satellite "will be used to monitor natural disasters and provide disaster-relief information," Xinhua reported.
The government-run news agency did not release any photos of the liftoff, a departure from standard procedure after a successful launch.
The Kuaizhou launcher is composed of three solid-fueled rocket stages and a liquid-fueled fourth stage that is part of the spacecraft it is launching, according to Sinodefence.com, a British website specializing in Chinese military matters.
It is capable of launching a satellite weighing nearly 1,000 pounds into an orbit 300 miles above Earth, according to the website.
Experts believe the Kuaizhou rocket can launch from a wheeled mobile transporter within days of call-up. The mobility of the system — derived from China's strategic missile program — also allows the rocket to launch from many locations.
The Kuaizhou launcher resembles a new "rapid response" rocket unveiled by China last week. The FT-1 rocket described by Chinese officials is solid-fueled, mobile and could be used to replace damaged or destroyed satellites on short notice.
Friday's liftoff marked the 12th Chinese space launch of the year.
Follow Stephen Clark on Twitter: @StephenClark1.