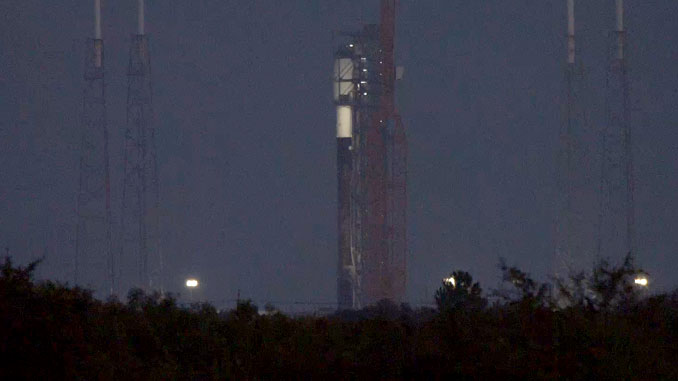 Update 12:40 a.m. EST (0540 UTC): Successful liftoff of the Falcon 9 rocket and landing of the Falcon 9 first stage booster.
A Falcon 9 rocket is to launch tonight with another batch of satellites for SpaceX's Starlink internet service. Liftoff from pad 40 at Cape Canaveral Space Force Station occurred at 12:05 a.m. EDT (0505 UTC).
The 45th Weather Squadron in a forecast issued Thursday, predicted a 60-percent chance of acceptable conditions for launch. After days of wet and windy weather, skies cleared briefly Friday before foggy conditions descended on the Space Coast after sunset.
Spaceflight Now's live coverage of the launch began about an hour before liftoff.
The Falcon 9 carried 23 second-generation V2 mini satellites and headed on a south-easterly trajectory after launching from Space Launch Complex 40 at Cape Canaveral. Following stage separation, about two and half minutes into flight, booster 1069, which is making its 11th flight, landed on the drone ship "Just Read the Instructions" which will be stationed about 420 miles (675 km) downrange in the Atlantic east of the Bahamas.
This was SpaceX's 54th Starlink delivery mission in 2023 and the company's 84th orbital launch of the year. If all goes according to plan, the satellites, will be released into orbit an hour and five minutes after liftoff. SpaceX announced early this year it had signed up over two million subscribers in more than 60 countries for its Starlink internet service.
It's a busy weekend for SpaceX with the second test flight of its new Starship vehicle scheduled for 7 a.m. CST (8 a.m. EST (1300 UTC) and an additional 22 Starlink satellites due to launch from Vandenberg Space Force Base in California Saturday night. Liftoff of the Starlink 7-7 mission from Space Launch Complex 4E is scheduled for 10:55 p.m. PST (1:55 a.m. EST/0655 UTC).