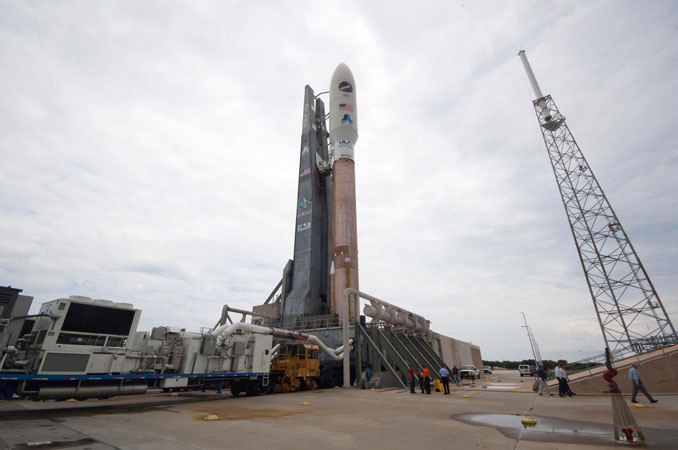 The opening salvo in Amazon's 3,236-satellite Project Kuiper venture is switching its ride to space. An Amazon spokesperson confirmed in a statement to Spaceflight Now on Monday that the first two demonstration satellites for the broadband constellation will launch on a United Launch Alliance (ULA) Atlas 5 rocket as soon as Sept. 26, 2023, instead of the inaugural Vulcan rocket.
The change follows news from ULA that its forthcoming Vulcan rocket won't launch until late 2023 at the earliest.
During a beam-signing ceremony amid construction of a Kuiper processing facility at NASA's Kennedy Space Center, Steven Metayer, the vice president of Kuiper Production Operations, stated that shifting the launch of the first two satellites was something that Amazon was considering.
"Our point of record right now is to have those satellites flying on the Vulcan and obviously, we'll work with ULA, who are great partners of ours, to see if there's other options too, but right now, the point of record is Vulcan," Metayer said on July 21.
Amazon had booked nine Atlas 5 launches prior to purchasing 38 Vulcan flights for the deployment of its Kuiper satellite constellation. In a statement to Spaceflight now, a spokesperson said the fall Atlas launch is part of that original purchase.
According to a filing with the Federal Communications Commission (FCC), the prototype satellites will be launched on an Atlas in the 501 configuration, meaning it won't be using any solid rocket boosters and will feature a 5-metre diameter payload fairing. The document states that the pair of prototype Kuiper satellites will be sent into a circular orbit at 500 km at a 30-degree inclination.
Amazon had previously said the prototype satellites would help test the Kuiper network and subsystems. Launches of operational satellites and the start of some initial trial services are due to begin in 2024.
Metayer said during an interview with Spaceflight Now that the first operational missions for the Kuiper constellation will launch on Atlas rockets. He noted at the time that Amazon had manifest dates for its first few Atlas launches, but had yet to book them with range authorities.
For a fully loaded Kuiper launch onboard an Atlas V rocket, Metayer said a couple dozen satellites fit into an Atlas payload fairing, but didn't provide a specific number.
Not the first rocket shuffle for Kuiper
The shift from Vulcan to Atlas is not the first time Amazon switched launches for these prototype satellites. Back in Nov. 2021, Amazon announced that KuiperSat-1 and KuiperSat-2 would launch aboard an ABL Space System RS1 rocket by the fourth quarter of 2022. Less than a year later in Oct. 2022, Amazon announced its plans shifted and those two satellites would instead fly on ULA's Vulcan rocket.
Amazon stated at the time that it would hold onto two launches with ABL Space Systems for the future. It's unclear how many satellites ABL's RS1 rocket can launch at a time. Spaceflight Now asked Amazon if it still intends to fly Kuiper satellites aboard the first Vulcan flight when it does launch. We're waiting to hear back.