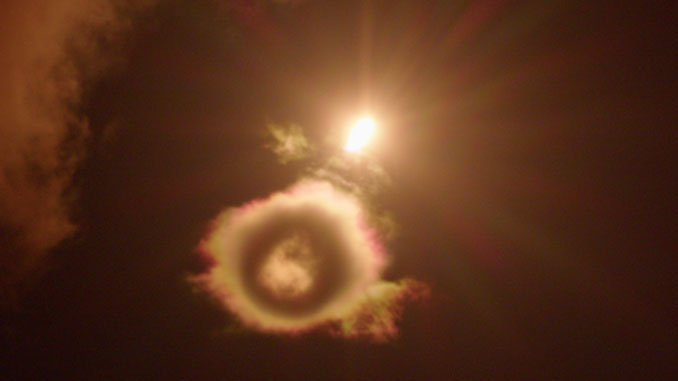 Update 12:35 a.m. EDT, July 28:
SpaceX successfully launched its Falcon 9 rocket carrying 22 more Starlink V2 Mini satellites into low Earth orbit.
This mission marked the 15th launch and landing for the booster with the tail number B1062. More notably, SpaceX's 50th orbital launch of 2023 also marked an historic turnaround time for the launchpad at Space Launch Complex 40 at Cape Canaveral Space Force Station.
Prior to Friday's launch, the previous pad turnaround record was 113 hours, 14 minutes, which was set in June between the Satria and Starlink 5-12 missions.
The new record now stands at 99 hours and 11 minutes. The last mission to launch from SLC-40 was the Starlink 6-6 mission, which launched on July 23 at 10:50 p.m. EDT (0050 UTC on July 24).
Update 10:28 p.m. EDT, July 27:
SpaceX is aiming for its last T-0 opportunity during this launch window at 12:01 a.m. EDT (0401 UTC) on July 28.
Original article:
SpaceX will attempt to launch another 22 second-generation Starlink satellites on a Falcon 9 rocket Thursday night after scrapping plans for a launch double-header with a Falcon Heavy rocket. The Falcon 9 is scheduled to liftoff from pad 40 at Cape Canaveral Space Force Station at 11:10 p.m. EDT (0310 UTC). The Falcon Heavy launch was pushed back to Friday to resolve the technical problems that scrubbed a launch attempt on Wednesday.
Weather remains a watch item the for the launch team after a weak tropical wave pushed into Florida on Thursday bring wet weather. The 45 Weather Squadron at Patrick Space Force Station predicted a 40 percent chance of acceptable conditions for launch. The main concerns were thick clouds and the potential for rocket-triggered lightning.
After lifting off from Space Launch Complex 40, the Falcon 9 will head south-east, targeting an orbit inclined at 43 degrees to the equator. After separating from the second stage about two and a half minutes into flight, the booster will arc downrange for a landing on the drone ship A Shortfall of Gravitas, which will be stationed in the Atlantic east of the Bahamas.
It will be the 15th flight for the first stage booster, tail number 1062, which launched the GPS 3 Space Vehicle 4, GPS 3 Space Vehicle 5, Inspiration4, Axiom 1, Nilesat 301, OneWeb 17 and Arabsat Badr-8 missions. It has also performed seven Starlink previous delivery missions.
Two burns of the second stage will be required to place the satellites into the required 323 by 314 km orbit. Separation of the 22 satellites is scheduled to occur just over an hour into the flight.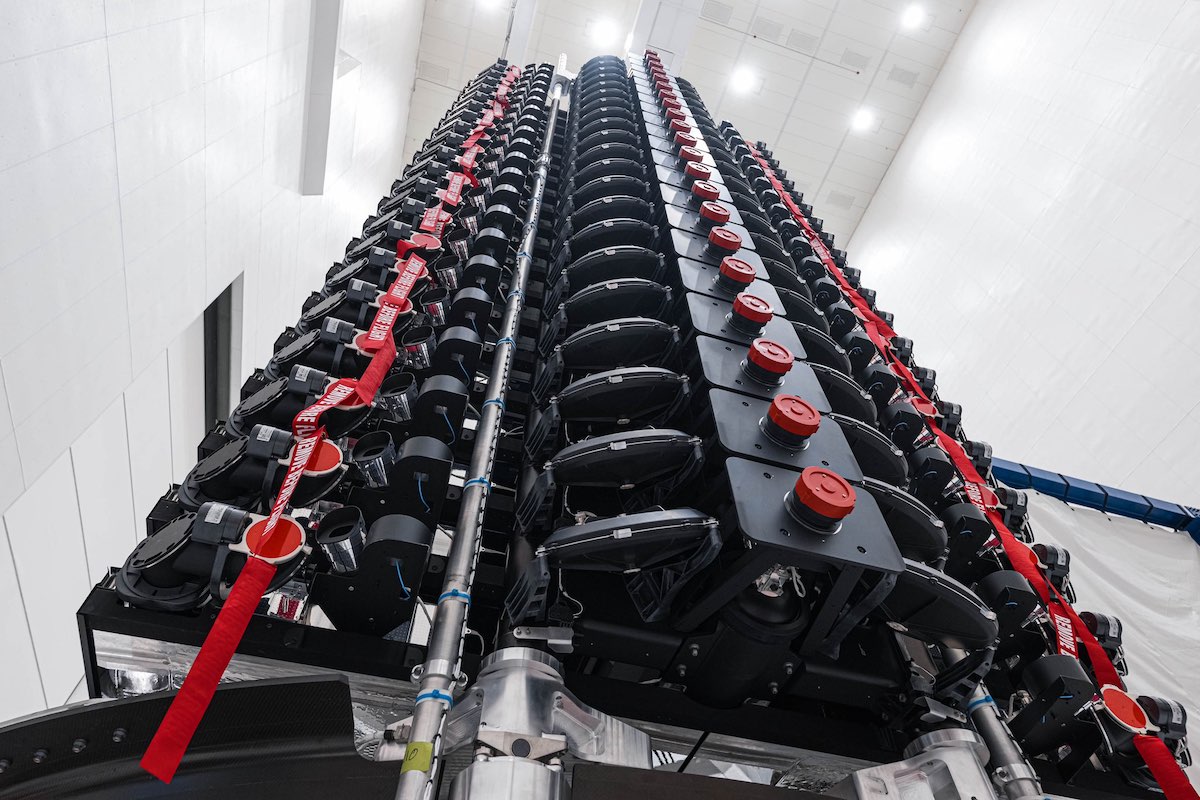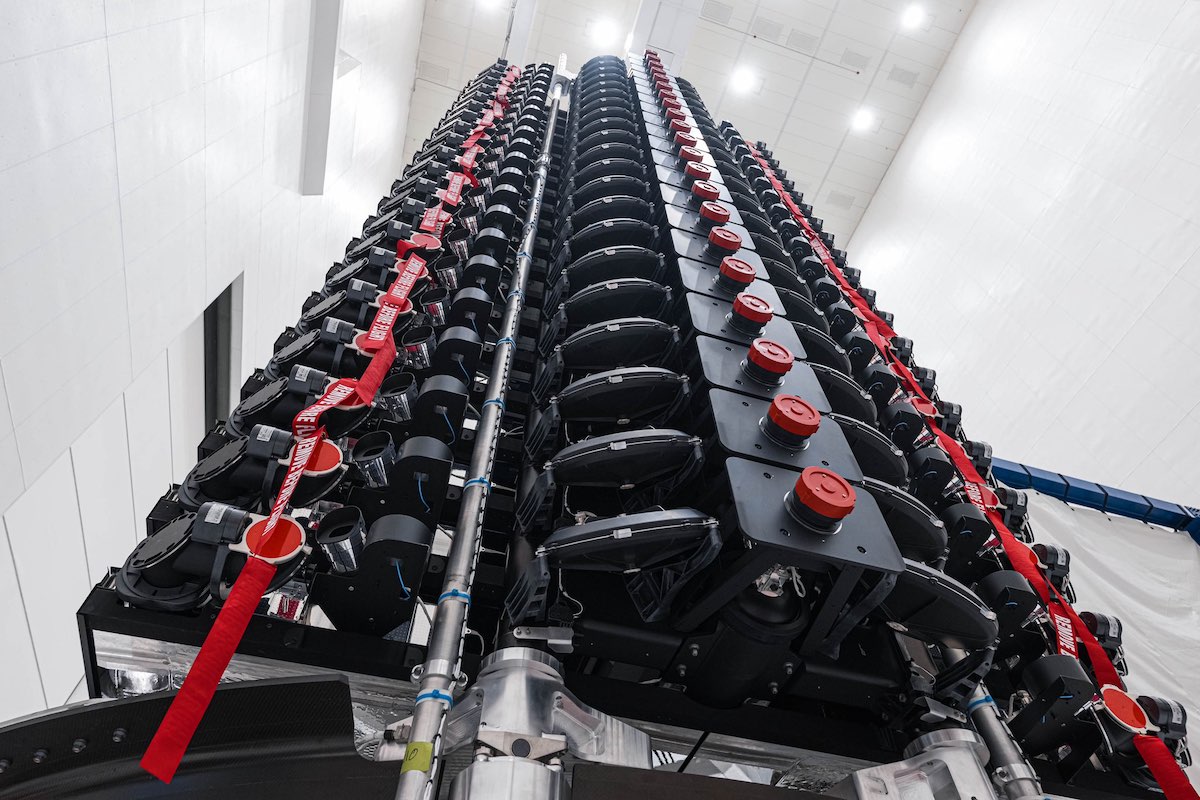 It will be the eighth launch of the so-called V2 mini satellites which are larger and have four times the bandwidth of the previous models. The full-sized V2 Starlink satellites are due to be launched by SpaceX's fully-reusable Starship vehicle but the delayed debut of Starship led SpaceX to create a condensed version of the satellites so they could be launched on Falcon 9.
According to statistics compiled by Jonathan McDowell, an astronomer and widely-respected expert on spaceflight activity, SpaceX has launched 4,859 Starlink satellites to date, and the number of Starlink satellites currently in orbit is 4,519.
In early May, SpaceX announced it had more than 1.5 million subscribers to Starlink. The company's internet service is available in more than 60 countries.