Update: SpaceX called off the launch of the Falcon Heavy with the Jupiter 3/EchoStar 24 satellite with 1 minute, 5 seconds left on the clock.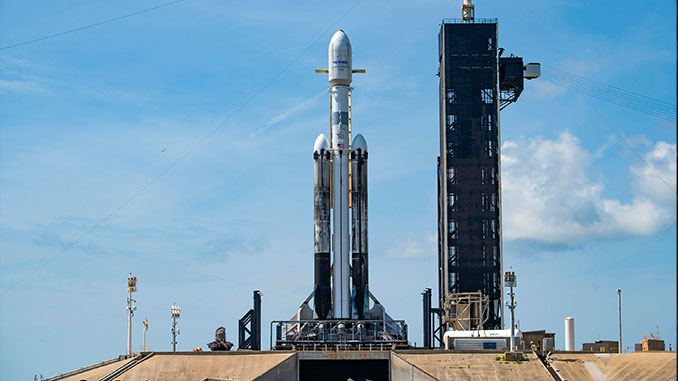 SpaceX rolled a Falcon Heavy to the launch pad early Wednesday morning ahead of its planned liftoff tonight at 11:04 p.m. EDT (0304 UTC) with the Jupiter 3/EchoStar 24 satellite, the heaviest commercial communications satellite ever launched.
The giant rocket, consisting of three Falcon boosters strapped together with a single upper stage, emerged from its hangar, lying atop the Transporter Erector, at around 1 a.m. EDT (0500 UTC). It was hauled up the ramp to the pad along rails by airport-style tugs and a system of pulleys and cables. It was rotated upright just before 11 a.m. EDT (1500 UTC). It will be the seventh mission for the Falcon Heavy and the third this year.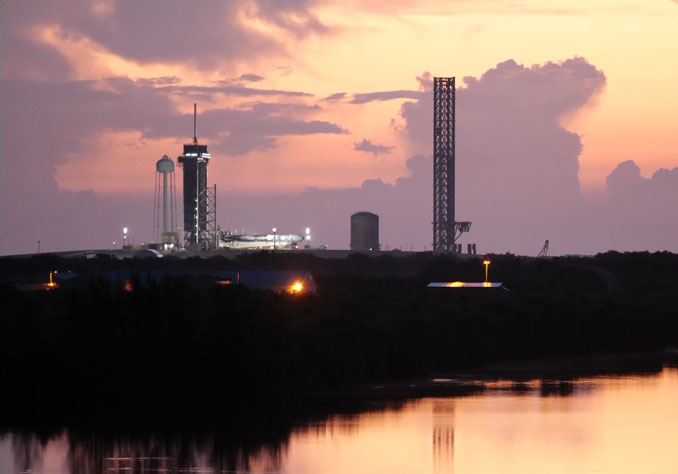 The U.S. Space Force 45th Weather Squadron at Cape Canaveral is forecasting an 85 percent chance of acceptable conditions for launch during the 99-minute launch window. SpaceX has a back up opportunity on Thursday but the forecast deteriorates to a 40% chance of acceptable weather.
Nestled in the rocket's payload fairing is the Jupiter 3/EchoStar 24 satellite, the heaviest commercial communications satellite ever launched. The 9-metric-ton satellite will expand reach of the HughesNet satellite internet service to nearly 80 percent of the population across the Americas. It features 300 spot beams to target coverage and has 500 Gbps of capacity.
Sharyn Nerenberg, the vice president of corporate communications at EchoStar, said following launch, Jupiter 3 will go through the process of orbit raising and testing as it arrives in its orbital slot of 95 degrees West longitude. It will take the place of EchoStar's Spaceway 3 satellite, which launched back on Aug. 14, 2007.
"The Hughes' Jupiter fleet of satellites is actually the largest Ka-band fleet across the Americas," Nerenberg said. "It's comprised of the Jupiter 1 satellite, the Jupiter 2 satellite, three hosted payloads over Latin America and soon, the Jupiter 3 satellite."
Nerenberg is relying on the Falcon Heavy for this launch because it needs the capability of a heavy lift rocket for such a massive satellite. The previous Jupiter missions used Arianespace's Ariane 5 in 2012 and ULA's Atlas V rocket in 2016.
Nerenberg said launching to geostationary orbit allows them to reach more people with fewer satellites.
"A geostationary satellite is proven, it's time-tested and they're great at laying down dense broadband capacity right where our customers need it the most," Nerenburg said. "And so, Jupiter 3 was designed to do exactly that. It was custom designed to lay down the most capacity possible where we know our customers really need it."
She said the improved broadband connectivity is designed to help those in rural areas of the Americas.
"Additionally, Jupiter 3 is going to be great for cellular backhaul for mobile network operators, helping them extend reach to more people beyond their terrestrial towers, where their terrestrial towers can reach," Nerenberg said. "It's also going to be used for aeronautical connectivity, for WiFi in the sky for airplanes traveling across North and South America. They'll be able to have higher speeds in flight."
Service using Jupiter 3 is expected to begin this fall in the fourth quarter of 2023, according toe Nerenberg.
Our live coverage of the Falcon Heavy countdown and launch will begin at 9:45 p.m. EDT (0145 UTC).