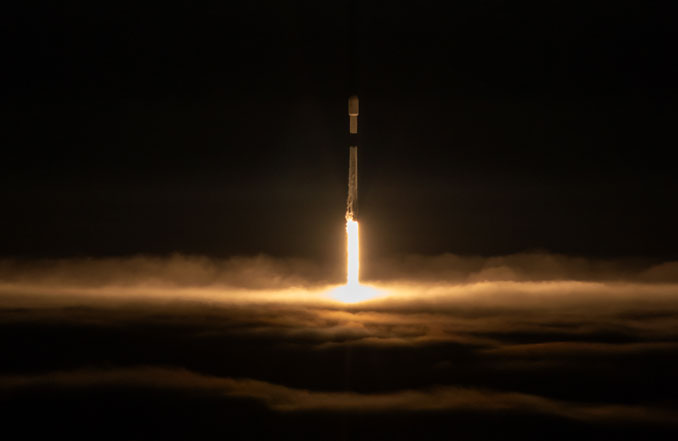 A SpaceX Falcon 9 rocket is lifted off Wednesday night/Thursday morning carrying the first batch of second-generation Starlink satellites to be lofted from the West Coast. Liftoff from Space Launch Complex 4 East at Vandenberg Space Force Base occurred at 9:09 p.m. PDT (1209 a.m. EDT / 0409 UTC July 19).
The Falcon 9 climbed off pad SLC-4E at the California launch site, rising through a thick layer of fog, carrying 15 satellites of the Starlink V2 mini design. This is significantly less than the 21-22 satellites that can be launched into the same orbit from Cape Canaveral. The rocket must skirt islands off the California coast, requiring a turn to the east to get on the correct trajectory for its planned 43-degree inclination orbit. This maneuver known as a 'dogleg' burns additional propellant and reduces the Falcon 9's lift capacity. This new Starlink version weighs nearly three times more than the previous V1.5 spacecraft.
The booster, which was making its 10th flight, touched down about nine and a half minutes after launch on the drone ship 'Of Course I Still Love You', which was stationed about 410 miles (660km) downrange in the Pacific Ocean. The first stage booster previously launched the NROL-87, NROL-85, SARah-1, SWOT and Transporter-8 missions. It has also made four Starlink delivery flights. It was SpaceX's 164th booster recovery at sea, its 208th overall and its 134th successful recovery in a row.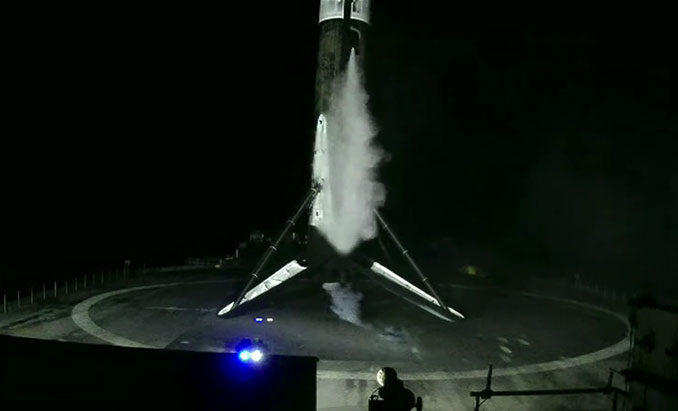 The Merlin vacuum engine on the second stage then performed a single 6 minute burn to place the stack of Starlink satellites into a 196 by 160 mile (315 by 258 km) orbit. The satellites were deployed from the upper stage payload adapter 14 minutes 51 seconds into flight. A successful separation was confirmed about 45 minutes after launch through the tracking station at Hartebeesthoek in South Africa
Over the coming months the V2 mini satellites will use an argon-fueled propulsion system to maneuver into their operational orbits.
This next generation of Starlink satellites is equipped with two large solar panels and improved phased array antennas, capable of four times the communications capacity of earlier Starlinks. This was the sixth launch of V2 mini satellites.
The last batch of the V1.5 satellites was launched from Cape Canaveral on July 15. Another batch of V2 mini satellites are scheduled for a Falcon 9 flight this coming Saturday (July 22) from pad 40 at Cape Canaveral. The satellites for that mission were moved to the launch pad on Wednesday for integration with the Falcon 9.
In early May, SpaceX announced it had more than 1.5 million subscribers worldwide to its Starlink network which offers low latency, high speed Internet service worldwide.
To date, SpaceX has launched a total of 4,837 Starlink satellites of which 4,497 remain in orbit, according to Jonathan McDowell, an astronomer at the Harvard-Smithsonian Center for Astrophysics who maintains a database of space flight operations.