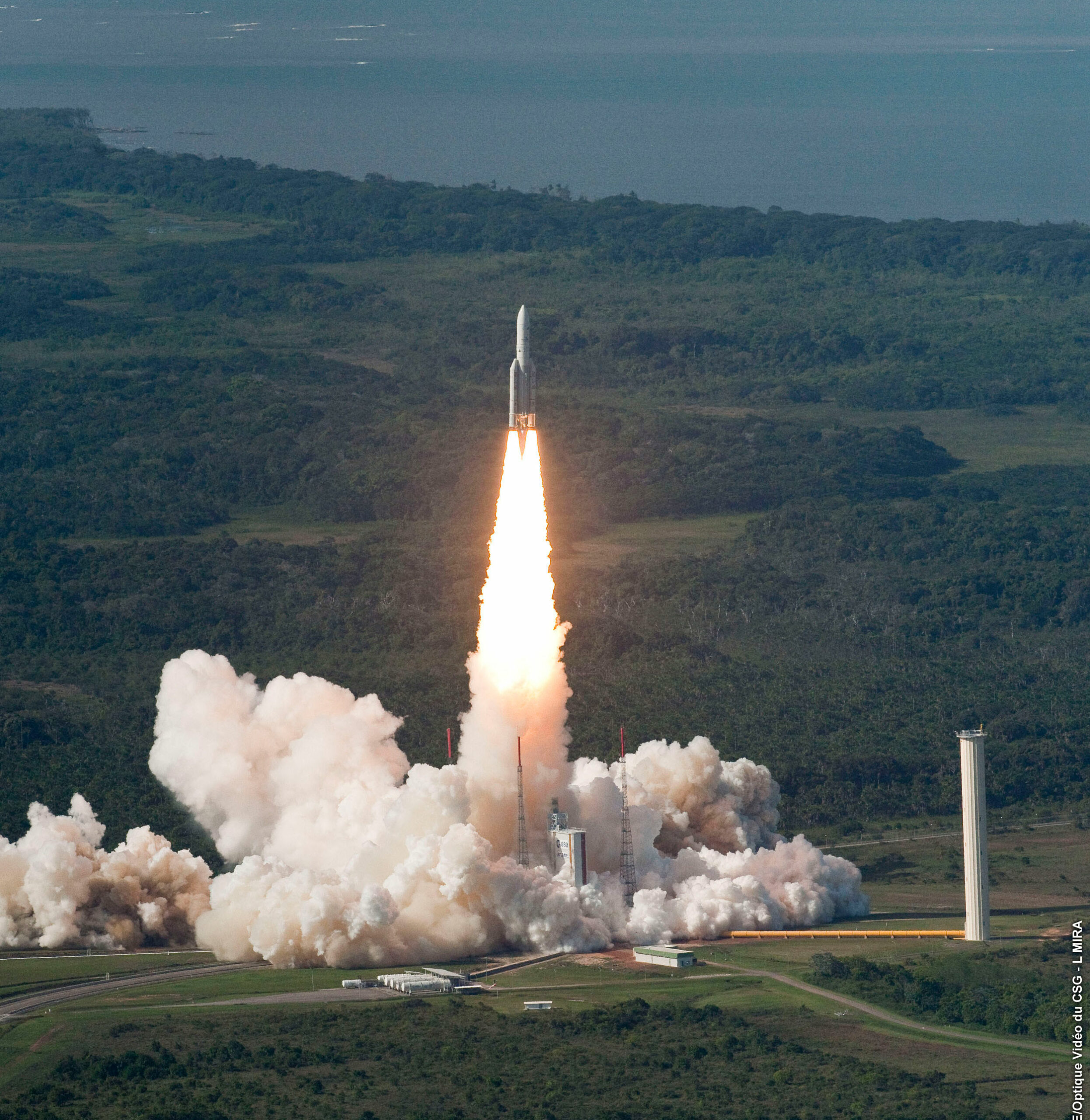 Europe's iconic Ariane 5 rocket, with its liquid hydrogen-fueled core stage and solid rocket boosters, has guaranteed Europe's access to space, providing a unique capacity for launching satellites and spacecraft into precise orbits over almost three decades.
Its long run comes to an end when the final Ariane 5 rocket lifts off from Kourou, French Guiana, no earlier than July 5, carrying a French military communications satellite and a German communications satellite to geostationary transfer orbit. The 65-minute launch window window runs 7 p.m. to 8:05 p.m. local time (6:00-7:05 p.m. EDT / 2200-2305 UTC). Bad weather delayed the launch from July 4.
Ariane 5's much heralded debut launch in June 1996 ended in failure and its second launch a year later was only partially successful. But after these initial setbacks the rocket achieved a 96-percent success rate across 116 total launches.
The rocket has proved to be a true workhorse, launching dozens of commercial satellites into geostationary orbit and national security payloads for the nations of Europe.
The rocket has also launched a series of important space science missions, including In addition to launching dozens of commercial satellites, the Ariane 5 played a crucial role lofting many of the European Space Agency's most important scientific missions including XMM-Newton, Envisat, Rosetta, Herschel, Planck, BepiColombo and the Jupiter Icy Moons mission JUICE. It also carried cargo to the International Space Station on five Ariane Transfer Vehicle missions. One of its most celebrated launches came in December 2021 when it was entrusted to loft the NASA's James Webb Space Telescope (JWST) into a precise orbit which doubled JWST's estimated mission lifetime to 20 years.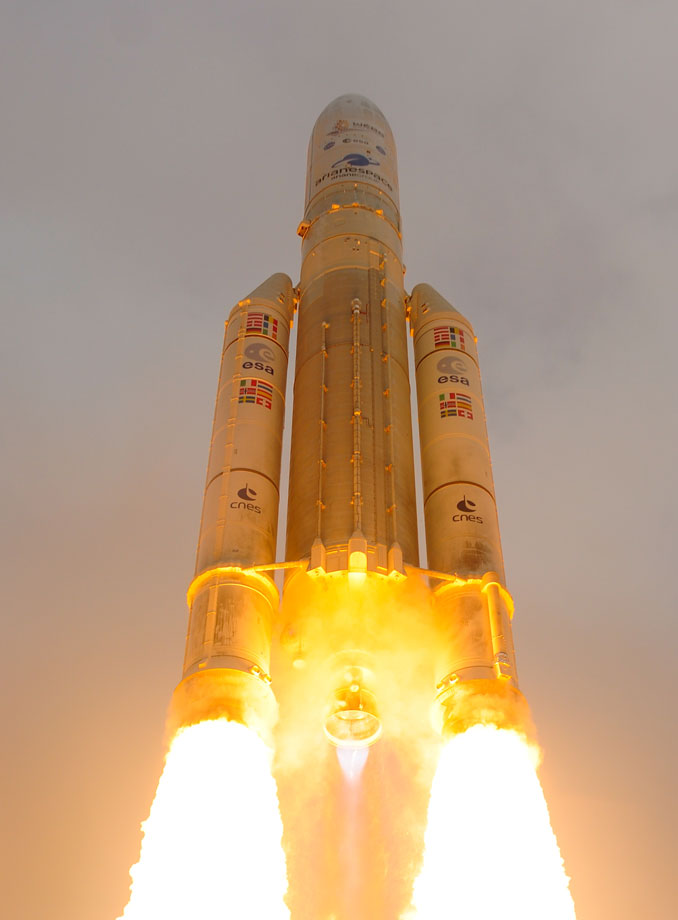 Ariane 5's final launch, which has been delayed for two weeks because of faulty pyrotechnical transmission lines, will be its 117th. In that time the rocket, operated by Arianespace for the European Space Agency (ESA), has endured only a total of two failures and three partial failures, giving it a success rate of 96 percent.
The rocket followed Ariane 4 and proved a major evolution for the Ariane family with significantly more power than its predecessor and benefiting from more advanced technologies.
A combination of liquid and solid propulsion systems provided the rocket with a powerful and reliable launch capability. Its two-stage design comprise a cryogenic main stage powered by Vulcain engines and solid rocket boosters (SRBs) providing the initial thrust during liftoff.
Three successive generic versions – Ariane 5G, Ariane 5G+ and Ariane 5GS, along with the Ariane 5 ES, which was used for various missions including ESA's Automated Transfer Vehicle (ATV) to the International Space Station (ISS) – were all previously retired from service leaving one operational configuration, the Ariane 5 ECA (Evolved Cryogenic, model A).
With the ability to carry heavy payloads of up to 10 tons to geostationary transfer orbit (GTO), the European workhorse rocket has been instrumental in launching large communication satellites, scientific payloads and even interplanetary missions, a high capacity which made it a reliable choice for both commercial customers and space agencies worldwide.
This Ariane 5 ECA variant featured an upgraded core stage and increased payload capacity, enabling it to carry one, two or three very large satellites. A dual launch configuration was the most commonly used.
Ariane 5's final interplanetary launch was in April 2023 when it sent Europe's €1.6 bn ($2 bn) Juice spacecraft on an eight-year voyage to Jupiter and its icy moons to investigate for signs of life in the liquid oceans beneath their frozen surfaces.
Speaking to Spaceflight Now, ESA's Director of Space Transportation, Toni Tolker-Nielsen, said: "Ariane 5 leaves behind an incredible legacy, having contributed to some major 'firsts' for Europe with the launches of the first ESA missions to a comet (Rosetta) to Mercury (BepiColombo) and to Jupiter (Juice).
"The reliability and technical prowess of this launcher, as well as its international character, explain why it was chosen for the very high-profile launch of the James Webb telescope, and the launch was so precise that it saved fuel allowing to significantly extend the expected lifetime of the space telescope."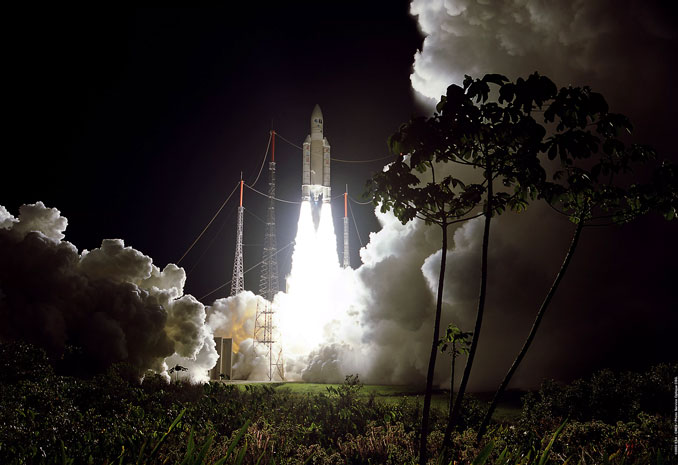 Ariane 5's final launch, designated VA261, carrying the French Syracuse 4B and German Heinrich Hertz satellites, marks the end of an era, especially for the many people at the launch site in Kourou, French Guiana , and across Europe who have been involved with the programme for a large part of their working lives.
Among them is Ariane 5 veteran Stephan Osmann who first went to Kourou from Germany 23 years ago and is responsible for the integration of the launcher's upper stage. Already part of the team when Ariane 5 took off on for the first time in 1996, he said: "It's hard to imagine that soon Ariane 5 won't be part of the landscape here in Kourou. You can feel that something big is coming to an end."
Another long-standing team member is Helene Requiston from France who works as Launcher System Industrial Manager and is in charge of managing activities, from the preparation of the launcher in Europe and French Guiana to the delivery of the launcher for lift-off on the launchpad.
"Every launch is a unique moment, but this one is particularly special," she says. "I'm very proud to be part of it, and perhaps a little bit nostalgic. But we know that Ariane 6 is coming."
Europe's follow-on heavy lift launcher incarnation, Ariane 6, has been in development for a decade and after several programme delays isn't quite ready to take over the launch baton just yet. Industry analysts currently expect its first flight to be sometime in 2024.