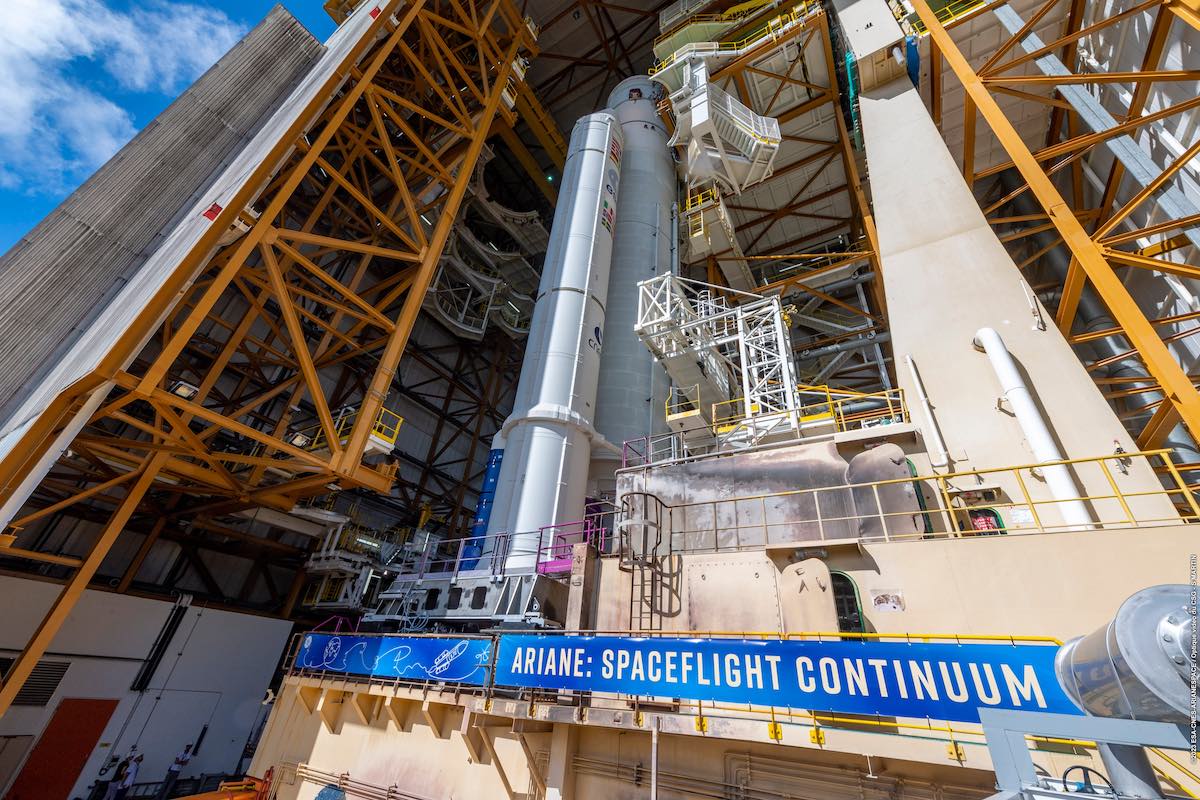 Europe's last Ariane 5 rocket is now scheduled to lift off July 4 after being grounded for more than two weeks due to a problem with the pyrotechnic systems required to jettison the launcher's strap-on solid rocket boosters. Europe's workhorse rocket is being retired after 27 years of service.
The Ariane 5 was originally scheduled to fly on June 16, but officials from Arianespace, the rocket's commercial operator, announced on the eve of launch that they were delaying the mission to replace pyrotechnic transmission lines on the vehicle.
The suspect systems identified fire explosive charges that jettison one of the two solid rocket boosters two minutes into flight, then to activate the "distancing" system, which uses small thrusters on the boosters to ensure the spent casings safely fly clear of the Ariane 5's core stage as it continues its climb to orbit.
Engineers at Arianespace and ArianeGroup, the Ariane 5's builder and prime contractor, were informed of a problem discovered during inspections of a pyro line on another project. After X-ray inspections of the pyrotechnic lines on the Ariane 5 rocket being prepared for launch, officials found three pyro lines were "doubtful," said Pierre-Yves Tissier, chief technical officer at Arianespace at a press briefing on June 15.
"These tests were not all successful and therefore we are not able give confidence on the reliability of the redundancies, it was decided not to go for flight and to replace these doubtful lines," Tissier said.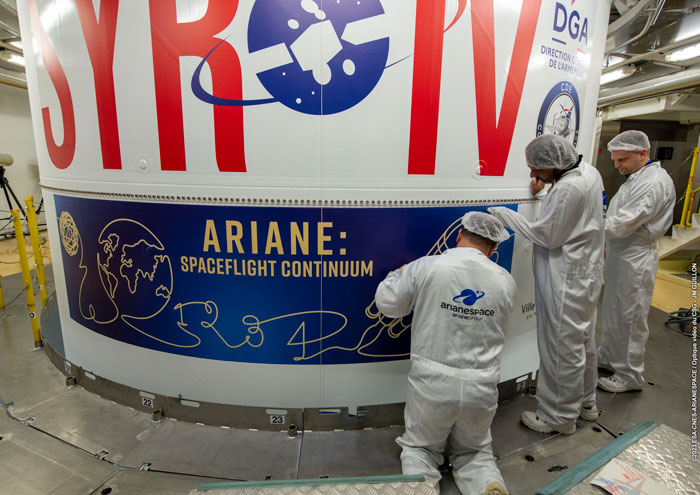 On its final mission, designated VA261, the Ariane 5 will carry the Heinrich-Hertz and Syracuse 4B satellites into a geostationary transfer orbit from the Guiana Space Center on the northeastern coast of South America. The launch window on July 4 runs 6:30 p.m. to 8:05 p.m. local time (2130-2305 UTC).
Syracuse 4B, built by Airbus, will relay secure communications between French military aircraft, ground vehicles, and naval vessels, including submarines. The Heinrich Hertz satellite, built by OHB, will test new communications technologies on a mission funded by the German government.
This last mission will be the 117th for the Ariane 5 since it was introduced in 1996. The retirement will leave Europe without its own independent access to space. The new Ariane 6 vehicle is not expected to make its inaugural launch until 2024, years later than planned, and the Vega C small satellite launcher has been grounded since a failure in December 2022. In addition, the Russian invasion of Ukraine ended a cooperative venture that launched Soyuz rockets from Europe's French Guiana spaceport.