Watch a replay of our live coverage of the countdown and launch of a SpaceX Falcon 9 rocket with PSN's SATRIA communications satellite from Space Launch Complex 40 at Cape Canaveral Space Force Station, Florida. Follow us on Twitter.
A Father's Day launch of a SpaceX Falcon 9 rocket from Cape Canaveral hauled into orbit a European-built communications satellite, the centerpiece of a nearly $550 million project to provide internet service to rural Indonesia.
The 4.6-metric ton (10,100-pound) spacecraft, known as SATRIA, lifted off atop SpaceX's Falcon 9 rocket from pad 40 at Cape Canaveral Space Force Station at 6:21 p.m. EDT (2221 UTC) Sunday.
The Falcon 9 ignited its nine kerosene-fueled Merlin engines in the final seconds of the countdown, then hold-down clamps opened to allow the 229-foot-tall (70-meter) rocket to climb away from pad 40. A few moments later, the Falcon 9 steered on a trajectory due east from Cape Canaveral and thundered into a mostly sunny late afternoon sky.
The reusable first stage of the rocket came back to Earth for landing on a drone ship 420 miles (680 kilometers) downrange in the Atlantic Ocean. The Falcon 9's upper stage fired its engine two times to place the SATRIA spacecraft into an elliptical "super synchronous" transfer orbit ranging tens of thousands of miles above Earth. The Falcon 9 reached a top speed of 21,725 mph (34,963 kilometers per hour) with the final impulse from the upper stage engine, according to a telemetry display on SpaceX's live webcast of the mission.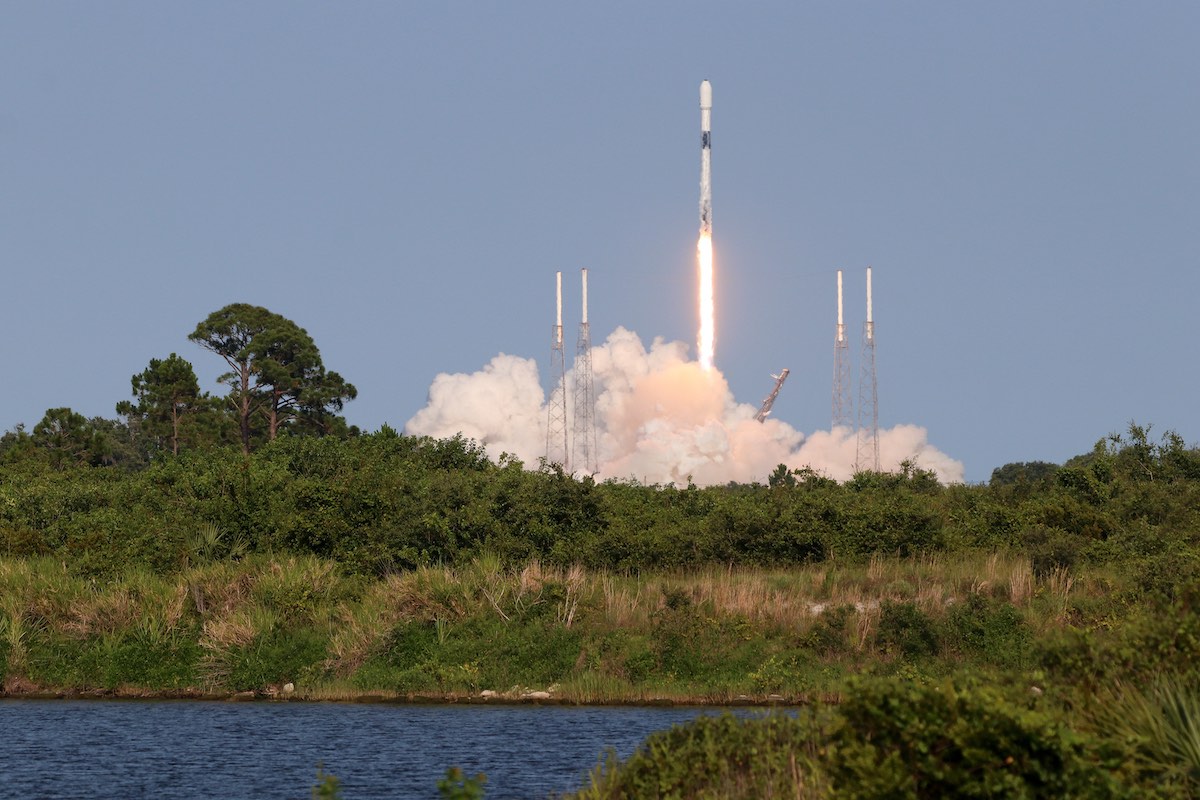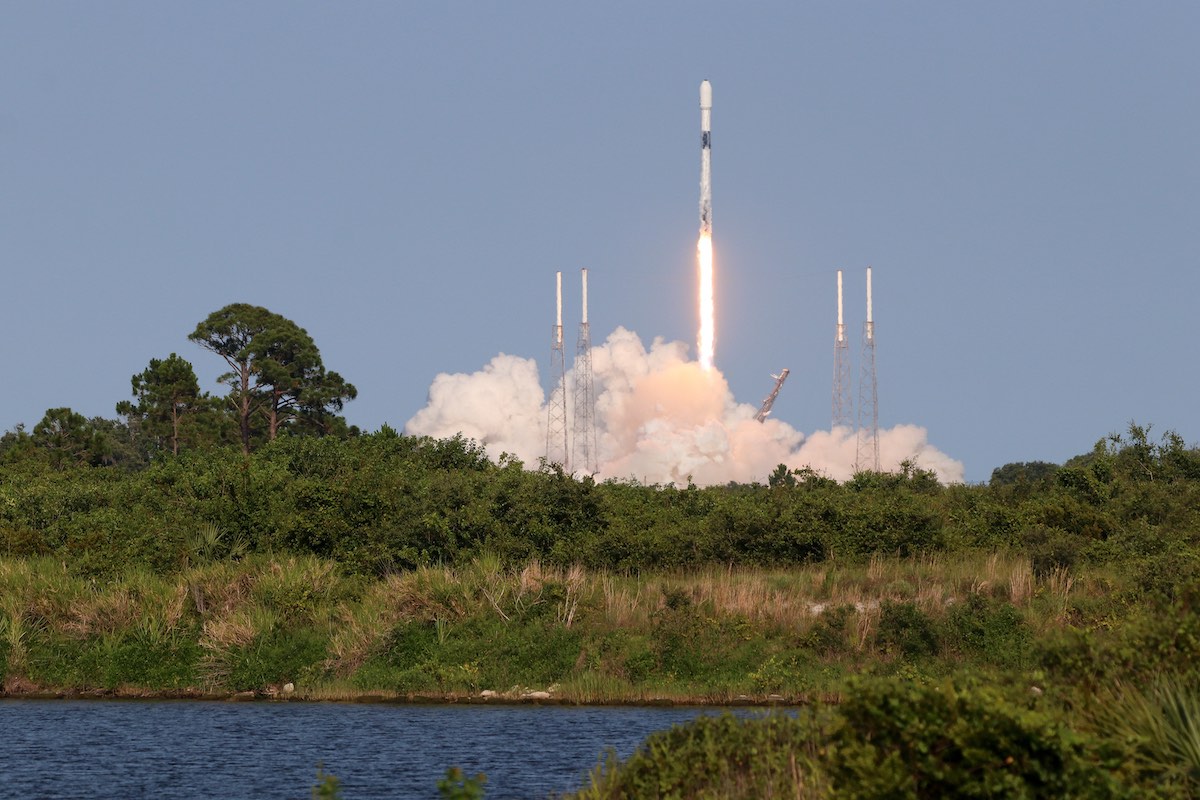 The upper stage deployed the SATRIA spacecraft nearly 37 minutes after liftoff. Ground teams were on standby to receive the first signals from the SATRIA spacecraft, which will unfurl solar panels to recharge its batteries, then use electric thrusters to maneuver into a circular geostationary orbit over the equator.
The ion engines will take several months to place the SATRIA satellite into its orbital position at 146 degrees east longitude, where its velocity will match the speed of Earth's rotation, giving the spacecraft a fixed geographic coverage zone over the Asia-Pacific region. The satellite will open three antenna reflectors and activate its communications payload, consisting of 116 Ka-band spot beams.
The SATRIA satellite will provide about 150 gigabits per second of communications throughout when it begins service around November.
SATRIA, which stands for Satellite of Republic of Indonesia, will be operated by Satelit Nusantara Tiga, a subsidiary of the Indonesian satellite company PT Pasifik Satelit Nusantara, or PSN.
During its 15-year service life, SATRIA will provide internet service to rural hospitals, schools, and government buildings, focusing on areas where terrestrial fiber connections are unavailable. Indonesia, the world's fourth more populous country, has roughly 6,000 inhabited islands, exacerbating the challenge of building out a national infrastructure for internet connectivity.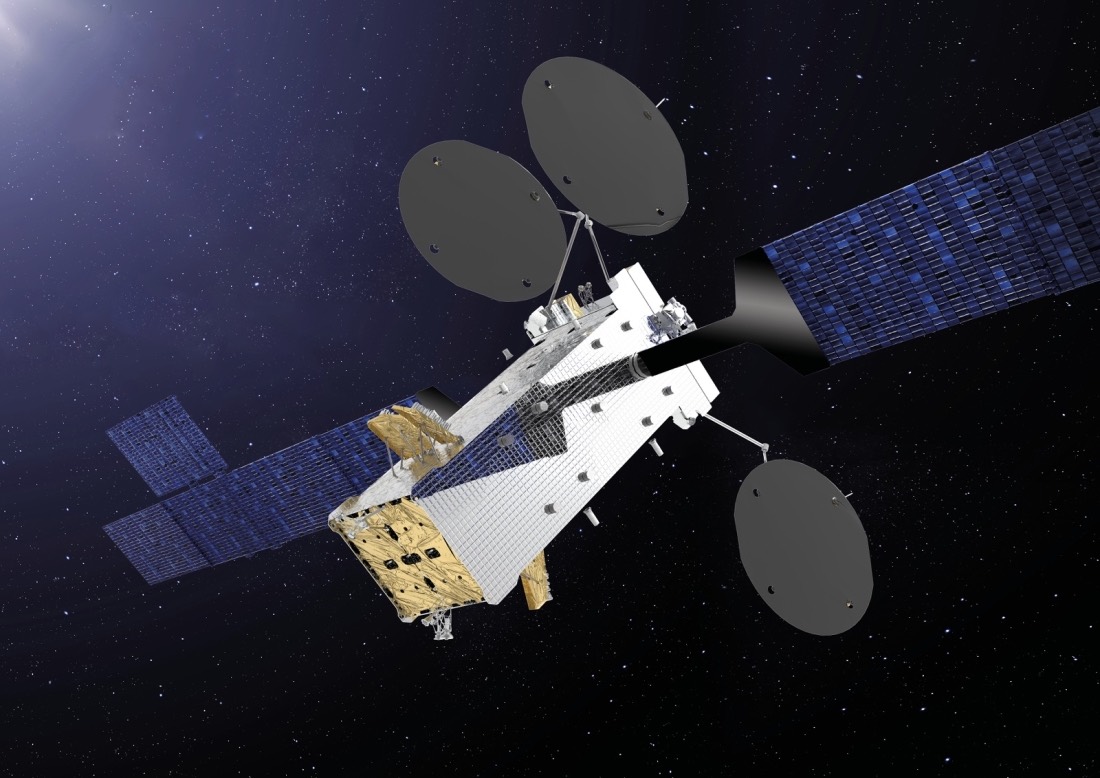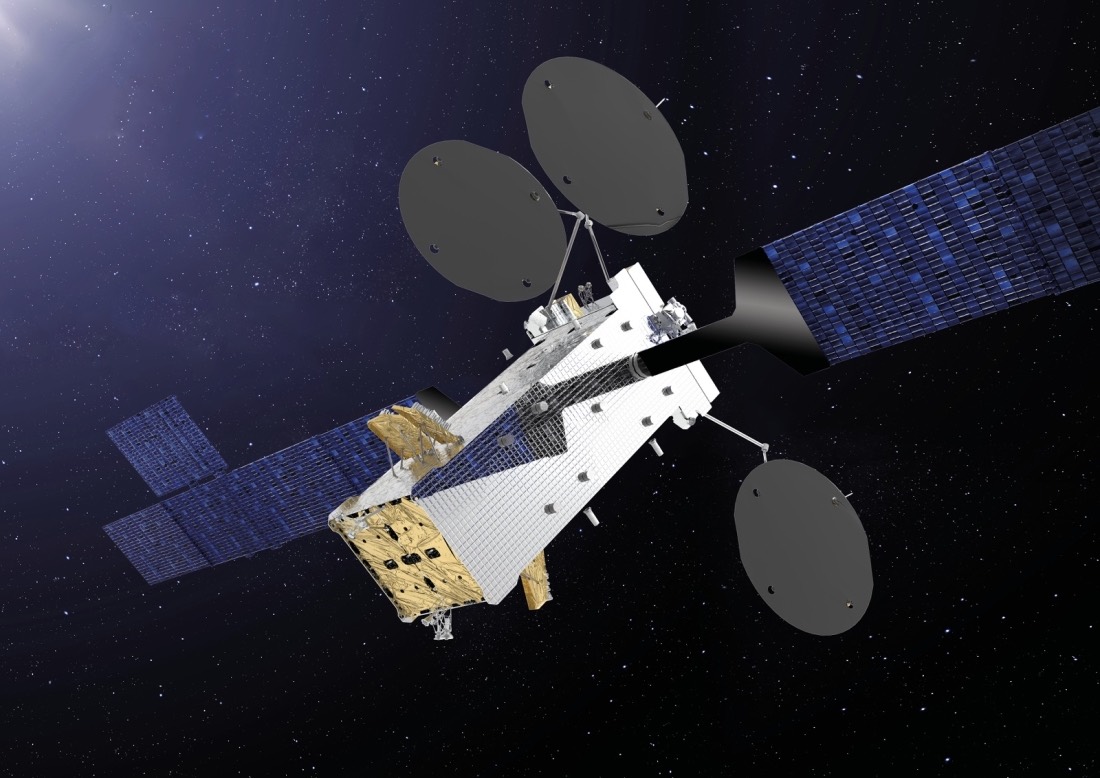 "There are areas that are still blank spots," said Danny Januar Ismawan, infrastructure director of Indonesia's Telecommunications and Information Accessibility Agency. "This satellite technology is the telecommunication network of last resort. Why use a satellite? Because it's impossible with fiber optic or microwave terrestrial technology."
SATRIA was built by Thales Alenia Space in Cannes, France, then transported to Cape Canaveral last month on a ship to begin final launch preparations. The satellite is based on Thales's Spacebus Neo spacecraft design, the company's newest satellite bus which debuted in 2020.
The new satellite will not provide internet service directly to individual users. Instead, the project, backed by the Indonesian government, will support education and health centers, and thousands of public WiFi access points where citizens can connect to the internet with computers and smartphones.
"For example, in the village office, we place the WiFi there," said Usman Kansong, Indonesia's director general of information and public communication. "I think the benefits are indirectly to the community because SATRIA 1 is part of a digital transformation that will also have an impact on people's welfare in the end."
The SATRIA project cost nearly $550 million, or about 8 trillion Indonesia rupiah, including expenses to build satellite, launch services, insurance, and ground infrastructure. Thales's contract also covered the construction of two satellite control centers and telemetry stations.
"With a capacity of 150 Gbps, more than three times the national capacities that are currently still in use, we believe that SATRIA can be the solution to the digital gap that still exists in Indonesia," said Adi Rahman Adiwoso, president director of PSN.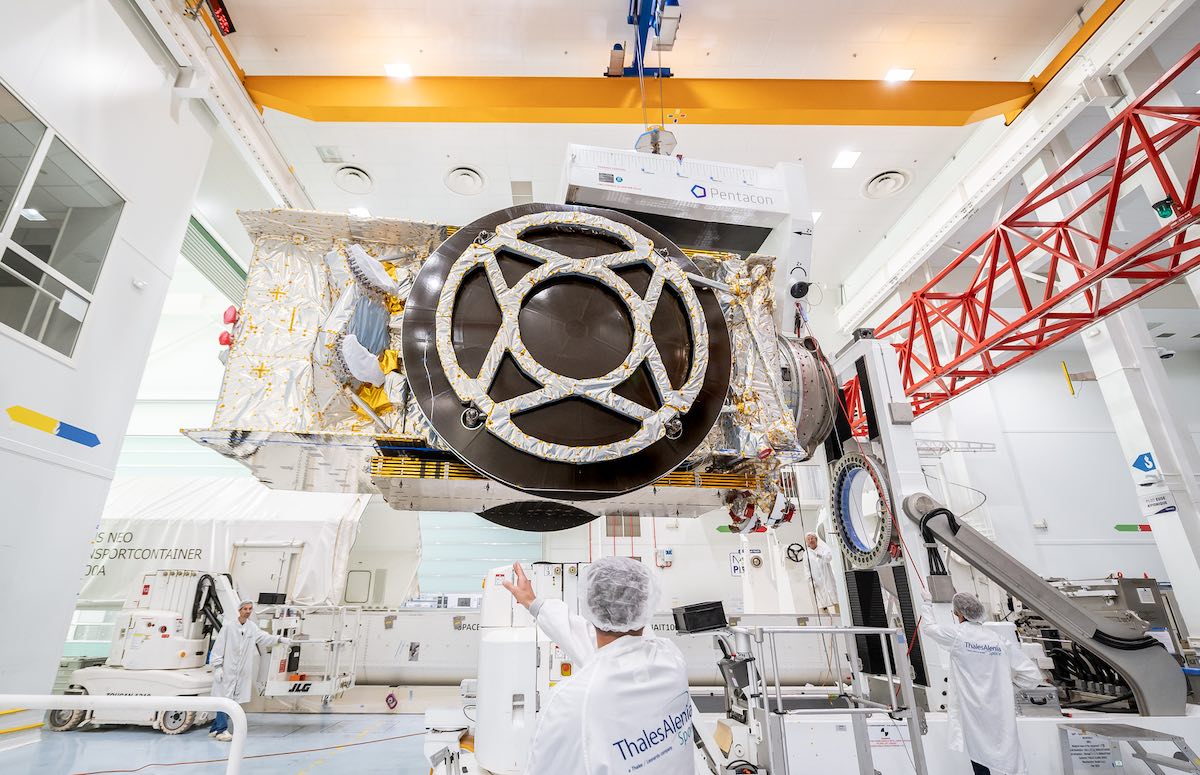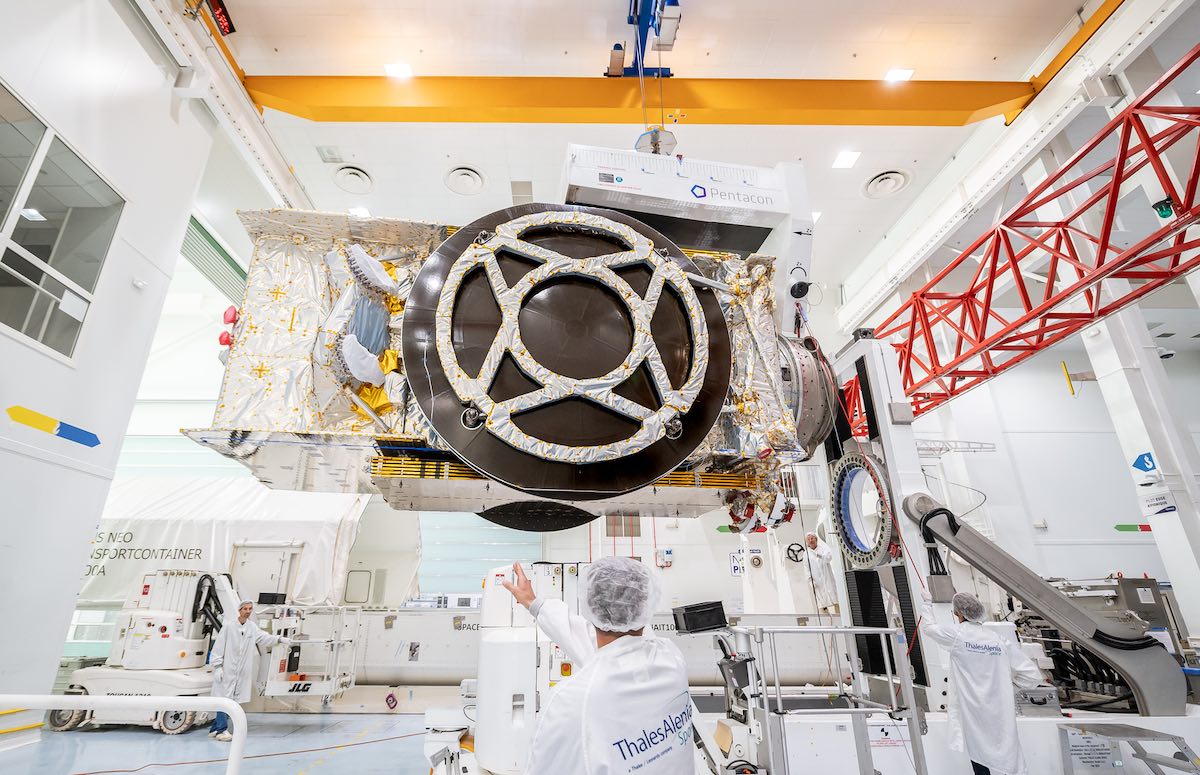 SATRIA is the second in a series of PSN satellites to bring improved communications to Indonesia. The Nusantara Satu, or Nusantara 1, satellite launched in 2019 on a SpaceX Falcon 9 rocket, and Nusantara Lima, or Nusantara 5, is scheduled for liftoff later this year on a Falcon 9 to augment broadband capacity provided by SATRIA, also called Nusantara 3.
PSN's Nusantara broadband satellites in geostationary compete with connectivity to Indonesian users provided by SpaceX's Starlink internet network in low Earth orbit, through an arrangement between SpaceX and the Indonesian telecom operator PT Telkom.
Indonesia's first communications satellite, Palapa A1, launched in 1976 on a mission to provide television broadcast services.
Working out of SpaceX's launch and landing control center just south of Cape Canaveral Space Force Station, engineers supervised the countdown leading up to liftoff of the SATRIA mission Sunday. The Falcon 9 rocket was filled with a million pounds of kerosene and liquid oxygen propellants in the final 35 minutes before liftoff.
After teams verified technical and weather parameters were all "green" for launch, the nine Merlin 1D main engines on the first stage booster flashed to life with the help of an ignition fluid called triethylaluminum/triethylborane, or TEA-TEB. Once the engines ramped up to full throttle, hydraulic clamps opened to release the Falcon 9 for its climb into space.
The nine main engines produced 1.7 million pounds of thrust for more than two-and-a-half minutes, propelling the Falcon 9 and SATRIA into the upper atmosphere. Then the booster stage shut down and separated from the Falcon 9's upper stage to begin a controlled descent toward SpaceX's drone ship "A Shortfall of Gravitas" parked in the Atlantic Ocean.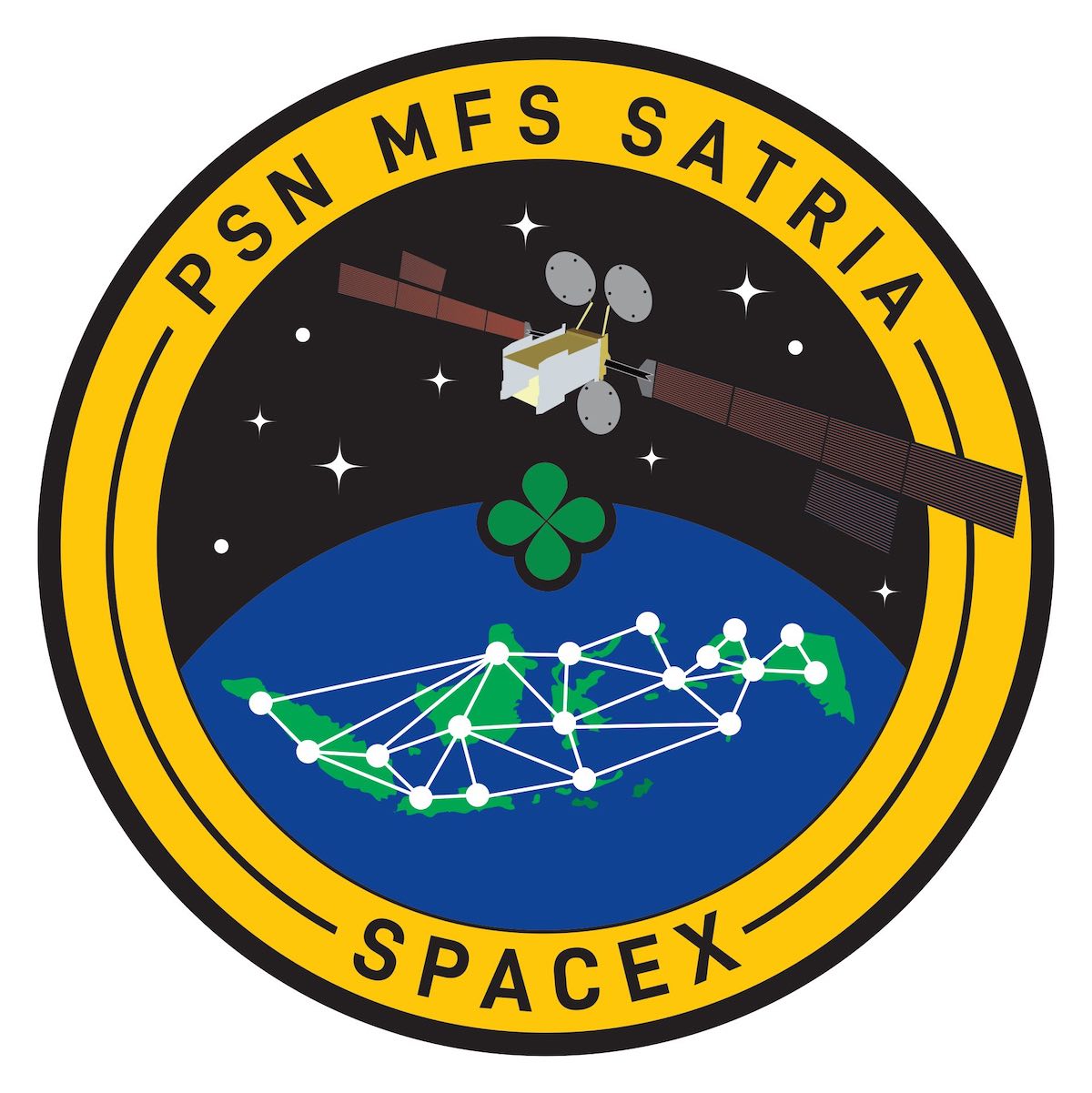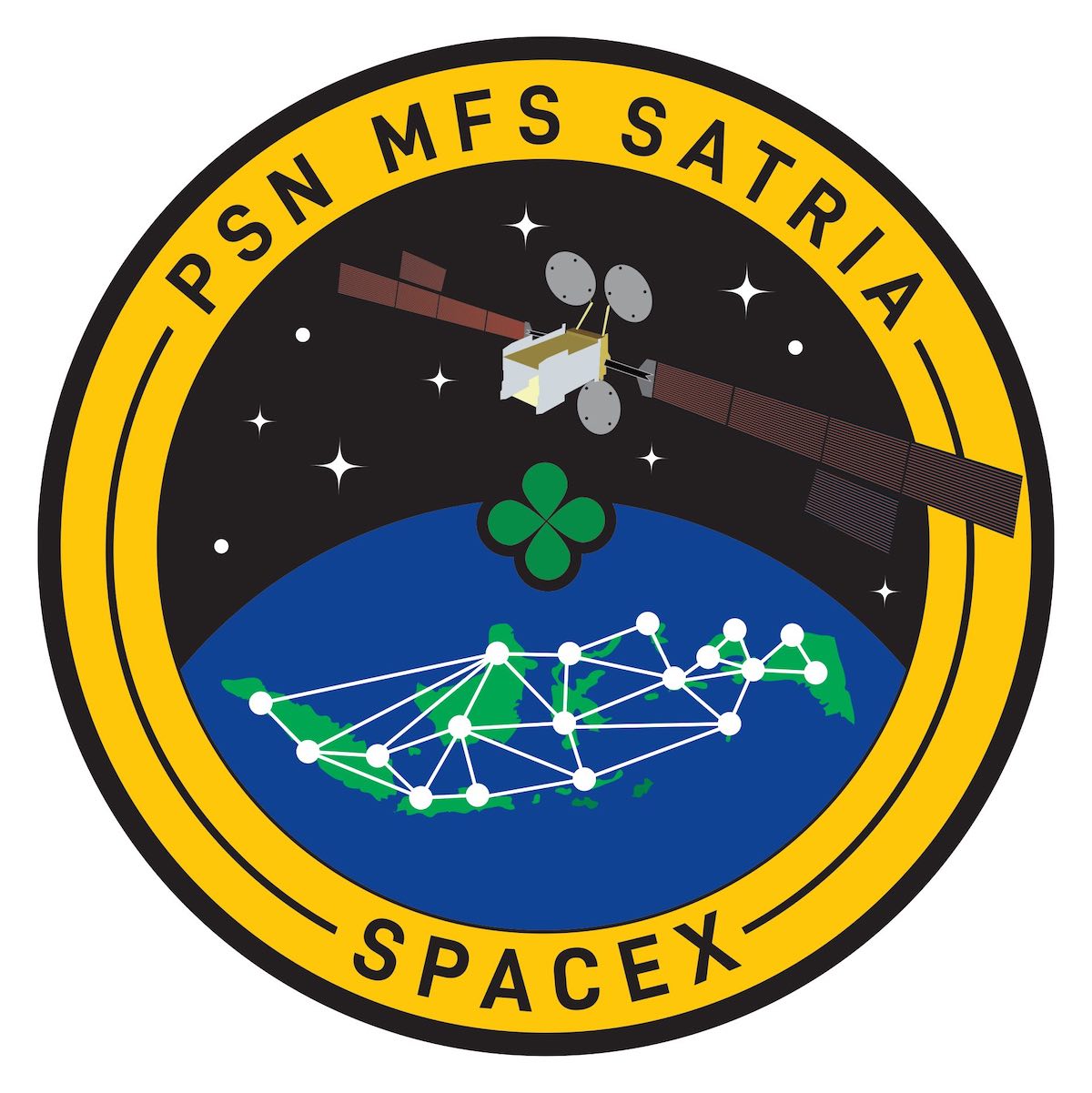 The booster, designated B1067, extended titanium hypersonic grid fins and used cold gas nitrogen thrusters to control its orientation, then reignited three of its nine main engines for a nearly 30-second braking maneuver during re-entry. A final landing burn with just the center engine slowed the rocket for touchdown on the drone ship about eight-and-a-half minutes into the mission.
A SpaceX recovery ship was also in position in the Atlantic to recover the Falcon 9 rocket's payload fairing after the nose cone's two clamshell halves parachuted into the sea. The payload fairing jettisoned from the rocket about three-and-a-half minutes into the flight, shortly after ignition of the Falcon 9's upper stage engine.
The Falcon 9 rocket fired its upper stage engine two times to inject the SATRIA spacecraft into an elliptical super synchronous transfer orbit. Separation of SATRIA from the Falcon 9's upper stage was confirmed at T+plus 36 minutes, 47 seconds.
ROCKET: Falcon 9 (B1067.12)
PAYLOAD: SATRIA communications satellite
LAUNCH SITE: SLC-40, Cape Canaveral Space Force Station, Florida
LAUNCH DATE: June 18, 2023
LAUNCH WINDOW: 6:04-9:02 p.m. EDT (2204-0102 UTC)
WEATHER FORECAST: 60-75% probability of acceptable weather; Main concerns are cumulus clouds, anvil clouds, electrical fields
BOOSTER RECOVERY: "A Shortfall of Gravitas" drone ship in the Atlantic Ocean
LAUNCH AZIMUTH: East
TARGET ORBIT: Super synchronous transfer orbit
LAUNCH TIMELINE:
T+00:00: Liftoff
T+01:14: Maximum aerodynamic pressure (Max-Q)
T+02:33: First stage main engine cutoff (MECO)
T+02:37: Stage separation
T+02:44: Second stage engine ignition
T+03:30: Fairing jettison
T+06:33: First stage entry burn ignition (three engines)
T+06:54: First stage entry burn ends
T+08:10: Second stage engine cutoff (SECO 1)
T+08:28: First stage landing burn ignition (one engine)
T+08:39: First stage landing
T+27:40: Second stage engine restart
T+28:36: Second stage engine cutoff (SECO 2)
T+36:47: SATRIA separation
MISSION STATS:
233rd launch of a Falcon 9 rocket since 2010
244th launch of Falcon rocket family since 2006
12th launch of Falcon 9 booster B1067
173rd flight of a reused Falcon 9 booster
196th SpaceX launch from Florida's Space Coast
129th Falcon 9 launch from pad 40
184th launch overall from pad 40
2nd SpaceX launch for PSN
39th Falcon 9 launch of 2023
42nd launch by SpaceX in 2023
30th orbital launch attempt based out of Cape Canaveral in 2023
Email the author.
Follow Stephen Clark on Twitter: @StephenClark1.