Watch a replay of our coverage of the countdown and launch of a SpaceX Falcon 9 rocket at 2:13 p.m. EST (1913 GMT) from Space Launch Complex 40 at Cape Canaveral Space Force Station, Florida, with 40 OneWeb internet satellites. Follow us on Twitter.
SpaceX launched a Falcon 9 rocket from Cape Canaveral Space Force Station Thursday with 40 more internet satellites for rival OneWeb, followed eight minutes later by the landing of the rocket's first stage booster back at the Florida spaceport.
The mission, SpaceX's 16th flight of the year overall, was the third and final planned dedicated Falcon 9 launch for OneWeb, which switched launch providers from Russia's Soyuz rocket to SpaceX and Indian rockets last year after the Russian invasion of Ukraine. OneWeb has another reservation with SpaceX for a rideshare mission with Iridium later this year.
With the 40 spacecraft on Thursday's mission, OneWeb has launched 584 satellites to date on 17 rockets — 13 Soyuz flights, three SpaceX Falcon 9s, and one Indian GSLV Mk.3. OneWeb has reported two failed satellites in its constellation, meaning the launch Thursday brought the tally of active OneWeb spacecraft to 582.
OneWeb also has one more launch on an Indian GSLV Mk.3 rocket scheduled later this month with 36 more internet satellites. That launch, scheduled for March 26, will put OneWeb over the 588-satellite threshold needed for global internet coverage. OneWeb plans to launch nearly 650 satellites in total for its first-generation network, including spares.
"Today's launch is an exciting milestone as we are now just one mission away from completing our Gen 1 constellation, which will activate global service in 2023," said Neil Masterson, CEO of OneWeb, in a statement. "Now more than ever, OneWeb is dedicated to continuing the momentum we have garnered from the past 17 successful launches, to innovate alongside our trusted partners and deliver connectivity solutions at scale. Each launch is a group effort, and today's success would not have been possible without the dedication of the entire launch team and our partners here in Florida."
SpaceX's 229-foot-tall (70-meter) Falcon 9 rocket took off from pad 40 at Cape Canaveral Space Force Station at 2:13:28 p.m. EST (1913:28 GMT).
Liftoff of SpaceX's Falcon 9 rocket from Cape Canaveral with 40 more OneWeb internet satellites. https://t.co/KqNYxWQeXY pic.twitter.com/TPdfdGQg6Y

— Spaceflight Now (@SpaceflightNow) March 9, 2023
The SpaceX launch team working in a control center just outside the gate of Cape Canaveral Space Force Station began loading super-chilled, densified kerosene and liquid oxygen propellants into the Falcon 9 vehicle at T-minus 35 minutes.
Helium pressurant also flowed into the rocket in the last half-hour of the countdown. In the final seven minutes before liftoff, the Falcon 9's Merlin main engines were thermally conditioned for flight through a procedure known as "chilldown." The Falcon 9's guidance and range safety systems were also configured for launch.
After liftoff, the Falcon 9 rocket soared into a clear sky over the Sunshine State, vectoring 1.7 million pounds of thrust from its main engines to steer downrange toward the southeast over the Atlantic Ocean. Then the launcher turned south to fly parallel to Florida's east coast, aiming for a polar orbit at an inclination of 87 degrees.
The launcher surpassed the speed of sound in about one minute, then shut down its nine main engines nearly two-and-a-half minutes after liftoff.
The booster stage separated from the Falcon 9's upper stage, then fired pulses from cold gas control thrusters and extended titanium grid fins to help steer the vehicle back into the atmosphere. The lighter weight of the 40 OneWeb satellites — each about the size of a mini-refrigerator — allowed the Falcon 9 booster to set aside enough fuel to return to the launch site, which requires an additional engine burn compared to rocket landings on SpaceX's ocean-going drone ships.
Landing of the first stage on Landing Zone 1 at Cape Canaveral occurred about eight minutes into the mission. The returning booster returned to the launch base with a pair of sonic booms as it slowed for landing. The first stage, designated B1062, completed its 13th flight to space on Thursday's mission.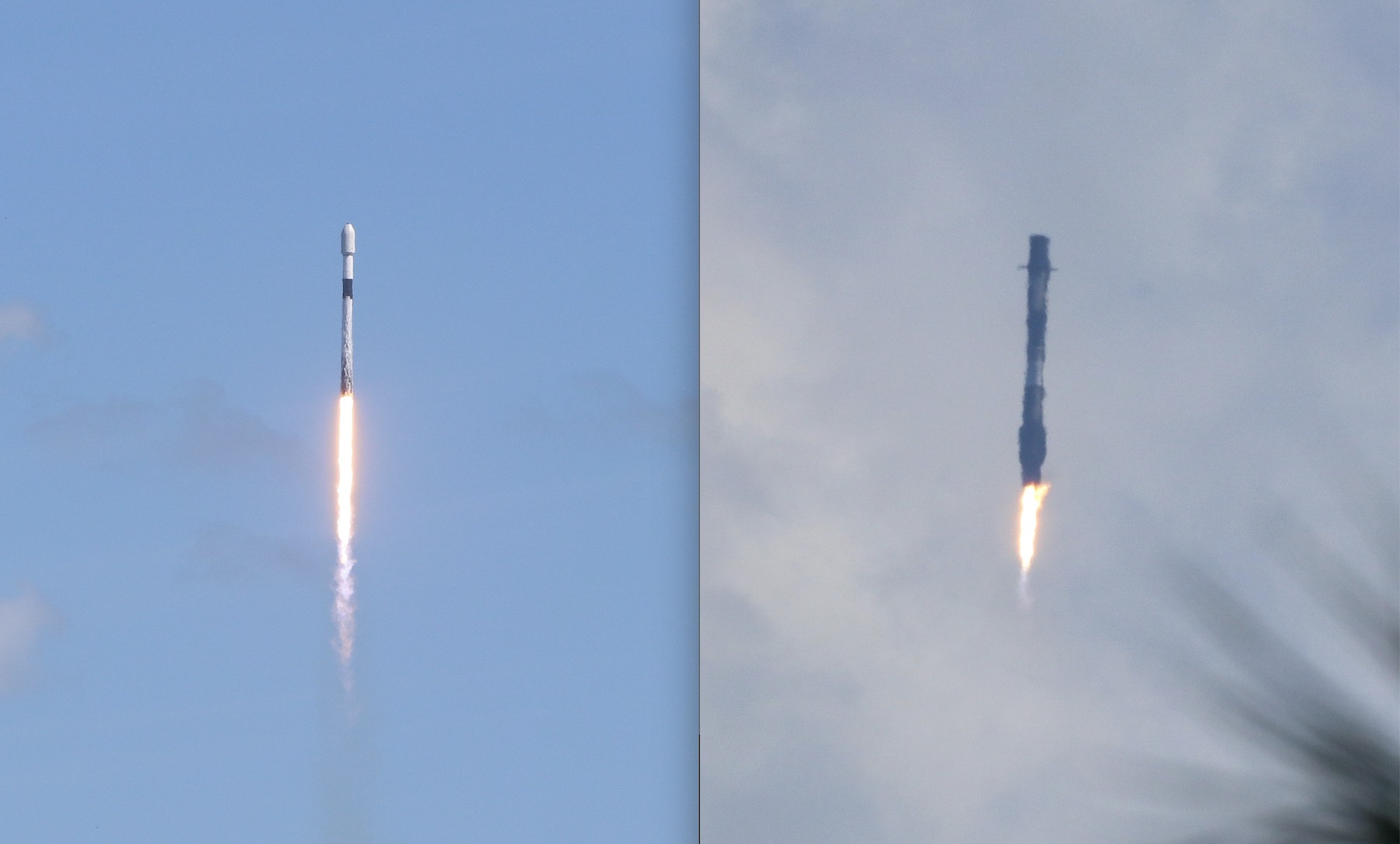 The Falcon 9's upper stage fired its single engine two times to reach a near-circular polar orbit close to the mission's target altitude of 373 miles (600 kilometers). The upper stage released the 40 OneWeb satellites beginning about 59 minutes after liftoff, and SpaceX confirmed all the spacecraft had separated about 1 hour and 35 minutes into the flight.
OneWeb ground teams established communication with all 40 satellites later Thursday, confirming they were alive and healthy following launch from Cape Canaveral.
The OneWeb satellites, built in a factory just outside the gates of Kennedy Space Center, will use xenon-fueled propulsion systems to reach their operating altitude 745 miles (1,200 kilometers) above Earth. The orbit-raising will take several months before the satellites are ready to begin commercial broadband service. London-based OneWeb has a joint venture with Airbus to build the satellites.
Adding more relay stations to the constellation extends the network's reach. OneWeb already provides internet services to communities in Alaska, Canada, and and Northern Europe in places where terrestrial fiber connectivity is unavailable.
OneWeb started launching its satellites in February 2019. The first-generation constellation is spread into 12 orbital planes that fly on north-south routes over the poles, enabling worldwide network coverage.
Here's a view of the final two OneWeb internet satellites separating from SpaceX's Falcon 9 rocket today after lifting off from Cape Canaveral.

All 40 OneWeb satellites were released into an on-target polar orbit.https://t.co/ST6Cng14Cc pic.twitter.com/dy8Qh4q7Cn

— Spaceflight Now (@SpaceflightNow) March 9, 2023
Arianespace, the French launch service provider, was on the hook with OneWeb for six more Soyuz launches from the Baikonur Cosmodrome in Kazakhstan, including a launch that was set to take off last March. Russian officials suspended launch preparations for a Soyuz/OneWeb mission last March after Western governments levied sanctions on Russia in response to the country's invasion of Ukraine.
Thirty-six OneWeb spacecraft were left stranded at the Russian-controlled Baikonur Cosmodrome in Kazakhstan after the launch was grounded. Officials from OneWeb do not expect to regain custody of the satellites.
Massimiliano Ladovaz, OneWeb's chief technology officer, said last year OneWeb manufactured new satellites to replace the spacecraft impounded by Russia.
Less than a month after Soyuz launches were suspended last year, OneWeb announced an agreement with SpaceX to launch some of its remaining satellites. OneWeb finalized a similar agreement with New Space India Limited, the commercial arm of India's space agency, for launches on Indian rockets.
The contract with SpaceX was surprising to many satellite industry watchers because OneWeb is an indirect competitor in broadband market. SpaceX sells Starlink service directly to consumers, while OneWeb sells to enterprises and internet service providers to provide connectivity for entire businesses or communities.
SpaceX has now launched three missions for OneWeb, successfully delivering 120 OneWeb satellites into orbit on two Falcon 9 rockets Dec. 8 and Jan. 9. India's GSLV Mk.3 rocket launched 36 OneWeb satellites Oct. 22.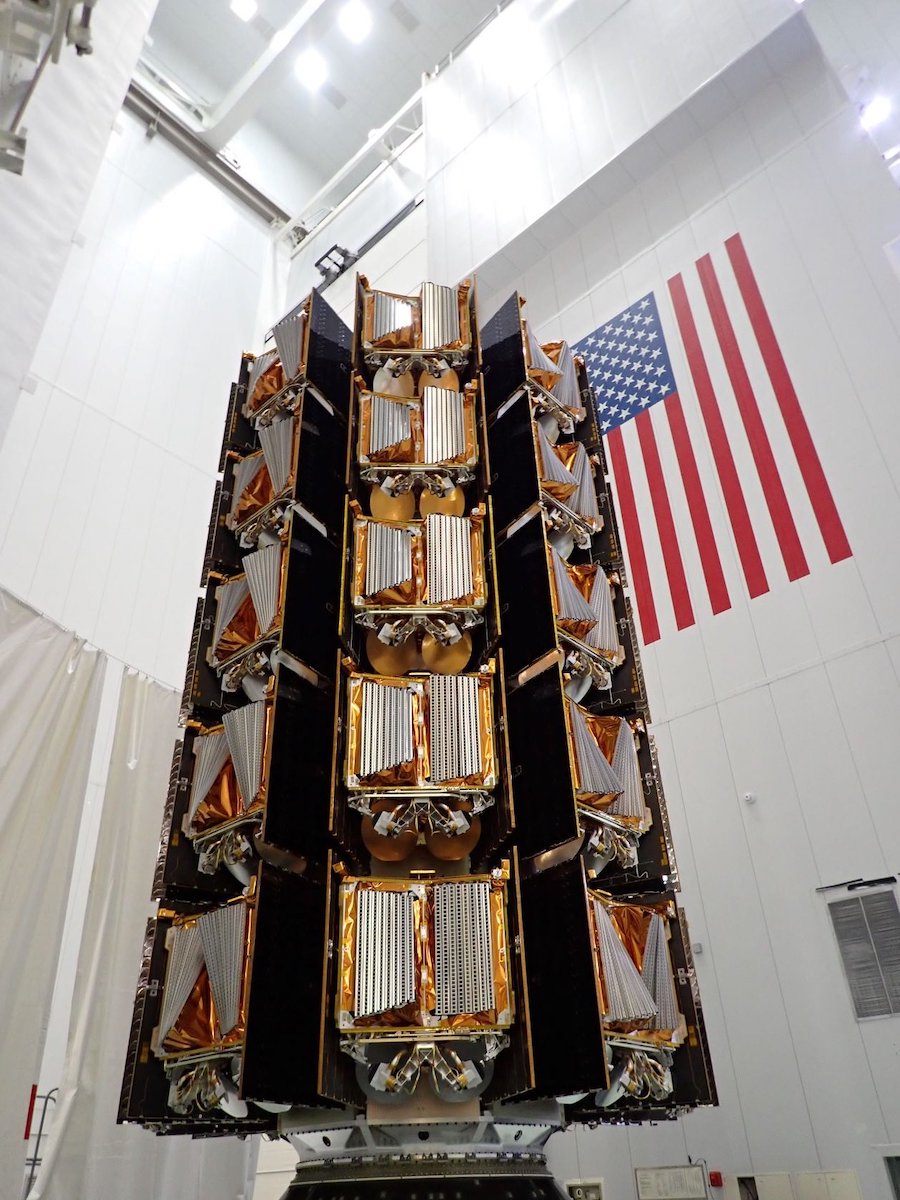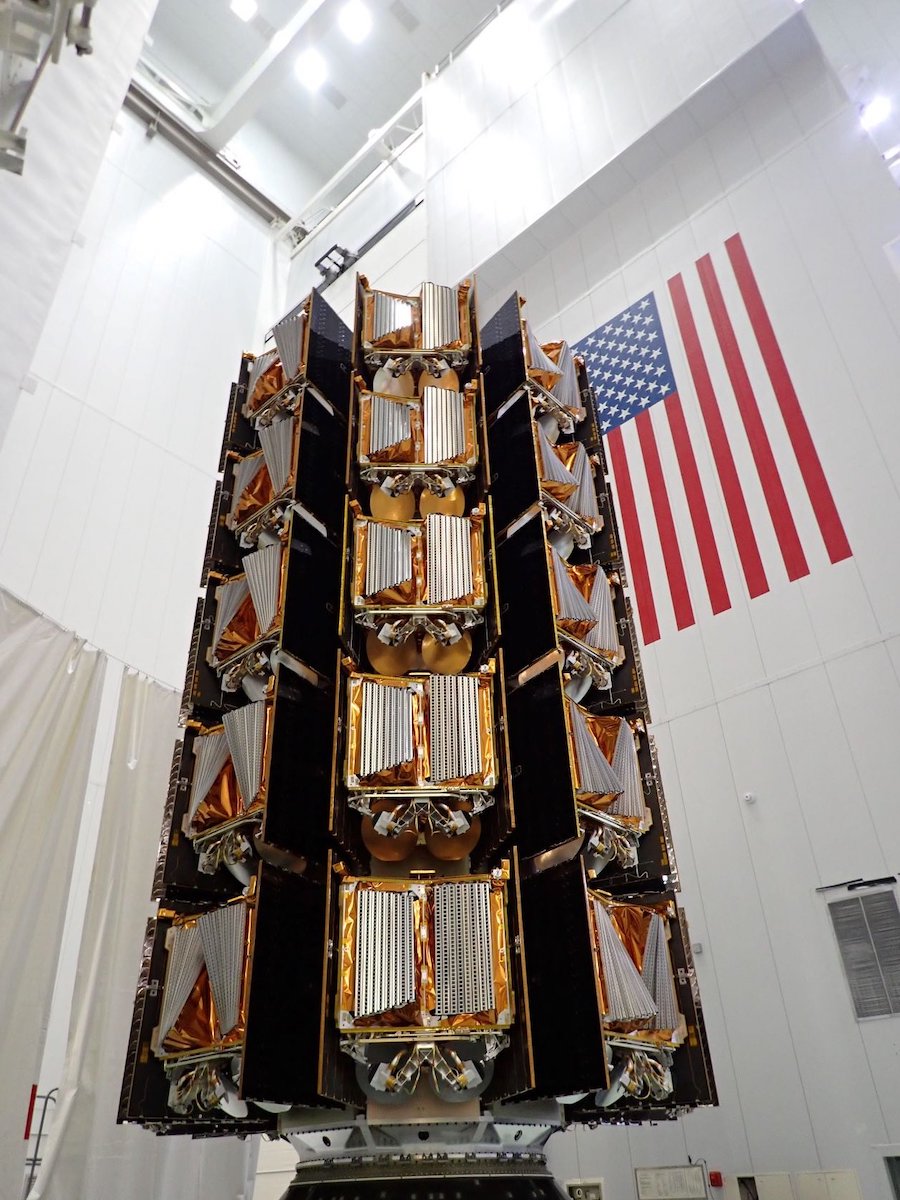 SpaceX's next launch is scheduled no earlier than Tuesday, March 14, from NASA's Kennedy Space Center in Florida. A Falcon 9 rocket will haul an unpiloted Dragon cargo freighter into orbit from pad 39A, taking aim on the International Space Station with several tons of supplies and experiments.
Another SpaceX missions later this month will launch two SES television broadcasting satellites from Cape Canaveral, and multiple Falcon 9 flights are on tap from Florida and Vandenberg Space Force Base in California with more internet relay nodes for SpaceX's Starlink network.
SpaceX is on pace for more than 80 launches this year, a figure that would exceed the company's record cadence of 61 launches in 2022.
ROCKETS: Falcon 9 (B1062.13)
PAYLOADS: 40 OneWeb satellites (OneWeb 17)
LAUNCH SITES: SLC-40, Cape Canaveral Space Force Station, Florida
LAUNCH DATES: March 9, 2023
LAUNCH TIME: 2:13:28 p.m. EST (1913:28 GMT)
WEATHER FORECAST: 95% chance of acceptable weather at Cape Canaveral
BOOSTER RECOVERY: Landing Zone 1 at Cape Canaveral Space Force Station
LAUNCH AZIMUTH: Southeast, then south from Cape Canaveral
TARGET ORBIT: 373 miles (600 kilometers), 87 degrees inclination
LAUNCH TIMELINE FOR ONEWEB 16:
T+00:00: Liftoff
T+01:12: Maximum aerodynamic pressure (Max-Q)
T+02:17: First stage main engine cutoff (MECO)
T+02:20: Stage separation
T+02:28: Second stage engine ignition
T+02:34: First stage boost back burn ignition
T+03:22: First stage boost back burn cutoff
T+03:33: Fairing jettison
T+06:10: First stage entry burn ignition
T+06:28: First stage entry burn cutoff
T+07:23: First stage landing burn ignition
T+07:50: First stage landing
T+08:34: Second stage engine cutoff (SECO 1)
T+55:17: Second stage engine restart (SES 2)
T+55:20: Second stage engine cutoff (SECO 2)
T+58:50: Separation of first OneWeb satellites
T+01:35:18: Separation of final OneWeb satellites
MISSION STATS:
209th launch of a Falcon 9 rocket since 2010
219th launch of Falcon rocket family since 2006
13th launch of Falcon 9 booster B1062
179th SpaceX launch from Florida's Space Coast
116th Falcon 9 launch from pad 40
171st launch overall from pad 40
149th flight of a reused Falcon 9 booster
3rd SpaceX launch for OneWeb
17th overall launch for OneWeb
15th Falcon 9 launch of 2023
16th launch by SpaceX in 2023
12th orbital launch from Cape Canaveral in 2023
Email the author.
Follow Stephen Clark on Twitter: @StephenClark1.