EDITOR'S NOTE: Updated Feb. 27 with delay of Starlink launch from Vandenberg Space Force Base in California.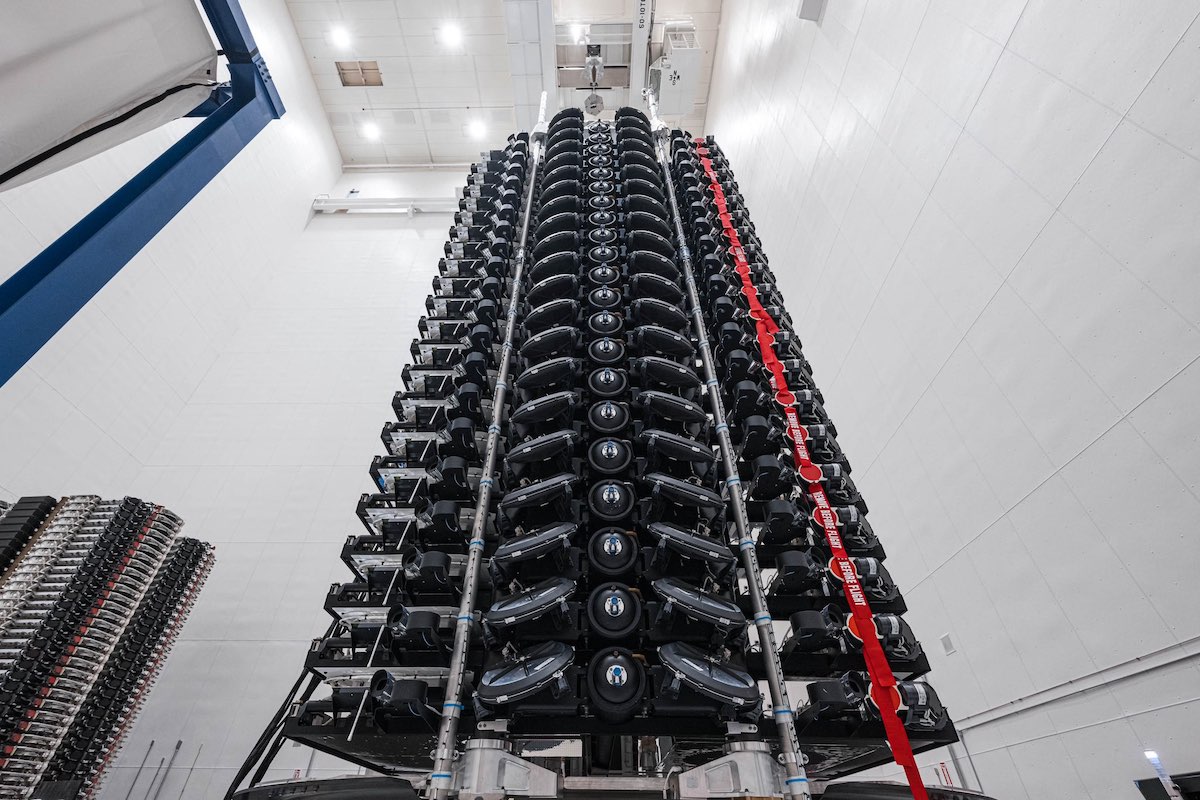 SpaceX released the first photos of the company's upgraded Starlink internet satellite design, with 21 of the heavier, higher-capacity internet satellites set to ride a Falcon 9 rocket into orbit from Cape Canaveral on Monday.
The new Starlink satellite design, called "V2 Mini," will have four times the communications capacity of early generations of Starlink satellites, known as Version 1.5, SpaceX said.
The upgraded Starlink V2 Mini satellites are an intermediate step between SpaceX's original Starlink satellite design, and an even larger spacecraft platform SpaceX plans to deploy using its new-generation Starship rocket. The Starship has nearly 10 times the payload lift capability of a Falcon 9 rocket, with greater volume for satellites, too.
SpaceX could attempt to launch the huge Starship rocket into space for the first time as soon next month from South Texas. But the program has faced developmental delays, and SpaceX decided to build miniature versions of the upgraded Starship-compatible Version 2 Starlink satellites to fly on Falcon 9 rockets.
"The V2 satellites launched on Falcon 9 are a bit smaller, so we affectionately refer to them as "V2 Mini" satellites," SpaceX said. "But don't let the name fool you, a V2 Mini satellite has four times the capacity for serving users compared to its earlier counterparts."
The Starlink V2 satellites will be capable of transmitting signals directly to cell phones, a step forward in connectivity from space that other companies are also pursuing. The V2 Mini satellites have more powerful phased array antennas than older Starlink satellites, and introduce E-band for backhaul capacity.
"This means Starlink can provide more bandwidth with increased reliability and connect millions of more people around the world with high-speed internet," SpaceX said.
The first batch of Starlink V2 Mini satellites is scheduled for launch Monday at 6:13 p.m. EST (2313 GMT). SpaceX pushed back the launch time from earlier in the afternoon due to concerns about space weather, which could interfere with rocket and spacecraft computer systems. A Falcon 9 rocket rolled out to Space Launch Complex 40 at Cape Canaveral Space Force Station and was raised vertical Sunday in preparation for liftoff.
The mission is known as Starlink 6-1 in SpaceX's Starlink launch sequence. The Falcon 9's guidance system will aim to place the 21 Starlink satellites into an orbit about 230 miles (370 kilometers) above Earth, on a path that will take the satellites between 43 degrees north and south latitude.
Unlike most of SpaceX's Starlink missions, which place their satellites in lower-altitude transfer orbits, the Starlink 6-1 mission will inject the 21 V2 Mini satellites into an orbit closer to their final operating altitude, minimizing the time needed for the spacecraft to use their own propulsion to maneuver into their final orbital positions.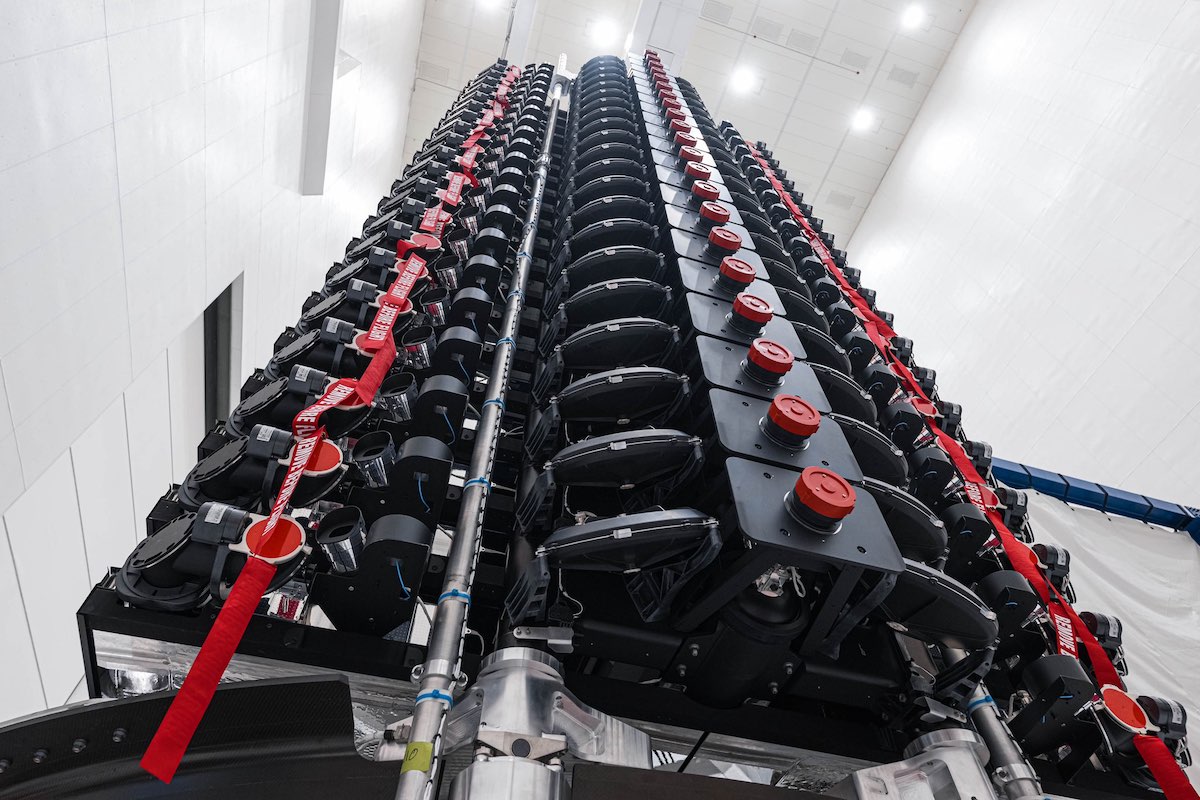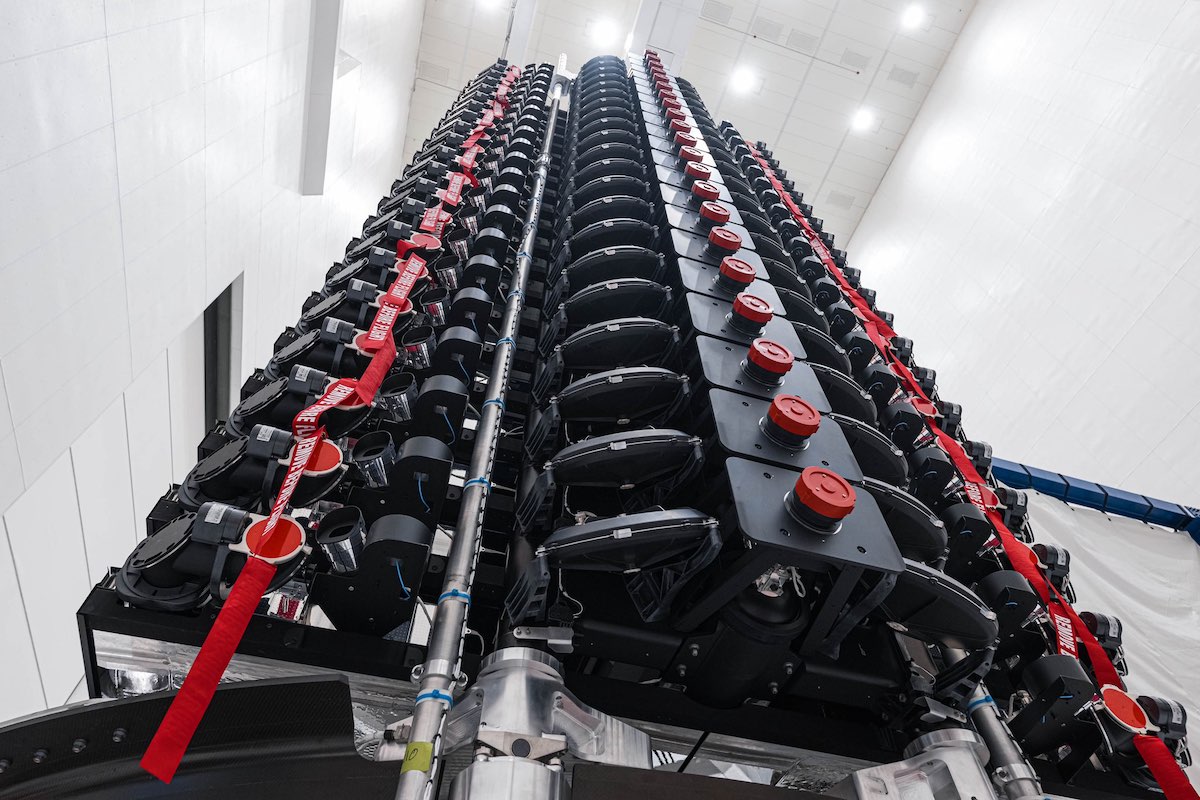 The Starlink V2 Mini satellites also carry an argon-fueled electrical propulsion system using Hall thrusters for on-orbit maneuvering. The new propulsion system has 2.4 times the thrust and 1.5 times the specific impulse, or fuel efficiency, of the krypton-fueled ion thrusters on the first generation of Starlink satellites.
The argon Hall thrusters were developed by SpaceX engineers, the company said, and are the first of their kind to operate in space. The electric propulsion system is highly efficient, but low thrust, generating an impulse by accelerating argon gas through the engine using electricity.
Argon gas is cheaper than the krypton fuel used on the first generation of Starlink satellites. Before the Starlink network, most electric thrusters for in-space propulsion relied on more expensive xenon gas.
Each Starlink V2 Mini satellite weighs about 1,760 pounds (800 kilograms) at launch, nearly three times heavier than the older Starlink satellites. The are also bigger in size, with a spacecraft body more than 13 feet (4.1 meters) wide, filling more of the Falcon 9 rocket's payload fairing during launch, according to regulatory filings with the Federal Communications Commission.
Once deployed from the Falcon 9 rocket, the Starlink V2 Mini satellites will unfurl two solar array wings to a span of about 100 feet (30 meters). The original Starlink satellites each have a single solar array wing, with each spacecraft measuring about 36 feet (11 meters) end-to-end once the solar panel is extended.
The enhancements give the Starlink V2 Mini satellites a total surface area of 1,248 square feet, or 116 square meters, more than four times that of a Starlink V1.5 satellite.
The full-size Starlink V2 satellites, which will launch on the Starship rocket, will have more than double the surface area of a Starlink V2 Mini spacecraft, according to SpaceX filings with the FCC.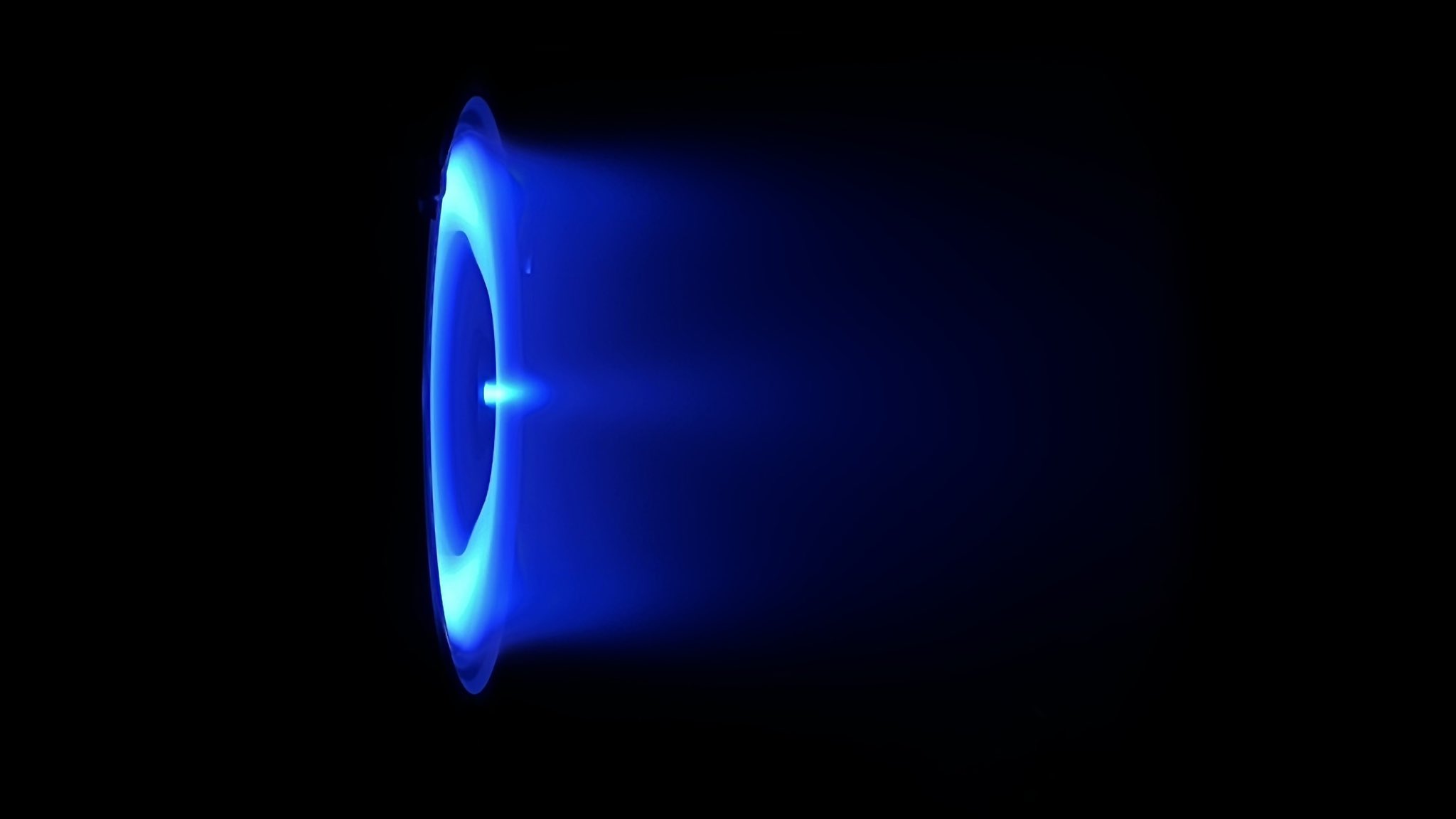 SpaceX added dark paint and visors to earlier Starlink satellites to reduce their reflectivity. The mitigations were installed on Starlink satellites after the first batch of spacecraft launched in 2019 were brighter than expected, raising concerns from scientists that thousands of the satellites could interfere with ground-based astronomy.
But the dark paint was not as effective as hoped, and SpaceX removed the visors from later Starlink satellites to allow them to use laser inter-satellite communications links. Ground teams also changed the orientation of the Starlink satellites to minimize reflections of sunlight that could reach the ground at twilight.
Later Starlink satellites used dielectric mirror film on spacecraft surfaces, which directs reflected sunlight away from Earth. The new generation of Starlink satellites include a combination of mirrors and a new type of low-reflectivity paint, and the solar arrays are designed to adjust their pointing when the spacecraft fly over regions of Earth at dawn and dusk.
"So, while our V2 Mini satellites are larger than earlier versions, we're still expecting them to be as dark or darker once the full range of mitigations are implemented and the satellites reach their operational orbit," SpaceX said in a document describing the new satellite design.
But the new larger satellites may still be "somewhat bright" immediately after launch, when they're flying close together in a so-called "train" formation, the company said. SpaceX said measurements, modeling, and analysis show the brightness mitigations will be effective in reducing the V2 Mini satellites' reflectivity, but engineers won't know for sure until scientists observe the satellites after launch.
"What we learn from early observations will help us improve and refine mitigations," SpaceX said.
"As our track record demonstrates, SpaceX will work tirelessly to refine design/manufacturing/materials and, but as our track operational mitigations and continue to work with astronomers toward reducing the brightness of our satellites," SpaceX said.
The company said it will make the mirror film and dark paint material available at cost to other operators deploying large constellations of satellites in orbit.
Like the previous series of Starlink satellites, the upgraded V2 Mini spacecraft use an "autonomous collision avoidance system" to help avoid impacts with other objects in orbit. Collisions in low Earth orbit could generate thousands of small fragments that would exacerbate the orbital debris problem.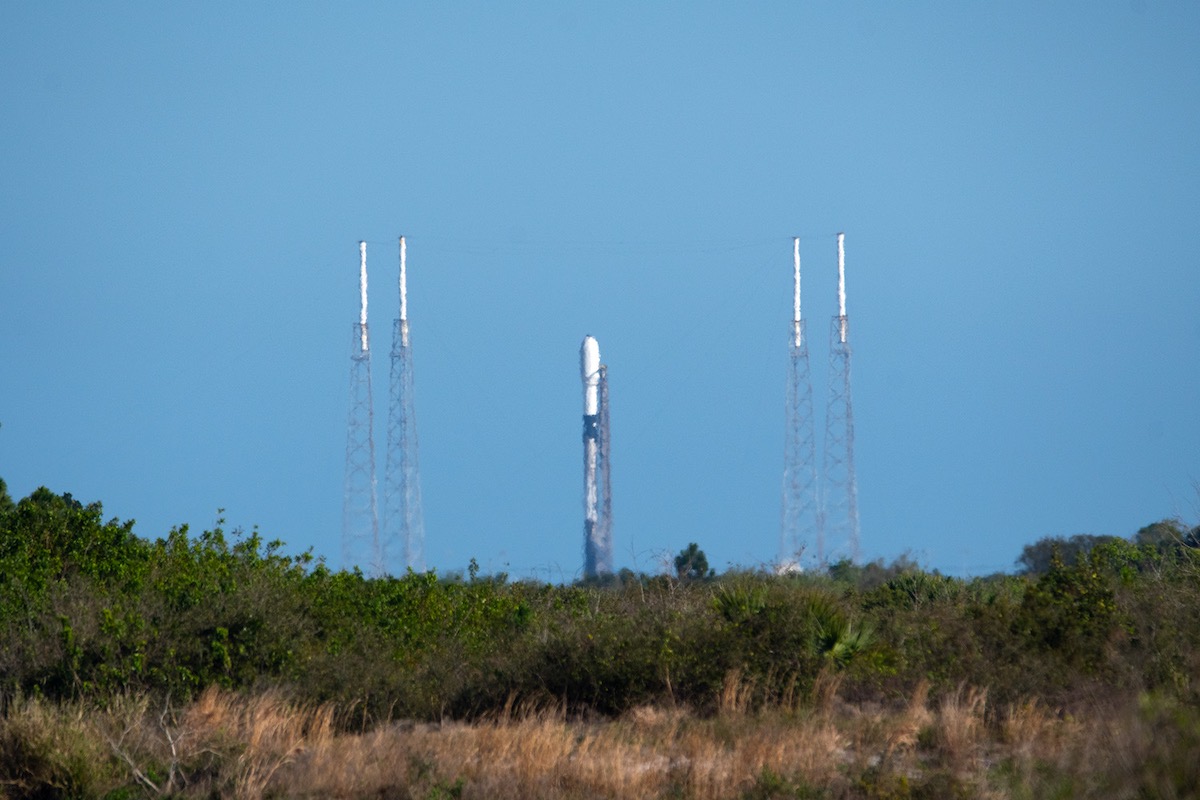 The new Starlink satellite design is part of SpaceX's second-generation Starlink constellation, called Gen2.
The FCC granted SpaceX approval Dec. 1 to launch up to 7,500 of its planned 29,988-spacecraft Starlink Gen2 constellation. The regulatory agency deferred a decision on the remaining satellites SpaceX proposed for Gen2.
SpaceX began launching older-generation Starlink V1.5 satellites into the Gen2 constellation on Dec. 28. The launch Monday will be the first to deploy a brand new spacecraft design.
"With the recent authorization of our second-generation network, or 'Gen2,' SpaceX will provide even faster speeds to more users," SpaceX said.
The FCC previously authorized SpaceX to launch and operate up to 12,000 Starlink satellites, including roughly 4,400 first-generation Ka-band and Ku-band Starlink spacecraft that SpaceX has been launching since 2019.
The Gen2 satellites could improve Starlink coverage over lower latitude regions, and help alleviate pressure on the network from growing consumer uptake. SpaceX says the network has more than 1 million active subscribers, mostly households in areas where conventional fiber connectivity is unavailable, unreliable, or expensive.
The Starlink spacecraft beam broadband internet signals to consumers around the world, connectivity that is now available on all seven continents with testing underway at a research station in Antarctica.
With the 21 satellites set for launch Monday from Florida, SpaceX will pass the milestone of 4,000 Starlink spacecraft launched to date, including test vehicles and prototypes no longer in service and already removed from orbit.
SpaceX will continue launching more Starlink V1.5 satellites for at least some time. A cluster of 51 Starlink V1.5 satellites is awaiting launch on another Falcon 9 rocket this week, after the Starlink launch from Florida, from Vandenberg Space Force Base in California.
Email the author.
Follow Stephen Clark on Twitter: @StephenClark1.