STORY WRITTEN FOR CBS NEWS & USED WITH PERMISSION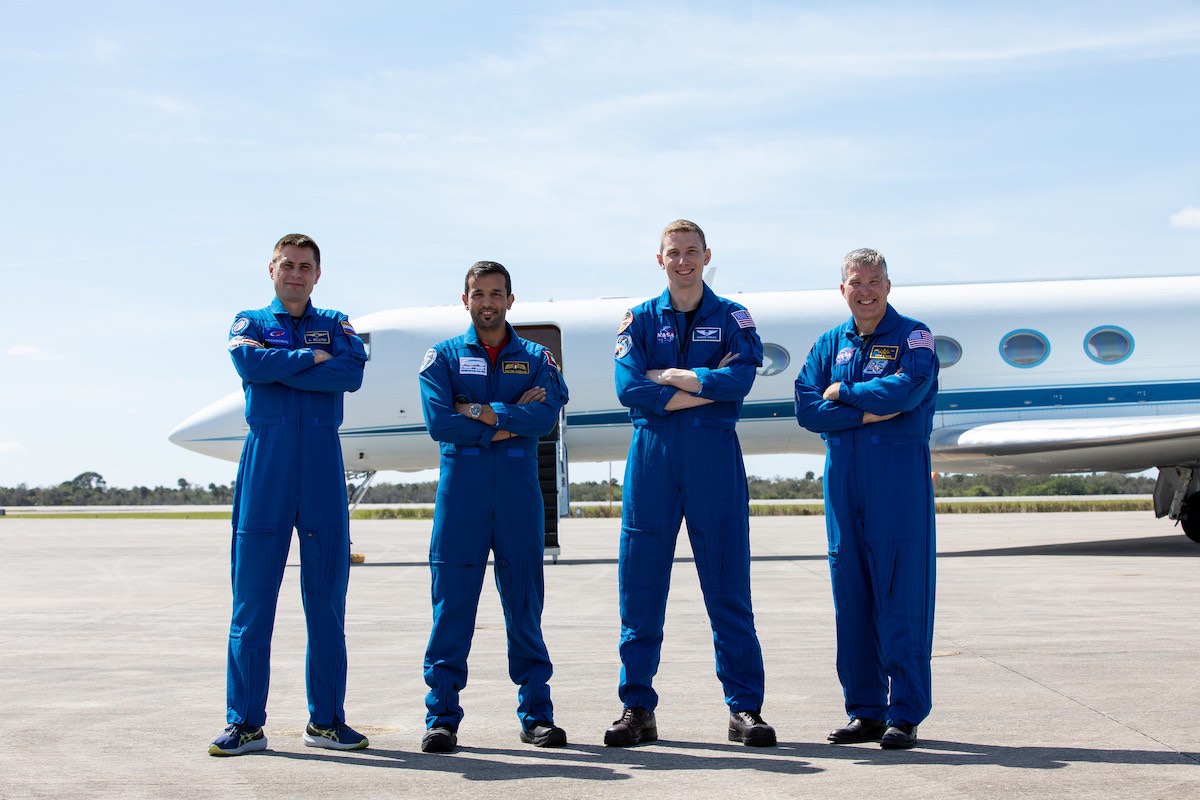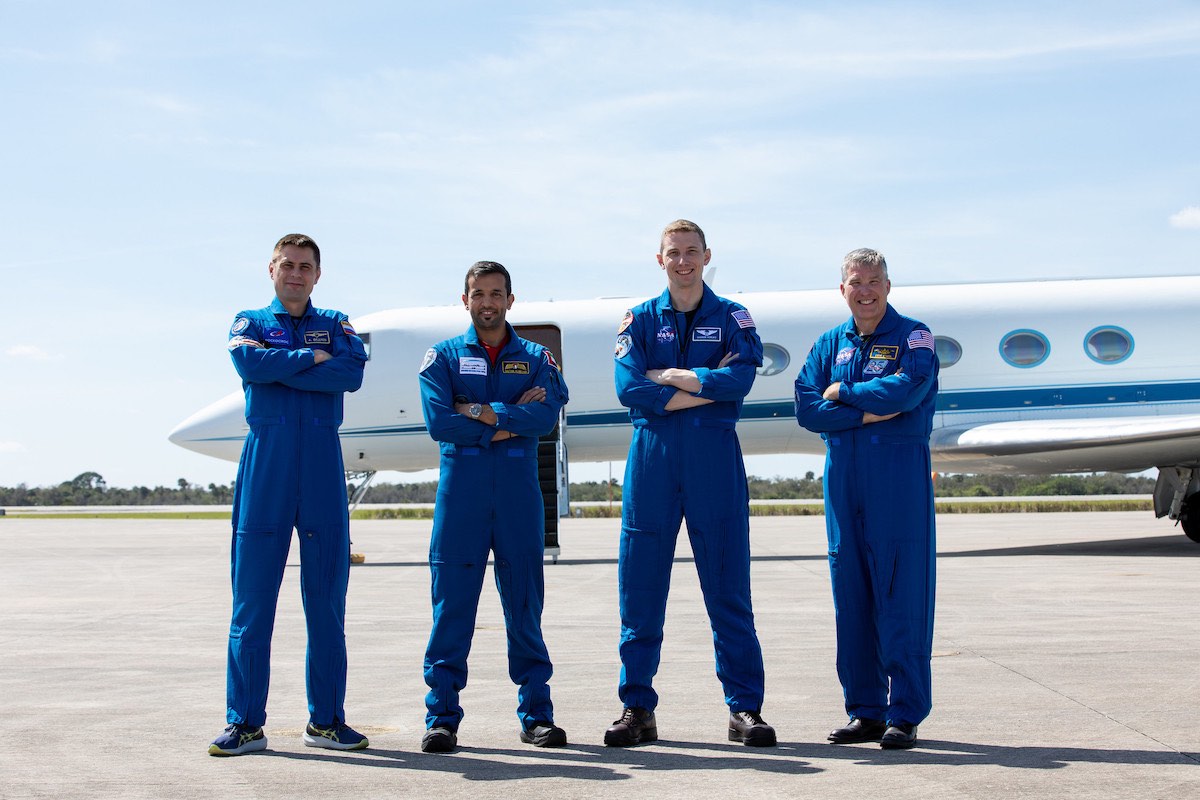 Two NASA astronauts, a Russian cosmonaut and an Emirati flew to the Kennedy Space Center Tuesday to begin preparations for launch early Monday on a SpaceX Crew Dragon flight to replace four crew members aboard the International Space Station who are wrapping up a five-month stay.
Launch had been planned for Sunday, but NASA and SpaceX managers ordered a 24-hour slip during a flight readiness review Tuesday to allow more time to close out a handful of open technical issues. Launch now is targeted for 1:45 a.m. EST Monday.
Steve Stich, manager of NASA's commercial crew program, said he expects the open items to be cleared by the end of the week.
"When we looked at the work remaining to go on the vehicle, getting Dragon and Falcon 9 ready to go, we were a little bit behind on that work and so we need a little bit more time to do that," he told reporters after the FRR concluded.
"We're taking our time each step of the way getting Dragon ready to go, doing the proper analysis, getting Falcon 9 ready to go, and making sure we'll go fly when we're ready."
Earlier Tuesday at the Baikonur Cosmodrome in Kazakhstan, Russian engineers hauled a Soyuz rocket and crew ferry ship to the pad, setting the stage for launch to the lab complex Thursday evening.
Three station crew members — Sergey Prokopyev, Dmitri Petelin and NASA astronaut Frank Rubio — had planned to return to Earth next month to wrap up their own six-month station visit. But their Soyuz MS-22 ferry ship was disabled by a presumed micrometeoroid impact December 14 that ruptured a critical coolant line.
The Russians are launching an unpiloted replacement Soyuz, MS-23, at 7:24 p.m. Thursday to give Prokopyev, Petelin and Rubio a fresh Soyuz that will carry them back to Earth in September after nearly a full year in space. They'll be replaced by the original MS-23 crew, who will fly up on the next Soyuz in the sequence.
Assuming an on-time launch Thursday, the Soyuz MS-23 spacecraft is expected to carry out an automated rendezvous with the space station, docking at the lab's upper Poisk module around 8 p.m. Saturday.
At the same time, SpaceX and NASA will be gearing up to launch the Crew Dragon spacecraft atop a Falcon 9 rocket at pad 39A early Monday.
The ship's crew — commander Stephen Bowen, pilot Warren "Woody" Hoburg, cosmonaut Andrey Fedyaev and United Arab Emirates flier Sultan Alneyadi — landed at the spaceport's 3-mile-long Launch and Landing Facility runway a few minutes before 12:30 p.m. Tuesday to begin final preparations.
"I've had the privilege over the past couple of years of training with an incredible crew," Bowen, a former submariner and veteran of three shuttle flights, told reporters at the runway. "They are just the most amazing people. And it's just an incredible honor to be here. We're really looking forward to our mission."
If all goes well, SpaceX will haul the Falcon 9 rocket and Crew Dragon out of the company hangar and up to the top of pad 39A Wednesday. Bowen and company plan to don their pressure suits and strap for a dress-rehearsal countdown late Thursday, culminating in a simulated launch early Friday.
A few hours later, after the crew departs, SpaceX engineers plan to test fire the Falcon 9's first stage engines, setting the stage for launch Monday. If all goes well, the Crew Dragon will catch up with the space station early Tuesday, docking to the Harmony module's upper port at 2:29 a.m.
Standing by to welcome them aboard will be the crew Bowen and company is replacing — Crew-5 commander Nicole Mann, Josh Cassada, Japanese astronaut Koichi Wakata and cosmonaut Anna Kikina — along with Prokopyev, Petelin and Rubio.
Prokopyev and his crewmates were launched to the station last September and originally planned to spend six months aboard the lab. But on December 14, a presumed micrometeoroid impact resulted in a massive coolant leak.
After a detailed analysis, Russian engineers concluded the spacecraft could not be relied on to safely carry its three crew members back to Earth without overheating. Instead, engineers worked to ready the Soyuz MS-23 for launch ahead of schedule to replace the damaged MS-22 ferry ship.
In an unlikely coincidence, a Russian Progress cargo ship docked at the station suddenly lost its coolant February 11, two months after the Soyuz incident. The Progress undocked last Friday and plunged back into the atmosphere Saturday, breaking up as expected over the southern Pacific Ocean.
Analysis of post-undocking video and photography showed what the Russians concluded may have been another impact, similar to but larger than the one that damaged the Soyuz MS-22 spacecraft, or possibly the site of a leak caused by some earlier problem after launch.
In any case, the replacement Soyuz will dock at the same port vacated by the damaged Progress. At that point, all the station crew members once again will have independent lifeboats — Crew Dragon and Soyuz — for use in the event of an emergency that might require an immediate evacuation.