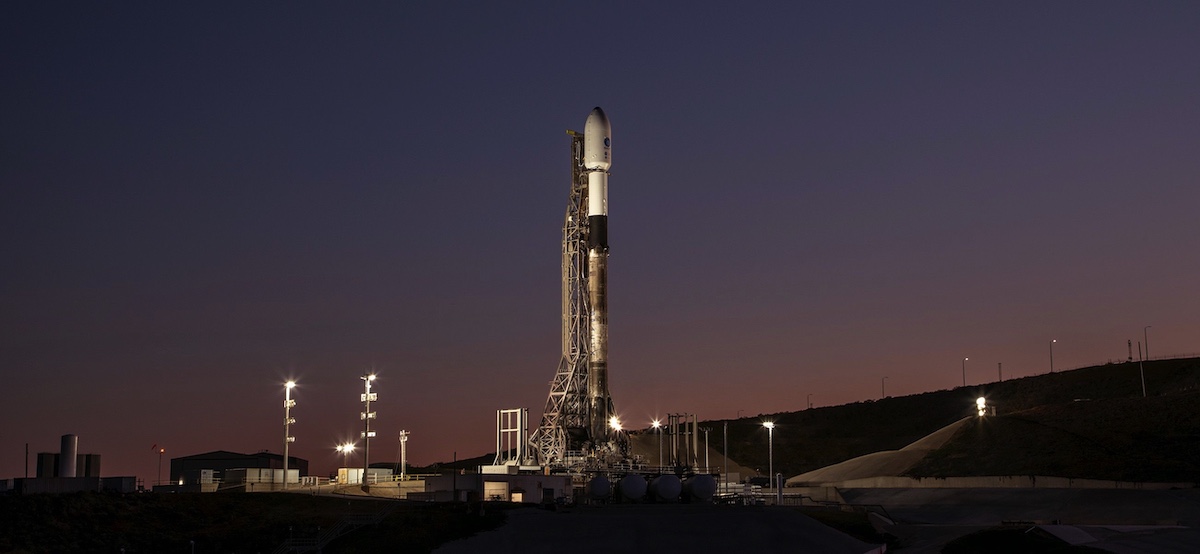 SpaceX's first launch of Starlink internet satellites this year was set to blast off from California's Central Coast Monday night, but high winds and storms could stood in the way of the Falcon 9 rocket lifting off with 51 new broadband relay stations.
Another launch attempt is scheduled Tuesday night.
The 229-foot-tall (70-meter) Falcon 9 rocket is scheduled to fire off its launching pad at Vandenberg Space Force Base at 8:02 p.m. PST (11:02 p.m. EST; 0402 GMT) to kick off SpaceX's first Starlink mission of 2023. It's also the first launch of the year from Vandenberg.
The 51 Starlink internet satellites on-board the rocket will bring the total number of Starlink spacecraft launched to 3,717.
The mission will debut a brand new Falcon 9 booster, designated B1075, making its first flight to space. The 15-story-tall first stage booster will fire about two-and-a-half minutes before separating to begin a descent toward SpaceX's drone ship "Just Read the Instructions" in the Pacific Ocean a few hundred miles downrange from Vandenberg.
The Falcon 9 will head southeast from the California spaceport, targeting an orbit inclined 70 degrees to the equator. The mission will aim to deploy the 51 Starlink satellites into Group 2 of the constellation.
SpaceX's first-generation Starlink fleet is spread out into five groups, or orbital shells, between 335 miles and 354 miles in altitude. The first-generation Starlink shells are inclined at different angles to the equator, with some satellites orbiting between 53 degrees north and south latitude, and others in orbits flying from pole-to-pole.
The Starlink satellites on this launch, named Starlink 2-4, will fly in an orbit inclined 70 degrees to the equator. Its the second launch into Group 2, following a mission in September 2021 that also carried 51 Starlink spacecraft into orbit.
SpaceX began launching satellites into its second-generation Starlink constellation, called Gen2, last month. The Starlink 2-4 mission will continue filling out the first-generation Starlink fleet.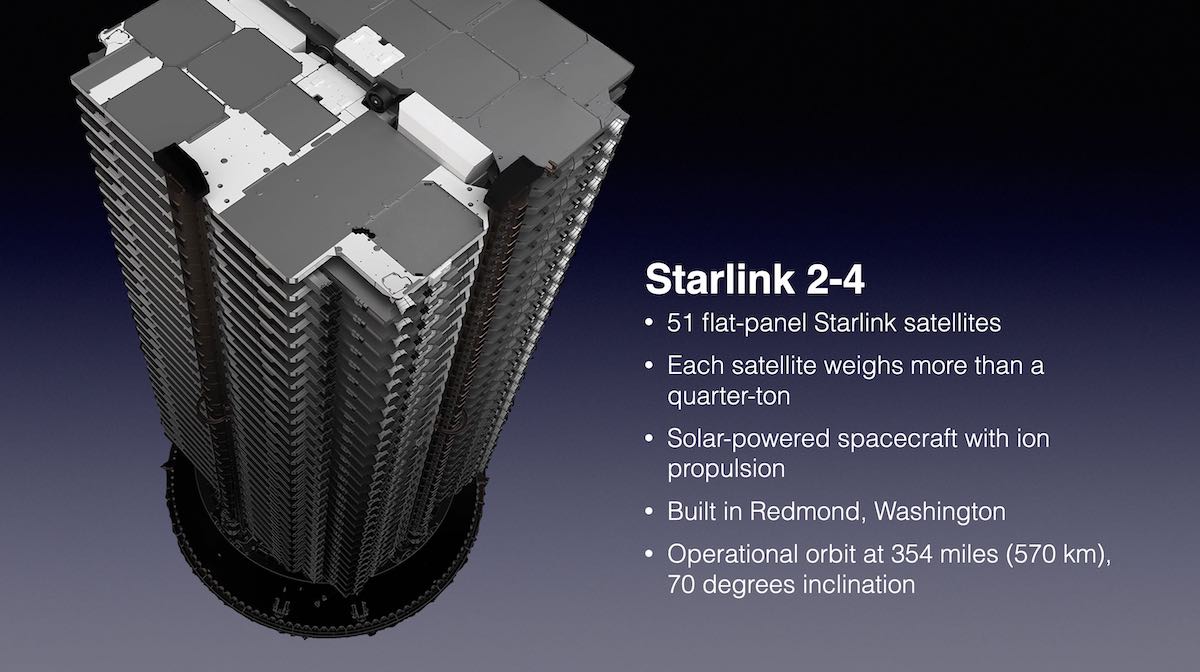 The Federal Communications Commission granted SpaceX approval Dec. 1 to launch up to 7,500 of its planned 29,988-spacecraft Starlink Gen2 constellation. The regulatory agency deferred a decision on the remaining satellites SpaceX proposed for Gen2.
The FCC previously authorized SpaceX to launch and operate roughly 4,400 first-generation Ka-band and Ku-band Starlink spacecraft that SpaceX has been launching since 2019.
The Gen2 satellites could improve Starlink coverage over lower latitude regions, and help alleviate pressure on the network from growing consumer uptake. SpaceX said last month the network now has more than 1 million active subscribers. The Starlink spacecraft beam broadband internet signals to consumers around the world, connectivity that is now available on all seven continents with testing underway at a research station in Antarctica.
Email the author.
Follow Stephen Clark on Twitter: @StephenClark1.