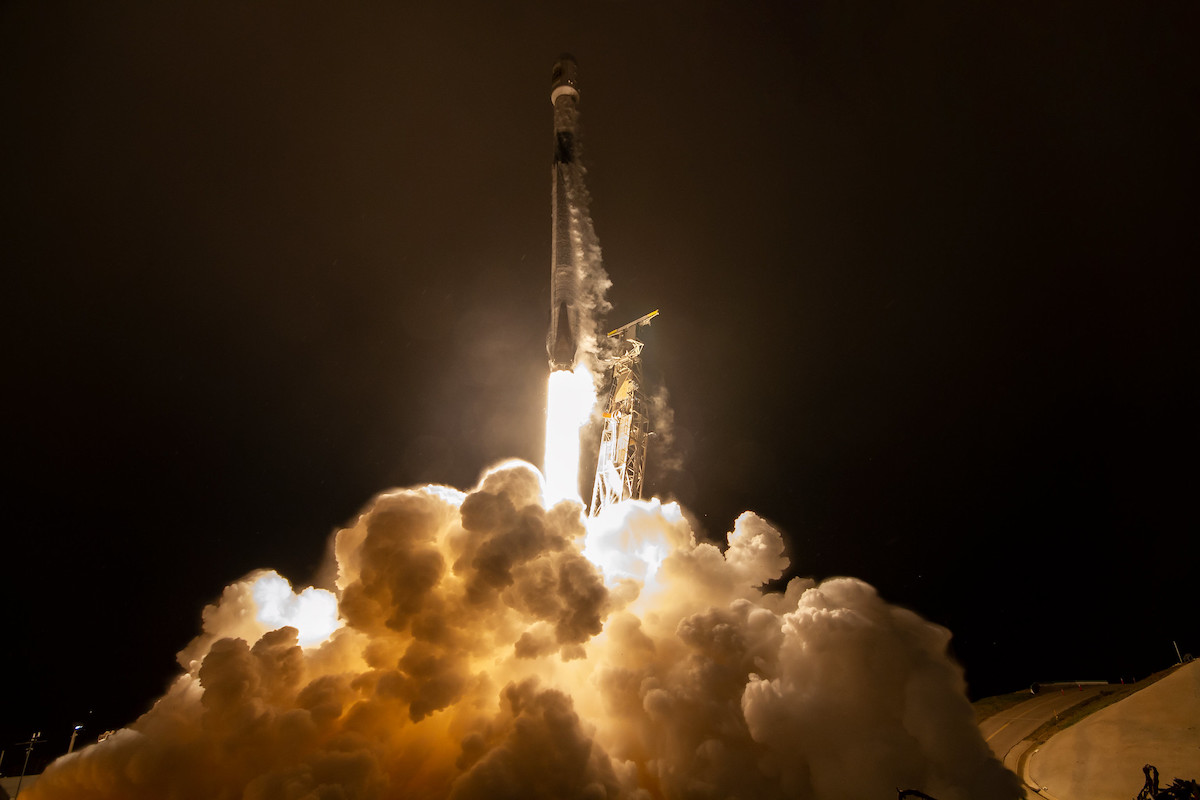 SpaceX launched its 61st and final mission of 2022 Thursday night from California, placing an Israeli Earth-imaging satellite into orbit and tying a 1980 record for the most successful flights by a rocket family in a single year.
The company's last launch of the year delivered the EROS C3 Earth observation satellite into a unusual retrograde orbit after blastoff from Space Launch Complex 4-East at Vandenberg Space Force Base, California. The 229-foot-tall (70-meter) Falcon 9 rocket took off at 11:38 p.m. PST Thursday (2:38 a.m. EST; 0738 GMT) Thursday, powered by a column of fiery exhaust from nine kerosene-fueled engines.
The Falcon 9 headed southwest from Vandenberg, arcing over the Pacific Ocean before shutting down its nine Merlin engines nearly two-and-a-half minutes into the mission. The first stage detached, flipped around to fly tail first, and reignited three of its engines for a "boost back" burn to reverse course and return to a vertical landing at Vandenberg.
Touchdown of the booster at Landing Zone 4, just a quarter-mile (400 meters) from the Falcon 9 launch pad, occurred more than eight minutes after liftoff, completing the 11th flight of the first stage, designated B1061 in SpaceX's fleet.
The Falcon 9's second stage fired a single Merlin engine, fitted with an expansion nozzle for in-space firings, for more than seven minutes to place the EROS C3 satellite into orbit. The upper stage deployed the EROS C3 satellite nearly 15 minutes into the mission, and SpaceX declared success.
SpaceX launched the $186 million EROS C3 mission for the Israeli company ImageSat International, which provides intelligence imagery for the Israeli military and other customers around the world. U.S. military tracking data indicated the Falcon 9 rocket released the EROS C3 spacecraft into an orbit more than 300 miles (about 500 kilometers) above Earth, at an inclination of 139.4 degrees to the equator.
The mission targeted an unusual retrograde orbit, in which the spacecraft flies in the opposite direction of Earth's rotation. Many of Israel's military spy satellites fly in a similar orbit, a consequence of Israel's geography that require rockets launched from Israeli territory to fly to the west — against the rotation of Earth — over the Mediterranean Sea to avoid over-flying populated areas.
Falcon 9's first stage booster has returned to Landing Zone 4 at Vandenberg Space Force Base, California. This completes the 11th flight to space for this booster, designated B1061.

It's the 160th Falcon booster landing overall.https://t.co/adKfJheEUe pic.twitter.com/UCunoJXaPj

— Spaceflight Now (@SpaceflightNow) December 30, 2022
The EROS C3 satellite was built by Israel Aerospace Industries, and is based on IAI's Optsat 3000 satellite platform with a launch mass of about 880 pounds, or 400 kilograms. ImageSat International, or ISI, signed a contract with IAI to construct the EROS C3 satellite in December 2017.
IAI said in a press release that ground controllers established communications with the EROS C3 satellite after launch. The satellite is fitted with an electro-optical camera supplied by Elbit Systems, an Israeli defense company.
In financial statements, ISI describes EROS C3 as an Optsat 3000-class satellite with "very-very high resolution and multi spectral capabilities."
ISI says its constellation includes two other EROS C-class satellites, EROS C1 and EROS C2, already in orbit. Those two satellites were "commercialized" by ISI in 2021, after launch by a separate operator, possibly as part of the the Israeli government's Ofeq spy satellite satellite fleet, or by another Israeli company. ISI said in a financial prospectus earlier this year that EROS C1 and EROS C2 are owned by a third party, but ISI has exclusive access to commercial imagery from the satellites
EROS C3 will join ISI's fleet as a commercially-operated satellite from the start, but the high-resolution pictures from the spacecraft will likely be used by ISI's military and government customers, which include a nexus of Israeli clients and others around the world.
ISI says EROS C3 has similar imaging capabilities as EROS C1 and EROS C2. The company eventually plans to operate a fleet of six "military-grade" imaging satellites, called the EROS NG constellation, with EROS C-class electro-optical and EROSAR synthetic aperture radar capabilities.
"EROS C serves as the backbone of the EROS NG constellation," ISI says on its website. "Through ISI's advanced ground control segment, it enables defense and intelligence organizations to conduct operations under complete confidentiality and data protection, as well as independent mission execution, with no preemption/shutter control."
ISI said earlier this year it planned to enter into a contract to build another electro-optical satellite, EROS C4, for launch in 2026.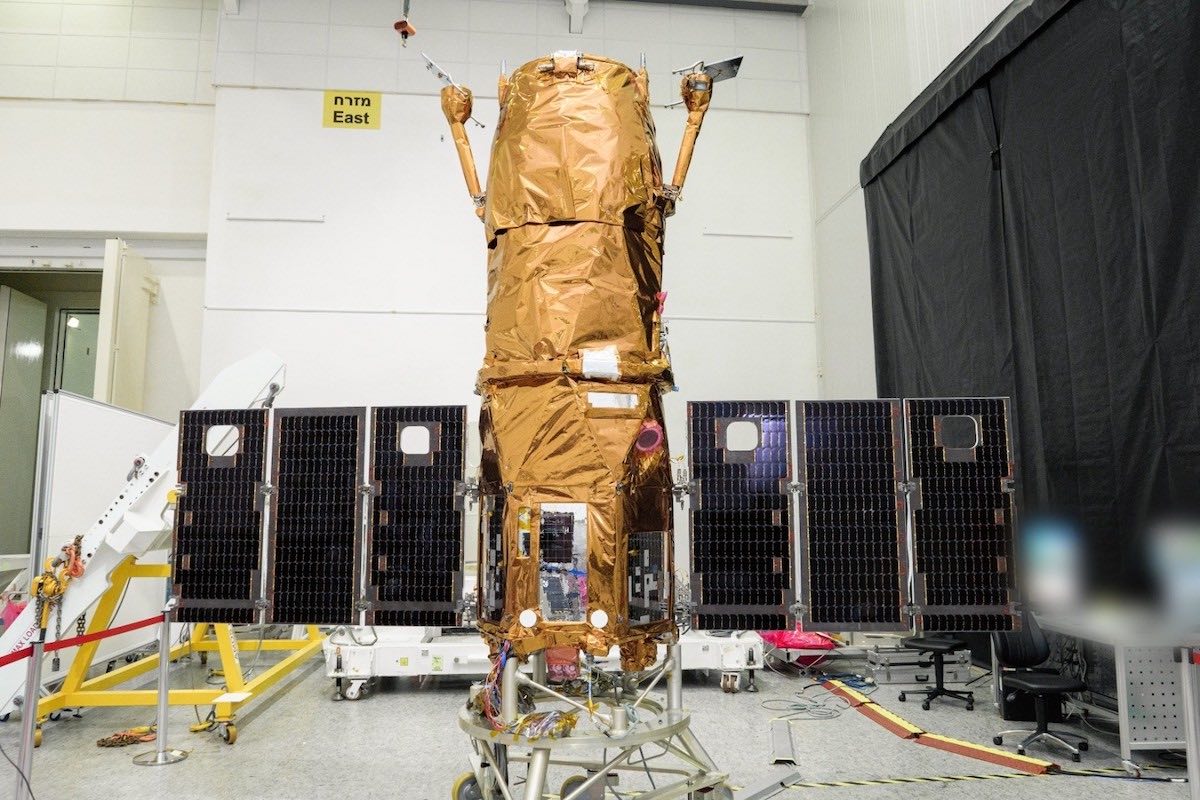 The EROS C-class satellite have a best resolution of about 1 foot, or 30 centimeters, according to ISI. Color images from EROS C3 will come with a resolution of about 24 inches, or 60 centimeters. That puts EROS C3 in the same class as the Maxar's WorldView commercial imaging satellites and Airbus's Pleiades Neo constellation.
The EROS C satellites are follow-ups to ISI's earlier optical imaging satellites, EROS A and EROS B, launched in 2000 and 2006.
ISI said in a financial prospectus earlier this year that the launch of EROS C3 will mark a "leap forward in the satellite services that the company will be able to provide to its customers," including the ability to gain a larger foothold in the civilian market.
"In the company's estimation, the EROS C3 satellite will be one of the three commercial (optical imaging) satellites with the most advanced capabilities in the world," ISI said.
The launch of EROS C3 came two days after SpaceX launched a Falcon 9 rocket from Cape Canaveral with another batch of 54 Starlink internet satellites. The two holiday missions capped a record year for SpaceX, with 61 flights from the company's two launch pads in Florida and single launch facility in California.
SpaceX launched 31 missions in 2021, and logged 26 Falcon rocket launches in 2020.
Thirteen of the launches in 2022 lifted off from Vandenberg Space Force Base, 19 SpaceX rockets launched from pad 39A at NASA's Kennedy Space Center, and 29 SpaceX missions departed from pad 40 at Cape Canaveral Space Force Station.
There was one flight of SpaceX's Falcon Heavy, a powerful launcher made by combining three Falcon 9 rocket boosters together to produce more than 5 million pounds of thrust. The Nov. 1 mission — the first Falcon Heavy flight since 2019 — orbited a pair of payloads for the U.S. Space Force. The other 60 SpaceX missions used Falcon 9 rockets.
Falcon 9 launched the @ImageSatIntl EROS C-3 mission to orbit overnight, completing SpaceX's 61st and final launch of 2022 — nearly double our record of 31 launches set last year pic.twitter.com/KTQydZvoYC

— SpaceX (@SpaceX) December 30, 2022
The 60 Falcon 9 launches in 2022 set a record for the most flights of a single type of orbital-class rocket in a single year.
"On average, SpaceX launched every 6 days from one of our three sites with 92% of missions completed with flight-proven first stage rocket boosters, and Falcon 9 now holds the world record for most launches of a single vehicle type in a single year," SpaceX tweeted after the launch of the EROS C3 mission Thursday.
Overall, SpaceX's Falcon rocket family tied the number of successful launches achieved by the Soviet Union's R-7 rocket family in 1980. Bolstered by ballooning Cold War-era military budgets, several variants of the R-7 rocket — the Soyuz, Molniya, and Vostok launcher types — together successfully launched 61 times that year. There were two other launches of the R-7 rocket family that failed to put their payloads into the proper orbit, for a total of 63 launch attempts.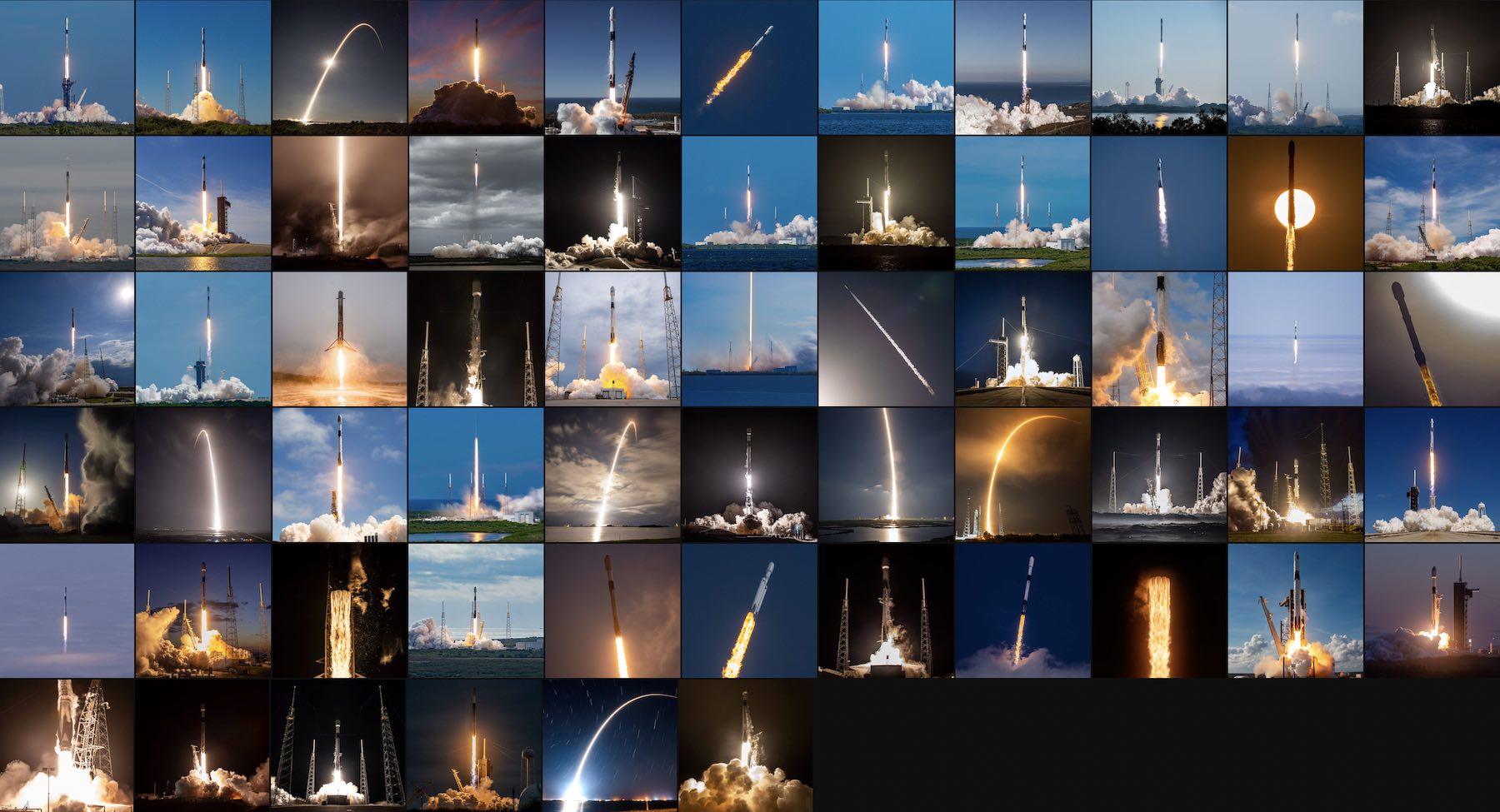 SpaceX recovered every Falcon rocket booster that attempted to land in 2022, notching 60 rocket landings on drone ships and onshore in Florida and California. The two side boosters on the sole Falcon Heavy mission in 2022 returned to successfully land at Cape Canaveral, while the core stage of the Falcon Heavy was expended on purpose. SpaceX also intentionally disposed of two Falcon 9 boosters on a pair of missions in November, at the request of their customers.
SpaceX launched three astronaut missions to the International Space Station aboard the company's fleet of Dragon crew capsules in 2022. Two of the flights delivered long-duration crews to the complex under contract to NASA, and the other crew flight was launched for Axiom Space, a Houston-based company. The 17-day Axiom flight marked the first fully commercial private astronaut mission to the International Space Station.
Thirty-four of SpaceX's 61 missions in 2022 were primarily dedicated to lofting satellites for the company's own Starlink internet network. In total, SpaceX rockets deployed 2,001 payloads into orbit in 2022, including Starlink satellites and payloads on three Transporter smallsat rideshare missions.
SpaceX also achieved milestones in rocket reuse in 2022. The company launched and landed a Falcon 9 booster for a record 15th time Dec. 17. Going into 2022, SpaceX had launched a Falcon 9 booster no more than 11 times.
SpaceX aims to launch as many as 100 missions in 2023, including the first orbital test flight of the company's next-generation Starship rocket from South Texas.
Email the author.
Follow Stephen Clark on Twitter: @StephenClark1.