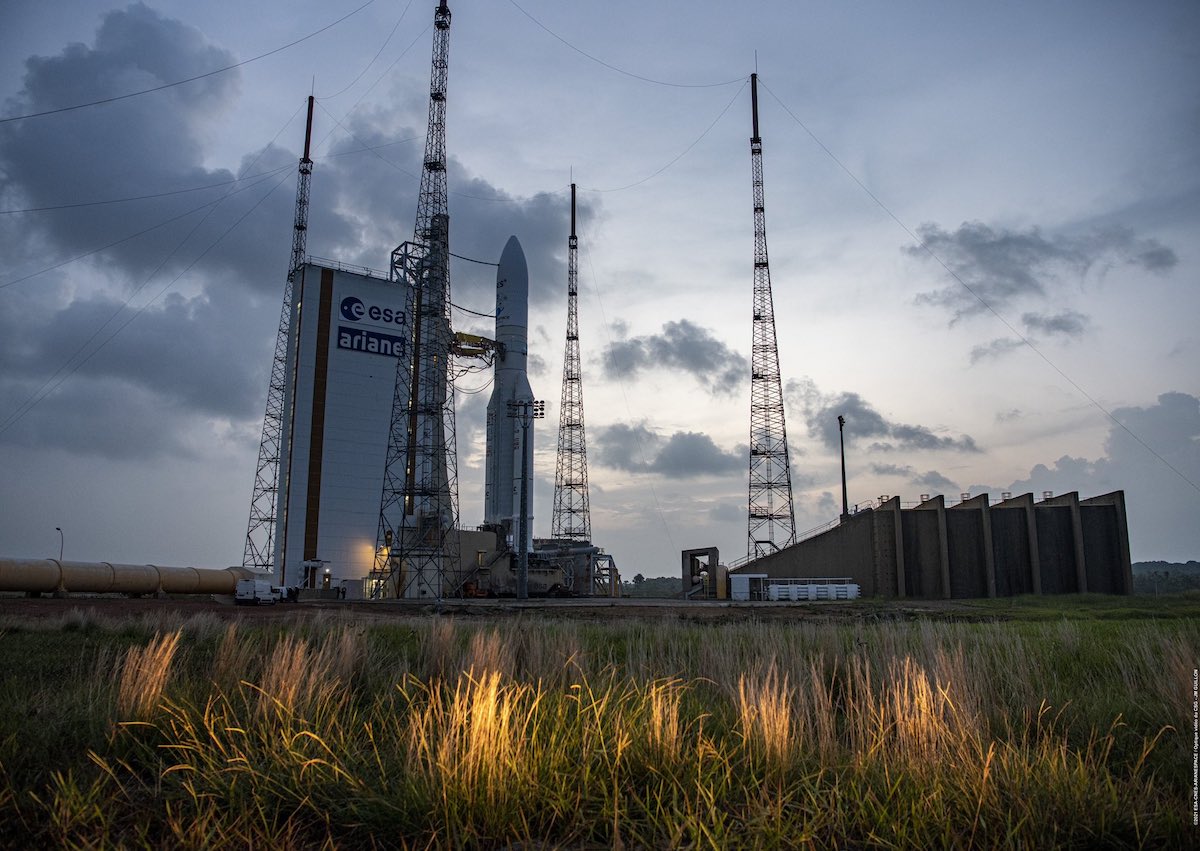 Arianespace delayed the launch from French Guiana of a European Ariane 5 rocket with two geostationary communications satellites Friday to conduct more checks of ground support equipment at the spaceport.
The mission, set to loft payloads for SES and the French military, is the final Ariane 5 flight before a mission in December with the James Webb Space Telescope.
"Due to additional checks on the ground support equipment, the flight VA255 – initially scheduled for October 22 – has been scrubbed," Arianespace said Friday in a statement. "Investigations are ongoing in order to identify a new launch date."
The Ariane 5 rocket rolled to the ELA-3 launch zone Thursday at the Guiana Space Center after receiving its two payloads in the space center's final assembly building.
Arianespace said the Ariane launcher and its payloads — SES 17 and Syracuse 4A — are in "stable and safe conditions on the launch pad."
The launch window Friday was supposed to open at 9:01 p.m. EDT (10:01 p.m. French Guiana time), or 0101 GMT Saturday. The daily launch window is not expected to significantly change with the delay.
Built Thales Alenia Space, the SES 17 communications satellite will provide internet connectivity to airline passengers over the Americas, the Caribbean, and the Atlantic Ocean for SES of Luxembourg. The fully fueled satellite weighs 14,133 pounds (6,411 kilograms), according to Arianespace's launch press kit.
SES 17 is the largest satellite ever procured by SES, and the largest spacecraft ever built by Thales. It carries a digital payload controller capable of re-programming the satellites's nearly 200 spot beams, adjusting power and frequency allocations to respond to changing customer needs.
The 8,492-pound (3,852-kilogram) Syracuse 4A spacecraft, also built by Thales Alenia Space, will provide communications services for the French military. The satellite will relay secure communications between French military aircraft, ground vehicles, and naval vessels, including submarines.
Email the author.
Follow Stephen Clark on Twitter: @StephenClark1.