STORY WRITTEN FOR CBS NEWS & USED WITH PERMISSION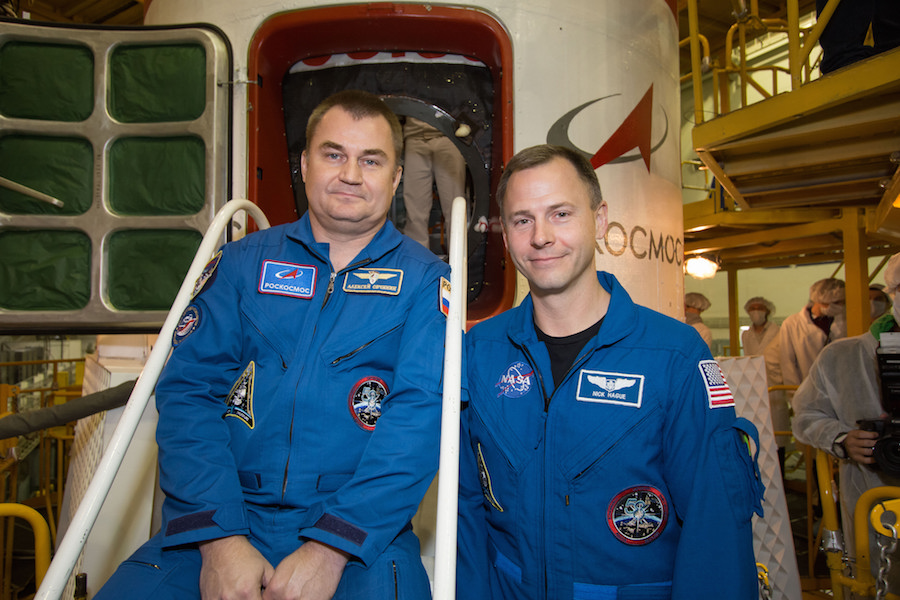 One week after a Russian Soyuz spacecraft departed the International Space Station and brought three crew members back to Earth, another Soyuz carrying a veteran cosmonaut and a first-time NASA flight engineer is ready for launch Thursday on a quick four-orbit flight to the orbiting lab complex.
Commander Alexey Ovchinin and flight engineer Tyler "Nick" Hague are scheduled to blast off from the Baikonur Cosmodrome in Kazakhstan at 4:40:15 a.m. EDT (GMT-4; 2:40 p.m. local time), roughly the moment Earth's rotation carries the Soyuz MS-10/56S spacecraft into the plane of the space station's orbit.
If all goes well, Ovchinin and Hague will monitor a series of carefully planned rocket firings during a six-hour rendezvous with the lab complex, moving in for an automated linkup at the upper Poisk module at 10:44 a.m.
Standing by to welcome them on board will be Expedition 57 commander Alexander Gerst, a German astronaut representing the European Space Agency, Soyuz MS-09/55S commander Sergey Prokopyev and NASA astronaut Serena Auñón-Chancellor.
They have had the station to themselves since Oct. 4 when a previous Soyuz crew — commander Oleg Artemyev, flight engineer Drew Feustel and Ricky Arnold — returned to Earth, landing on the steppe of Kazakhstan to wrap up a 197-day mission.
Soyuz spacecraft are designed to carry crews of three. A second cosmonaut originally planned to join Ovchinin and Hague but he was removed earlier when launch of a Russian lab module he is trained to help install and operate was delayed to late next year.
Ovchinin, a Russian military pilot-instructor and veteran of a 172-day stay aboard the station in 2016, said he looked forward to returning to a room with a view above the atmosphere.
"It's an interesting job, very interesting experiments and very interesting people," he told reporters earlier, speaking through a translator. "We have people from different countries living together, communicating, performing their duties, their mission. Besides, it's really enticing to have (an office), so to speak, with this outstanding view out onto planet Earth! This is something I'm really looking forward to going back to."
Asked about his U.S. co-pilot, Ovchinin said Hague is "very smart, very intelligent."
"It was very easy to train with him, and I think it's going to be just the same in flight," Ovchinin said. "It's very easy to work with him, very comfortable, and I'm positive he's going to fly (in space) a few more times."
Hague, an Air Force Academy graduate who married a classmate and went on to earn a master's degree in aeronautics and astronautics from MIT before becoming a test pilot, is making his first space flight. He was equally complimentary when it came to his commander.
"Alexey, he is rock solid. Our temperaments mesh well together, we're both a little bit on the silent side, but we see things the same way," Hague said. "In working hand in hand with him inside the Soyuz capsule, we've built over the last year a lot of confidence in each other. … We work really well together, so I'm fortunate to have him as commander, and I look forward to flying with him.
Hague said he was impressed by the Soyuz and its multiple backup systems. During simulator training, Russian instructors "throw every failure they can think of at us," he said.
"Over the last two years, I've gotten an appreciation for just how robust the Soyuz spacecraft is. We plan for success and also all of the other contingencies, and we exercise against all of those different failures. And we're still able to get the mission done, get to the station and still get home. I've got a very high appreciation for just how solid of a spacecraft it is."
Along with helping pilot the Soyuz, Hague said he was most looking forward to finding out how his body reacts to living and working in the microgravity environment of space.
"I've listened to all the stories of the astronauts and cosmonauts that come back, and I think the thing I'm most looking forward to is just experiencing my own adaptation to space," he said. "I'm going to go up there and I'm going to float for six months, my feet won't need to touch the ground, there'll be all kinds of physiological changes that are going to happen to my body and I'm going to adapt to that environment.
"I'm interested to see how it's going to affect me, how is that process going to play out? … There's also going to be everyday something that surprises me, because I'm in a weightless environment. I expect to behave a certain way because of the 42 years I've lived on the ground and when it doesn't, those surprises will be little presents along the way that make the flight exciting."
He can expect a bit of excitement right away. Hague and Gerst plan to float outside on Oct. 19 and 25, carrying out two spacewalks to install six new lithium-ion batteries in the station's solar power system that were delivered Sept. 27 aboard a Japanese HTV cargo ship.
NASA originally planned to install the batteries during two spacewalks, one by Feustel and Gerst and the other by Gerst and Arnold, before the Americans returned to Earth on Oct. 4. But launch of the HTV was delayed nearly two weeks by technical problems and bad weather, prompting mission managers top defer the spacewalks until after Hague's arrival.
Most of the space station's electrical power is generated by four huge sets of rotating solar arrays, two on the starboard, or right side of the lab's power truss and two on the left, or port side. The batteries deliver power when the station is in Earth's shadow and are recharged when the arrays are back in sunlight.
The system originally used 12 batteries for each set of arrays but the replacement units pack twice the punch, so only six are needed per set.
The HTV-6 cargo ship delivered the first set of replacements in December 2016. They were installed on the starboard 4, or S4, solar array segment during two spacewalks in January 2017. The batteries carried up aboard HTV-7 in September will be installed on the left-side port 4, or P4, truss segment by Hague and Gerst.
Ovchinin and Prokopyev may carry out a spacewalk of their own in the next few weeks to inspect the outside of the Soyuz MS-09/55S spacecraft that carried Prokopyev, Gerst and Auñón-Chancellor into orbit June 6.
In September, a small leak was detected and traced to the ferry ship's upper orbital module. Apparent drill marks were found indicating a presumably deliberate act at some point during the spacecraft's construction or processing. Because the leak occurred well after the ship reached orbit, some have speculated an attempt was made to seal the hole before launch and that the seal eventually failed.
No signs of an earlier seal were found inside the Soyuz, but an external inspection could reveal such evidence, helping investigators pin down what happened and, perhaps, when.
Spacewalks aside, the station crew faces a hectic schedule in the coming months. A Russian Progress cargo ship is scheduled to arrive Nov. 2 followed by a Northrup Grumman supply craft on Nov. 18, a SpaceX Dragon space freighter around the end of November and the departure of Gerst, Prokopyev and Auñón-Chancellor on Dec. 13.
A fresh crew — Oleg Kononenko, Canadian David Saint-Jacques and Anne McClain — is scheduled to arrive Dec. 20.
Then in January, in a major milestone, SpaceX plans to launch a new Dragon ferry ship on an unpiloted test flight to the station, followed by a similar test flight in March by a Boeing Starliner capsule. If those flights go well, both companies hope to launch piloted test flights in June and August.
NASA has been forced to rely on the Russian Soyuz to carry astronauts to and from the station since the shuttle program ended in 2011. The SpaceX and Boeing spacecraft will end NASA's sole reliance on Russia for crew transportation to low-Earth orbit.
"I think it's a critical milestone for us to be able to bring back the means to launch crews from the United States," Hague said. "It improves our robust ability to provide crews to station, both from Russia as well as the United States. That can only help the program in the future.
"More importantly, it allows us to increase the number that will be on the station and more crew on station means more science that can get done. And that's what we're up there to do, we're up there to try to answer the questions we don't know the answers to. And so, that's going to be an important milestone."
Ovchinin and Hague plan to return to Earth on April 16, along with a United Arab Emirates guest astronaut. The UAE astronaut will launch to the station on April 5 with Soyuz MS-12/58S commander Oleg Skripochka and NASA astronaut Christina Koch.