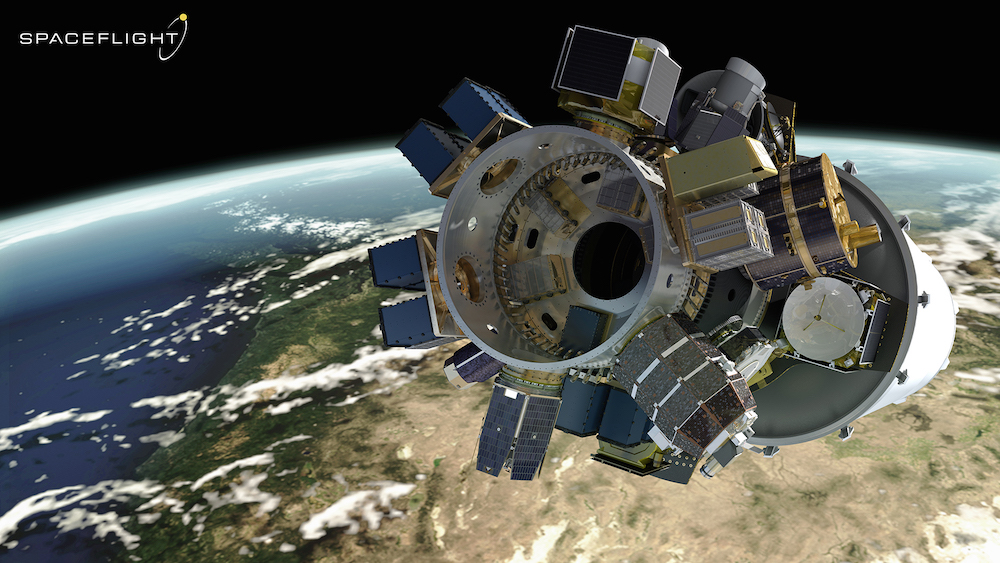 Engineers working for Spaceflight, a Seattle-based launch services company, are in the final steps of preparing for the first launch of new robotic free flyers carrying more than 70 small government and commercial satellites into polar orbit later this year aboard a dedicated flight of a SpaceX Falcon 9 rocket.
The company's specialists earlier this month were finalizing avionics testing on two modules that will shepherd the microsatellites and nanosatellites into orbit, according to Jeff Roberts, Spaceflight's mission director for the SSO-A "SmallSat Express" mission.
Spaceflight specializes in arranging launches of multiple small satellites on a single rocket, a rideshare concept that spreads the cost of a launch across many customers. The arrangement is particularly helpful for start-up companies and low-budget research institutions, which often can't afford to pay for a dedicated ride into Earth orbit.
But Spaceflight had never purchased the full capacity of a rocket as large as the Falcon 9 before contracting with SpaceX for the SSO-A SmallSat Express mission in 2015.
At the time of the 2015 announcement, Spaceflight officials said the selection of the Falcon 9 would allow some of the mission's satellites, which are owned by U.S. government agencies, to fly on a U.S. launcher from a U.S. launch pad.
Three missions funded by the U.S. military are among the largest spacecraft slated to fly on the SSO-A mission later this year. They are STPSat 5, a microsatellite from the Air Force's Space Test Program which hosts five experiments, the eXCITe spacecraft funded by the Defense Advanced Research Projects Agency — DARPA — and the FalconSat 6 satellite built by students at the Air Force Academy.
The roster of satellites with reservations on the SSO-A mission has changed numerous times over the last three years as some payloads ran into development delays or found other launch opportunities.
Curt Blake, president of Spaceflight, said in a recent interview that the manifest of satellites on the SSO-A is "pretty much finalized" at 71 spacecraft.
Most of the satellites on the SSO-A mission, which include 15 microsatellites and 56 CubeSats, will be installed on two free flyers at Spaceflight's facility in Auburn, Washington, near Seattle, officials said.
A few of the larger passengers on the SSO-A mission will be shipped directly to the Falcon 9 launch site at Vandenberg Air Force Base in California, where technicians will mate them to the free flyers, or directly on the rocket's second stage.
Spaceflight officials said the launch is scheduled some time between Oct. 1 and Dec. 31. Several engineers with payloads flying on the SSO-A mission said they expected the launch in November, after a pair of Falcon 9 launches earlier in SpaceX's queue at Vandenberg with Argentina's SAOCOM 1A Earth observation satellite and the final set of 10 Iridium Next voice and data relay satellites.
The deployment structure developed by Spaceflight consists of two hubs — an upper and a lower free flyer — carrying satellites and CubeSat dispensers. Both free flyers will separate from the Falcon 9 rocket once it enters a polar, sun-synchronous orbit around 357 miles (575 kilometers) above Earth.
Blake said the free flyers are based on Spaceflight's Sherpa space tug, which the company intended to launch for the first time on a Falcon 9 flight shared with Taiwan's Formosat 5 Earth observation satellite. But delays in Formosat 5's launch, caused in part by a Falcon 9 rocket explosion on a launch pad in 2016, prompted Spaceflight to cancel the mission and find alternative launch opportunities for the smallsats reserved on the Sherpa flight.
The Formosat 5 mission finally launched last August.
"Generically, we call it the Sherpa," Blake said of the SSO-A mission in an interview with Spaceflight Now earlier this month. "But it is actually more than one hub. There's an upper free flyer and and a lower free flyer. There's a lot of spacecraft on each of those. It's kind of a combination stack."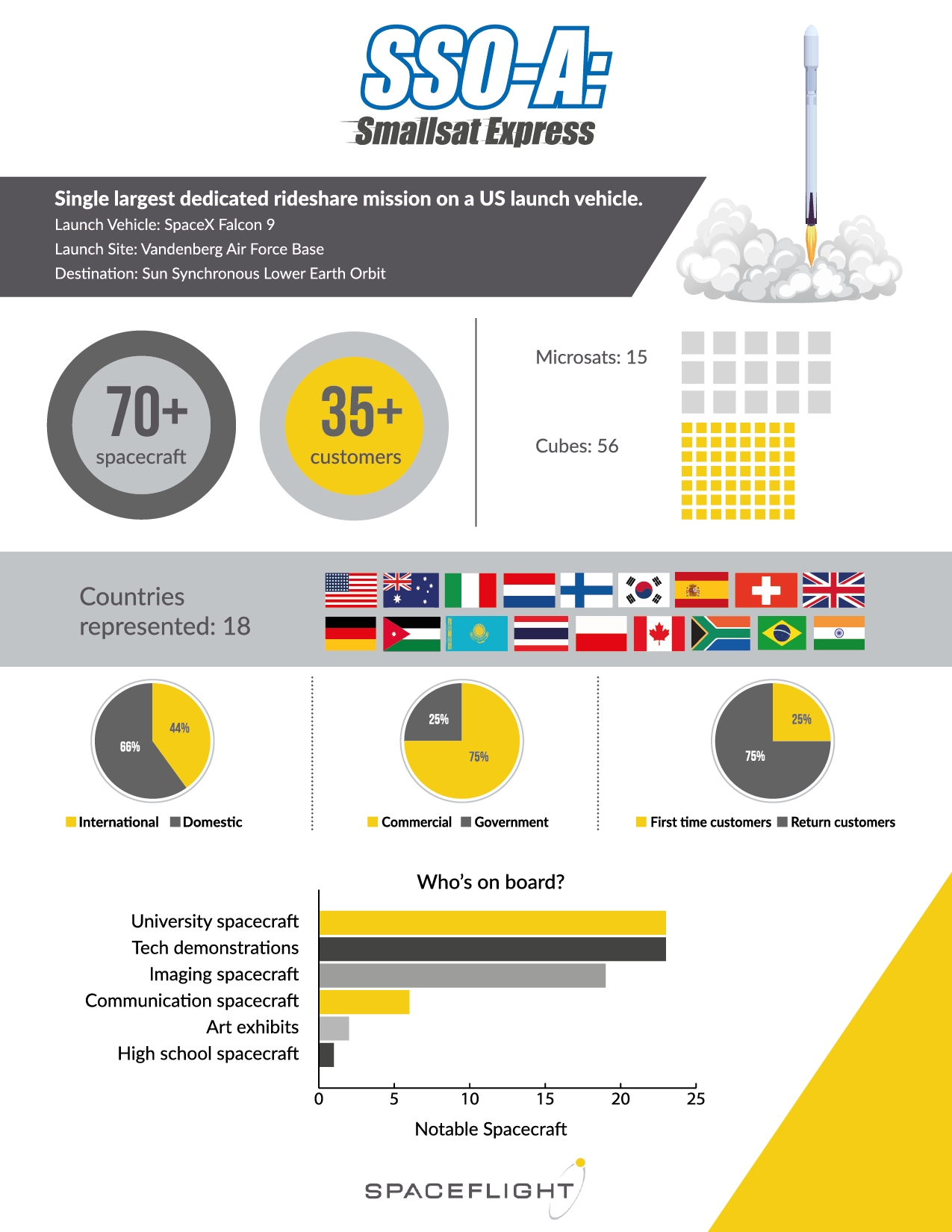 The pace of work at Spaceflight's integration facility in Washington is picking up as satellites begin arriving.
"It's very busy," Blake said. "It's a pretty well orchestrated logistical exercise. Our focus in integration has a very involved schedule. It has different spacecraft arriving at different points. If their teams are involved, then they arrive as well. Once integration occurs, then they vacate and the next folks come in."
Blake said the entire payload riding into orbit on the Falcon 9 rocket will weigh around 4 metric tons — nearly 9,000 pounds — at the time of launch.
"We'll be integrating just about all of the CubeSats and a couple of microsats up at Auburn," Roberts told Spaceflight Now. "So we're getting ready for that event, making sure that we have all of our customers have all of their documentation complete and ready.
"We've done mission readiness reviews with our customers. The last thing we need to do is give them their shipping dates," he said. "We'll do that once we have confirmation of our launch date. We'll have customers show up around 60 days before launch up at Auburn. We'll do integration for about two or thee weeks up there, and then we'll package everything and ship it down to Vandenberg for the final 30 days of the launch campaign."
The free flyers will carry 67 of the satellites slated to fly on the SSO-A mission. Another four microsatellites will be mounted directly on the Falcon 9 rocket, which will command their separation sequences.
Once in orbit less than 15 minutes after liftoff, the Sherpa modules will release from the rocket and begin releasing the smallsats, Roberts said.
"We've developed a deployment sequence that's based off a high-fidelity analysis that we did specifically to make sure our customers don't collide into each other upon deployment, so we're taking our time," he said. "It's about a six-hour deployment sequence. We make sure that we phase that to maximize the distance in separation between all of our customers."
That should help the U.S. military, which tracks objects in orbit, more quickly identify the satellites released on the SSO-A mission, an issue that has caused headaches in the past.
The free flyers will operate as independent spacecraft themselves, with their own computers, electronics and batteries.
"We refer to them as free flyers because that's exactly what they are. There is no propulsion system on-board. They just simply hold all the avionics and the dispensers to command deployment," Roberts said.
The upper free flyer is based on a commonly-used secondary payload adapter — known as an ESPA ring — built by Moog. The lower free flyer is Spaceflight's own design, according to Roberts.
The free flyer modules will unfurl drag sails after the satellite deployments to help bring the dispensers back into Earth's atmosphere.
Of the 71 satellites booked on the SSO-A mission, more than 30 are from international customers, according to Spaceflight. Organizations from 18 countries have payloads on the SSO-A mission: the United States, Australia, Italy, Netherlands, Finland, South Korea, Spain, Switzerland, United Kingdom, Germany, Jordan, Kazakhstan, Thailand, Poland, Canada, South Africa, Brazil, and India.
Planet is one of major commercial customers on the mission, with two of its SkySat microsatellites and several Dove CubeSats set to join its large fleet of Earth-imaging craft in orbit. Planet is also sponsoring the launch of two CubeSats from the Georgia Institute of Technology and the University of Colorado in Boulder's Laboratory for Atmospheric and Space Physics.
"Among the spacecraft onboard, 23 are from universities, 19 are imaging satellites, 23 are technology demonstrations, two are art exhibits, and one is from a high school. Seventy-five percent are commercial spacecraft," Spaceflight said in a statement.
Blake told Spaceflight Now the SSO-A mission turned out to be a complex undertaking.
"To fill, or to make profitable buying a rocket the size of Falcon 9, you have to aggregate a lot of small spacecraft," he said. "Just understanding what kind of timescale that's going to take and how many satellites you're going to have to aggregate to hit that one point in time — that's one lesson — just understanding where that is, and how difficult it is.
"The second one is during the timeframe as you're getting ready, different customers have different potential issues," he added. "Some float through as easy as can be. Others may have difficulties along the way. We've had to move different customers around on the stack. That means that you really need to have an ability to configure and reconfigure the stack, (and) the electronics that go into the deployments."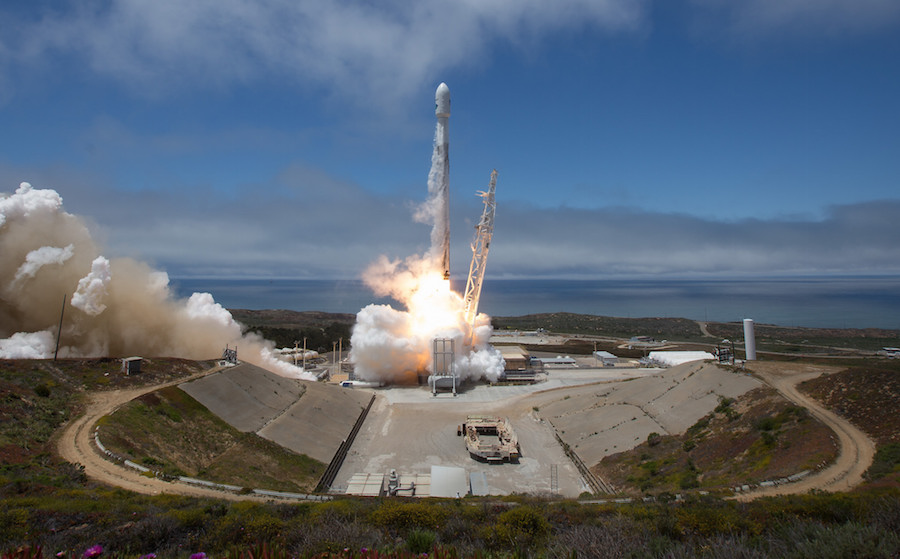 Spaceflight, a division of Spaceflight Industries, has arranged the launch of more than 140 smallsats to date on numerous missions using a variety of launchers, including the Falcon 9, India's Polar Satellite Launch Vehicle, Northrop Grumman's Antares booster, the Russian Soyuz rocket, and the now-retired Dnepr rocket.
The record number of satellites launched on a single rocket is 104, set by an Indian PSLV mission last year. Some of those payloads were customers of Spaceflight, but not all.
Blake said Spaceflight has no immediate plans to buy another dedicated Falcon 9 launch. The economical and logistical sweet spot for rideshares may be using a smaller rocket, he said.
"We're making sure to see how this one goes, and getting all the lessons learned out of it, before turning our attention to doing another one this large," Blake said. "Having said that, we're actively looking at different ones on medium-sized launch vehicles.
The company has agreements for future smallsat rideshare launches on Arianespace's Vega rocket, Rocket Lab's Electron, and Virgin Orbit's air-dropped LauncherOne vehicle — all significantly smaller, and less expensive, than a Falcon 9, which currently sells for around $50 million to $60 million per flight.
"We know about aggregating a number of payloads onto small launch vehicles," Blake said. "You can think of those as dedicated missions as well, where we've got five or 10 different spacecraft on a smaller launch vehicle, 30 or 40 on a medium-sized launch vehicle. The thing we'll take time to sort out is how it goes on a large launch vehicle like this."
Email the author.
Follow Stephen Clark on Twitter: @StephenClark1.