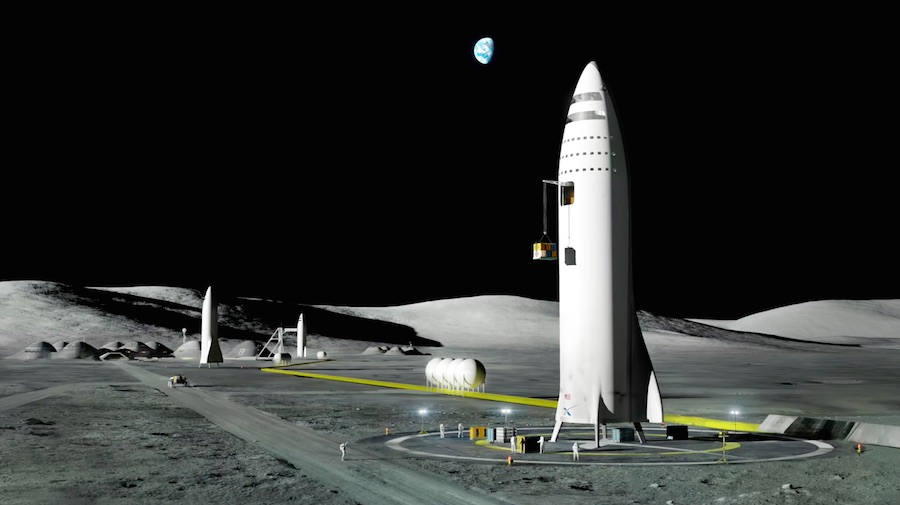 SpaceX plans to build its massive BFR rocket boosters and spaceships inside a cavernous new factory at the Port of Los Angeles, officials announced this week.
Los Angeles Mayor Eric Garcetti confirmed Monday during a State of the City address that SpaceX will produce its Big Falcon Rocket at a site at the Port of Los Angeles.
"This vehicle holds the promise of taking humanity deeper into the cosmos than ever before," Garcetti added on Twitter.
SpaceX and port officials have discussed the aerospace company's use of a 19-acre waterfront parcel at the harbor since 2015, and the parties wrapped up lease negotiations last month. The Los Angeles Board of Harbor Commissioners on Thursday approved the agreement with SpaceX.
SpaceX's huge new rocket will tower nearly 350 feet (106 meters) tall and span 30 feet (9 meters) in diameter, according to information presented by company founder Elon Musk last year.
The reusable vehicle will come in two pieces.
A booster stage, powered by 31 methane-fueled Raptor engines will produce nearly 12 million pounds of thrust and be capable of returning to Earth for propulsive vertical landings like SpaceX's existing Falcon rockets. An upper stage that doubles as an interplanetary transporter will carry people, supplies, satellites, and huge propellant tanks that can be refilled in space.
Bruce McHugh, SpaceX's director of construction and real estate, told the Board of Harbor Commissioners on Thursday that the 19-acre site at Berth 240 "is the perfect spot to build our big rocket."
SpaceX examined potential factory locations in Southern California, Florida, Louisiana and Texas before settling on the Port of Los Angeles location, according to Michael DiBernardo, the port's deputy executive director of marketing and customer relations.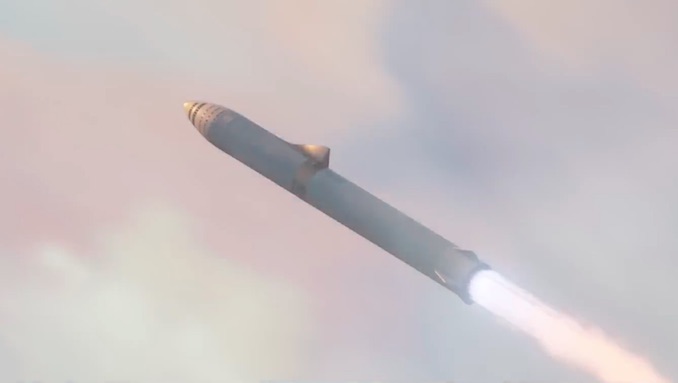 McHugh said SpaceX needed a location with access to the water because the BFR is too big to transport on trucks, as the company currently moves its Falcon 9 and Falcon Heavy boosters. A barge will pick up the BFR booster and upper stage, also known as the Big Falcon Spaceship, and transport them to their test sites and launch pad.
The huge vehicle's design is still in the early stages, and SpaceX revamped the design of its mega-launcher over 2016 and 2017, ending up with a smaller rocket than Musk originally envisioned. But the BFR — in its current iteration — dwarfs all rockets currently flying in dimension and capability, and would measure roughly the same size as NASA's Saturn 5 moon rocket, while producing nearly twice as much thrust at liftoff as the Apollo-era launcher developed in the 1960s.
"We don't know exactly what we're building, but we know it's big, and we know it can't be trucked," McHugh said Thursday. "So that's why this spot has enough land, it's near the water, and we know that we could produce our product there."
SpaceX already leases land at the Port of Los Angeles as a base for the company's recovery fleet, which deploys into the Pacific Ocean to pick up Dragon capsules returning from the International Space Station and retrieve rocket boosters and payload fairings from Falcon 9s launched from Vandenberg Air Force Base northwest of Los Angeles.
SpaceX's headquarters and current manufacturing site is in Hawthorne, California, around 15 miles (24 kilometers) north of the port.
McHugh said SpaceX intends to build an 80,000-square-foot (7,400-square-meter), 80-foot-tall (24-meter) fabrication hangar at the Berth 240 location within about a year.
"When we add onto it, it'll wind up being a total of a 200,000-square-foot (18,600-square-meter) building, assuming everything works out for us," McHugh said. "We are building a ship that's never been built before. We are doing research and technology that's never been done.
"We're also doing this in a parallel path. We are working on the means and methods of how we're going build this product. So far, it's going to be a composite-type rocket."
McHugh said approximately 20 engineers and 20 production technicians are currently working on the BFR project. By the time the BFR is ready for full production, in roughly three-to-five years, McHugh estimated around 700 people will be working at the new factory.
"Elon wants it way faster, but I think it's three-to-five years," McHugh said.
Known for setting optimistic schedules, Musk set an "aspirational" goal last year to have the BFR ready for a robotic mission to Mars by 2022, and a human voyage by 2024. Gwynne Shotwell, SpaceX's president and chief operating officer, said last month the BFR could be ready for test flights into Earth orbit in 2020.
McHugh said the rockets built at the Port of Los Angeles will be shipped through the Panama Canal to Cape Canaveral for launch preparations.
SpaceX officials have said in recent months that early atmospheric tests of the spaceship part of the BFR could begin next year, likely at the company's launch base in South Texas, which is still under construction.
"The ship part is, by far, the hardest because that's going to come in from super-orbital velocities, like interplanetary Mars transfer velocities, moon transfer velocities," Musk said last month. "These are way harder than coming from Earth orbit."
The spaceship's high-speed returns will stress the craft's heat shield and structure beyond the temperatures and pressures experienced by a capsule re-entering the atmosphere from Earth orbit, or by a descending rocket stage.
"Testing that ship out is the real tricky part," Musk said Feb. 6. "The booster, I think — I don't want to get too complacent — but I think we understand reusable boosters. Reusable spaceships that can land propulsively, that's harder. We're starting with the hard part first."
The spaceship design Musk revealed in September had a cluster of six Raptor engines — he later said the ship could have seven engines — and methane and liquid oxygen tanks containing almost a quarter-million pounds (1,100 metric tons) of cryogenic propellants for deep space burns and landing maneuvers. The spacecraft would stretch 157 feet (48 meters) long and have an internal pressurized volume exceeding that of an Airbus A380 jumbo jet, enough room for 40 passenger cabins.
Musk revealed a tool that will be used to build the BFR's interplanetary spaceship in an Instagram post April 8.
SpaceX will pay the Port of Los Angeles $1.38 million per year under its lease agreement for the Berth 240 location.
Email the author.
Follow Stephen Clark on Twitter: @StephenClark1.