EDITOR'S NOTE: Updated at 4 p.m. EDT (2000 GMT) after the conclusion of the spacewalk.
STORY WRITTEN FOR CBS NEWS & USED WITH PERMISSION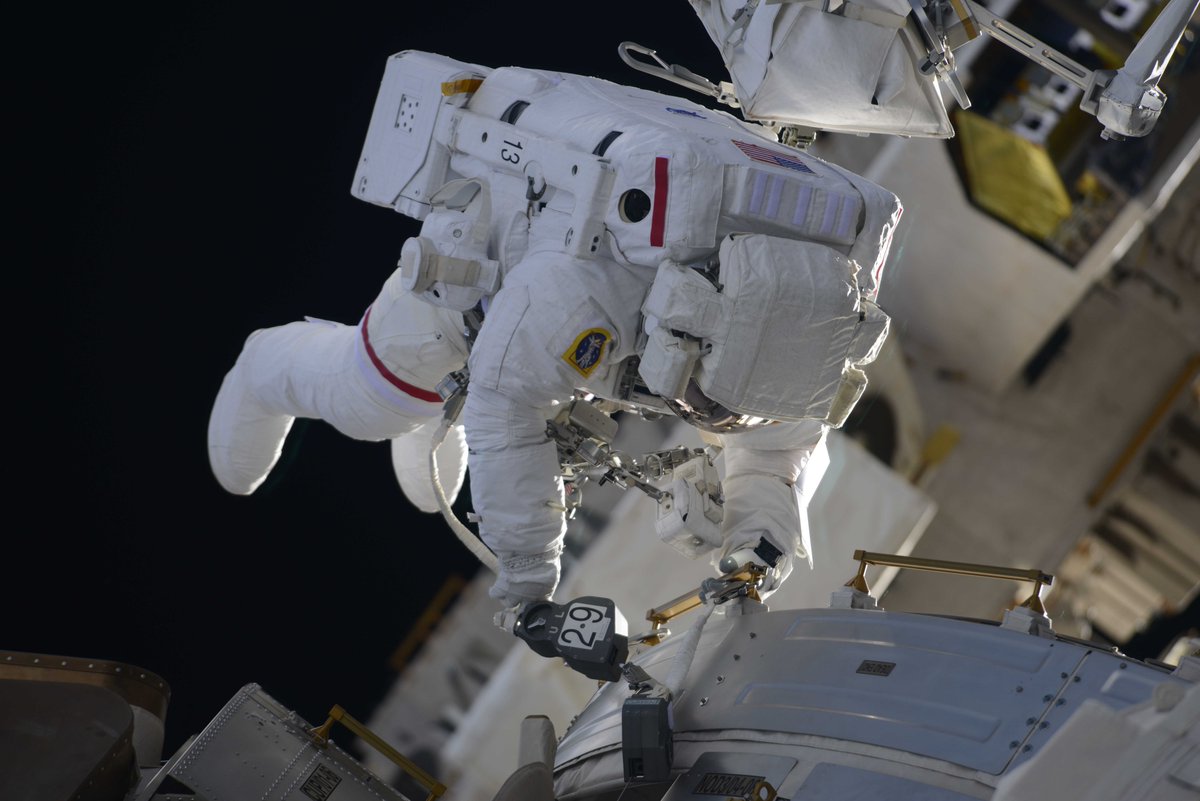 Two newly arrived space station astronauts, both veteran spacewalkers, ventured outside the lab complex Thursday and installed additional wireless communications gear, replaced a balky camera and its pan-and-tilt mechanism and removed two suspect hoses in the station's ammonia coolant system.
Floating in the Quest airlock module, Drew Feustel and Ricky Arnold switched their suits to battery power at 9:33 a.m. EDT (GMT-5), officially kicking off a planned 6.5-hour excursion.
The astronauts got off to a late start, delayed about an hour and 20 minutes because of troubleshooting required after Feustel's suit failed three leak checks. His helmet, gloves and carbon dioxide absorbent canister were removed, the sealing surfaces wiped down and the gear was reinstalled. The suit passed the fourth leak test and the crew pressed ahead without incident.
The required troubleshooting reminded onlookers that working in a vacuum with 500-degree temperature swings while moving through space at more than 17,000 mph will never be routine, despite 208 earlier injury-free station excursions.
"It's probably the most dangerous thing we do in terms of on-orbit operations," Kenny Todd, space station operations and integration manager, told reporters earlier this week. "Yes, we've done a lot of EVAs, yes, we've had a lot of success with EVAs. But that comes with a lot of hard work and a lot of preparation and attention to detail. I don't want us to ever, ever forget the lessons we've learned along the way."
The first item on the agenda Thursday was for Feustel to install wireless antennas, attached to handrails, on the front of the lab complex to permit external payloads to relay data to the ground and for use by approaching commercial crew ferry ships being built by Boeing and SpaceX.
"If you've ever done any home networking, you know that while your living room might get good wi-fi signal maybe your front porch, the signal drops off," said Flight Director Anthony Bareha.
"Well, the International Space Station has a front porch, it's called the JEM Exposed Facility, we do science on it. We want to make sure we've got good wi-fi coverage out on that facility so some of those upcoming payloads that require that wi-fi to get their science to the ground have that resource available to them."
While Feustel worked on the antenna installation, Arnold, anchored to the end of the station's robot arm, focused on removing two flexible jumper hoses in the station's ammonia cooling system that are believed to be the source of a small leak.
The hoses were isolated earlier, clearing the way for their removal. They will be replaced during a future outing.
"Back last year, we were chasing a bit of an ammonia leak on the port side," said Todd. "It looks like there's a set of flex hose jumpers that we have it narrowed down to. Based on the reconfigurations that were done back last year and seeing that the leak stopped, we feel pretty comfortable in saying the issue is with these jumpers."
By the time that work was complete, flight controllers monitoring the crew's carbon dioxide removal systems, opted to shorten the spacewalk by a half hour, telling the astronauts to press ahead with replacement of a standard definition camera and its pan-and-tilt unit but not to take time re-installing a high-def camera.
As it turned out, it did not take as long as expected to attach the new standard-def camera and the astronauts were able to re-install the HD camera as originally planned. Feustel even had time to loosen some bolts on spare ammonia pump module to make it easier to relocate during a future spacewalk.
The astronauts returned to the airlock and began repressurization at 3:43 p.m. to close out a six-hour 10-minute EVA, the 209th since station assembly began in 1998, the fourth so far this year, the seventh for Feustel and the third for Arnold. Total station spacewalk time now stands at 1,306 hours and nine minutes, or 54.4 days.