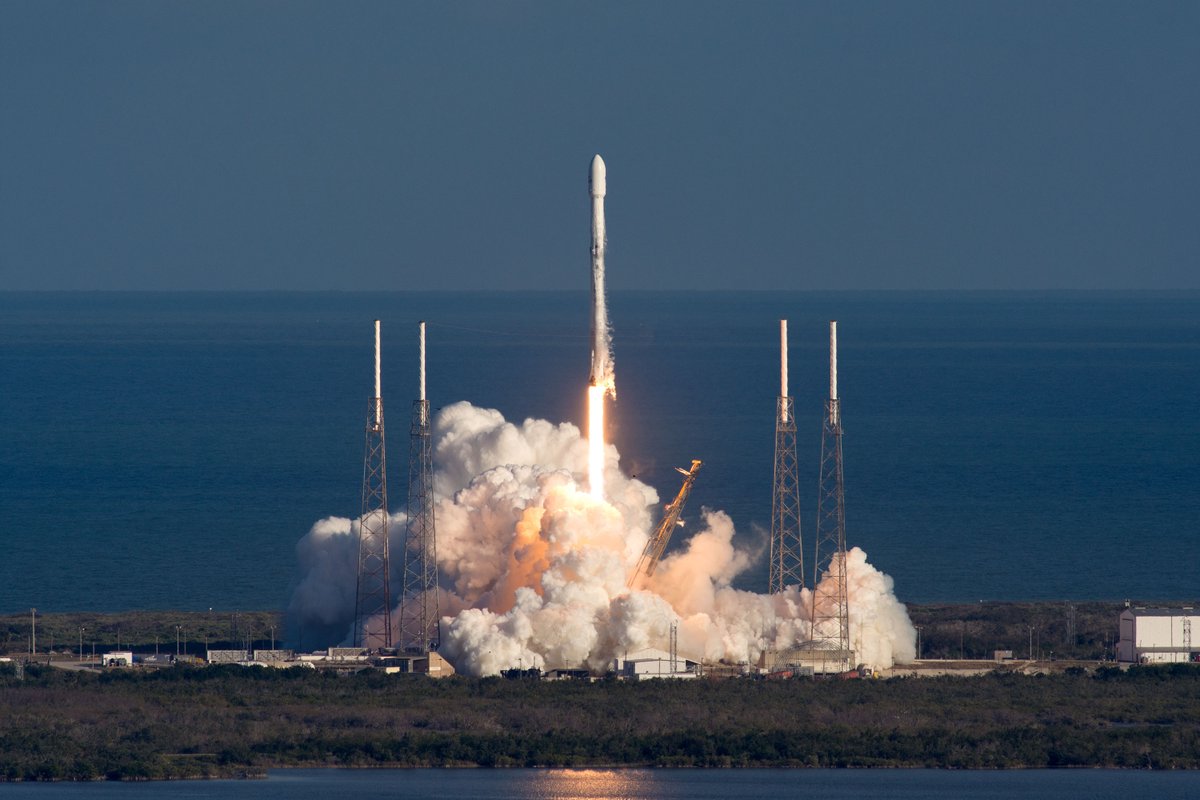 A SpaceX Falcon 9 launcher boosted a 4.7-ton military-grade communications satellite for SES and the Luxembourg government toward a perch 22,300 miles over the equator following a spectacular late afternoon liftoff Tuesday from Florida's Space Coast, clearing the last mission off the launch company's manifest before the long-awaited debut of the massive Falcon Heavy rocket.
Lifting off from Cape Canaveral on the 60th anniversary of the launch of Explorer 1, the first U.S. satellite, the commercial booster rumbled into a clear late afternoon sky a day after SpaceX scrubbed a countdown to replace a sensor on the Falcon 9's second stage.
The 229-foot-tall (70-meter) Falcon 9 rocket fired nine Merlin 1D main engines and climbed away from Cape Canaveral's Complex 40 launch pad at 4:25 p.m. EST (2125 GMT), launching a few miles from the site of Explorer 1's historic blastoff from the Complex 26 launch facility on Jan. 31, 1958.
The Falcon 9's engines gimbaled to steer the rocket on a trajectory east from Florida's Space Coast, and the rocket's first stage booster — reused after a launch in May 2017 — shut down and detached for a descent into the Atlantic Ocean.
About a minute later, the composite shroud that protected Luxembourg's GovSat 1 communications satellite during the initial stages of liftoff jettisoned, shedding weight for the Falcon 9's upper stage powering into orbit.
The Falcon 9 rocket's booster stage made a controlled splashdown at sea a few hundred miles east of Cape Canaveral, testing the effectiveness of a high-thrust landing burn using three of its engines, instead of the usual one.
As expected, SpaceX's drone ship was not in position to recover the first stage as it normally does, but the Falcon 9 booster on the GovSat 1 mission was fitted with landing legs and grid fins, hardware necessary for a controlled descent.
Elon Musk wrote on Twitter that the recovery team will try to tow the first stage back to port.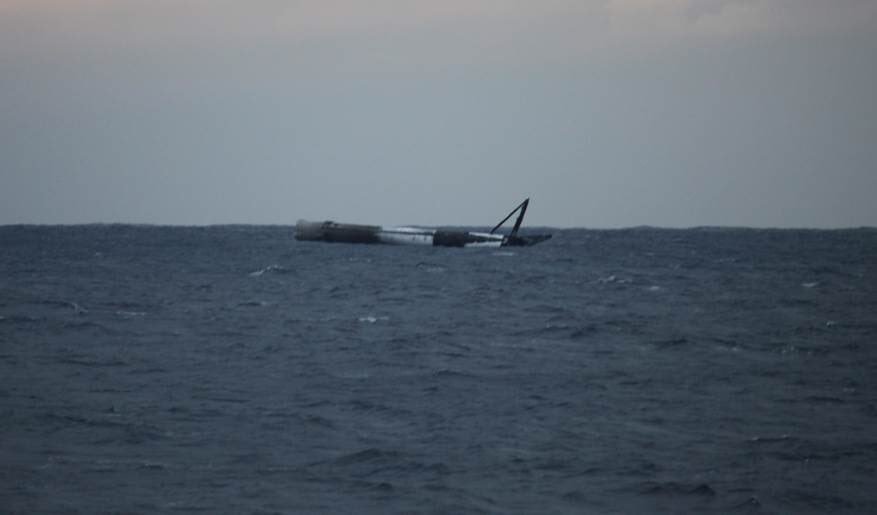 Meanwhile, the upper stage's single Merlin engine shut down around eight-and-a-half minutes into the mission after reaching an initial parking orbit. The kerosene-fueled engine reignited about 18 minutes later for a roughly minute-long firing, aiming to place GovSat in an elliptical, high-altitude "supersynchronous" transfer orbit stretching as high as 36,000 miles (58,000 kilometers) above Earth at its highest point.
The Falcon 9's upper stage deployed the 9,325-pound (4,230-kilogram) GovSat 1 spacecraft, also known as SES 16, around 32 minutes after liftoff.
Owned by GovSat, a public-private joint venture between SES and the government of Luxembourg, the new satellite will offer secure, military communications services for Luxembourg authorities and the country's allies in Europe and NATO.
SES declared the mission a success in a post-launch press release.
"The launch of GovSat 1 opens up a new era of secure satellite connectivity for governments and institutions," said Patrick Biewer, CEO of GovSat, in a statement. "It brings differentiated capabilities on secure X- and military Ka-band, leveraging private sector efficiencies and strong governmental support. GovSat-1 was designed to meet the specific needs of government customers, and will enable a wide array of defense and civilian security applications, even in the most remote locations."
GovSat 1's on-board thruster will reshape the satellite's orbit to reach a circular path around Earth's equator. Several orbital adjustment maneuvers are planned in the coming weeks, and GovSat 1 should reach its perch in geostationary orbit at an altitude of nearly 22,300 miles (35,800 kilometers) by mid-February.
In a briefing with reporters before the launch, Biewer said GovSat 1 should be operational by the beginning of March, once the satellite reaches its final orbit and completes activation and testing procedures.
The satellite project was financed with 100 million euros ($123 million) invested in a 50-50 shareholder arrangement between SES and the Luxembourg government, plus a 125 million euro ($154 million) loan from a consortium of Luxembourg banks.
The startup investments and loan covered GovSat's founding costs, and the procurement of the GovSat 1 spacecraft and its launch on a Falcon 9 rocket.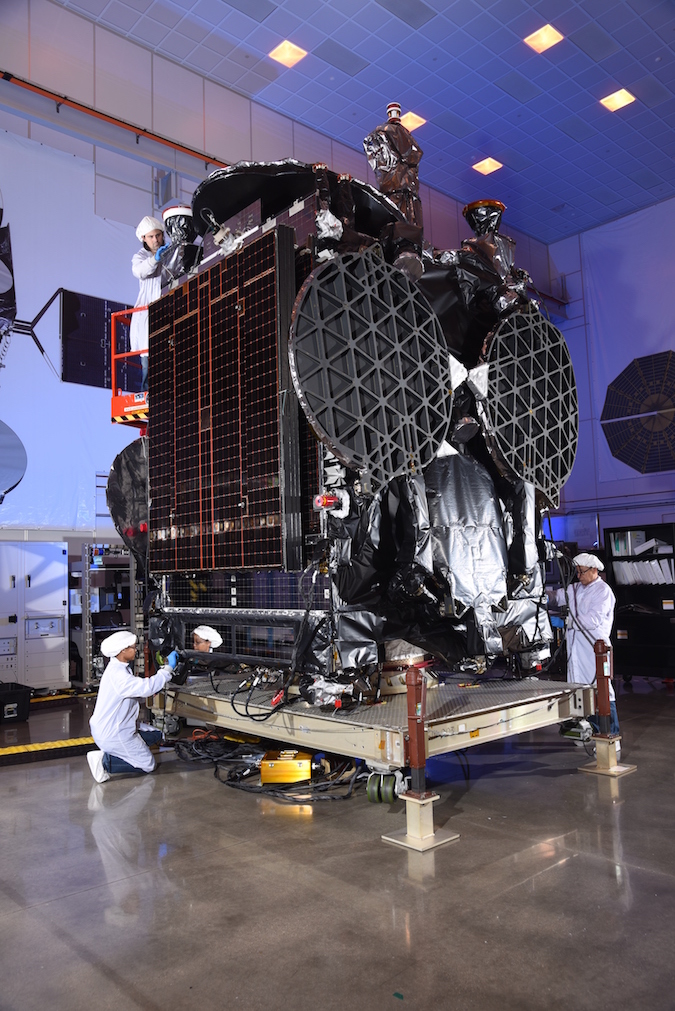 Built by Orbital ATK, GovSat 1 carries Ka-band and X-band telecom equipment to relay data, radio signals and other communications across a zone stretching from the Atlantic Ocean to the Indian Ocean. Parked in geostationary orbit at 21.5 degree east longitude, GovSat 1 will move around Earth in lock-step with the planet's rotation, giving it a fixed geographic coverage range.
GovSat 1 will provide military units deployed by Luxembourg's European and NATO allies secure communications links via fixed land positions or antennas on ships in the Mediterranean Sea, the Baltic Sea, and the Atlantic and Indian Oceans.
"The launch of the GovSat 1 satellite is certainly the most exciting moment in our young company's history, the company being founded back in 2015," Biewer said. "Our approach to the market is that we intend to pioneer a new approach to what's known as secure communications services, and we want to provide this to governments and institutions for defense and civilian use."
GovSat 1 merges the secure, encrypted telecom capabilities of traditional government-owned military communications satellites with a commercial business model, resulting in cost savings.
"In X-band, we are featuring a so-called global beam, probably the highest power that is available on the market today, and this is very well suited for providing support for maritime and land-based operations," Biewer said. "It will also be featuring five steerable X-band mission means that provide high-power support for mobility applications in this very resilient frequency.
"The second mission of the payload of this satellite is in military Ka-band," Biewer said. "Here we are deploying an anchor beam that is ideally suited to providing connectivity to headquarters, and we also have two steerable high-power military Ka-band beams. One is designed and shaped to cover the Mediterranean Sea to support high-power and high-bandwidth applications, specifically for ISR, which is for intelligence, surveillance and reconnaissance applications."
GovSat 1 is not hardened against a nuclear attack, like some government-owned relay satellites, but engineers built the satellite to be resilient to jamming and other threats.
"We are featuring an extensive set of security capabilities, the most secure crypto-technology on the satellite," Biewer said. "We also have advanced anti-jamming capability, which is supporting the two frequencies in X-band and military Ka-band."
GovSat 1 will support military operations, civilian security forces, emergency responders and border forces, including patrols in the Mediterranean Sea, a region trafficked by migrants from the Middle East and North Africa.
"This is to avoid a disaster," said Xavier Bettel, Luxembourg's prime minister, who attended the launch in Florida. "We don't want the Mediterranean Sea to be the cemetery of tomorrow, and this is what is happening at the moment. It is very important through satellites, and through the help of this satellite, we will be able to avoid (this) and have the information if there are boats in the Mediterranean with people on-board."
"NATO is certainly a focus user group that we target, specifically in the context of Luxembourg defense having acquired a significant part of the capabilities on this satellite that they can use for supporting their obligations toward NATO," Biewer said. "Next to NATO nations, we also provide satellite communications to European nations, we provide it to the U.S., and any allied nation."
A contingent of dignitaries from Luxembourg traveled to Cape Canaveral for GovSat 1's launch, including Bettel and Etienne Schneider, Luxembourg's deputy prime minister. Luxembourg's Heriditary Grand Duke Guillaume and his wife the Heriditary Grand Duchesse Stephanie were also present for the launch.
For SES, GovSat 1 is an opportunity to expand the company's reach into the international government services market. SES already has a unit based near Washington, D.C., to oversee the company's business with the U.S. government, but its role is restricted outside the United States, according to Karim Michel Sabbagh, CEO of SES.
Sabbagh said GovSat 1 will help SES's ongoing support to help respond to natural disasters, providing telecom services in the aftermath of earthquakes and hurricanes. Humanitarian and peacekeeping missions in Africa could also be aided by GovSat 1.
SpaceX will follow Wednesday's launch with the long-delayed debut flight of the Falcon Heavy rocket as soon as Tuesday, Feb. 6, from launch pad 39A at NASA's Kennedy Space Center.
The triple-core rocket, made of three Falcon 9 booster stages bolted together, has a three-hour launch window Tuesday opening at 1:30 p.m. EST (1830 GMT).
Once SpaceX's Falcon Heavy clears the pad, two more Falcon 9 missions are on track for liftoffs in February with Spanish-owned satellites.
One Falcon 9 rocket will lift off Feb. 17 from Vandenberg Air Force Base in California with the Spanish Paz Earth observation satellite, followed by a Falcon 9 launch from Cape Canaveral around Feb. 22 with Hispasat 30W-6, a multipurpose telecom craft.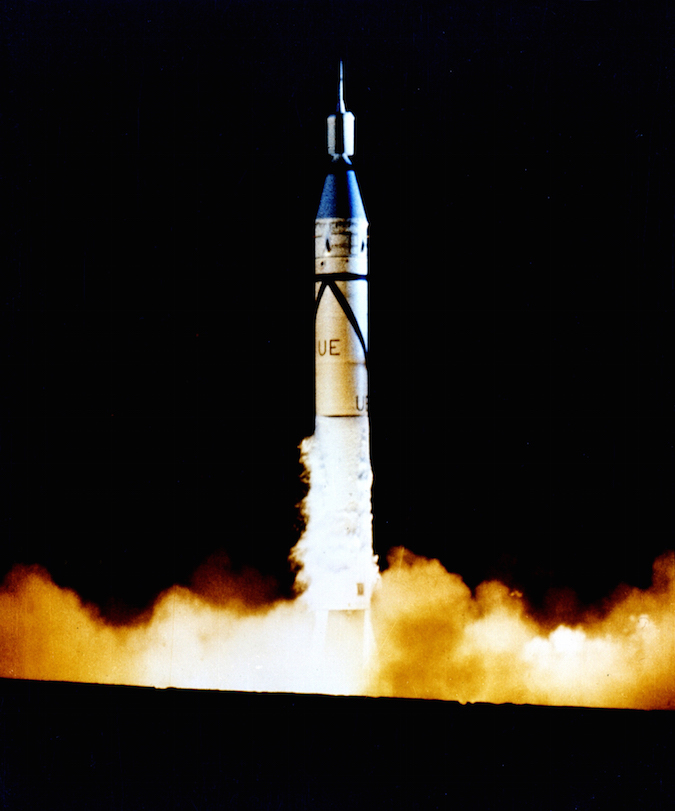 Wednesday's launch came 60 years after the first U.S. satellite, Explorer 1, rocketed into orbit from Cape Canaveral aboard a Juno 1 launcher designed by Wernher von Braun and his team of German and U.S. scientists at Redstone Arsenal, Alabama.
NASA and U.S. Air Force officials, together with surviving members of the original Explorer 1 launch team, gathered at Cape Canaveral's Complex 26 launch pad Wednesday to celebrate the occasion and unveil a new historical marker.
Designed and built at the Jet Propulsion Laboratory, the Explorer 1 satellite detected the existence of the Van Allen radiation belts, named for Explorer 1 scientist James Van Allen.
Explorer 1 was the third human-made satellite sent into orbit, launching after the Soviet Union's Sputnik 1 and Sputnik 2 spacecraft blasted off in late 1957.
An attempt to place a small satellite in orbit with a U.S. Navy Vanguard rocket in December 1957 failed in spectacular fashion, ending with an explosion on the launch pad.
"We may have gotten off to a bit of a fiery start in the beginning, but here we are now leading the world, and we launch again today," said Brig. Gen. Wayne Monteith, commander of the U.S. Air Force's 45th Space Wing, in remarks Wednesday shortly before the launch of GovSat 1. "With the successful launch of the SpaceX Falcon 9 GovSat mission … we will have launched 3,568 rockets from the Eastern Range, not at all bad considering how we began.
"And with our partners at NASA, we are the busiest spaceport in the world. With over 30 launches on the horizon for the rest of this year, I am in absolute awe of the progress we have made in only 60 years," Monteith said. "We continue to make history every single month, and we continue to break barriers."
Email the author.
Follow Stephen Clark on Twitter: @StephenClark1.