STORY WRITTEN FOR CBS NEWS & USED WITH PERMISSION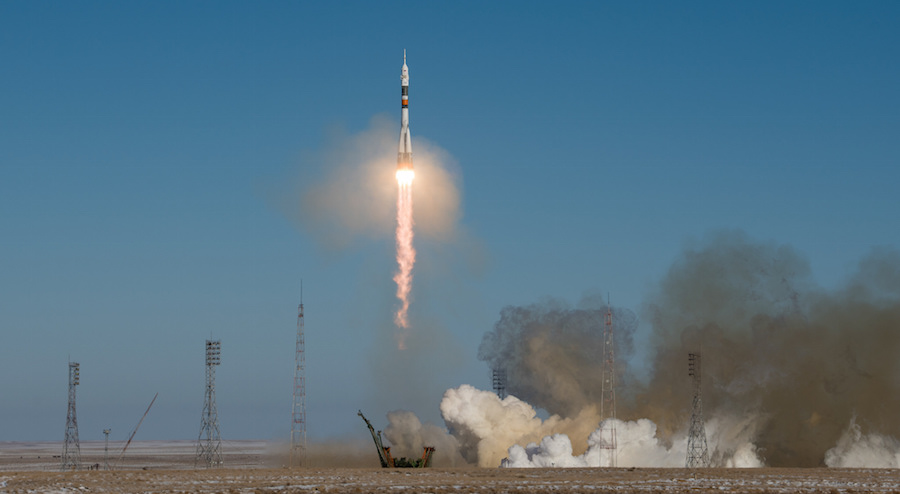 While a SpaceX Dragon cargo ship closed in on the International Space Station early Sunday, a Russian Soyuz spacecraft blasted off from frigid Kazakhstan, boosting a fresh three-man crew into orbit for a two-day flight to the lab complex.
Under a clear but cold sky at the sprawling Baikonur Cosmodrome, the Soyuz MS-07's carrier rocket roared to life at 2:21 a.m. EST (GMT-5; 1:21 p.m. local time), throttled up to full thrust and smoothly climbed away from the same pad that sent cosmonaut Yuri Gagarin into orbit at the dawn of the space age.
The Soyuz MS-07 rocket was launched directly into the plane of the space station's orbit — a requirement for spacecraft trying to rendezvous with a target moving at nearly 5 miles per second — and remained in view for several minutes as it raced out of the thick lower atmosphere.
Eight minutes and 45 seconds after liftoff, the booster's upper stage shut down and the Soyuz MS-07 crew ship, carrying vehicle commander Anton Shkaplerov, NASA flight engineer Scott Tingle and Japanese astronaut Norishige Kanai, was released to fly on its own.
If all goes well, the crew will catch up with the space station early Tuesday, gliding in for a docking at the Earth-facing port of the Russian Rassvet module. Standing by to welcome them aboard will be Expedition 54 commander Alexander Misurkin and NASA astronauts Mark Vande Hei and Joe Acaba.
They've had the station to themselves since this past Thursday when three other crew members — Soyuz MS-05 commander Sergey Ryazanskiy, NASA flight engineer Randy Bresnik and European Space Agency astronaut Paolo Nespoli — returned to Earth after a 139-day mission.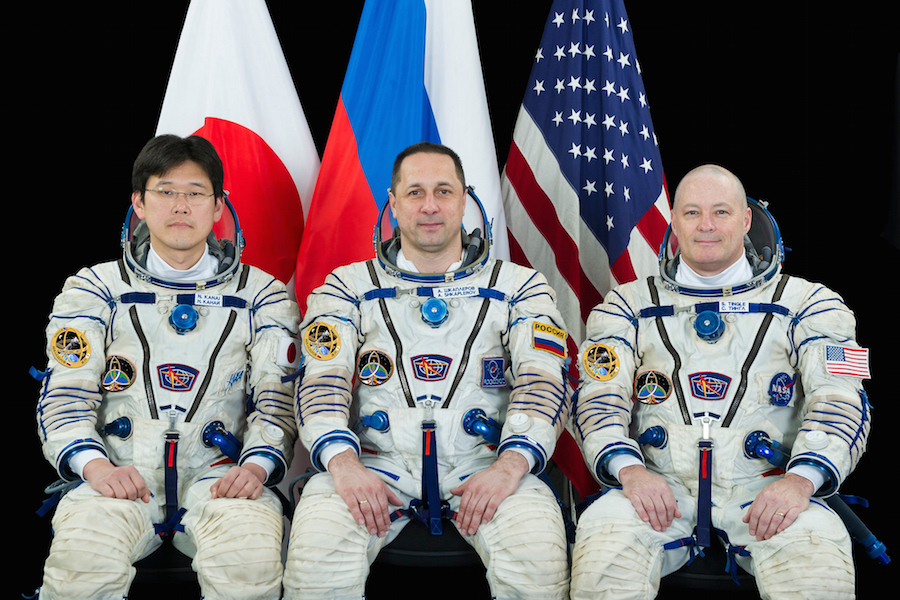 With the Soyuz MS-07 crew safely on the way, Misurkin, Vande Hei and Acaba prepared for the arrival later in the morning of a SpaceX Dragon cargo ship loaded with 4,800 pounds of crew supplies, science material and space station equipment, including a U.S. spacesuit.
Also on board: Christmas presents.
"The holidays are coming up, and I have some special gifts for my fellow crew members that will help us bring in Christmas and the New Year," Tingle said. "And of course, we have Anton, our world-famous commander, (his) birthday is coming up in February. I can't tell you what we're going to do there because it's a surprise!"
A veteran of two previous station stays totaling a full year in space, Shkaplerov said the station has a Christmas tree on board "and we have packages, gifts for all crew members, for ourselves, from family and friends, and packages for the crew on board the ISS."
And then there's New Year's Eve. The holiday is typically celebrated at midnight local time around the world, but that's a tall order in low-Earth orbit, where astronauts witness 16 sunrises and sunsets each day.
"We do not celebrate New Year's 16 times," Shkaplerov joked. "We start at about 10 o'clock in the morning, we pass the first spot where they celebrate New Year's, somewhere over the Eastern Islands," he said. "Then we have Nemo (Kanai) on our crew, we're going to celebrate New Year's on Japan time. Then in Russia, when we get to Europe, using Greenwich (Mean Time) … and then we wake up early in the morning and congratulate our crewmates from the United States."
The Dragon cargo ship was launched from the Cape Canaveral Air Force Station Friday. The spacecraft was expected to arrive at the station around 6 a.m. Sunday, pulling up to within about 30 feet and then standing by while astronauts operating the lab's robot arm lock onto a grapple fixture.
From there, flight controllers at the Johnson Space Center in Houston planned to take over, remotely operating the arm to pull the Dragon in for berthing at the Earth-facing port of the forward Harmony module.
Mounted in the cargo ship's unpressurized "trunk" section are two external science packages, one to measure how much solar radiation Earth absorbs and reflects and another to help characterize the space debris environment. They will be pulled out later by the station's robot arm and mounted on the station's power truss.
Packed in the capsule's pressurized compartment, the section accessible by the crew, are nearly 1,000 pounds of crew supplies, nearly 2,900 pounds of science material, a NASA spacesuit, space station hardware and computer components.
Forty mice are on board for research to learn more about muscle atrophy, another experiment will test a technique for manufacturing ultra-sensitive optical fibers in microgravity and another will focus on a material than can improve how broken bones heal and bond to metal implants.
And beer-giant Budweiser is sponsoring an experiment to learn more about how microgravity affects barley seeds, touting the research as a first step toward learning how to brew beer on Mars.
"At any given time, there's on the order of 250 experiments that are happening on board space station," Tingle said. "It's a very busy laboratory. Some of the specific human research that I'll be working on includes a look at the spine. When we get in space our spines extend a little bit, and so we're trying to see what the big impacts are.
"We also take a lot of blood, a lot of urine, a lot of fluids to try to see what's going on within humans when they get into space."
He also will take part in an experiment to remotely control a robot in Germany from his perch 250 miles up aboard the space station.
"The one experiment I'm really looking forward to is operating the robot named Justin in Munich," Tingle said. "This program is set up to simulate operating a robot on the Mars surface as our space vehicle is orbiting Mars so that we can explore before we actually put boots on the ground.
"So we'll be trying to control a robot in Munich with a controller up on the International Space Station to simulate that entire process. I think that's some really cool operational research."
Along with a full slate of experiments, two NASA spacewalks are planned Jan. 23 and 27 to continue ongoing work to replace the grapple-like "hand" on one end of the station's robot arm. A Russian Progress cargo ship is set to arrive Feb. 11 and the Soyuz MS-06 crew — Misurkin, Vande Hei and Acaba — plans to return to Earth Feb. 27 U.S. time.
Shkaplerov and his crewmates originally planned to fly home April 18. But Russian mission managers have decided to extend their stay in orbit until June 3.