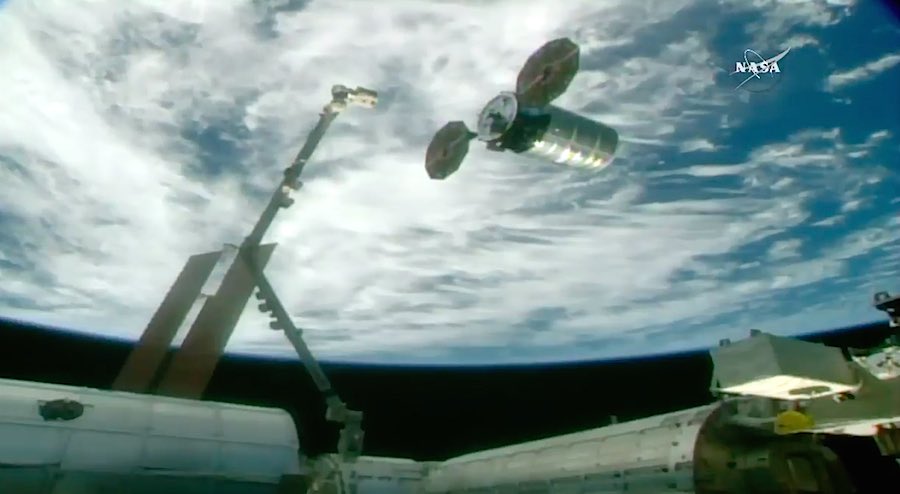 An Orbital ATK Cygnus cargo craft departed the International Space Station on Wednesday, heading for a higher orbit to deploy 14 CubeSats and an eventual de-orbit burn to dispose of more than 6,200 pounds of trash and other unneeded equipment packed by the station's crew.
Under the command of Expedition 53 flight engineer Mark Vande Hei, the space station's Canadian-built robotic arm released the unpiloted supply ship at 8:11 a.m. EST (1311 GMT) Wednesday as the vehicles soared 257 miles over the Atlantic Ocean east of Brazil.
The crew sent a command for Cygnus to fire its thrusters and exit the space station's vicinity a few minutes later.
"I want to congratulate everybody involved in this outstanding Cygnus mission," said Joe Acaba, a station flight engineer. "A lot of people put lots of time, talent and dedication into this, and it was a huge honor for all of us on the space station to be able to participate in it."
A bigger engine firing later Tuesday is expected to send the Cygnus, christened the SS Gene Cernan after the late Apollo astronaut, into a slightly higher orbit for deployment of 14 CubeSats for Spire Global, NASA, the Naval Postgraduate School, Naval Research Laboratory, and Asgardia, an organization that aims to become the first nation state in space.
The CubeSats should be deployed by Wednesday evening, U.S. time, according to Henry Martin, the mission manager for NanoRacks, a Houston-based company which accommodates small satellites on space station resupply missions.
The CubeSats range in size from a bit larger than a Rubik's Cube to a loaf of bread, and they are mounted inside an external deployer provided by NanoRacks attached outside the Cygnus spacecraft.
Eight of the CubeSats will join Spire Global's commercial weather satellite network, which derives humidity and temperature profiles by measuring GPS navigation signals passing through Earth's atmosphere.
Two AeroCube satellites assembled by the Aerospace Corp. for NASA's Optical Communications and Sensor Demonstration, or OCSD, mission will test high-speed laser communications and an innovative water-based propulsion system to maneuver in close proximity to one another.
"Our primary mission for OCSD is to demonstrate laser communications by using a laser on the spacecraft to downlink data to our optical ground station on Mt. Wilson in California," said Richard Welle, Aerospace senior scientist and one of the principal investigators for OCSD. "This is the first CubeSat laser communications system that will demonstrate an optical downlink. This compact laser package with its potential for much higher rates proves a promising future for CubeSat-scale laser communications."
The ISARA CubeSat developed by the Jet Propulsion Laboratory will study the performance of an integrated solar array and radio antenna and a compact suite of three visible and infrared cameras that could be employed on future weather satellites.
The Naval Postgraduate School's PropCube 2 CubeSat is also slated for deployment from Cygnus in December to measure disturbances in the ionosphere, an upper layer of Earth's atmosphere.
The Cost-effective High E-Frequency Satellite, or CHEFSat, from the Naval Research Laboratory will help engineers gauge the performance of a consumer-grade radio frequency device in space.
The first satellite for Asgardia, an organization that aims to become the first nation state in space, was also launched Sunday. The group was created by Igor Ashurbeyli, a Russian scientist, and the Asgardia 1 satellite hosts a 500-gigabyte solid state drive containing files and data uploaded by the organization's supporters, or citizens.
Two other CubeSats launched with the Cygnus spacecraft were transferred into the space station to be released from the lab's own deployer last month.
Once the CubeSats are released into orbit, Orbital ATK controllers in Dulles, Virginia, will oversee a series of de-orbit burns to drop the Cygnus spacecraft's orbit back into Earth's atmosphere Dec. 18 to burn up with around 6,200 pounds (2,800 kilograms) of cargo and trash tagged for disposal.
The Cygnus cargo carrier lifted off Nov. 12 from Wallops Island, Virginia, aboard an Antares rocket, then completed an automated rendezvous and approach with the space station two days later.
The station crew unloaded 7,118 pounds (3,229 kilograms) of supplies and experiments from the Cygnus spacecraft's Italian-built pressurized logistics module, then replaced the cargo with trash during its 22-day stay at the complex.
Engineers at NASA's mission control center in Houston removed the Cygnus spacecraft from its attach point on the station's Unity module Tuesday, then maneuvered the Cygnus on the robotic arm a few feet from another berthing port on the station's Harmony module, where crew capsules from Boeing and SpaceX are expected to dock once they are ready to begin flying astronauts into orbit.
Engineers used the Cygnus spacecraft to simulate the presence of a commercial crew craft at Harmony's space-facing port and check to ensure it does not block GPS navigation signals from reaching the space station.
The Cygnus mission is the eighth commercial logistics flight to the space station managed by Orbital ATK under contract to NASA.
The station crew is now preparing for the arrival of a Dragon capsule from SpaceX, NASA's other commercial cargo transportation provider. The SpaceX resupply mission is scheduled to launch from Cape Canaveral on Dec. 12, and reach the space station three days later.
Outgoing station commander Randy Bresnik and crewmates Sergey Ryazanskiy and Paolo Nespoli are also set to leave the outpost Dec. 14 to head for landing in Kazakhstan aboard the Soyuz MS-05 crew capsule. The station's busy December will continue with the launch of three new crew members Dec. 17 from the Baikonur Cosmodrome, followed two days later by their docking.
Email the author.
Follow Stephen Clark on Twitter: @StephenClark1.