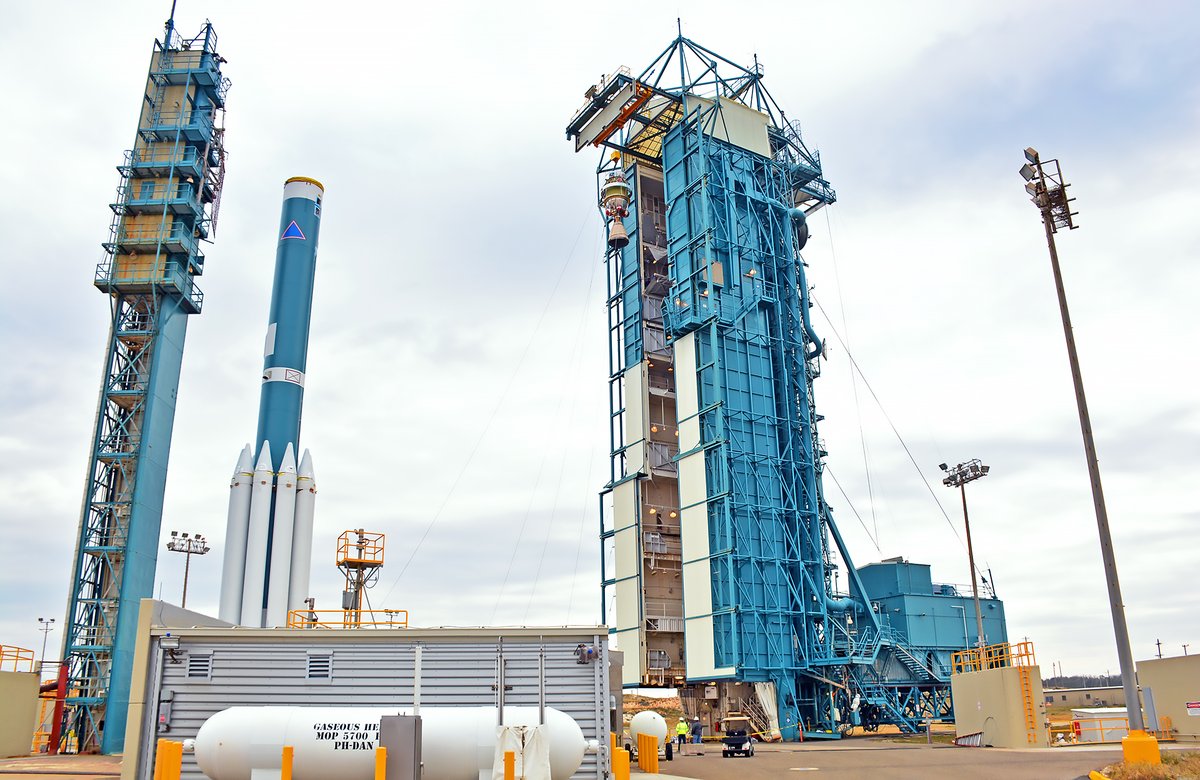 The first in NOAA's new series of polar-orbiting weather satellites has been lifted atop United Launch Alliance's second-to-last Delta 2 rocket on a launch pad in California, ready for encapsulation and final checkouts ahead of a predawn launch set for Nov. 10.
The first spacecraft in NOAA's Joint Polar Satellite System — JPSS 1 — was raised into the mobile gantry Tuesday at Space Launch Complex 2-West at Vandenberg for attachment atop the Delta 2 rocket, which had its first stage erected on the launch mount there last year to await the payload's arrival.
The Delta 2's second stage and nine solid rocket boosters were later added, and the addition of the JPSS 1 spacecraft this week moves the rocket one step closer to being fully assembled.
Fueled for a planned seven-year mission, the JPSS 1 satellite will be closed up inside the Delta 2's composite payload fairing ahead of liftoff Nov. 10 at 1:47 a.m. PST (4:47 a.m. EST; 0947 GMT).
ULA engineers inspected the Delta 2 rocket following a 4.3-magnitude earthquake centered just off Vandenberg's coast Thursday and found no issues, according to a tweet by Tory Bruno, the company's president and CEO.
The $1.6 billion JPSS 1 satellite is the first member of NOAA's new-generation series of polar-orbiting weather satellites, extending a line of meteorological spacecraft dating back to 1960. JPSS 1 carries five instruments to gather data on storms, clouds, fog, smoke plumes and snow and ice cover, measure atmospheric temperature and moisture content, and study the health of Earth's ozone layer.
With a launch mass of nearly 5,000 pounds (about 2,200 kilograms), JPSS 1 is the first of four new polar-orbiting satellites under development by NOAA in partnership with NASA. The quartet will ensure the U.S. weather agency continues receiving measurements from polar orbit through 2038, officials said.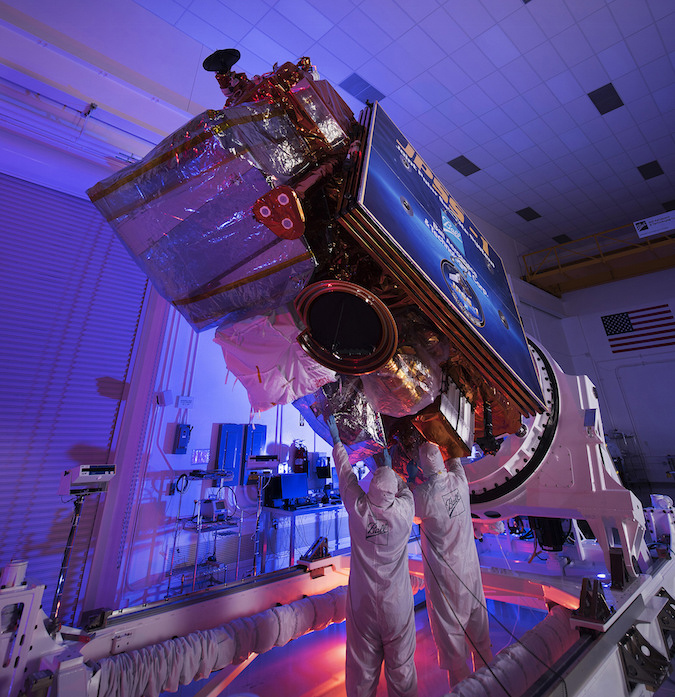 Polar-orbiting satellites generate data inputs for global numerical forecast models, helping make medium-range weather predictions. NOAA's Suomi NPP satellite, launched in October 2011, is currently the primary U.S. civilian-operated polar-orbiting weather satellite, flying in an orbit around 500 miles (800 kilometers) above Earth that takes it over regions of the planet during the afternoon.
NOAA, the U.S. Air Force and Eumetsat, the European weather satellite agency, have a partnership to share data collected by each organization's polar-orbiting meteorological observatories. The U.S. military's DMSP satellites fly in a similar polar orbit with early morning passes, and Europe's Metop spacecraft are in orbits timed to make observations in mid-morning.
Suomi NPP was built as a demonstration for the new-generation NOAA weather satellites, but forecasters now rely on its measurements to fill a gap between the last of the previous line of polar-orbiting platforms, which launched in 2009, and JPSS 1.
"JPSS 1 is going to bring the latest, most advanced technology that NOAA has ever flown in polar orbit to produce accurate three-to-seven-day weather forecasts," said Greg Mandt, director of the JPSS program at NOAA.
NOAA began a refresh of its higher-altitude geostationary satellites with the launch of GOES R — now named GOES 16 — in November 2016. Positioned in orbit more than 22,000 miles (nearly 36,000 kilometers) over the equator, the GOES satellites provide near-continuous imagery of developing storm systems, hurricanes and other weather phenomena for short-term forecasting.
The polar-orbiting meteorological satellites monitor broader atmospheric conditions, helping predict changing weather patterns up to a week in advance.
JPSS 1 arrived at Vandenberg on Sept. 1 after shipment from its factory at Ball Aerospace and Technologies Corp. in Boulder, Colorado.
"Since arriving at Vandenberg Air Force Base on Sept. 1, the JPSS 1 team — NOAA, NASA, Ball, Harris, Raytheon and Northrop Grumman — has completed several critical milestones in preparation for launch," said Rob Strain, president of Ball Aerospace. "The outstanding collaboration between industry and government partners will ensure a system that will help save lives and resources for many years to come."
Technicians fueled the satellite with hydrazine for its maneuvering thrusters, pressurized the propulsion system to flight pressure, completed a final thermal blanket closeout, and cleaned the spacecraft, Ball Aerospace said in a statement.
The Delta 2 rocket will place the spacecraft in a sun-synchronous-type orbit aligned with the flight path of Suomi NPP, allowing the two weather satellites to fly over the same part of the planet 50 minutes apart to conduct tandem observations.
JPSS 1 will be renamed NOAA 20 when it enters service next year.
The Nov. 10 launch will be the second-to-last flight of the venerable Delta 2 rocket, which has conducted 151 missions since its introduction in 1989, launching interplanetary missions to the moon, Mercury, Mars, comets and asteroids, NASA's planet-hunting Kepler observatory, and numerous commercial and military satellites, including the bulk of the GPS navigation network in the 1990s and 2000s.
One more Delta 2 is set to launch from Vandenberg in late 2018 with NASA's ICESat 2 mission.
Email the author.
Follow Stephen Clark on Twitter: @StephenClark1.