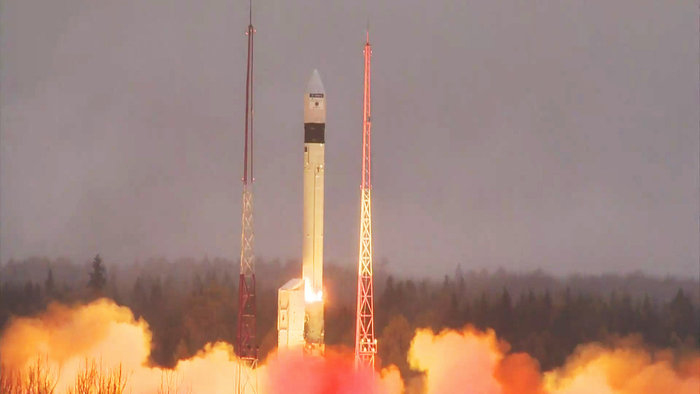 A European satellite that will collect daily air quality measurements over every major city on Earth rode an uprated Russian ballistic missile into orbit Friday.
Assembled in Britain with a significant Dutch contribution, the Sentinel 5 Precursor satellite will measure greenhouse gases with unrivaled precision, mapping atmospheric chemistry in city-sized blocks to help tell policymakers and scientists how air pollution changes day-to-day.
The $284 million mission joins a growing fleet of European environmental sentinels launched since 2014 under the umbrella of the Copernicus program, a flagship initiative led by the European Commission, the EU's executive arm, in partnership with the European Space Agency.
During Sentinel 5P's planned seven-year mission, the satellite's Tropomi spectrometer will detect the levels of trace gases in Earth's atmosphere, such as methane, ozone, formaldehyde, carbon monoxide, sulfur dioxide, nitrogen dioxide and aerosols.
"We will do global daily coverage of the Earth, and we will measure all the main gases that influence pollution, climate change and the ozone layer, and Sentinel 5 Precursor will be the best satellite to do this job to date," said Kevin McMullan, Sentinel 5P project manager at ESA.
Sentinel 5P is the sixth satellite added to the Copernicus fleet since launchings began in 2014, joining other spacecraft providing radar and optical imagery of the Earth, and monitoring the health of the world's oceans and ice sheets.
European governments conceived the multibillion-dollar Copernicus program to feed near real-time measurements of the condition of Earth's land masses, rivers, lakes, seas and polar regions to civil authorities, scientists, companies and citizens through a free and open data network.
The Sentinel fleet is the largest, and most costly, Earth observation program of its kind, but officials report higher-than-anticipated usage of Copernicus data to date, even with only a partially-complete satellite constellation.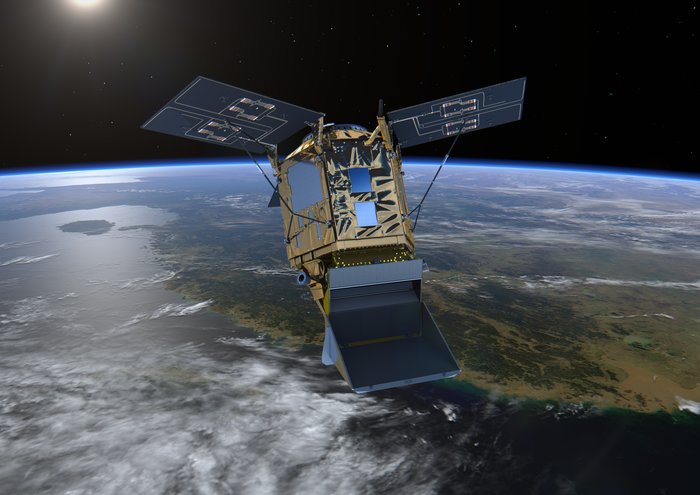 "If you have an earthquake in Italy, Copernicus data have been used," said Pierre Delsaux, the European Commission's deputy director general for internal market, industry, entrepreneurship and SMEs. "If you have hurricanes … in the U.S. or in the Caribbean, Copernicus data were there to help people, to rescue people. So Copernicus is fundamental for many applications, many situations in our daily lives."
Sentinel 5P is the first Copernicus satellite dedicated to tracking changes in Earth's atmosphere.
ESA and the European Commission will distribute data from Sentinel 5P globally free of charge, keeping with the Copernicus program's open data policy.
The measurements will help make more accurate air quality forecasts for cities around the world, and provide valuable data inputs in climate models and climate change research.
"The Tropomi data will be used operationally," said Pepijn Veefkind, a senior scientist at the Royal Netherlands Meteorological Institute, the Dutch national weather agency. "It will be used to improve the air quality forecasts, and air quality forecasts are, of course, important for people who are vulnerable to pollution, but also for the general public in case of big smog events."
"There will be services that we will offer, on iPhones, tablets and also on websites, updated information on air quality for certain practical applications, if you're going somewhere, and you want to see how the air quality will be in big cities," said Josef Aschbacher, ESA's director of Earth observation, in an interview with Spaceflight Now.
---
Spaceflight Now members can read a transcript of Josef Aschbacher's interview.
---
Measurements from the Tropomi spectrometer will detect atmospheric composition at a scale of 4.3 miles by 2.2 miles (7 kilometers by 3.5 kilometers), a significant improvement in the resolution of similar instruments currently flying in space, such as a precursor Dutch sensor aboard NASA's Aura satellite.
Tropomi's precision will allow analysts to distinguish between pollution emitted in certain parts of large cities, and in maritime shipping lanes, industrial facilities and oil and gas fields.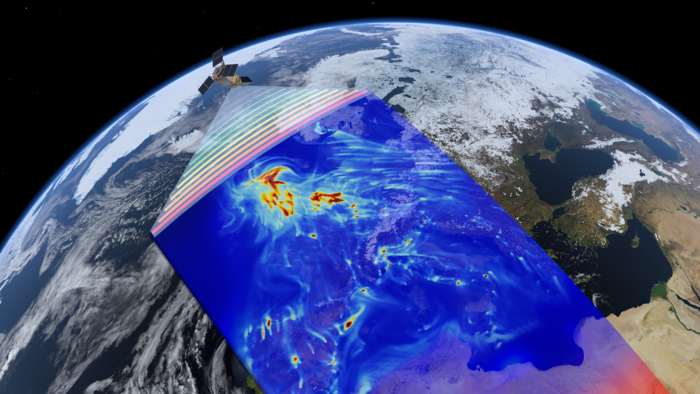 "One of the things we'll be looking at will be hotspots of methane, so localized, very strong concentrations of methane," said Ilse Aben, a co-investigator on the Tropomi instrument from SRON Netherlands Institute for Space Research. "We know they are related to the emission of methane by coal mines, gas and oil fields, and waste dumps.
"What we don't know is how much methane is emitted by the individual sources worldwide, and if you want to do something about the reduction of methane in the atmosphere, you need to know where the high emitters are, and that's exactly one of the things that we'll be looking for with Tropomi."
Natural pollutants from wildfires and volcanic eruptions will also be tracked with Sentinel 5P.
Scientists developed the Tropomi instrument for Sentinel 5P to fill a gap in atmospheric chemistry data after the end of Europe's ERS-2 and Envisat missions. NASA's Aura satellite is still collecting data, but it has been in orbit more than 13 years, well beyond its original lifetime.
Tropomi results will also extend the data record of ozone and other greenhouse gases in the atmosphere, a key variable in climate change.
"These data are really important in order to understand how the climate is changing and how you can react to it, and how to set mitigation actions," said Claus Zehner, Sentinel 5P's mission manager at ESA.
Designed for a mission of at least seven years, Sentinel 5P weighed about 1,800 pounds (820 kilograms) fully fueled for launch. It is about the size of a full-size car.
The gap-filler mission will lay the groundwork for the future Sentinel 5 missions, consisting of instruments on Europe's MetOp-Second Generation polar-orbiting weather satellites, the first of which is set to launch around 2021.
Sentinel 5P's spacecraft bus and the Tropomi instrument were built by Airbus subsidiaries in the United Kingdom and the Netherlands.
The mission started its journey toward orbit at 0927:44 GMT (5:27:44 a.m. EDT; 12:27:44 p.m. Moscow time) Friday from the Plesetsk Cosmodrome in northern Russia.
A 95-foot-tall (29-meter) Rockot launcher carried Sentinel 5P aloft, firing out of a transport and launch tube fixed on a pad at the military-run Plesetsk space base around 500 miles (800 kilometers) north of Moscow.
Powered by a two-stage UR-100N, or SS-19, booster culled from Russia's decommissioned nuclear missile stockpile, the Rockot quickly disappeared as it soared through a gray cloud deck.
The launcher passed the speed of sound in less than a minute, then shut down its first stage and ignited a second stage around two minutes into the mission as it steered on a northerly heading.
A clamshell-like shroud jettisoned from the tip of the rocket moments later, revealing the Sentinel 5P satellite once the vehicle reached the rarefied outer layers of the atmosphere.
A Breeze KM engine took over just after the flight's five-minute point to place the Sentinel 5P satellite in a preliminary parking orbit.
The Rockot's upper stage and Sentinel 5P flew over Greenland, Canada, the Western United States and the Pacific Ocean, then passed over Antarctica before firing the Breeze KM's engine again.
Separation of the Sentinel 5P satellite from the rocket was scheduled for 1046 GMT (6:46 a.m. EDT) in a polar orbit more than 500 miles (800 kilometers) above Earth.
The rocket was out of range of tracking sites for most of the flight, but Sentinel 5P appeared over the horizon at a receiving station in Kiruna, Sweden, right on time at 1101 GMT (7:01 a.m. EDT), and engineers at the European Space Operations Center in Germany verified the satellite's condition.
"All postions on the loop, I can confirm we have AOS (acquisition of signal) in Kiruna at the correct time," said Pier Paolo Emanuelli, the flight director at the Sentinel 5P control center. "The separation sequence was done correctly. We have the (solar) arrays completely deployed and the RCS (reaction control system) is now in the correct mode and starting damping the rates.
"So we have another mission in orbit," he said.
With the craft's power-generating solar panels extended, the next step will be to configure Sentinel 5P for its mission in space.
The satellite will fine-tune its orbit to an altitude of around 512 miles (824 kilometers) in the coming weeks, taking up a position less than five minutes behind the U.S. Suomi-NPP weather satellite for tandem observations.
A cooler door covering the Tropomi instrument will be opened in a few weeks, ESA said, to begin validation and calibration of the satellite's main payload.
Sentinel 5P should begin full operations in about six months, officials said.
The next member of the Copernicus fleet, named Sentinel 3B, is being readied for launch on another Rockot vehicle in March.
Rockot missions for non-Russian satellites are arranged by Eurockot, a German-Russian company owned by Ariane Group and Khrunichev, the launcher's prime contractor.
Email the author.
Follow Stephen Clark on Twitter: @StephenClark1.