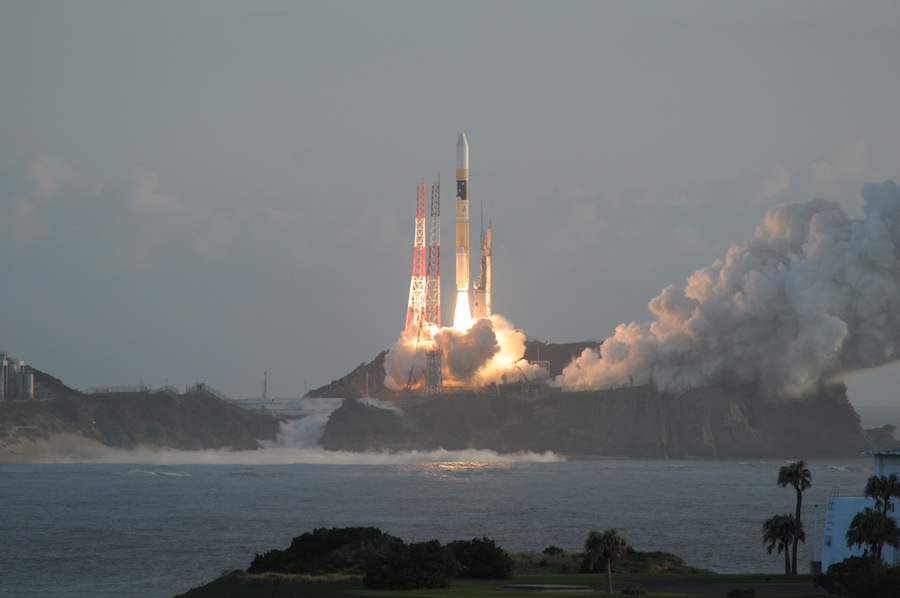 Japan's regional satellite navigation network, conceived to improve GPS coverage over Japanese territory, received its fourth member Monday with an on-target H-2A rocket launch.
The addition of the Michibiki 4 satellite puts Japan's Quasi-Zenith Satellite System on course to begin full operational service early next year, coming after the launch of the network's first pathfinder spacecraft in 2010 and two more platforms in June and August of this year.
The 174-foot-tall (53-meter) H-2A rocket ignited its LE-7A main engine and two solid rocket boosters to fire away from the Tanegashima Space Center in southwestern Japan at 2201:37 GMT (6:01:37 p.m. EDT) Monday.
Liftoff occurred at 7:01 a.m. Tuesday in Japan, shortly after sunrise at the picturesque spaceport carved on the southern flank of Tanegashima Island on a rocky overlook on the Pacific Ocean.
The launcher headed southeast, soaring through scattered clouds painted in the orange hue of sunrise. The H-2A's twin solid rocket boosters burned out and separated around two minutes after liftoff, and the rocket's hydrogen-fueled main engine continued driving the vehicle higher over the Pacific.
The first stage shut down and jettisoned around six-and-a-half minutes into the flight to fall into the sea, and an upper stage LE-5B engine fired two times to maneuver the Michibiki 4 satellite into an elliptical, egg-shaped transfer 31.7-degree inclination orbit ranging from about 200 miles (300 kilometers) to more than 22,000 miles (35,000 kilometers) above Earth.
A commentator on a live webcast of the launch provided by the Japan Aerospace Exploration Agency announced separation of the Michibiki 4 satellite around 28 minutes after liftoff, wrapping up the 36th flight of Japan's workhorse H-2A rocket.
"The launch and flight of H-2A Launch Vehicle No. 36 proceeded as planned," JAXA said in a statement. "So did the separation of Michibiki No. 4, which was confirmed at approximately 28 minutes and 20 seconds after liftoff."
The satellite weighed about 4 metric tons, or approximately 8,800 pounds, at the time of launch. It was built by Mitsubishi Electric Corp. in Japan.
Michibiki 4 is the fourth satellite designed for Japan's Quasi-Zenith Satellite System, which aims to improve navigation accuracy in Japan, especially in urban areas and rough terrain where skyscrapers and terrain block GPS signals.
Michibiki is a nickname for the quasi-zenith satellites, meaning "guiding" or "showing the way" in Japanese.
The satellite is designed for a 15-year service life in an orbit inclined approximately 41 degrees to the equator.
Japan's Cabinet Office, the government agency in charge of the navigation program, says the quasi-zenith satellites are entirely compatible with the GPS network. Each spacecraft will broadcast four L-band navigation signals.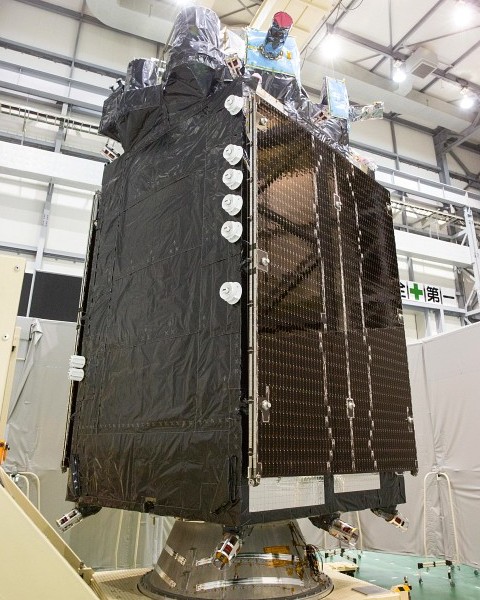 The first two Michibiki spacecraft went into inclined geosynchronous-type orbits that oscillate between the northern and southern hemispheres, while Michibiki 3 launched into a geostationary orbit that hovers over the equator.
Michibiki 4 is roughly identical to the Michibiki 2 satellite launched in June.
The spacecraft's on-board thruster will raise its orbit into a near-circular inclined geosynchronous perch ranging in altitude between 24,000 miles (38,500 kilometers) over the northern hemisphere and 20,500 miles (33,100 kilometers) over the southern hemisphere.
The orbit will allow Michibiki 4 to complete one lap around Earth in nearly 24 hours, maintaining its position in the sky over the Asia-Pacific. Projected against Earth's surface, Michibiki 4's ground track will chart an asymmetric figure-eight pattern stretching from Japan to Australia as it alternates north and south of the equator.
GPS satellites, operated by the U.S. Air Force, circle Earth in lower orbits, meaning different spacecraft are visible in the sky at different times, acting as navigation beacons to triangulate the location of ground users.
Japan's Quasi-Zenith Satellite System will add more beacons to the sky over the Asia-Pacific, resulting in more precise position estimates and improved service in urban areas and remote regions, where high-rise buildings and mountains can obstruct signals from GPS satellites low on the horizon.
The QZSS network will allow users in Japan to determine their position with unparalleled centimeter-level precision via satellite, according to Japan's Cabinet Office.
The four-satellite system should be operational as soon as April 2018, and the Japanese government plans to add three more satellites to upgrade the fleet in the 2020s.
Japan is not the only country working on a regional satellite navigation system. India has launched seven satellites to augment GPS signals over its own territory.
Other navigation projects strive to field an independent global navigation service. The Russian military's Glonass fleet is an analog to the U.S. Air Force's GPS network, currently providing near-global reach. China and the European Union are also developing their own worldwide navigation fleets.
Email the author.
Follow Stephen Clark on Twitter: @StephenClark1.