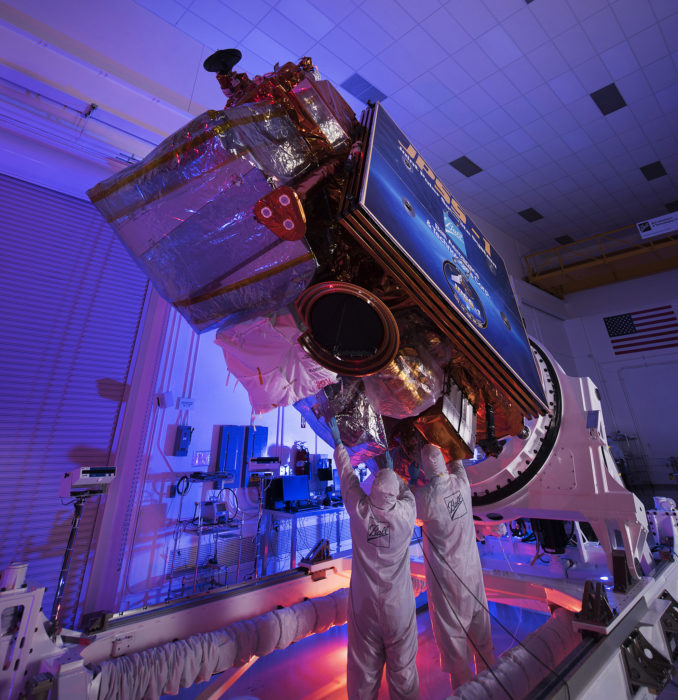 A new weather observatory that will track storms across the globe as it orbits from pole to pole has been trucked to its launch site in California for a long-awaited ascent into space this November.
The first spacecraft in the Joint Polar Satellite System, JPSS No. 1, is targeting a liftoff Nov. 10 at 1:47:03 a.m. local time (4:47:03 a.m. EST; 0947:03 GMT) atop a United Launch Alliance Delta 2 rocket from Vandenberg Air Force Base.
JPSS is the next American polar-orbiting weather satellite series that will collect data needed for long-range forecasts and track environmental trends. It is is a collaboration between NOAA for operational weather needs and NASA for climate research.
Built by Ball Aerospace & Technologies Corp. in Boulder, Colorado, the spacecraft left its factory for the 1,530-mile road-trip to Vandenberg, arriving early Friday, Sept. 1 at the Astrotech payload processing facility on the base.
It has been a struggle to reach this point after several technical issues with the satellite kept it in Boulder nearly a year longer than planned.
Launch dates came and went throughout this year while engineers worked through problems with one the weather instruments on the satellite, an onboard computer that was misbehaving and potentially defective capacitors inside the spacecraft that were called into question in an industry-wide alert issued in late June that was a last-minute curveball thrown at the team.
An elusive issue with the Advanced Technology Microwave Sounder instrument, dogging the mission for months, was creating noisy data on several of its channels when heaters were activated. Extensive testing was done to characterize the problem, ultimately requiring removal of the ATMS instrument from the satellite to isolate the cause. Finally, an intermittent cable short within the instrument was deemed the root cause, cable insulation was added and the instrument retested successfully.
One by one, the issues were fixed, a number of suspect capacitors were pulled out and replaced with ones from a good batch, and JPSS 1 was cleared to ship to the launch site.
Officials say a nominal launch processing flow has begun with some reserve days included, should any work take longer than planned.
"The JPSS 1 team has done an incredible job getting this extremely capable satellite prepared for launch and ready to send back quality environmental data soon after it is in orbit," said Stephen Volz, director of NOAA's Satellite and Information Service.
Now at Vandenberg, the satellite has been safely removed from its shipping container and environmental monitoring data reviewed to assure that no excessive temperature, humidity, shock or vibration events occurred during the multi-state transport.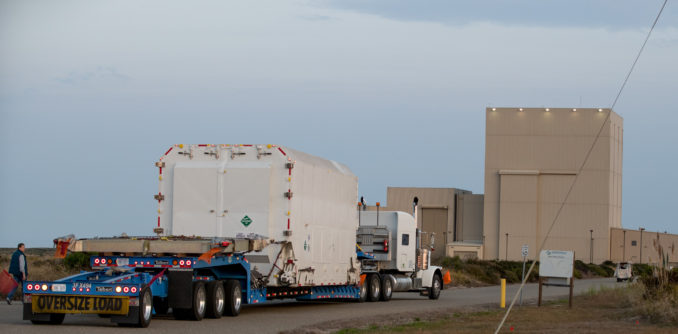 Over the next month, JPSS 1 and its five government-furnished instruments will be put through a series of final mechanical, electrical and antenna tests to make sure that all systems are working as expected. Also, final inspections and cleaning will be performed and thermal blankets buttoned up for flight.
The lithium ion flight batteries have been charged and will be maintained at proper levels from now until launch.
And the spacecraft's propulsion system will be loaded with on-orbit maneuvering fuel.
The Delta 2 rocket, making its next-to-last flight, will be used to boost the 5,000-pound satellite into a sun-synchronous polar orbit. The half-million-pound launcher features nine solid-fuel boosters — six ignited on the pad and three that light a minute into flight — a kerosene-fed first stage, hypergolic second stage and a 10-foot-diameter composite nose cone.
Stacking of the rocket at the Space Launch Complex 2-West pad began last July, before the payload delays began, when the first stage was erected. The process was completed in April by hanging the solids and hoisting the second stage.
The satellite, standing 14 feet tall, will be delivered to the launch pad in late October, followed by installation of the fairing halves.
The daily launch window lasts just 62 seconds, a tight requirement to sync up the JPSS 1 orbit with the aging Suomi NPP weather observatory that it will replace. Depending on launch day factors, liftoff could be re-targeted for the exact center of the window for optimal performance — at 1:47:35.328 a.m. local time.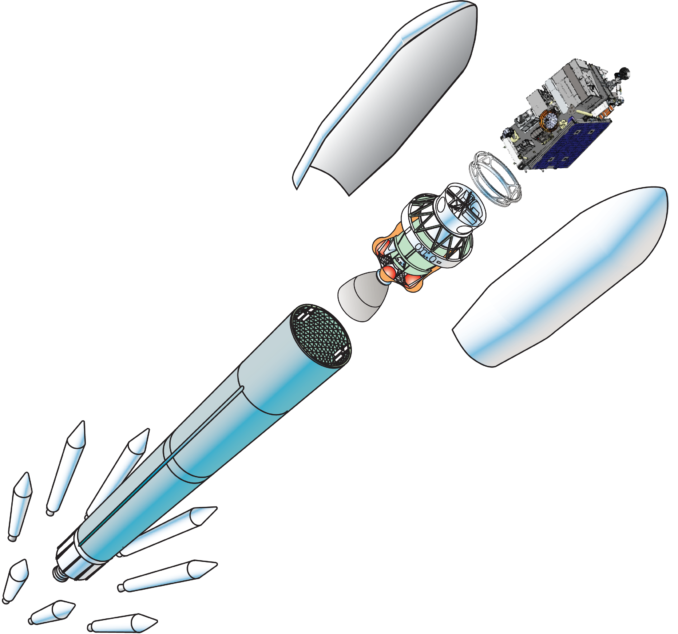 From a 512-mile orbit, tilted 98.7 degrees to the equator and traveling pole-to-pole, the JPSS 1 satellite will survey the entire globe twice per day with its sensor packages.
A single solar wing powers JPSS 1, giving the craft 2,750 watts of electricity at the beginning-of-life from a three-panel array that deploys to 32 feet wide in space.
JPSS will provide visible and infrared imagery, atmospheric temperature and humidity profiles, and land and ocean surface temperature observations, all of which are key ingredients for weather forecasting. In addition, the satellite will measure ozone levels and reflected solar radiation from the planet.
JPSS 1 is equipped with a suite of five instruments:
The Advanced Technology Microwave Sounder (ATMS)
– Atmospheric water vapor, temperature and pressure profiler
– Built by Northrop Grumman
The Visible/Infrared Imager Radiometer Suite (VIIRS)
– Visible and infrared imagery and take sea-surface temperatures
– Built by Raytheon
The Cross-track Infrared Sounder (CrIS)
– Hyperspectral sounder for atmospheric temperature and moisture
– Built by Harris Corporation
The Ozone Mapping and Profiler Suite (OMPS)
– Monitor concentration of ozone in the Earth's atmosphere
– Built by Ball Aerospace
The Clouds and the Earth Radiant Energy System (CERES)
– Reflected sunlight and Earth thermal radiation measurements
– Built by NASA's Langley Research Center
JPSS 1 will replace the existing Suomi NPP spacecraft that launched in 2011 as a gapfiller between NOAA's legacy weather satellite constellation and the new JPSS generation.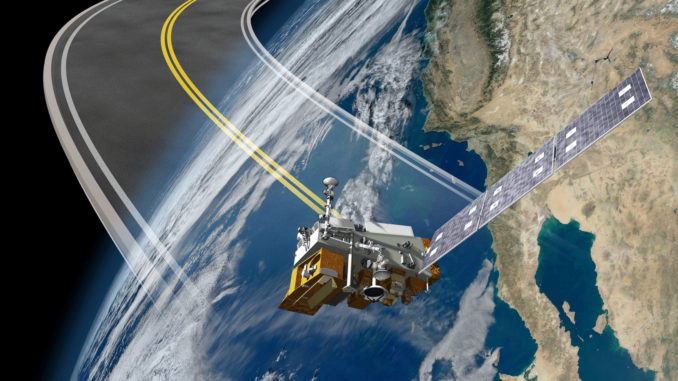 After approximately 90 days of post-launch commissioning, JPSS 1 should be ready to assume primary duties from S-NPP for NOAA's National Weather Service. S-NPP will become a backup satellite, while JPSS 1 is rebranded NOAA 20.
Ball Aerospace built both satellites, and JPSS 1 represents an evolutionary copy of S-NPP, with some significant upgrades. The S-NPP spacecraft was built to a five-year lifespan requirement and JPSS 1 was enhanced to a seven-year design.
What's more, high data rate instruments will use a more reliable data bus, the propulsion system's thruster catalyst was changed, the power system uses lithium-ion batteries rather than nickel-hydrogen technology and more efficient solar cells and there's a new Ka-band transmitter for sending stored data to NASA's Tracking and Data Relay Satellites and faster delivery to the ground.
The JPSS 1 satellite's legacy can be traced to 1960 and the launch of TIROS, the first Television Infrared Observation Satellite. Upgrades and technology advancements have evolved the civilian weather observatories through the decades.
There have been 44 NOAA polar orbiters launched in the 57-year line using Delta, Atlas and Titan rockets.
The second JPSS satellite is under construction at Orbital ATK for its launch by an Atlas 5 in 2021.
Four sequential satellites — JPSS 1, 2, 3 and 4 — are planned under the Joint Polar Satellite System program, ensuring observations to 2038.