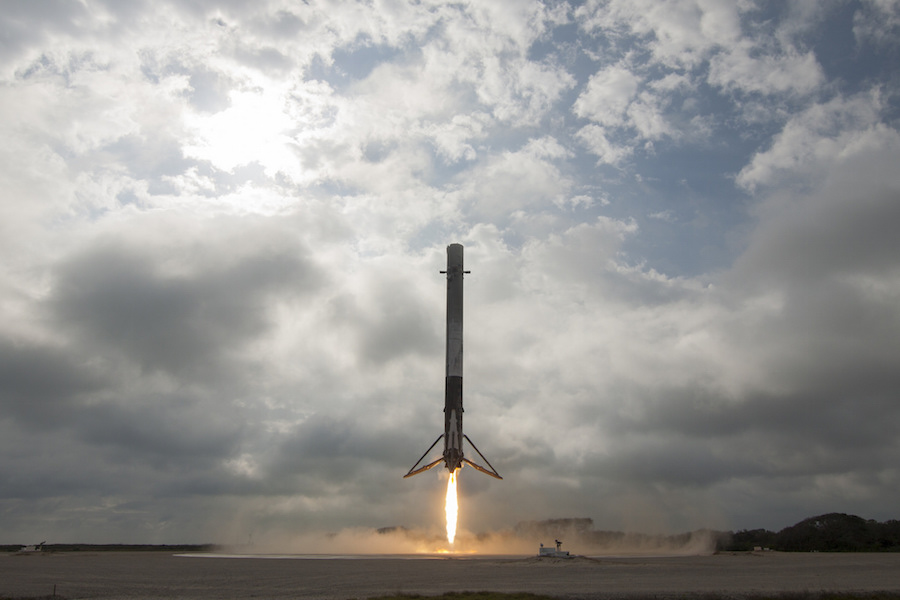 Six months after sending one of its communications satellites to orbit on the first re-flight of a SpaceX rocket, SES intends to launch a hybrid television broadcasting satellite owned in partnership with EchoStar on another previously-used Falcon 9 rocket from Florida's Space Coast as soon as late September, industry officials told Spaceflight Now.
The launch of the SES 11 spacecraft, also named EchoStar 105, will be the third time SpaceX has sent a customer's satellite into orbit with the help of a reused rocket stage. Industry officials said SES, EchoStar and SpaceX agreed in recent weeks to shift the satellite from an all-new rocket to one with a previously-flown first stage.
The SES 11/EchoStar 105 satellite will likely ride a Falcon 9 first stage that first flew Feb. 19 with a Dragon supply ship heading for the International Space Station, one source said, but a firm assignment has not been confirmed. That vehicle returned to a vertical touchdown at Landing Zone 1 at Cape Canaveral Air Force Station.
Liftoff from a Florida launch pad is scheduled no sooner than around Sept. 27, a couple of days after a United Launch Alliance Atlas 5 rocket is set to haul a classified payload into orbit for the National Reconnaissance Office, the U.S. government's spy satellite agency. The Atlas 5 flight with a U.S. national security mission is already booked on the Air Force's Eastern Range for Sept. 25, and will receive priority to launch first if it remains on schedule.
SES and EchoStar announced their agreement to develop the SES 11/EchoStar 105 satellite in September 2014. The companies then said the launch was expected by the end of 2016.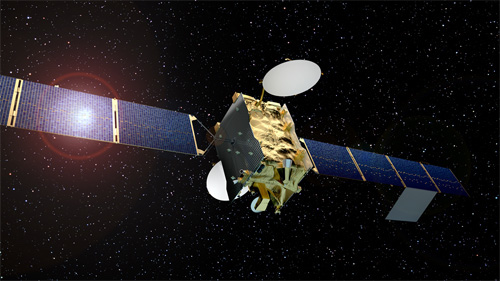 EchoStar Satellite Services will employ 24 Ku-band transponders aboard the satellite to replace digital network capacity the Colorado-based company currently leases on the AMC 15 satellite owned by SES. For its half of the new satellite, SES intends to operate the craft's C-band transponders for video and data distribution services.
Airbus Defense and Space built the satellite, which will be shipped to Cape Canaveral in the coming weeks from its final assembly plant in Toulouse, France.
SpaceX has not said which launch pad it will use for the the SES 11/EchoStar 105 mission.
The company's Falcon 9 launches from Florida so far this year have lifted off at pad 39A at NASA's Kennedy Space Center, but SpaceX plans to move its Falcon 9 base to nearby pad 40 later this year once crews complete repairs and reactivate the complex after a rocket explosion last year. SpaceX officials have not set a firm timetable for the move to pad 40, which will free up pad 39A for final preparations to launch the first Falcon Heavy rocket, a demonstration flight set for November.
The SES 11/EchoStar 105 satellite will weigh approximately 11,900 pounds (5,400 kilograms) at launch. A payload of that mass means SpaceX will likely try to land the Falcon 9's first stage on a platform downrange from Cape Canaveral in the Atlantic Ocean.
SpaceX has launched two missions with re-flown first stage boosters — both successful.
The SES 10 satellite rode the first reused Falcon 9 rocket March 30 from Kennedy Space Center, and the BulgariaSat 1 communications satellite was the passenger for the second Falcon 9 booster re-flight June 23.
SpaceX says reusing pieces of its Falcon 9 rockets reduces launch costs, and engineers aim to reduce the time needed between flights of the same booster from months to days, and perhaps as little as 24 hours, an aspiration espoused by Elon Musk, the company's chief executive.
The SES 11/EchoStar 105 mission is third in line on SpaceX's Florida launch schedule, following the Aug. 13 liftoff of a space station resupply flight and the Sept. 7 launch of the Air Force's X-37B spaceplane, a reusable robotic vehicle used to conduct secret experiments in orbit. The Falcon 9s on both launches will be all-new.
Meanwhile, a SpaceX team at Vandenberg Air Force Base in California is preparing for an Aug. 24 Falcon 9 launch with the Taiwanese Formosat 5 Earth observation satellite and a Sept. 30 liftoff with the third set of 10 next-generation Iridium voice and data replay spacecraft.
SES currently has two more satellites booked to launch on SpaceX Falcon 9 rockets after SES 11/EchoStar 105.
Martin Halliwell, chief technology officer at SES, said earlier this year that those two spacecraft — SES 14 and SES 16, the latter of which was developed in partnership with the government of Luxembourg — could also fly on previously-launched Falcon 9 boosters. Halliwell said then that SES 11/EchoStar 105 would likely fly on a new Falcon 9, but those plans changed.
SES 16, also named GovSat 1, could launch in the fourth quarter of this year, SES said in a quarterly earnings presentation last week. SES 14's launch has been delayed to early 2018 due to SpaceX's jam-packed manifest, which Musk said last month includes up to a dozen more missions this year.
Another SES satellite, SES 12, is assigned to launch on a European Ariane 5 rocket from French Guiana in early 2018.
Email the author.
Follow Stephen Clark on Twitter: @StephenClark1.