STORY WRITTEN FOR CBS NEWS & USED WITH PERMISSION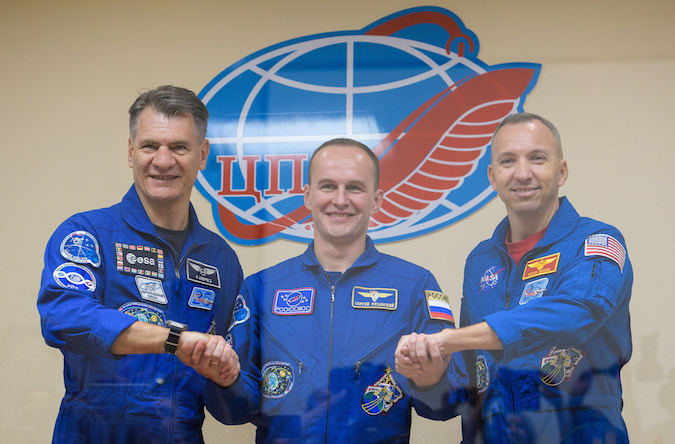 Launch of a Russian Soyuz spacecraft Friday carrying three fresh crew members to the International Space Station will boost the lab's crew back to six and, most important from NASA's perspective, dramatically boost research with four crew members — three NASA astronauts and a veteran European flier — available to operate experiments in the American segment of the laboratory.
Soyuz MS-05 commander Sergey Ryazanskiy, NASA flight engineer Randy "Komrade" Bresnik and European Space Agency astronaut Paolo Nespoli, are scheduled for launch from the Baikonur Cosmodrome at 11:41 a.m. EDT Friday (GMT-4; 9:41 p.m. local time), roughly the moment Earth's rotation carries the pad into the plane of the space station's orbit.
With a doctorate in biomedicine, Ryazanskiy spent 166 days aboard the station in 2013-14 and he is the first scientist-cosmonaut to serve as a Soyuz commander. He also commanded one of three international crews during a 500-day simulated Mars mission in 2009.
"Sergey is the first scientist-commander of the Soyuz and with his Mars experience and just the good character of the person he is, he's been an outstanding commander for us to prepare for our flight," Bresnik said.
An F/A-18 TOPGUN graduate with more than 6,000 hours flying high-performance aircraft, Bresnik will serve as flight engineer in the left seat of the Soyuz during launch and landing. He spent 10 days in space as a shuttle crew member during a 2009 space station assembly mission.
In an interesting bit of trivia, Bresnik's grandfather was Amelia Earhart's photographer.
"I wouldn't be here today if it wasn't for Ameila Earhart," Bresnik said in a NASA interview. "It turns out my grandfather was her photographer for five years before her (ill-fated around-the-world) record attempt in 1937. He was supposed to accompany her on the flight, but in the end, she ended up taking extra fuel instead of him and his equipment.
"So that simple decision in 1937, because my father was born in 1938, meant that had he gone on that flight, I wouldn't be here today."
Filling out the Soyuz MS-05 crew is Italian astronaut Paolo Nespoli, making his third spaceflight. He first flew aboard the shuttle Discovery during a 2007 station assembly flight and then completed a long-term stay aboard the outpost in 2010-11, pushing his total time in space to 174 days.
"I wanted to be an astronaut since I was a kid," he said. After a long stint in the Italian army, serving as a master parachutist, jump master and special forces operator, he "eventually picked up again this childhood dream and got a degree in aerospace engineering and then worked for the European Space Agency. Then (I was) fortunate enough in 1998 to be selected as a European astronaut."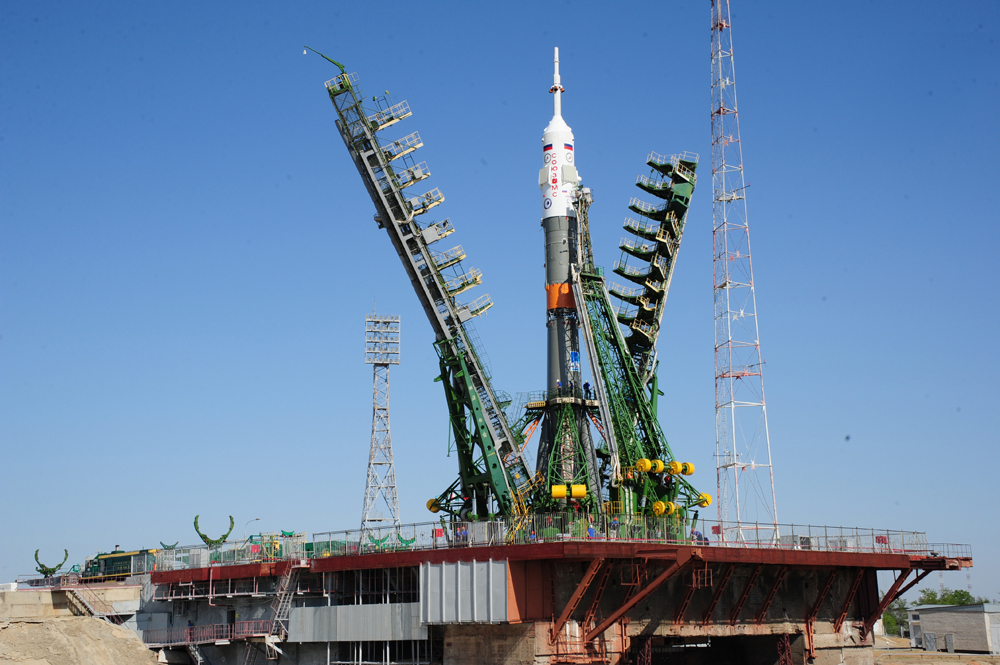 At the time of launch, the space station will be flying over the northeast border of Kazakhstan, about 1,130 miles ahead of the Soyuz. If all goes well, Ryazanskiy and Bresnik will oversee an automated four-orbit rendezvous with the laboratory, moving in for docking at the Earth-facing Rassvet port around 6 p.m.
They will be welcomed aboard by Expedition 52 commander Fyodor Yurchikhin, flight engineer Jack Fischer and Peggy Whitson, NASA's most experienced astronaut with 629 days in orbit (as of Friday) during three missions, including two stints as commander.
The combined crew will include four astronauts assigned to the U.S. segment of the station — Fischer, Whitson, Bresnik and Nespoli — and two in the Russian segment — Yurchikhin and Ryazanskiy.
The station crew normally is evenly split between the Russians and the U.S. segment, which includes astronauts representing NASA, ESA, Japan and Canada. But the Russian federal space agency Roscosmos recently decided to downgrade to two crew members to save money in the near term and that opened up a Soyuz seat for a USOS — U.S. orbital segment — astronaut.
With the arrival of the Soyuz MS-05 crew, an additional USOS crew member will be available to carry out research.
"I am excited about having a full complement of people up here who can really utilize this amazing laboratory," Fischer, who's been aboard the station since April 20, said in an interview with CBS News.
"This will be the first time where we have four USOS, we're have three Americans and an Italian, Paolo, working on the U.S. segment on science. Four people. That's crazy talk! I'm super excited about how much science we're going to be able to get done with all four people. So, overall, it's awesome, I cannot wait for them to get up here and cannot wait for the discoveries that we make together."
Bresnik agreed, calling the expanded USOS crew "a huge improvement."
"We'll get a taste of it when we launch because Paolo Nespoli and I will be up there with (Jack) and Peggy, who've been working their tails off since June 2 when they've been by themselves (in the U.S. segment). So we'll have about five or six weeks together, the four of us, and hopefully we'll learn the ropes from them really well and then just dovetail into four crew members in increment 53.
"We don't really have an idea how to quantify that yet," he added. "Is it really just a fourth body and we're adding 25 percent more capability? Or, we're able to do all the maintenance and other stuff that we normally do and this person could be, theoretically, book-kept as all utilization. So we may double our capacity."
Ryazanskiy said having only two Russian crew members aboard will require some Russian research to be carried out in their spare time, but he does not anticipate any problems.
"We will be really busy because there will only be two of us," he said. "I have a lot of science that is now going on the task list so some experiments will be done in my free time aboard the station. But overall, for life support and technical issues, two Russian crew members will be enough."
Whitson, who holds a Ph.D. in biochemistry, was launched to the station last November and originally planned to return to Earth in early June with her Soyuz MS-03 crewmates Oleg Novitskiy and ESA astronaut Thomas Pesquet. But the Russian decision to reduce its crew complement left an open seat on the Soyuz MS-04 spacecraft that carried Yurchikhin and Fischer into orbit April 20.
As a result, NASA and Roscosmos agreed to extend Whitson's mission and she will return to Earth with Yurchikhin and Fischer aboard the MS-04 spacecraft on Sept. 3. The mission extension will push her total time in space to 666 days, moving her up to eighth in the world just behind Yurchikhin, who will rank seventh.
Ryazanskiy, Bresnik and Nespoli face an intense first few weeks aboard the station with a SpaceX Dragon cargo ship scheduled to arrive in mid August, a spacewalk by Yurchikhin and Ryazanskiy on Aug. 17, plans to photograph the Aug. 21 solar eclipse from orbit, the departure of Yurchikhin and his crewmates Sept. 3 and the arrival of a fresh crew — one Russian and two Americans — on Sept. 13.
Ryazanskiy, Bresnik and Nespoli are scheduled to return to Earth Dec. 14. They will be replaced Dec. 27 by another crew made up of one Russian and two Americans.
The solar eclipse is generating widespread interest, the first coast-to-coast total solar eclipse in 99 years. Bresnik said the station crew will be able to monitor the eclipse over three orbits and plans to downlink video and still images.
"We'll have, actually, three passes," Bresnik told CBS News in a pre-launch interview from Moscow. "The first one … is when we're over the southern Pacific, and we'll be on the lookout. Then on the second pass, we (are) over the top of Lake Huron when we'll be able to see it the best. We'll be there with video cameras and our big telephoto lenses to take pictures.
"And then, we'll be able to see it on a third orbit, out over the Atlantic Ocean, where we'll have about an 85 percent obscuration of the sun. We've got special filters for the cameras to take those pictures. We'll share it right away with everybody."
For his part, Ryazanskiy said he is looking forward taking photos in general and sharing them via social media.
"I really like to make photos," he told reporters earlier this year. "From a previous mission, I (took) more than 65,000 photos. Nowadays, I'm working on a book with photos and stories. Personally, I prefer Instagram because it's easier to share your visual experiences. Now we have so many different social media channels, I will try to use the most popular."
He said his sister will help him get his pictures on line.
"It's really important and really necessary to try to share all these wonderful things you can see from above," he said. "Sometimes, it's impossible even with photos because it's much more beautiful or three dimensional. But still, we should try, we should try to share our experience with other people who maybe in the future will be able to fly in space."