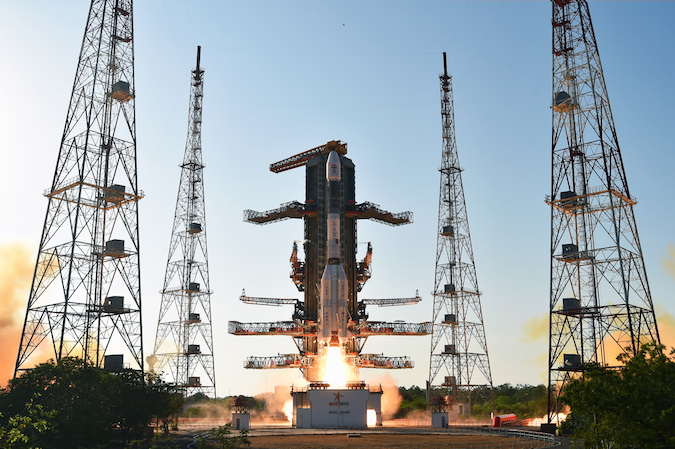 An Indian Geosynchronous Satellite Launch Vehicle lifted off under a veil of secrecy Friday with a nearly 2.5-ton (2.2-metric ton) spacecraft designed to relay video broadcasts and data between India and its South Asian neighbors.
The Indian-built GSAT 9 communications satellite launched from the Satish Dhawan Space Center on India's east coast. A 161-foot-tall (49-meter) GSLV gave the satellite a boost into an oval-shaped geostationary transfer orbit approximately 17 minutes following launch.
Liftoff of India's GSLV occurred at 1127 GMT (7:27 a.m. EDT), or 4:57 p.m. local time at the launch site.
But the country's space agency did not publish details about the launch ahead of time or provide live broadcast of the mission. The Indian Space Research Organization typically releases technical brochures on its missions and provides live video of its launches.
ISRO's mission brochure appeared on the agency's website shortly after officials declared a successful launch.
The GSAT 9 satellite, also known as the South Asia Satellite, contacted ground controllers at a station in Hassan, India, shortly after arriving in space, according to ISRO.
The GSLV Mk. 2 launcher placed the 4,916-pound (2,230-kilogram) GSAT 9 spacecraft into an initial transfer orbit ranging in altitude between 105 miles (169 kilometers) and 22,434 miles (36,105 kilometers), very close to prelaunch predictions.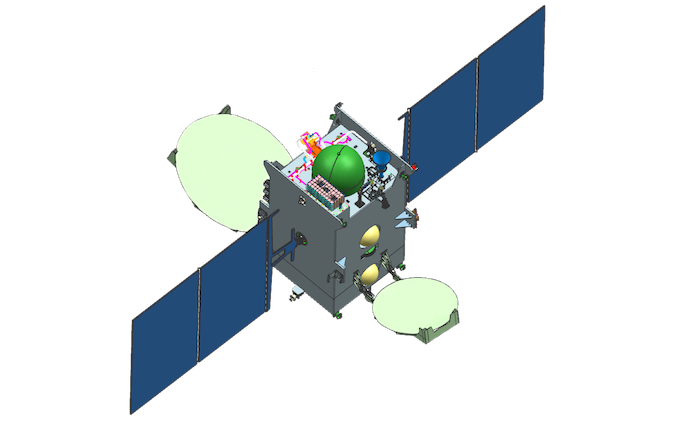 GSAT 9's on-board thrusters began maneuvers to circularize its orbit Saturday, raising the low point of each loop around Earth and moving the craft's track closer to the equator.
In the coming weeks, GSAT 9 will move into an operational position at 48 degrees east longitude in geostationary orbit, then switch on its 12 Ku-band transponders for testing before entering service for users in India, Bangladesh, Sri Lanka, the Maldives, Nepal, Bhutan and Afghanistan.
Indian Prime Minister Narendra Modi, who announced plans for a communications satellite dedicated to India's neighbors in 2014, hailed the mission in a video conference with leaders of South Asian nations after the launch.
"Today is a historic day for South Asia, a day without precedence," Modi said. "Two years ago, India made a promise, a promise to extend the advanced space technology for the cause of growth and prosperity of our brothers and sisters in South Asia.
"The successful launch of the South Asia Satellite marks the fulfilment of that," Modi continued. "With this launch we have started a journey to build the most advanced frontier of our partnership. With its position high in the sky, this symbol of South Asian cooperation will meet the aspirations of economic progress of more than 1.5 billion people in our region, and extend our close links into outer space."
Modi described the South Asia Satellite as a "gift" from India to its neighbors in the South Asian Association for Regional Cooperation, who will have access to the spacecraft's communications capacity free of charge. Each nation is responsible for providing its own ground facilities to connect with the satellite.
But Pakistan, the second-biggest member of the South Asian block, declined to be part of the project.
The South Asia Satellite project cost the Indian government more than $60 million, according to a report published by the Hindu newspaper.
"The world should notice South Asia has taken a giant step today toward regional cooperation, and our citizens will be much better together," said Afghan President Ashraf Ghani. "If cooperation through land is not possible, it's certainly possible through the sky."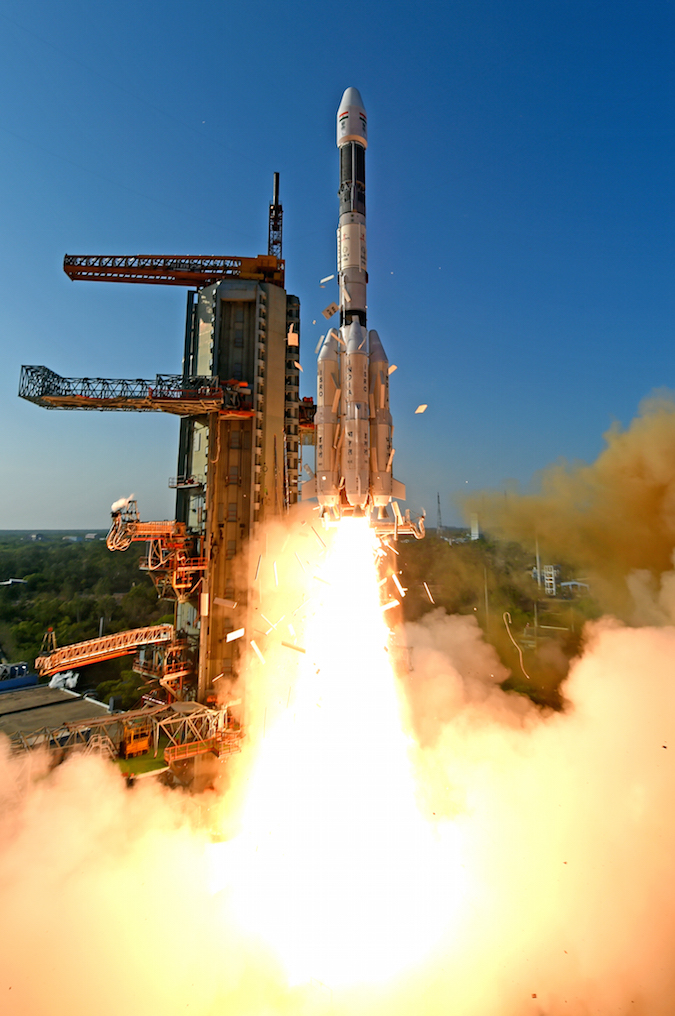 GSAT 9 is designed for a 12-year lifetime, and the satellite carries four stationary plasma thrusters in a technology demonstration of an electric propulsion system. The low-power plasma thrusters are also a backup to the satellite's conventional chemical thrusters, according to ISRO.
Officials said GSAT 9 will provide television and video broadcasts, link health and educational institutions, distribute meteorological data, and help governments respond to natural disasters.
"The launch of the South Asia Satellite today is a historic moment for the world," said Tshering Tobgay, prime minister of Bhutan. "It's historic because it's the first time that a country has launched a satellite for the free use of its neighbors."
Friday's launch was the fourth successful flight in a row by India's GSLV, the larger of the country's two operational launch vehicles. The GSLV Mk. 2 version currently flying has an Indian-developed cryogenic upper stage that burns liquid hydrogen and liquid oxygen, replacing an earlier Russian-made upper stage used on the GSLV until 2010.
Overall, the GSLV's official record now stands at 7-for-11 since debuting in 2001, including earlier variants with Russian hardware.
Friday's flight, designated GSLV-F09, was the second space launch of the year by India, coming after a Feb. 15 liftoff of a Polar Satellite Launch Vehicle with a record payload of 104 satellites. The smaller PSLV has logged 38 straight successful missions, carving a niche in the global launch market to loft lightweight satellites for foreign companies and governments.
Email the author.
Follow Stephen Clark on Twitter: @StephenClark1.