STORY WRITTEN FOR CBS NEWS & USED WITH PERMISSION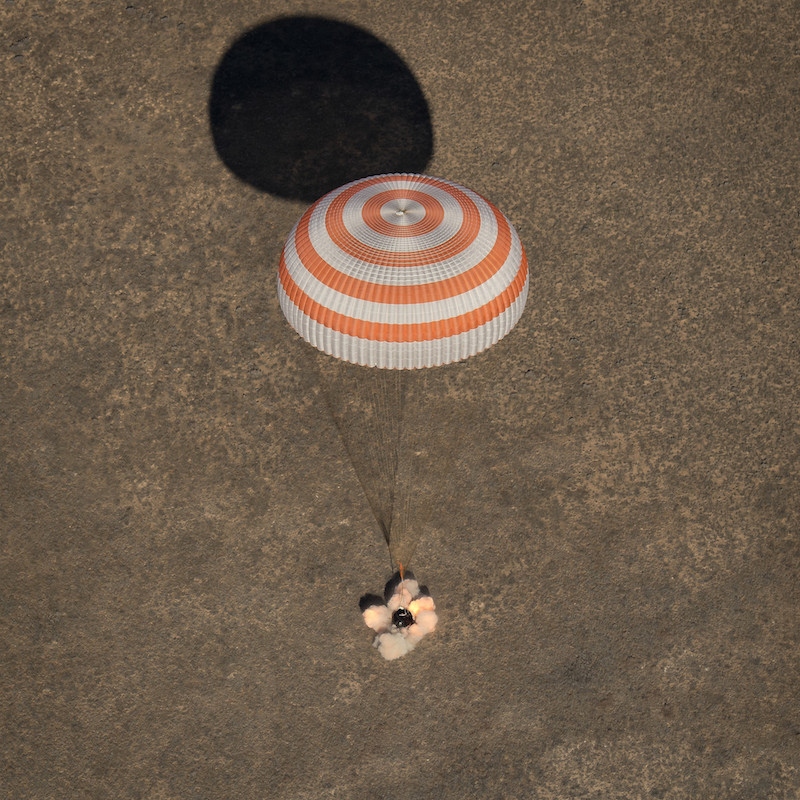 Astronaut Shane Kimbrough and his two Russian crewmates — Soyuz MS-02 commander Sergey Ryzhikov and flight engineer Andrey Borisenko — undocked from the International Space Station and plunged back to Earth Monday, landing on the steppe of Kazakhstan to close out an extended 173-day mission.
Launched Oct. 19 from the Baikonur Cosmodrome, Kimbrough and his Soyuz crewmates departed the station's upper Poisk module at 3:57 a.m. EDT (GMT-4), leaving behind Soyuz MS-03 crewmates Oleg Novitskiy, European Space Agency astronaut Thomas Pesquet and NASA astronaut Peggy Whitson.
After moving a safe distance away from the station, Ryzhikov and Borisenko monitored an automated four-minute 38-second rocket firing that slowed the ferry ship by about 286 miles per hour, just enough to drop the far side of the orbit deep into Earth's atmosphere.
About 25 minutes later, just before plunging into the discernible atmosphere, the central crew module separated from the upper orbital compartment and the lower propulsion module.
Oriented head shield first, the capsule then slammed into the thick lower atmosphere at an altitude of about 62 miles, enduring peak heating and deceleration loads over the next six minutes or so.
The capsule's parachutes unfurled at an altitude of about six-and-a-half miles and 15 minutes later, the spacecraft settled to a jarring rocket-assisted touchdown at 7:20 a.m. EDT (5:20 p.m. local time) near the town of Dzhezkazgan.
Spectacular live television views captured almost all of the parachute descent, showing the capsule's braking rockets firing an instant before touchdown and then the capsule being pulled onto its side and dragged briefly before the chute was released.
Russian recovery crews, flight surgeons and NASA support personnel stationed nearby reached the spacecraft within minutes to help the returning station fliers out of the cramped descent module as they begin re-adapting to the unfamiliar tug of Earth's gravity after more than five-and-a-half months in space.
Carried one at a time to nearby recliners, all three appeared in good spirits, smiling and chatting with support crews and enjoying comfortable, late afternoon weather on the steppe of Kazakhstan.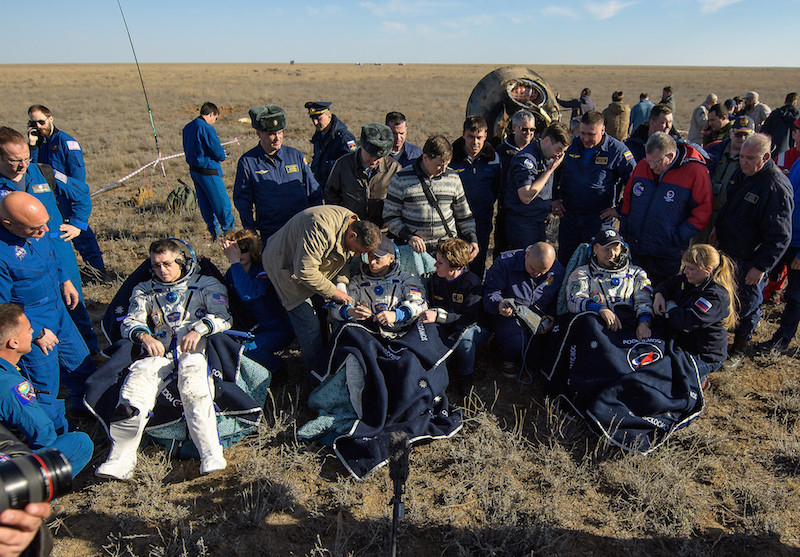 After initial medical checks and satellite phone calls home, all three were to be flown by helicopter to nearby Karaganda. From there, Ryzhikov and Borisenko will be flown by jet to Star City near Moscow while Kimbrough will board a NASA jet for the long flight back to the Johnson Space Center in Houston.
At touchdown, Ryzhikov, completing his first space flight, had logged 173 days three hours and 15 minutes off planet. Veteran Borisenko's mark stood at 337.3 days while Kimbrough, veteran of a 2008 shuttle flight, chalked up 188.9 days over two flights.
Over the course of their mission, Kimbrough and his crewmates completed 2,768 orbits covering 73.3 million miles. They welcomed four visiting vehicles and Kimbrough participated in four spacewalks. Including two EVAs during his earlier shuttle flight, Kimbrough has logged 34 hours of spacewalk time.
During a brief ceremony Sunday, Kimbrough turned over command of the station to Whitson, who is making her third flight. She served as commander of the station during her second visit in 2008 and currently holds the world record for most spacewalk time by a female astronaut: 53 hours and 22 minutes.
"We've had a great time up here, it's been an amazing experience for almost six months now for Andrey and Sergey and I, and we've gotten to enjoy Peggy and Thomas and Oleg for about four-and-a-half-months of that," Kimbrough said. "We've really enjoyed having them around.
"It's really neat to be part of something this big, something bigger than ourselves, for one, but even bigger than a nation. We get the ability up here to interact with things that actually benefit all of humanity. So it's really humbling for one, but very neat and special to be part of something like that."
Whitson said crews aboard the station "don't wear shoes, but Shane's leaving some really big socks for me to fill."
"Expedition 50's been incredibly successful, (we) conducted four spacewalks, grappled two visiting vehicles, we packed and unpacked three cargo vehicles in relatively short order and got an amazing amount of science done, all thanks to the Expedition 50 crew and the leadership of Shane Kimbrough," she said.
Said Ryzhikov: "We have a very nice crew, we have excellent commander and we have beautiful ground support and we have unforgettable memories about our beautiful … time aboard ISS. Thank you everybody."
With the departure of the Soyuz MS-02 crew, Whitson, Novitskiy and Pesquet will have the station to themselves for just 10 days before the arrival of the Soyuz MS-04 crew, commander Fyodor Yurchikhin and NASA flight engineer Jack Fischer on April 20.
Four days later, Whitson will set a new record for most cumulative time in space by a U.S. astronaut, passing Jeff Williams' mark of 534 days two hours and 48 minutes over four missions. She also may participate in another spacewalk in early May, which would push her EVA total to third in the world, with almost 60 hours of EVA time over nine excursions.
Whitson originally planned to return to Earth on June 2 with her Soyuz MS-03 crewmates. Instead, NASA and Roscosmos, the Russian space agency, agreed to extend her stay by three months to maximize U.S. research. As a result, Novitskiy and Pesquet will return to a landing in Kazakhstan with one empty seat, leaving Whitson behind aboard the station with Yurchikhin and Fischer.
Soyuz spacecraft normally carry three crew members to and from the station but the Russians have opted to reduce their crew size in the near term to save money. As a result, the MS-04 spacecraft will launch with an empty seat loaded with supplies. Whitson will take that seat when she returns to Earth with Yurchikhin and Fischer on Sept. 3.
"This is great news," Whitson said in a NASA statement when the extension was announced. "I love being up here. Living and working aboard the space station is where I feel like I make the greatest contribution, so I am constantly trying to squeeze every drop out of my time here. Having three more months to squeeze is just what I would wish for."
A fresh three-person crew — Soyuz MS-05 commander Sergey Ryazanskiy, NASA astronaut Randy Bresnik and ESA astronaut Paolo Nespoli — is scheduled for launch July 28.
Between June 2, when Whitson's two Soyuz MS-03 crewmates land, and the arrival of Ryazanskiy's crew, the station will be staffed by one Russian, Yurchikhin, and two Americans, Whitson and Fischer. That will enable continued research operations in the U.S. segment of the lab that otherwise would have been curtailed if just one astronaut was available.
It also preserves the option for a contingency spacewalk if a major problem crops up with the U.S. segment of the station.
In any case, assuming a landing Sept. 3, Whitson will have logged 289 days aloft since launch last November, pushing her cumulative total to a U.S.-record 666 days over three missions and moving her up to No. 6 on the list of world's most experienced space fliers behind five cosmonauts. The record for the longest single flight by a U.S. astronaut is held by Scott Kelly, who logged 340 days aloft in 2015-16.
Setting a new endurance mark "indicates that our program, the space program, is increasing its capability with every record that we break," Whitson told an interviewer.
"I think it's a stepping stone to future exploration," she said. "It's important for us to understand and know what happens to the human body (during long stays in space) and it's just one of those data points we have to gain knowledge from. In that perspective, yes, it is important. But it's also important for us to continue to expand beyond that."
Kimbrough's mission also was extended after a Russian Progress supply ship was destroyed during launch Dec. 1 when the upper stage of its Soyuz booster malfunctioned. Downstream station launches were delayed until the Russians completed a failure investigation.
The Russians successfully resumed flights Feb. 22 with launch of another Progress freighter, clearing the way for landing of Kimbrough and his crewmates and launch of Yurchikhin and Fischer.
During his stay aboard the station, Kimbrough and his crewmates welcomed three cargo ships and one Soyuz. Kimbrough also participated in four spacewalks, two with Pesquet and two with Whitson, to continue ongoing work to prepare a second docking port for commercial crew ferry ships being built by Boeing and SpaceX.
Kimbrough, Pesquet and Whitson, who holds a Ph.D. in biochemistry, also carried out a wide variety of scientific research, ranging from medical studies to basic physics and biology, including gene sequencing experiments.
"Our pace has been really good, I think we've all worked really hard the entire time, we haven't really had any lulls," Kimbrough said a few weeks ago. "We just got in a nice rhythm as a crew, and we've been able to accomplish a lot more than a lot of people expected, I think."