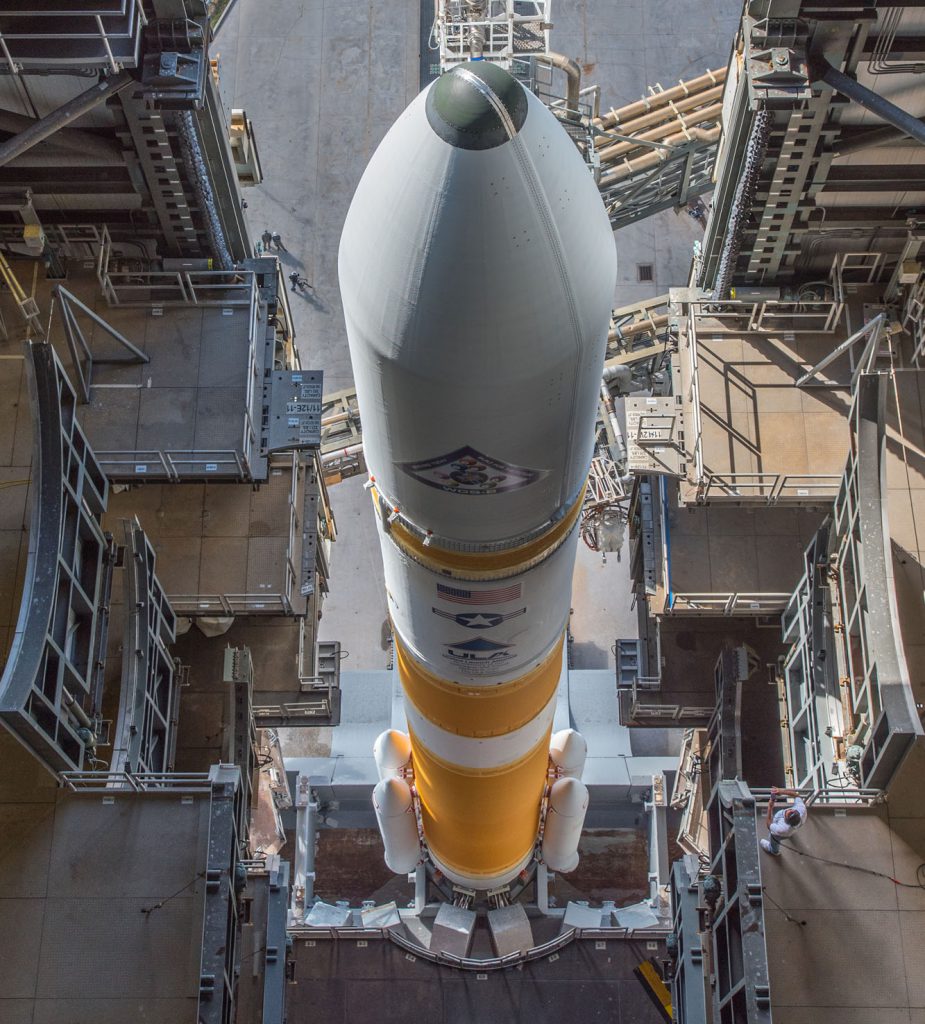 CAPE CANAVERAL — Signaling strength in the international cooperation between the U.S. military and allied nations, a satellite funded by five countries will be launched by the Air Force on Saturday to codify a global communications deal.
A United Launch Alliance Delta 4 rocket will send the Wideband Global SATCOM communications spacecraft No. 9 into orbit from Cape Canaveral during an evening window of 7:44 to 8:59 p.m. EDT (2344-0059 GMT).
Weather forecasters project a 90 percent chance of favorable conditions for launch.
The Boeing Co. built the WGS 9 satellite with money from Canada, Denmark, the Netherlands, Luxembourg and New Zealand. The Air Force is launching the craft and will perform the command-and-control functions during its 14-year life expectancy.
Once the satellite was purchased in 2012, the U.S. military opened up access to its worldwide fleet of WGS spacecraft to provide bandwidth to the five allies that is commensurate with the amount of funding each country invested into WGS 9.
The arrangement gives the Pentagon's highest-capacity communications backbone a ninth satellite while supplying the partner nations with secure, anti-jam connectivity anywhere on Earth via any WGS spacecraft.
"WGS provides anytime, anywhere communications for Soldiers, Sailors, Airmen, Marines and international partners through broadcast, multicast and point-to-point connections," said Robert Tarleton, director of the Air Force's Military Satellite Communications Systems at the Space and Missile Systems Center.
"This very successful cooperative effort, along with the U.S. and Australia cooperative effort for WGS 6, enhances the foundation for long-term cooperation in military satellite communications and has been very effective in promoting increased interoperability among our strategic allies."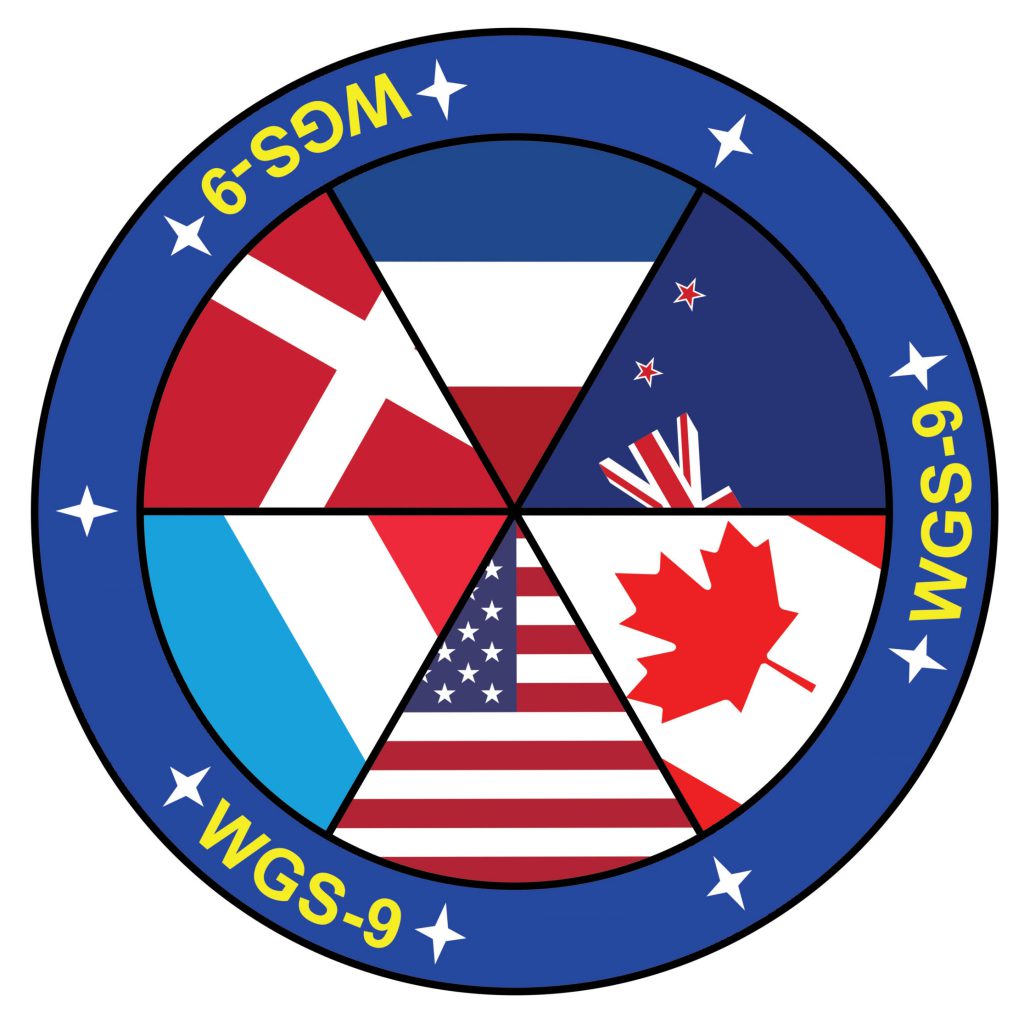 Valued at $424 million and weighing about 13,000 pounds at launch, WGS 9 was manufactured at Boeing 's factory in El Segundo, California. It is based on the Boeing 702HP satellite platform with both conventional and xenon-ion propulsion, deployable thermal radiators and power-generating solar arrays that stretch 135 feet tip-to-tip, a wingspan larger than a Boeing 737 but smaller than a Boeing 747.
The WGS satellites place shaped, steerable spotbeams of bandwidth wherever requested across their field-of-view for Ka- and X-band frequencies, plus the onboard capability to switch signals from one band to the other.
Each satellite has electrically-steerable, phased array antennas for X-band transmitting and receiving, mechanically-steered Ka-band antennas and a fixed full-Earth-coverage beam also in X-band.
The antennas provide 19 independent coverage areas — 10 Ka-band and 8 X-band spotbeams, plus the full-Earth footprint.
The WGS 8, 9 and 10 satellites feature upgraded Wideband Digital Channelizers at the heart of their communications packages that nearly doubles capacity compared to the previous sister-spacecraft in the series.
WGS 9 with its advanced channelizer will support over 11 gigabits per second of data processing, officials said.
WGS is the central element in the U.S. military's global communications infrastructure for troops on the ground, aircraft in the sky, ships at sea, the White House Communications Agency and the State Department, plus Australia that funded WGS 6 and the five allies that bought WGS 9.
The system transmits high-priority communications such as the exchange of war-fighting information between battlefield commanders on the ground and senior defense officials.
The satellites supply communications such as maps and data to soldiers in war zones, relay video from unmanned aerial reconnaissance drones, route voice calls and messaging, and even offer quality-of-life considerations like television broadcasts and email delivery to the troops.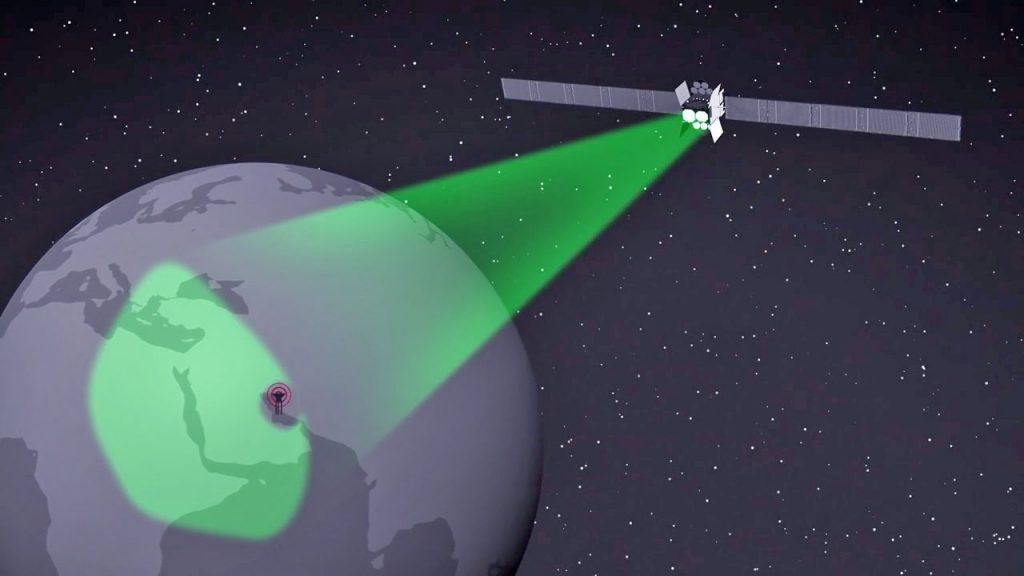 Bringing in the international partners enables interoperability with coalition forces to communicate on the same system.
"As a global company, Boeing is happy to have been able to support the government in establishing the international business arrangement that enabled WGS 9 and appreciates the relationships we have built with our coalition partners over the years," said Rico Attanasio, director of Boeing's MILSATCOM programs.
"The capabilities of the WGS system are supporting our allies around the world with joint missions and helping our military be more effective."
Australia was the first country to join WGS, funding the construction of WGS 6 and its launch in August 2013.
Canada and the Netherlands also partner on the U.S. military's Advanced Extremely High Frequency satellite series that provides nuclear-survivable communications.
"We have ongoing, constant communications with international partners about joining in all of our communications whether it be wideband like WGS or protected like AEHF or EPS (Enhanced Polar System)," said Tarleton.
"It starts out as an expressed interest, certainly, with our allies we are looking to team as much as we can, then work forward through a Memorandum of Understanding and the funding and division of access to the constellation."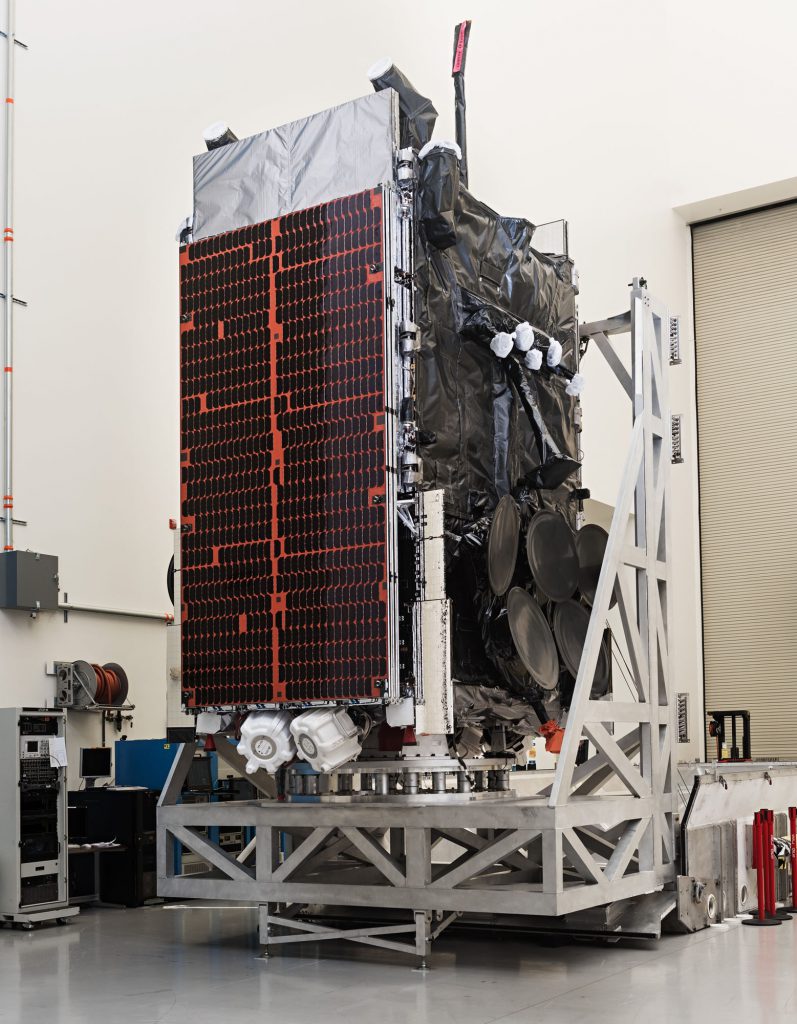 Getting WGS 9 into space begins with a ride atop the 900,000-pound, 217-foot-tall Delta rocket that will launch on 1.8 million pounds of thrust from its hydrogen-fueled Aerojet Rocketdyne RS-68A main engine and four side-mounted solid-fuel boosters from Orbital ATK.
"With four solids, if you are there in the local area it will be a pretty amazing experience with the sound and the vibrations and acoustics of the vehicle lifting off," said Laura Maginnis, United Launch Alliance's vice president for Government Satellite Launch
It will be the 7th flight for the Delta 4 Medium+ (5,4) variant, all for WGS, and the 35th launch overall for the rocket family.
Arcing to the east on a 93.46-degree flight azimuth, Delta 4 will experience maximum dynamic pressure, or Max Q, at 46 seconds, and the ground-lit boosters will burn out at 92 seconds and separate at 100 seconds.
Once out of the atmosphere and shortly before staging, the 47-foot-tall, 17-foot-diameter nose cone made of composites is jettisoned three minutes and 15 seconds into flight.
The first stage engine will propel the vehicle until T+plus 3 minutes and 57 seconds, followed by separation of the Common Booster Core seven seconds after cutoff.
The initial burn by the cryogenic upper stage gets underway at T+plus 4 minutes, 16 seconds, firing the high-energy Aerojet Rocketdyne RL10B-2 engine for nearly 16 minutes to accelerate to orbital velocity and then reach a preliminary parking orbit.
The vehicle performs a brief coast above equatorial Africa before restarting the RL10 engine at T+plus 29 minutes, 27 seconds, executing a three-minute burn to reach a highly elliptical super-synchronous transfer orbit.
Spacecraft deployment occurs over the Indian Ocean at T+plus 41 minutes, 46 seconds.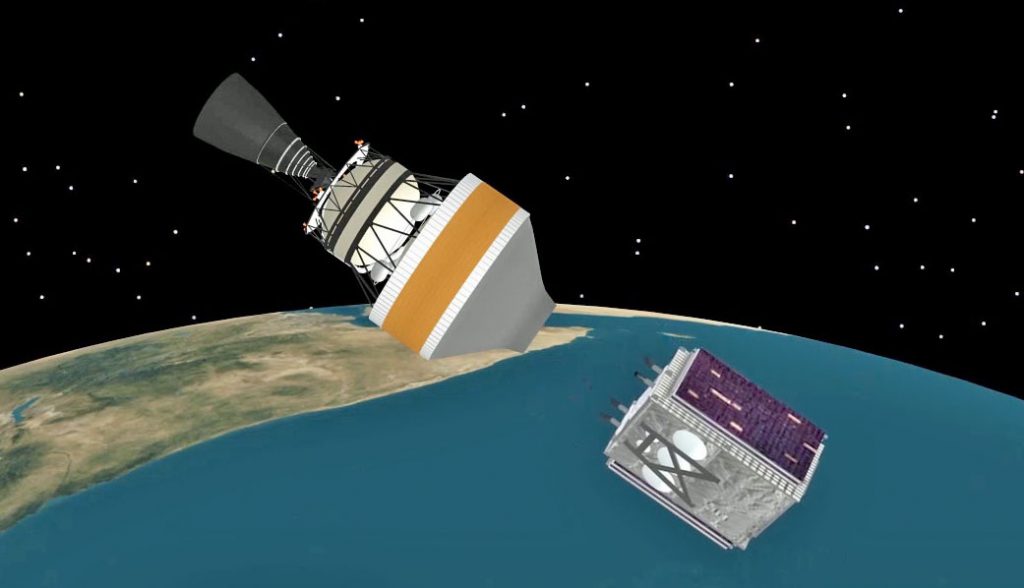 WGS 9 will be released into an orbit 270 by 27,572 statute miles with an inclination of 27 degrees. That orbit is lower than the 41,000-mile apogees achieved by previous WGS satellites, a change was made beginning with WGS 8 last December to enable a safe deorbiting of the depleted upper stage after releasing the satellite.
The new parameters meet the satellite's requirements and allow for the disposal of the rocket body in the fight against space debris and uncontrolled re-entries.
"For every mission, we look to see if we can be compliant to national space policy and we certainly want to be good stewarts of space. I'm not the expert on space junk or space debris, but every time we have the opportunity to not leave things in space that's what we want to try and do," said Col. Shane Clark, the Air Force's mission director for the WGS 9 launch and EELV Generation operations division chief at the Space and Missile Systems Center.
"Of course, we have to balance that across a variety of technical concerns with the satellite and the launch vehicle as we make those decisions. For WGS 8 and this mission (too), we all came together and found we could be compliant with space policy and be good stewarts of the environment up there and accomplish the objectives for the WGS program by putting the satellite where it needs to be."
The RL10 engine will be re-ignited 30 minutes after spacecraft separation and perform just a 10-second deorbit burn. That'll cause the stage to re-enter over the Pacific at its first orbital perigee, 12 hours after launch.
It is a new policy for military launches to avoid leaving upper stages in orbit whenever possible. An extra strap-on solid rocket booster has been added to the Atlas 5 launching the SBIRS GEO Flight 4 missile-warning satellite later this year, for example, to give enough vehicle performance to complete the satellite deployment and then deorbit the upper stage.
"It's predominately a debris issue," Clark said.
The Air Force drafted specific language that now requires launch procurements to meet U.S. Government Orbital Debris Mitigation Standard Practices, or ODMSP, and to comply with the Space Safety and Mishap Prevention Program orbital debris requirements.
"ODMSP applies to all Evolved Expendable Launch Vehicle (EELV)/National Security Space launch missions, not just SBIRS GEO. In some cases, compliance may require increased launch vehicle performance when compared to non-compliant missions," according to Lt. Gen. Greaves, SMC commander and Air Force Program Executive Officer for Space.
The WGS 9 satellite is destined to operate at an undisclosed location in geostationary orbit 22,300 miles above the equator, matching Earth's rotation and remaining in lockstep over a specific spot of the globe.
The final WGS satellite — No. 10 — will be launched in late 2018.
See earlier WGS 9 coverage.
Our Delta archive.