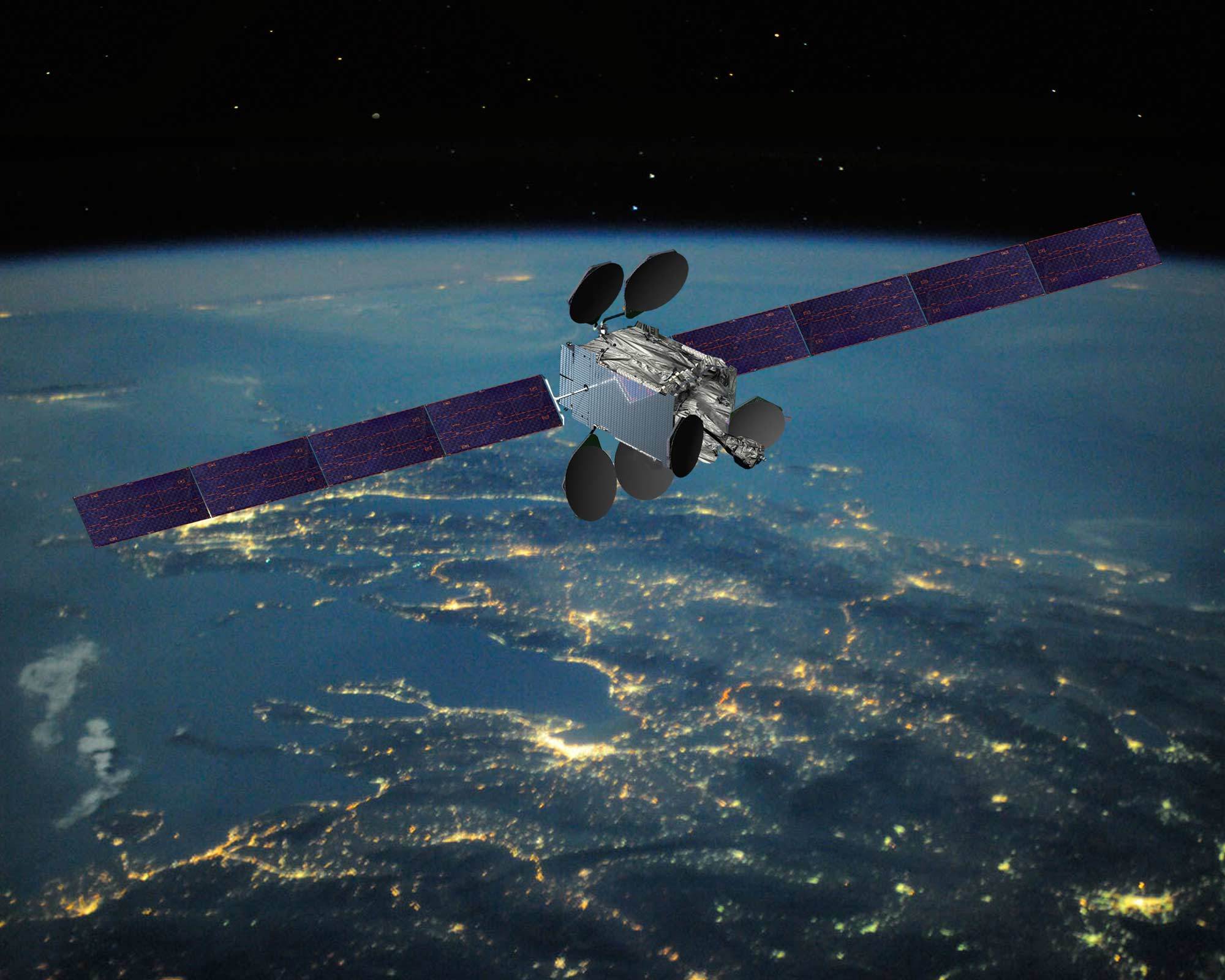 An Intelsat communications satellite launched last August entered service Sunday, about three months later than planned after a main engine problem forced engineers to position the craft in geostationary orbit using backup low-thrust rocket jets.
The Intelsat 33e spacecraft ran into the engine glitch soon after its Aug. 24 launch from French Guiana aboard an Ariane 5 rocket, delaying its planned in-service date from around Nov. 1 to this month. Intelsat said Monday that the satellite began commercial operations Sunday after ground controllers finished testing of the platform's communications payload.
Based on Boeing's 702MP satellite design, Intelsat 33e is part of Intelsat's "Epic" series built to serve growing mobile communications markets, reaching customers on the road, airplanes and ships, while still beaming traditional video, television, voice and data signals to other clients.
The all-digital payload aboard Intelsat 33e — and other "Epic" platforms — give Intelsat the ability to quickly adapt the satellite's bandwidth between different locations. For example, with a simple command from the ground, operators can reduce bandwidth in the middle of the night in one area and focus capacity in regions hosting special events, such as the World Cup or the Olympics.
Fitted with more than 70 beams and the equivalent of 269 Ku-band and C-band transponders, Intelsat 33e was the second of seven new-generation "Epic" satellites ordered by Intelsat. It is replacing the Intelsat 904 spacecraft launched by an Ariane 4 in 2002.
But the satellite's planned 15-year service life could not begin until it reached its final perch in geostationary orbit more than 22,000 miles (nearly 36,000 kilometers) over the equator.
The Ariane 5 rocket deployed Intelsat 33e into an on-target elliptical parking orbit with a high point at geostationary altitude and a low point around 155 miles (250 kilometers) above Earth.
The Moog-built Leros main engine fixed to the base of the spacecraft was supposed to fire multiple times between Aug. 27 and Sept. 4 to raise the low point of Intelsat 33e's loop around Earth, circularizing the orbit. The maneuvers were also intended to keep the spacecraft's orbit locked at 0 degrees latitude, eliminating its oscillation north and south of the equator.
Intelsat announced Sept. 9 that the primary thruster had malfunctioned, forcing engineers to rely on redundant lower-power thrusters to nudge the satellite's orbit higher. Those maneuvers took more time than if the craft could have used the main engine.
The use of the backup thrusters will likely reduce Intelsat 33e's planned 15-year service life by about 18 months, according to a report last year by Space News.
An Intelsat spokesperson said the company was assessing the impact of the engine problem on the satellite's expected lifetime after it arrived on station in orbit.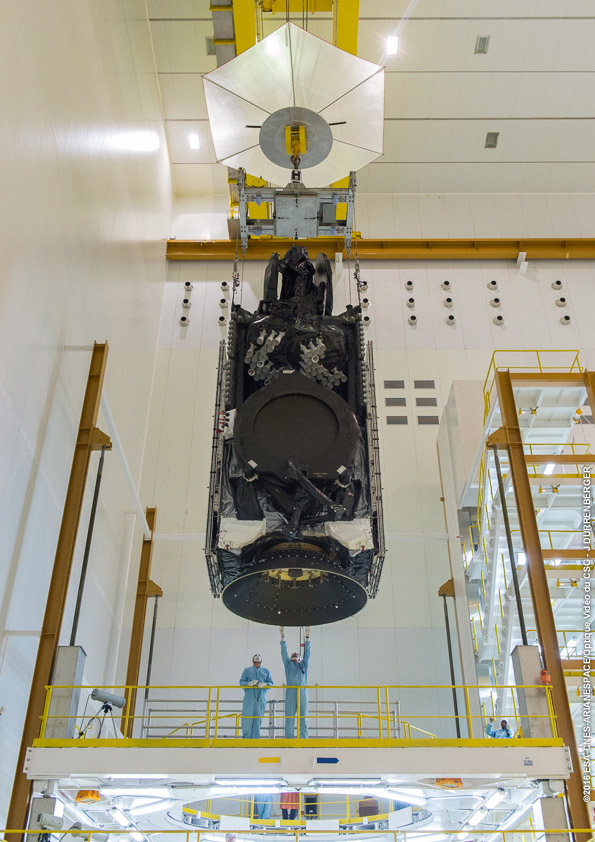 The satellite's solar arrays and antennas were unfurled as planned shortly after the Aug. 24 launch, but officials could not start testing Intelsat 33e's sophisticated Ku-band and C-band communications payload until it arrived in geostationary orbit.
Intelsat 33e's co-passenger on the Ariane 5 flight in August was Intelsat 36. That satellite, manufactured by Space Systems/Loral, entered service in October as scheduled.
The Leros engine failure on Intelsat 33e occurred about a month before NASA's Juno spacecraft orbiting Jupiter encountered a problem with its own Leros engine system.
Engineers operating Juno discovered that two helium check valves inside Juno's fuel pressurization system opened slower than expected during preparations for a major maneuver in October to adjust the probe's orbit around Jupiter.
Managers postponed the maneuver, which was to have positioned Juno into an optimized orbit to collect data on Jupiter's atmosphere, magnetic field and internal structure. The burn may be scrapped altogether, with NASA officials set to decide in the coming weeks whether to keep Juno in its current orbit, which still allows the craft to complete its science mission but gather data at a slower pace then anticipated.
Juno's Leros engine performed as expected during a vital burn July 4 to place the probe into its preliminary orbit around Jupiter after a five-year cruise from Earth.
The Leros engine problem on Intelsat 33e prompted the U.S. Air Force to put off the launch of a SBIRS missile warning satellite to review the readiness of its own propulsion system, which is also based on the Leros design.
The SBIRS GEO 3 satellite launched Jan. 20 from Cape Canaveral on an Atlas 5 rocket, and has successfully started its main engine maneuvers to raise its orbit to geostationary altitude.
The U.S. Navy's fifth MUOS communications satellite also suffered an engine failure after a launch last June, but it uses a different type of main thruster from IHI Aerospace of Japan. The $600 million MUOS 5 satellite successfully reached a usable orbit in October thanks to backup thrusters.
Intelsat 33e's operating post at 60 degrees east longitude will reach Intelsat customers in Europe, the Middle East, Africa and the Asia-Pacific. It joins the first Epic-class satellite, Intelsat 29e, launched in January 2016 to cover the Americas and the North Atlantic.
The coverage zone reachable by Intelsat 33e makes it an attractive option for the U.S. government, particularly in hotspots like Syria and Iraq. Intelsat says the Epic satellites provide services comparable to the Air Force's own Wideband Global SATCOM fleet, adding additional communications relay capacity beyond government-owned assets.
"Many U.S. government customers are eager to begin using Intelsat 33e," said Skot Butler, President, Intelsat General Corp. "Testing previously conducted with Intelsat 29e using a small, flat-panel antenna designed for aeronautical applications confirmed that the Intelsat Epic platform delivers superior performance for unmanned aircraft systems. The coverage Intelsat 33e provides is ideal to support U.S. Department of Defense mobility applications and means deployed forces in these regions will benefit from the same game-changing performance and efficiency that Intelsat Epic already delivers in the Americas and the North Atlantic."
Intelsat 33e's clients include maritime broadband providers GEE, Speedlink and Marlink, airborne wifi networks operated by Gogo and Panasonic Avionics, and broadband, telecom and television companies based in Pakistan, South Africa, Cameroon, Djibouti, Russia and Armenia, according to Intelsat.
Email the author.
Follow Stephen Clark on Twitter: @StephenClark1.